9 August 2004
Coming to Saturday. Slept at 4am this morning. Woke up at 10am. No mood to sleep much, brain keeps playing back my research n my bicycle. After brunch, went to repair my bicycle, then work work work with my research till now. Still got to cont later on. Anyway, glad today's one smoother.
Ok, back to Yuko trip. Hehe... finally come to the last day version. :P Yuko, hope u like all the posting bout ur trip to Kyoto then. ;)
Fish fish brand breakfast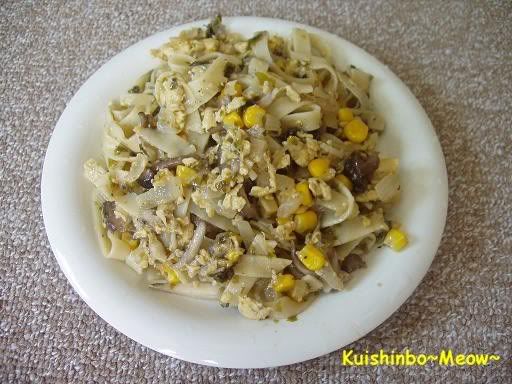 I cooked breakfast for Yuko. She enjoyed the soup I made for her yesterday morning v much. So happy to see when someone enjoy eating my food. :P Today, I come up with the idea using fetuccini to cook eastern style pasta. Wat did I put in? Well, a few kinds of mushroom, big onion, egg, corn & nori (dry seaweed). The nori is the point. It makes the food taste very oriental. Wat more w Sarawak coarse grinded black pepper. Hehe...
Yuko love it. She told me can't believe she actually finish the whole big plate with her little stomach. ++ soup & fruit. Haha!! Luckily she is not staying w me for long term, or else she will be blaming me for putting on weight.
Suzumushidera
After the breakfast, n get ourself ready, we r heading to
Arashiyama
as planned earlier. It is one of the most famous place in Japan for red leaves. Wait till autumn then. We actually heading to Arashiyama tat day for a famous shop. But when we reach there, our stomach still full full with my heavy breakfast. :P
Yuko
: Yang, hv u heard of
Suzumushidera
before? (Yuko suddenly ask me a Q)
FF
:?? Wat dera?
Yuko
: Suzumushidera.
FF
: Wat's tat?
Yuko
: (With shining eyes... n excited voice) U dun know Suzumushidera?? (As unbelievable for a fact tat fish fish dun know this temple.)
FF
: Nope, never heard of it. (Fish fish started to feel being challenged... a famous place tat I dun know in Kyoto?? Maji?? (Really??)
Yuko
: Wahhh!!! I'm so happy... First time the place I mention Yang dun know. U got to go... It's a really famous place. Heeee.... (Eye shines even brighter)
FF
: (Fish fish get even more curious to know wat this place is) So, wat is so special bout this place (I still remain to act cool, :P)
Yuko
: Well, u c... They got many bell cricket in the temple, which make noise in all season, not the normal one tat only make noise in autumn. And wat is the most famous, is the famous Jizo (a guardian deity of children) in tat place. Whereby u can make any wish with him, n he will fulfill ur wish. Only one wish at a time... (blah, blah, blah... I cut off this details then).
Anyway, in the end, we turned up to walk for around 1 hr for tat temple in a big big sun day. I used umbrella, but tat stubborn Yuko just want to get out of my umbrella. She hates umbrella, she said. Hmmm... wat a reason.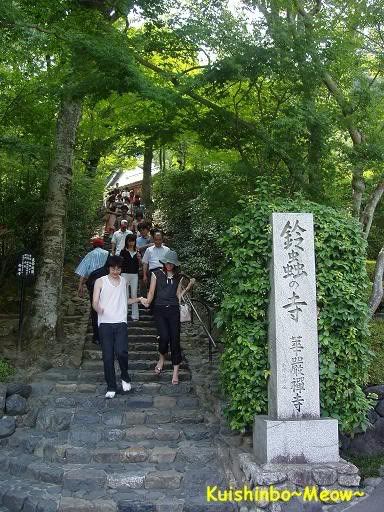 So, this is the Suzumushidera. Finally we reached there. I was kind of loss patient when we walk walk walk, but still hasn't reach there on the way. Yuko keeps encouraging me. Usually I like walking, but not on a hot day like tat, my migraine killing me. So how relief we were when we reached there. Oh oh, seem like many people (on a Monday hot afternoon??), I started to believe wat Yuko saying. Want to know more bout this place? Heeee... see it for urself. Dun go on weekends and holidays is my advice. Btw... anyone of u guys in Japan heard this place b4? If yes, let me know.
Oimatsu
We then take bus back to Arashiyama. And there we off for the famous Kyoto style dessert shop, called
Oimatsu
.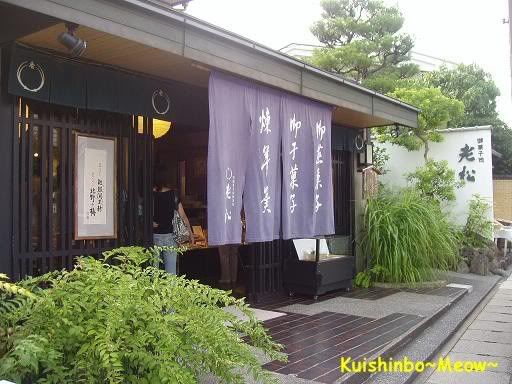 This is how the branch in Arashiyama look like. Very strong Kyoto style.U will b surprised with the high price of their Kyoto dessert, n yet u can see crowd lining up n buying them. Silly! Hehe... including Yuko n me. :P The reason tat attract Yuko here is becoz a fren told her... As for me, I hv always been thinking to try it at least once when I 1st saw it on TV. We specially come to Arashiyama just for the 2 desserts. Wat r they? Wait please...
We hv to line up. Only 20 seats inside the cafeteria corner. And before us got 8 more people. After we line up for a while, got a few more groups people coming behind us. On a Monday time. So, just imagin if it is weekends...
Feel bored while lining up, so take some pics of the other product selling there. See this souvenir pack? Written 4305 yen (RM149.86). Takaiiii (Expensive).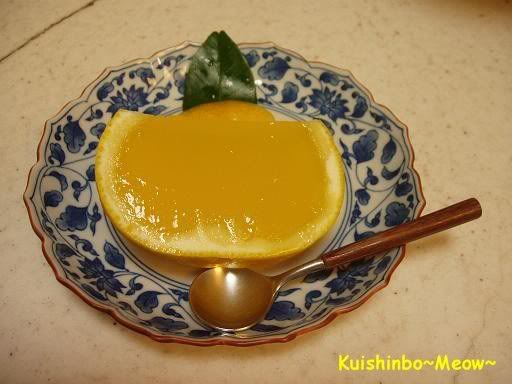 After lining up for about 30 min, finally we get our seats. This is one of wat we ordered. Called the natsumikan jelly. It's something like grapefruit and orange mixture. One of the well known product in this shop. If u eat in the cafeteria, half cut for 735 yen (RM25.59). If u buy n bring home, 1 for 1155 yen (RM40.21). I would advice take away is much better, cheaper n dun hv to wait. Ok, wat bout the taste? Mamamia!! One of the best jelly I hv ever had. But too bad it's only sell in summer time. So, for those of u tat miss it out this year, next year then.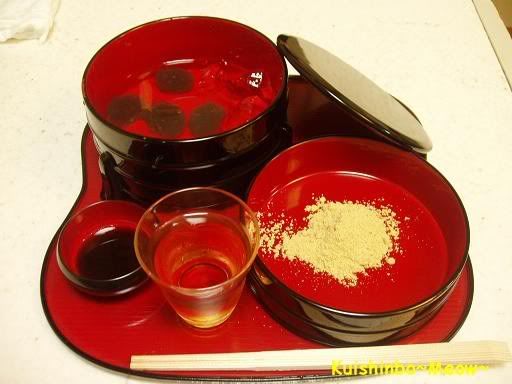 Now, see this big bucket with small pieces of greyish stuff? It's the warabi mochi. Some of u might say " No way! Warabi is not grey." For usual case, it is. The one made from starch powder, is white. Make from real warabi powder, is yellowish. So, how bout grey? Hehe... it's real warabi powder tat hv been stored in cool n dark place to age for 5-10 years.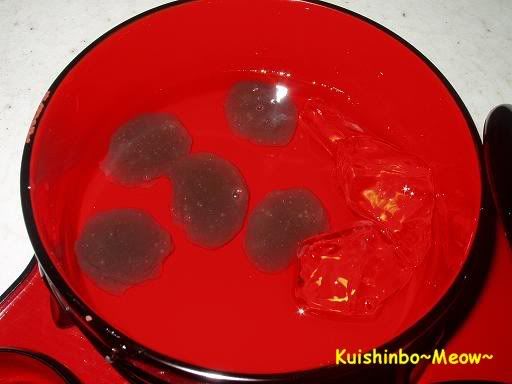 Now, the whole set things, 5 small warabi mochi ball with the soybean powder n black honey.... 1260yen !! (RM43.86). Even more expensive then eating birdnest. Heee....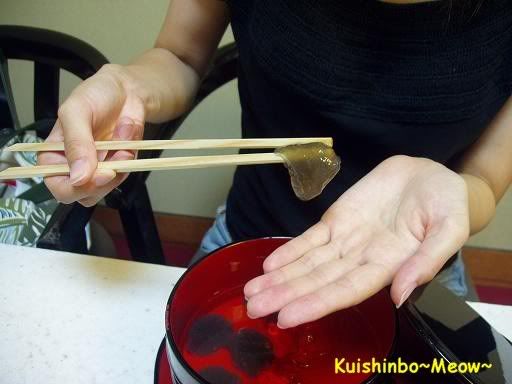 How big is the one ball? I asked Yuko to hold it up. This small... Yuko hands r very slender, so if macho guys hands, will look even more tiny. Yuko n me each 2.5 balls. Poor us, people around us all hv 1 bucket each... But most important thing if to try this so call legendary taste. Well... after eating comment... very smooth n soft, compare to the normal warabi mochi I had. The taste not much different from the real warabi powder version. But the texture is very attracting. Want to look for something special for a trip in Kyoto? Try this one then, once a luxury in time.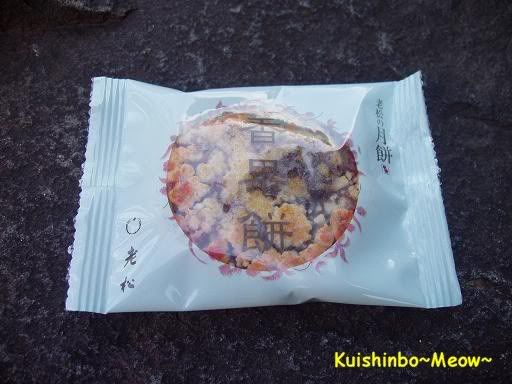 B4 we went off, I bought a Japanese version of geppei (mooncake) from tat shop. Not much to a mooncake look tat we always had huh... Instead, didn't taste mooncake actually... Very rich fruity taste. a bit too sweet. If not, will be a good one. 157 yen (RM5.47) for 1.
Capricciosa
We reach Kyoto station kind of late. Yuko will take Shinkansen back to
Hamamatsu
. We tried to find a place for dinner. After look around many places, finally we decided to eat in
Capricciosa
. The Italian franchise restaurant in Japan tat I go with my frens once in a time.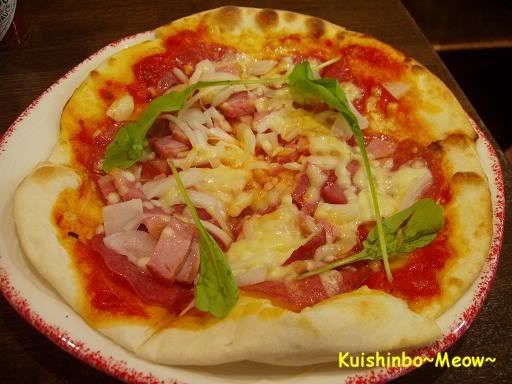 Yuko wanted to eat pizza. She hasn't had one for a long time. So she chose this salami n bacon pizza called Capricciosa pizza. Well, not a bad taste. Just tat too much meat. And they all finish up by Yuko. :P The favorite part for me in this pizze is the green green rucola.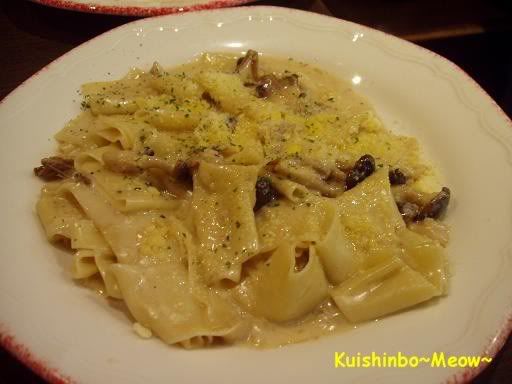 First, I wanted to order penne arabia which I hv'nt had for a long time too. After making the order, I saw the menu got Parpadelle... wooo... i love fresh pasta... So after asking Yuko if ok for me to change, we decided to try on this one. I had Parpadelle in other place, but not in Capricciosa before. This one is cooked with Porcini mushroom ( I believe is in can one) and shimeji mushroom (fresh) in with cream sauce. Well... Chun Lian... the white sauce penne tat I cooked last time is good? I am 100% sure u will like this one. The combination is just perfect. Though Yuko prefer andante in pasta, and I prefer well cooked. But both of us like this one. This was her first time in having Parpadelle. She said luckily we changed the menu. Heee... Well, I am sure she will like the penne as well... Next time then.
Ok, finally comes to the end for the posts of Yuko trip in Kyoto. She told me she had a great time. So do I. :) Haven't seen her for a long time since last year May. We make a promise to meet again early Oct at Hamamatsu. I am very looking forward for tat then. Yuko, u got to introduce ur special person to me then if got chance wor... ok? Heee... Till then my dear fren, take care.
And till then everyone. B4 I go, just want to remind for those of u in Kuching, dun miss the
Kuching Festival
if u haven't got time to go yet. A gathering w family n frens there will be a nice one. I have been missing a chance to go to one for the 5th year oledi. :(