28 July 2004
Suika!!
Yesterday, Mori sensei came to our lab (my ex professor who has retired this March). Haven't seen him for a long time, still as energetic as before. He bought us a big Suika (water melon).
So today, we hv Suika as our tea time. Yummy yummy!! Nice thing for a hot summer day like this.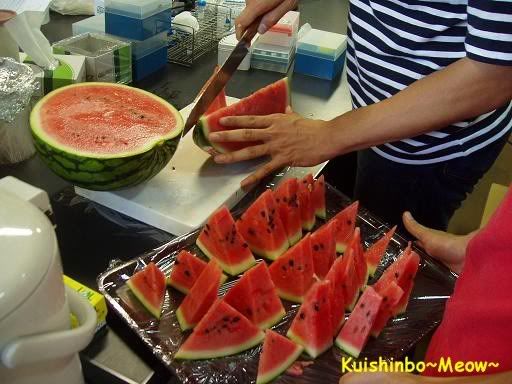 Matsumiya n Yamada were in charged in cutting them. By the time I know tat, they hv oledi cut omost half of it. Arrgghhh... I ask them to slow down, and go and grab my camera. Hehe.. good chance for pics... :P
WH:"M'sia dun hv suika is it?"
FF:"Got lar... just tat very seldom got chance to eat suika in lab mar... Must show. Heee..."
Wat more the suika looks quite red, isn't it?
This is one of the plate full of finish cutting red red suika. The middle long knife shape one is belonged to Aso. Cause she wants to eat it like tat. But I guess Matsumiya is a bit too stingy with the thickness for her. :P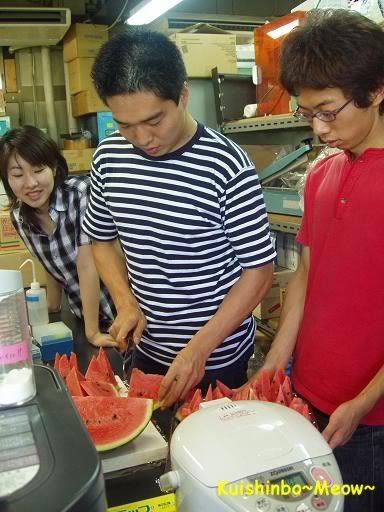 Minami from the next lab also came. She was so eager to hv the suika too. I can see her shining eyes when looking at the suika. :P Actually so do fish fish. Heee...
So here we go... for our suika buffet. One by one we eat. I ate 5 pieces. Until stomach full of water. It was very sweet and crunchy. Must be an expensive one. Thank q Mori sensei. (Stil as b4, even though he has retired, still offer us the yummy yummy stuff).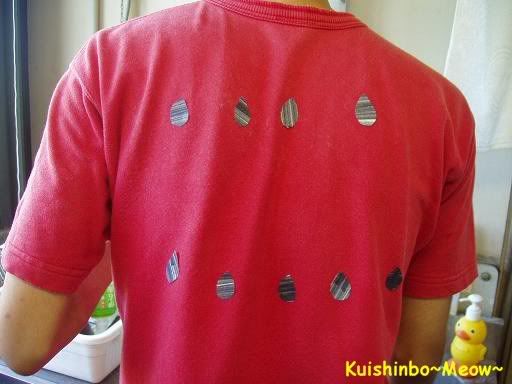 Yamada was doin the cleaning up after we ate. He was wearing red shirt. Somehow Amaoka, our lab's secretary has the naughty idea to cut some suika seed, and paste them on Yamada. So here we hv the Suika BOY.... :P