29 July 2004
Kyushu Trip - 1st day
Schedule
:
Kyoto - (Nozomi bullet train) - Hakata - (Kamome rapid train) - Isahaya - (Bus) - Obama - (Hotel bus) - Unzen National Park Resort Villages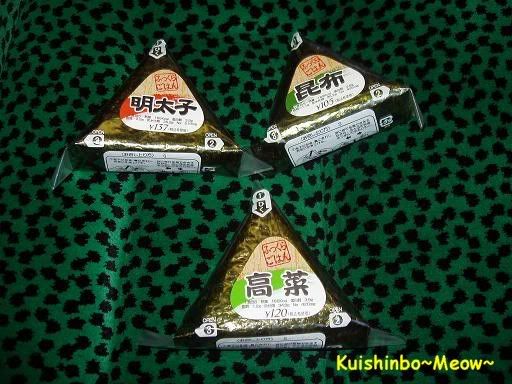 We gathered in
Kyoto Station
at 7.30 am. Then take the
Shinkansen
to
Hakata
. During waiting for the Kamome rapid train, Narsa n me went to buy some onigiri (rice ball) from the kiosk in the station. Bought 2 mentaiko (spicy fish egg), 1 konbu (kind of seaweed) and 1 takana (leaf mustard).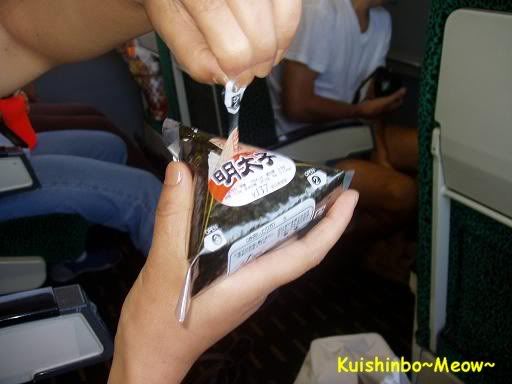 There is a rule when u unwrap the onigiri. When I 1st came to Japan, I didn't know bout it, and unwrap the whole thing to get the plastic away and rewrap again the onigiri b4 I can eat. (Feel so embarrass now when think back bout it). WH told me actually this wrapping idea was from a guy. And he is now a millionaire. Wooo...
Ok, this is how the rule goes. 1st step, see the number '1'? U start from here by tearing the plastic down slowly from front till back until the middle stripe of the plastic totally taken off. Btw, it's Narsa tat help me to do the performance inside this Kamome train. Thanks gal. Too bad the train a bit moving, so pics quite blur. Anyway... let's go to the 2nd step.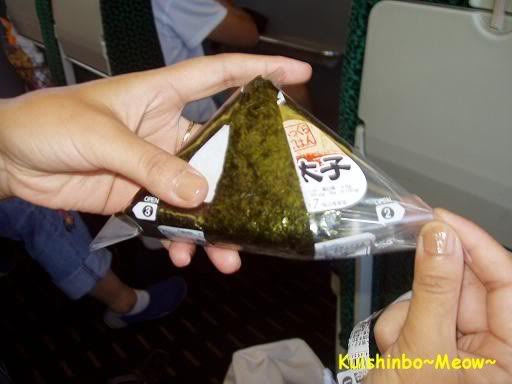 U will see the number 2 on the right side. Take the end of this side and move half right of the plastic out without spoiling the nori (seaweed for wrappin the rice).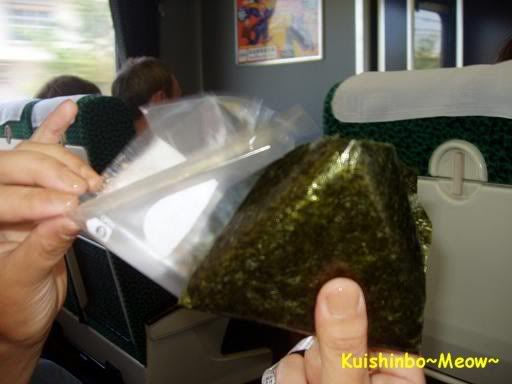 The 3rd step is the left side now. As u can c in this pic tat the plastic can be taken off easily from the onigiri.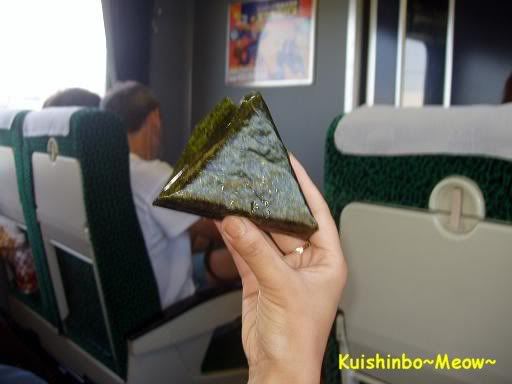 Dang dang!! Here is the beautifully wrapped onigiri. Arrrrgghhh... I am hungry even by looking at the onigiri now. One can get addicted to the onigiri. Just has too much filling tat u can choose from, tat definitely at least one of them suit ur taste. So the onigiri is a must try in Japan.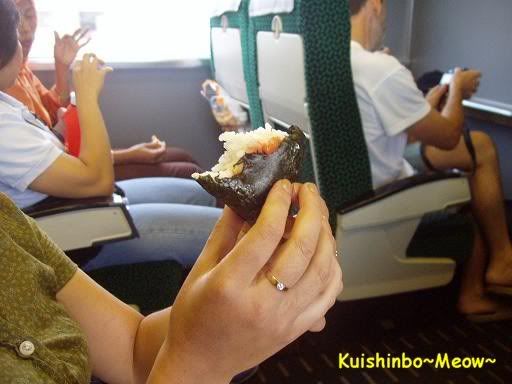 Here is how the look of the inner part of the onigiri. This one is the mentaiko flavour. Normal price usually from 100~160yen (RM3.45 ~ 5.52) each, depending on wat kind of ingredient inside. Cheers to Mr. Onigiri. :)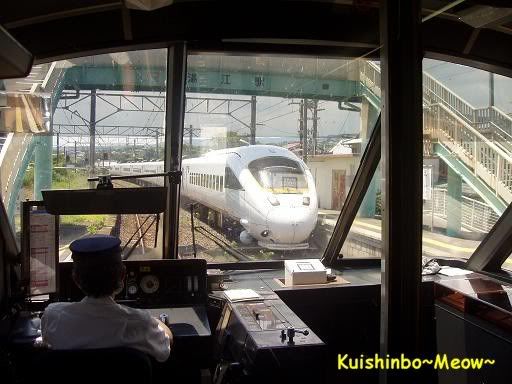 Prof Toth from Hungary suddenly asked me to go to the front cart with him. So I grabbed my camera n follow him. Wooo... so it's the green car (1st class seat on train). No one was there, except the driver who is dealing with the train. Took quite a lot of pics there. :P I kind of like this one. Called it 'Train meets train'. Our train was moving fast, so do the encounter train. Phewwww... in less than 3 seconds, the train flew back of us. Yippie!!! I got a good shot. There were 4 of us there, only me luck was good to be able take this good shot. Heee...
We then reach
Obama
by bus. By the time we were there, the hotel's bus driver have been waiting for us. Hmm, good punctuallity. Obama have beautiful seaside all the way. But i like the rice paddy too. Contrast of still wooden house and moving green green paddy. With the blue blue sky... Wat a wonderful world.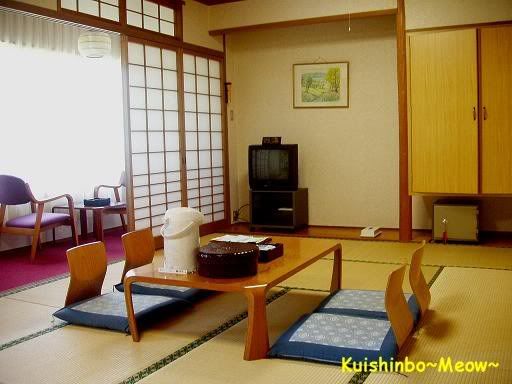 We finally reach the hotel around 3pm. It's called
Unzen National Park Resort Village
. A place full of green green natural. With a pond, a pool, n oso a planetarium. 4 of us share one room. Narsa, Mirian and Krisna w me. We were given a room for 6, with even the toilet and bathroom attached. Nice room huh... :) Very Japanese style... the tatami smells good.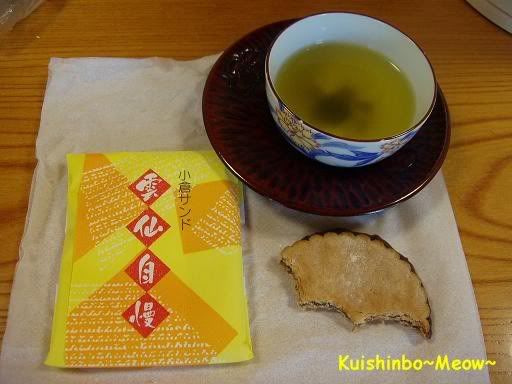 We had the welcome tea n oso dessert. I like the skin of the dessert even though the filling is too sweet for me. Hehe.. this was half eaten by Mirian. With her pretty teeth sign. :P
I didn't go around much during the evening cause Narsa n I wanted to go to the pool, as we has planned b4 come. We thought it closed at 6pm, but actually at 5pm. arrrghhh... but still we were there for around 40 min for 300yen (RM10.35). I can't swim, hehe... mainly just splashing myself in the pool. :P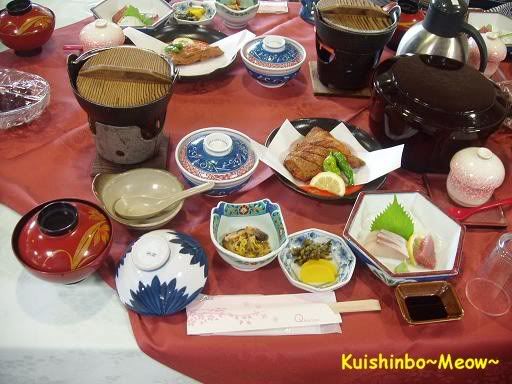 After tat, we went to the ofuro to take a hot bath, with black charcoal shampoo and soap. Very good product. Then there we off for the dinner. It's something like a set dinner. Silly me forgot to take the foods cover off before taking the pics. When I remember, everything was almost eaten oledi.
This is the meaty version. They didn't prepare any vegetarian set for me. Too much meat, can't really take anything. So sensei incharge order extra dish for me. Either the vege tempura (vege fritter) or vege salad. :P Hehe... of course I want the vege tempura. My BIG favorite. Just forget bout the calories for tonite. ;)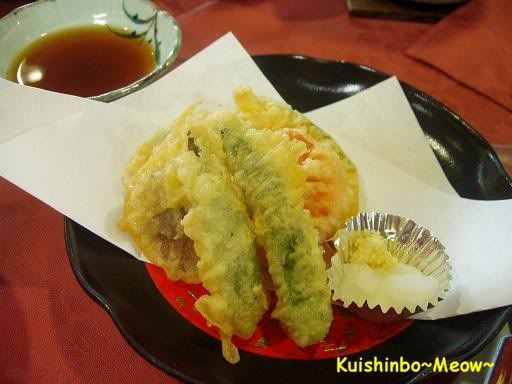 Dang Dang! My lovely vege tempura. It was very good. Maybe bcoz I am very hungry. :P Anyway, I ate 2 bowls of rice only with the tempura. And after tat, I finish everything on the table except the meat and seafood. My frens around offer me their 'grass' (this is wat KFC always quote "Go out w ff is the best, cause she will help to clean off the grass on my plate for me") and chawan mushi (steam meat) when they realised not many things I can take from my set. Sob sob... touched by their concern. I am 120% full tat nite. Buuuurrrrpppp....
Then, before we end for the nite. Akamatsu sensei, Morita sensei, Narsa n me went to the planetarium. One of the nice experience I wouldn't forget. First time see the moon 80 times bigger than the usual time. Woooo... it looks very pretty in the telescope. Oso see some stars. I think I learnt a lot from there, for free... Waaaaahhhh...
On the way home, we look at the sky all the way, talking bout star n moon... Suddenly... pheeewwwww.... something bright and long across the sky. Before I can realise it is a shooting star and wanted to make a wish, it has gone. Too slow action... :( Actually I got too excited seeing it for the 1st time (Yap, my 1st time)n didn't know which wish I should make. :P Too many. But I am very glad I hv seen it, very very pretty. (Even Narsa who has seen shootin star for uncounted time oso said this one is a very pretty one). Narsa said I will get fainted if I see the shooting star rain then... Hehe, she might be right. Let see when can the proof for this happen then.
Went back to the hotel, get the Hanabi (firework) tat I bought, and played. The others just watching, only me n Narsa do the playing. They enjoy the pretty burning. They say the 2 of us are wild, play the firework like guys. Hmmm... wait till they see I light up a firecracker on my hand with my papa cigar then... (I did it on the 1st day of CNY 2 years ago in Kuching, with long dress wat more. My sis was complaining to my mum for tat). I wonder wat will these people say then if they see the scene. :P
Ok, tata nite nite. To be continued.