30 July 2004 (1)
Kyushu Trip - 2nd day (Pt. A)
Schedule
:
Unzen National Park Resort Hotel - Unzen Jigoku - Fugendake - Aino - Isahaya Land Reclamation - Nagasaki atomic bomb museum & Peace park - Nagasaki Ibokan Hotel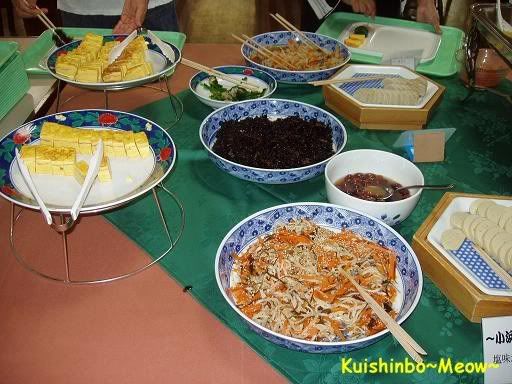 Slept very late last nite. Woke up 30 min later than the scheduled. By the time ready for breakfast, we only hv 20 min for tat. I was kind of happy to see it's a buffet style. Which means I can choose to eat those I like. :)
This part is the Japanese style breakfast dishes. With tamagoyaki (omelet), daikon sengiri ae (long sliced radish dish), hijiki (a kind of seaweed, very high in calcium), sweet bean, horensho (spinach) and kamaboko (fish cake).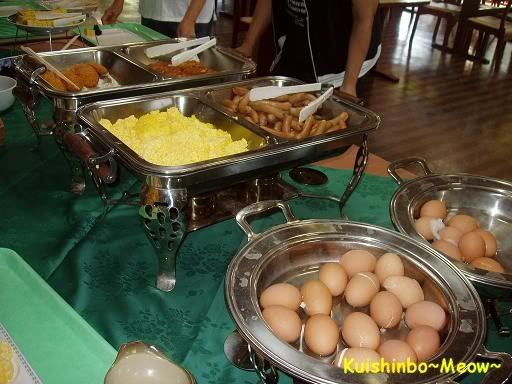 The middle corner is more to western style. They hv croquette, hash potato, scramble egg, sausage and boiled egg. The croquette n hash potato were very good. Ate a few of them. :P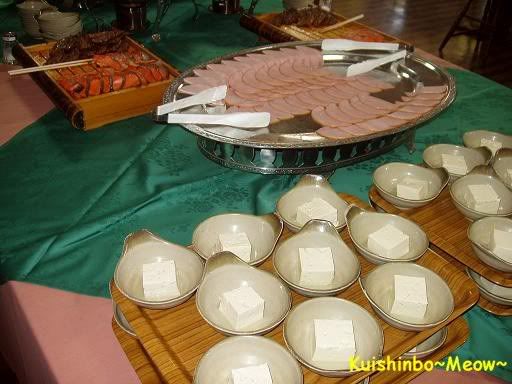 And then, they oso hv the tofu, ham, grilled sake (salmon) and bbq meat. I like to eat tofu in morning time, light.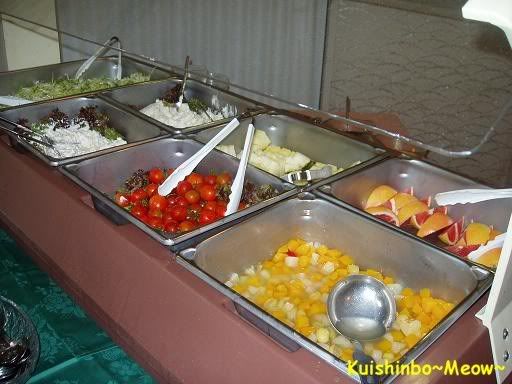 Now this is my favorite corner. The salad bar. I love the tomatoes n pineapple, they were so sweet. Grapefruit was good too. Took the mayonaise macaroni n potato salad as well, too much mayonaise, kind of disappointed with tat.
Besides these, they oso hv the corner for bread, soup n drink. Forgot to take pics, cause too busy with eating. :P Only now I realised I left them out. Overeating tat morning. The taste is much better than last nite dinner.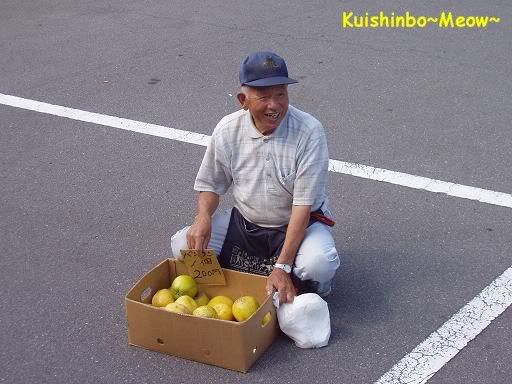 We then go to the Unzen Jigoku to see the hotspring. Kind of disappointed w this one, cause not as the one I hv seen last time in
Beppu
.
After back to the bus, fren in the trip gave me some fruit. Hmmm... taste like pomelo. Then look out the window n saw is an old man who selling it. I went down to see, n he gave me 1/4 of the fruit for free. Love the taste, so bought one from him. 200 yen (RM6.83). Saw the sign board said 'Bankan'. Hmm, first time I hear this fruit name. Ask my Japanese frens they oso dun know. But good fruit for sure. Very juicy.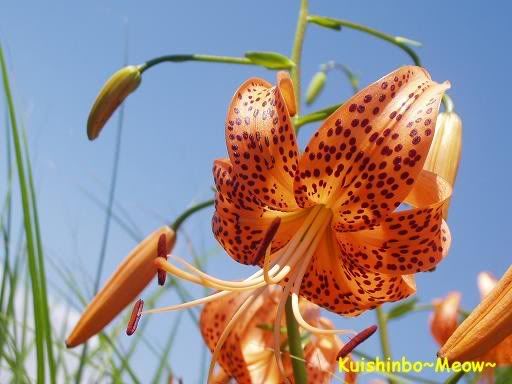 We then went to Fugendake. A high land place. Then I was told it was famous because in year 1990, there was a volcanic eruption in this
Fugendake
. I can't really trace any sign of the explosion there now when I was there.
But I spotted has a few kinds of pretty wild flowers there. Take a few shots on then. Really want to share w u all on this wild lily. Very beautifully bloom. This pic is one of my biggest favorite for the trip memory. Blue sky with colourful full bloom lily. Ahhhh~~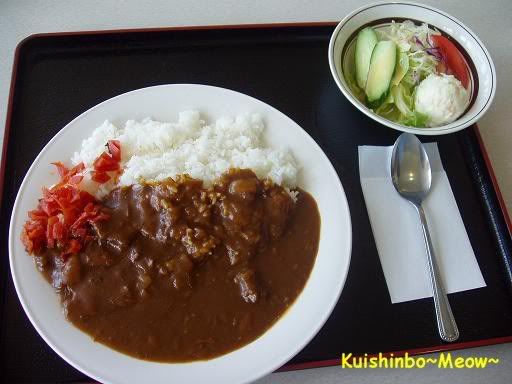 Our lunch time was in
Aino
. We pre-ordered the dish we want in bus so tat when we reach there, the food can be served fast, and saving time. First, those who ordered beef curry rice get their food first. Mainly the indonesian frens ordered. Cause they can't take pork.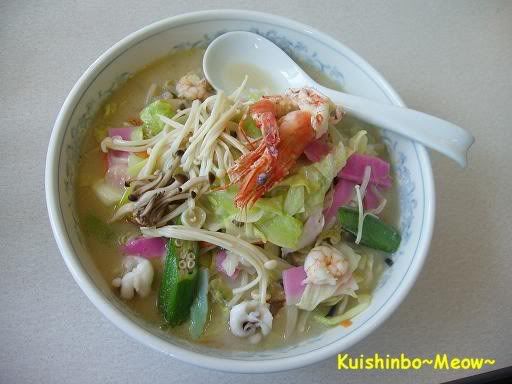 Then it comes the special chanpon. Chanpon is a famous local food in Nagasaki. It's actually a dish of thick yellow noodles with a lot of vege n seafood in soup. This pic shows the special version. Hmmm... the prawn looks good? I'm sure the answer is yes for seafood lover. I prefer the lady's finger more. :P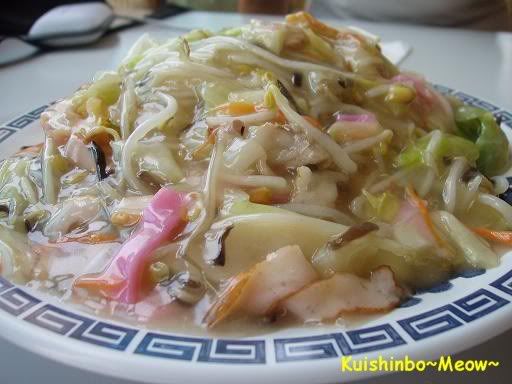 Then, one of the dish tat I ordered together with Narsa come. The saraudon. Another famous local dish in Nagasaki. With a lot of vege n seafood as well, but it thick gravy n the noodle is deep fried. U can't see the noodle in this pic, rite? All covered under.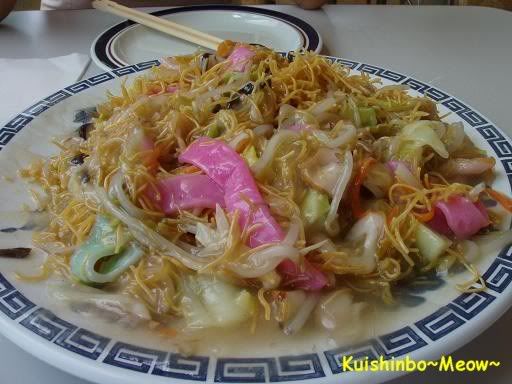 So, after mix mix mix, here is the new version of this sara udon.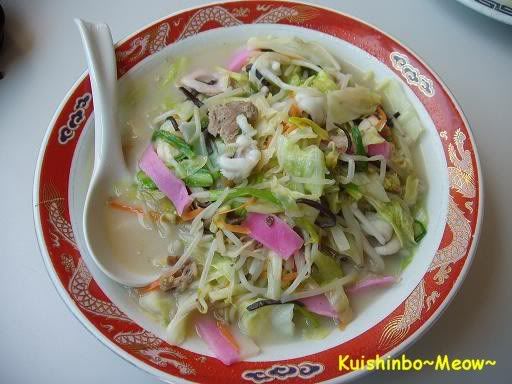 And then, our next dish come, the normal type Chanpon. Neither prawn nor lady's finger. Me n Narsa ordered this too. Both of us were very shock to see the huge portion of the 2 dishes. 1 can enough for 2 people. So imagine me n Narsa hv to finish the 4 people dish? :( We tried very hard to reduce the amount in the dish, but somehow it just seem to be remained the same. However, after both of us were 130% full, we managed to finish almost all. Dun really like to waste food, no good... So poor stomach, sorry ar... Both the dishes were 840 yen (RM28.71) for each. Cheap price I should say with tat kind of portion. The sara udon was very good, love the taste. But the chanpon was not till my expectation. So so.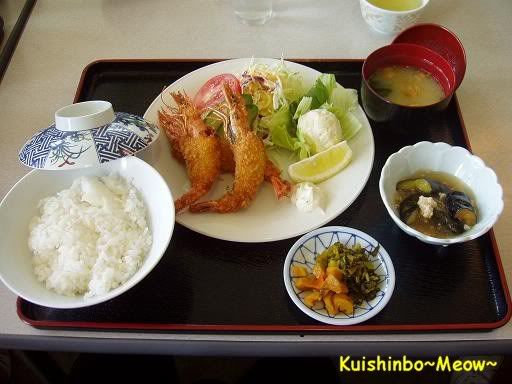 The final dish is the fried prawn set lunch. Wena n Eli ordered this. Yap, both of them r Muslim, can't take pork. Oso a big portion for this one.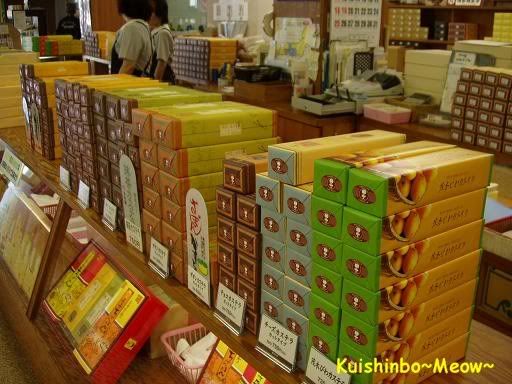 Down the restaurant, was the place for buying souvenir. The famous one in Nagasaki, is the castella. Hv a few kinds of flavour. Honey, cheese, green tea, jabon (a kind of citrus fruit) n choco. I like the cheese and the jabon one. Not too much for the other. Ate 3 more pieces for the tasting even after my lunch!! Narsa was so surprise to see my black hole stomach. :P Hehe... Bought 2 jabon n 1 cheese to bring back as souvenir. 750 yen (RM25.63) for 1.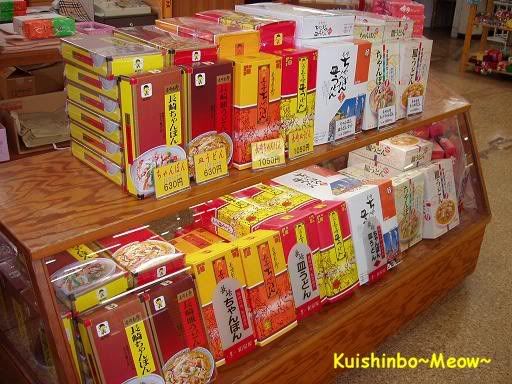 The Chanpon n the Saraudon were oso make into a souvenir type. I didn't buy any of them, too troublesome to bring.
Ok, tat's all for Pt 1. Need to O O liao. Tata.