31 July 2004
Schedule:
Nagasaki Hotel Ibokan - Oura Catholic Church - Glover Garden - Hollander Slope - Nagasaki station - (Kamome rapid line) - Hakata station - (Shinkansen Nozomi) - Kyoto Station - Owari (End)
We woke up late, 45 min late then our scheduled time. Cause we slept very late last nite because of the salsa lesson. Must salute to Prof Toth tat he is so enegertic. Hehe... I'm down. So quickly taken the ofuro, tidy up our luggage we rushed to the breakfast. Oops... we r the last 2nd to be there to eat. Everyone hv gone somewhere else. Arrghhh... should hv force myself to wake up earlier. Miss the chance of seeing the Guan In statue near our hotel. Oh well... i guess enough sleeping is a gist for maintaining one gal's health n beauty. :P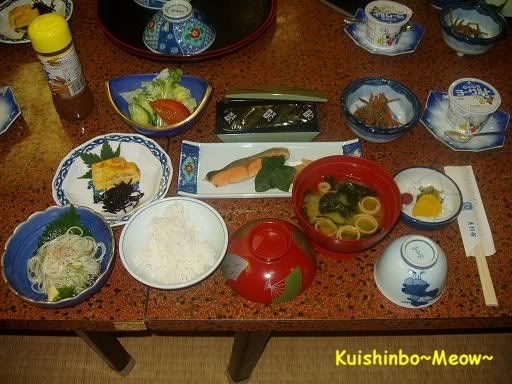 Well, today's breakfast is very Japanese style. Except for the grilled salmon, which I gave it to Narsa, I finish up everything else. The other frens around gave me their omelette cake. Tat I ended up ate 5 pieces to them. Over colesterol for sure tat morning. :(
We then head to the
Oura Catholic church
. It's the oldest church in Japan, built in 1865. Entrance fee 300 yen (RM10.31). Nagasaki was the earliest city in Japan tat open to the outside world. So the Western culture was deeply rooted in this area even until today. I saw sisters walking on the street in Japan for the first time. Hmmm... All these while, I only see the obosan (Japanese monks). So kind of a strong impact for me in this Nagasaki trip.
Then we headed to the
Glover Garden
. This place is especially famous for being the site where the opera "
Madame Butterfly
" takes place. We were able to see the Nagasaki harbour from here.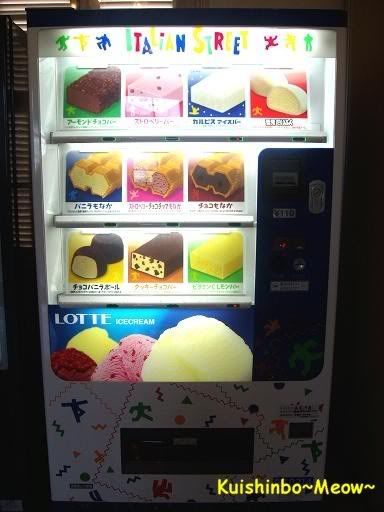 Narsa n me saw someone eating ice cream. So temptating. So asked where they get it. Heee... so they got this ice cream vendor in this Glover Garden.
It's on Narsa treat again. She has been spending a lot of money for treating me. She said becoz last time I treated her the curry rice. Hmmm... not a too good reason for letting herself pay the money though. Narsa helped to hold the ice cream so I can take the pics. She has a very attracting smile. Too bad guys, she is married. Hehe... so no more available. Here r the ice cream... Strawberry is Narsa's, and choco is mine. 110yen (RM 3.78) each. Hmmm... yummy yummy... we hv to eat so fast becoz of the hot weather tat making the ice cream melt. I am gulping the ice cream in a big bite instead of licking it slowly.
We didn't go to the Hollander shop. Cause we r busy having a western costume fun. :P And yes, we didn't go to the China town in Nagasaki too, not enough time. Instead I totally forgot bout it until we were almost time to off from Nagasaki. :( Arrrgghhh... well, hopefully next time.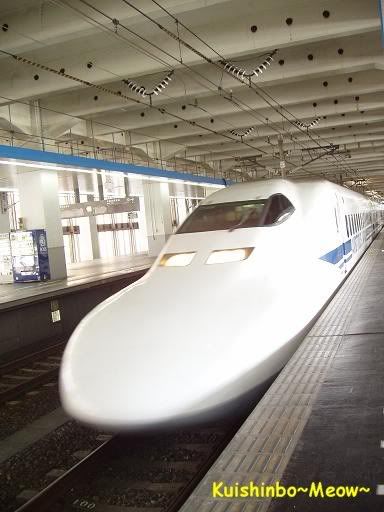 From Nagasaki station, we back to Hakata station to wait for the Nozomi to go back to Kyoto. When the train came, many people was trying to catch a good spot of the Nozomi train w their camera. I'm one of them. :P And I think I get a good one. ;) Want to share w u all. Nozomi front head looks very cute rite? Have very long body, w 16 carts.
On the way home, Narsa open her cheese castella tat she bought. I bought one too but she didn't allow me to open mine. She wants to share hers with me. Hmm... The castella is not the well packed type. It's the end cut of castella, so cheaper price. But taste as good as the one packed nicely. 200 yen (RM6.87) for one compare to the usual one 350 yen. Nice nice taste.
Finally, the trip was coming to the end when we reached the Kyoto station. Very exhausted, but we were having a really good time. After saying bye bye to everyone and give Narsa a good hug, me goin back to my home sweet room to hv a long long sleep. Zzzzzzzz.........
Phew!!! I finish my July posting finally. Can't believe tat I managed to do it for such an impatient person like me. :P Ok, August posts also ganbatte ne fish fish. ;)