7 August 2004 (1)
Yuko
: Hisashiburi Yong. (Long time no see, Yong)
Yong
: Hontoni hisashiburi. (Really long time no see). Genki? (Fine?)
Yuko
: Mm, genki yo. (Yap, I'm fine). Ano ne, Yong... (Well Yong...) Moshi Yuko konshu no shumatsu, Yong no tokoro ni asobi ni itte demo ii? (If I go to ur place this weekends, will it be fine?)
Yong
: Mochiron. (Of course.) Irrasshai! (Welcome!)
Yuko
: Honto? Ja, Yuko ikuyo. (Really? Then, Yuko will go).
And yes, so from 7-9 August, I hv 3 days fun again w Yuko. A Japanese fren of mine which I haven't seen since last year May. Guess for those of u in KL and in Kuching tat have met her before, still remember rite? She miss Malaysia, u all and the nice nice food. :P Want me to send regards to u all.
And yes, we took many pictures for tat 3 days, especially on food. The 2 gals r really eating like crazy... :P
Nakamura Tokichi
Yuko reached
Uji
around noon time. I went to fetch her in Uji station. From the station, we walked for a few min to reach
Nakamura Tokichi
, a famous shop in Uji tat sells green tea product. In fact, Uji's green tea is No.1 in Japan, even though it is not produced in mass. Am I lucky or wat to stay in this place? :P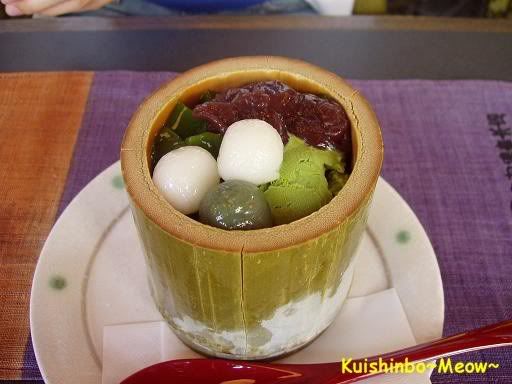 We ordered 2 types, as we didn't dare to order too much, cause we need to take lunch later on. First come is the Maccha jelly. 630 yen (RM 21.60). Wat I like is the cute bamboo container tat they use. The jelly is a bit too bitter though, good texture.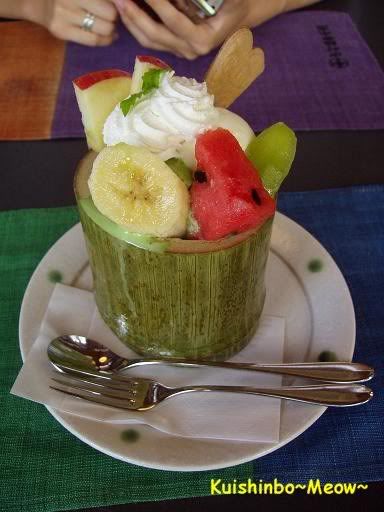 Next, we have the maccha parfait (green tea parfait). 680 yen (RM 23.31). Looks nice with all the fruit that decorating it. Under is the green tea ice cream, jelly blah blah blah...
Well, my comment is... Not bad, but not too good as well... Actually kind of disappointed w the taste cause before I go, I heard tat it's very nice. Oh well, maybe becoz I hv tried a better one. Will write bout tat one in later post.
Hakodate Ichiba
After the parfait, we were so full. So we went home, let Yuko put down her luggage, rest for a while. When the outside sun getting milder, we start to go for walking around the Uji river area. Slowly and relaxingly...
Then, after a long hr walk, we reached the
Hakodate Ichiba
, a famous spinning sushi restaurant in Japan, near the Uji Keihan station got one branch. It's almost dinner time. Just the rite time for us to take dinner before we take train to go to the downtown.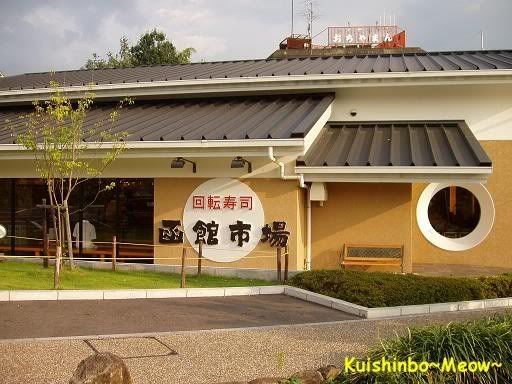 This is how the outlook of this branch.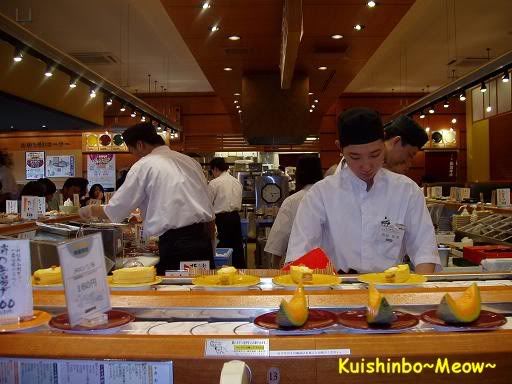 And we were arranged to seat in front of this pretty chef. Heee...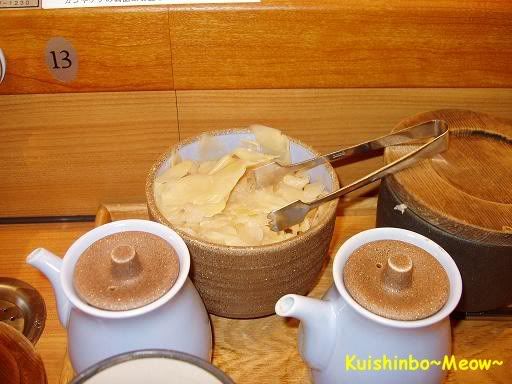 Before we take the sushi, we take the gari (pickled ginger) first. It's free eating. As much as u want. :P The one is this restaurant is good.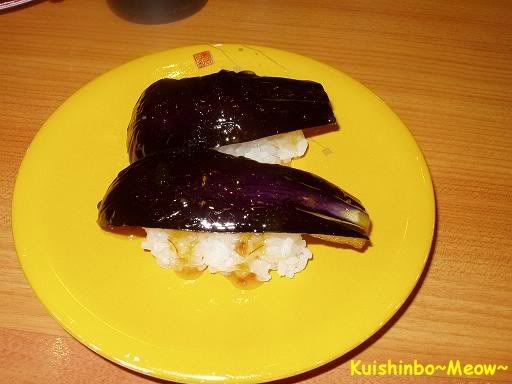 I love the agenasu sushi in this shop. Rare actually in normal spinning sushi shop to offer this dish. The nasu was hot hot, but melt in ur mouth. And with the sweet sauce coating it, needless to say anymore... Yummy!! Yuko like it very much too, first time she had it. 126 yen (RM 4.31)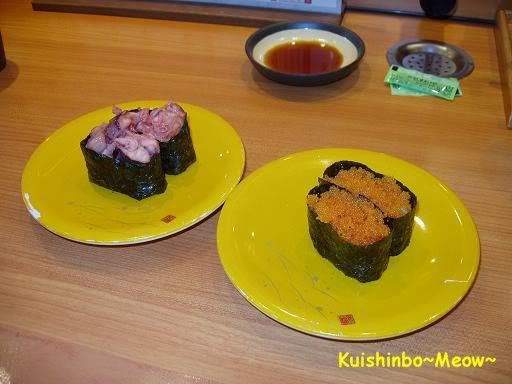 Then, I ordered the shishamoko (a kind of fish egg). 126 yen. Yuko took the squid with soft bone inside. 126 yen. I like this fish egg. No fishy smell at all. Yuko like the squid. She tried one of the fish egg too, and she likes it again. :P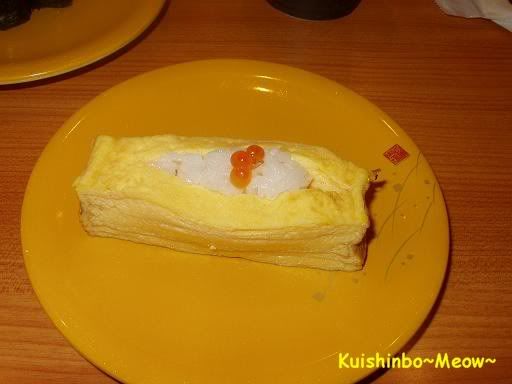 I then take the thick omelette cake with ikura (salmon egg, only 3 small eggs though, heee...) on top of it. 126 yen. Nice as usual.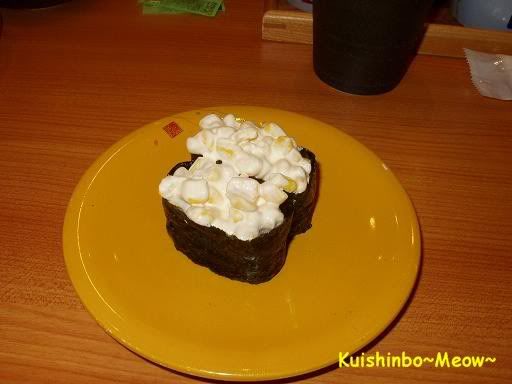 After tat, I had mayonnaise corn. Yummy yummy... delicious as usual for a corn lover like me. 126 yen.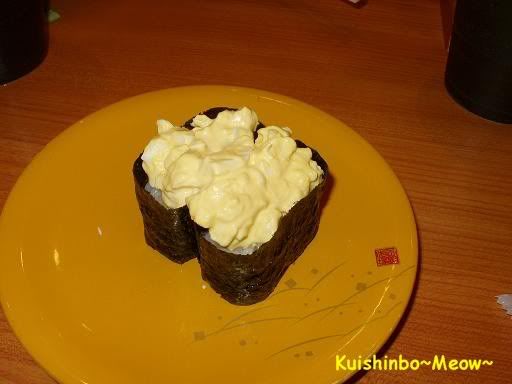 I saw another egg dish. Call puri puri tamago (elastic biting egg). It's actually smashed boiled egg with mayonnaise. Didn't expect much when I take this dish... And kind of surprise the mouth feel is really good. The elasticity was good enough. No wonder it's called puri puri. 126 yen.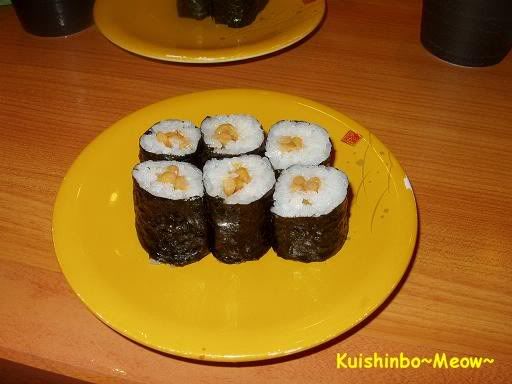 I never tried the Natto sushi in any sushi shop before. So today I tried one. Ok, wat can I say... Natto. Yap, normal natto taste with rice and nori.
Good taste though. 126 yen.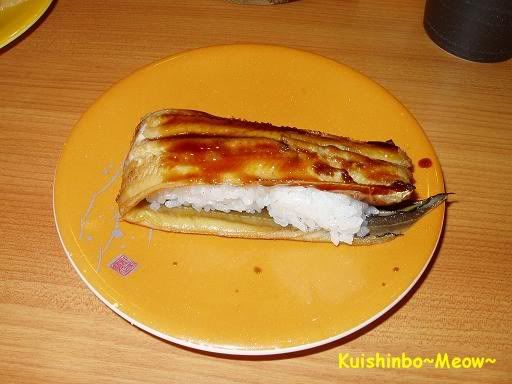 As for Yuko, she took the Ooanago (Big conger). She likes eel, so anything tat is family to this fish, she loves it. In fact in her hometown,
Hamamatsu
, kabayaki (grilled eel) is the famous food. She said the taste of this ooanago is splendid. 315yen (RM10.79).
Then she take another favorite dish of hers, aburiyaki (broiled salmon). 315 yen. And she said this one was very good too. She started to hope tat they hv one branch too in Hamamatsu. Even though the price is a bit expensive if compared to the normal spinning sushi shop, but with the taste, she thinks it worths the price.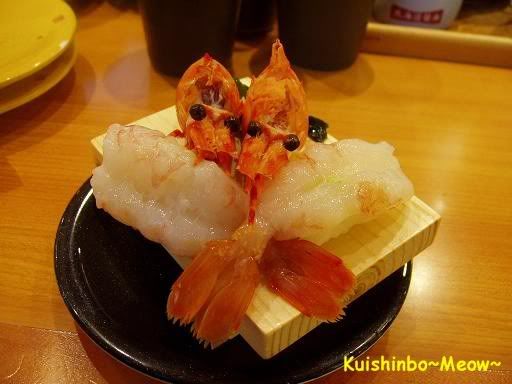 Wai Wai last time came to this shop too. She tried the botan ebi (botan prawn). And she said it was very good. So this time, I recommended Yuko to try it. The 2 of us were so funny looking when we were taking the pics of this botan ebi. Dun know how Yuko drop the ebi on the desk, n so she has to rearrange them to retake the pic. Heeee... She said the prawn was very very sweet. One of the very nice prawn she has ever tried. Well... concerning the price? The most expensive dish that we had on tat day. 420 yen (RM 14.38) for a dish.
Definitely when my sis comes, I will bring her come to this restaurant. She is crazy bout these fresh stuff. Still remember how she only concentrated on the fresh oyster when we were having Japanese buffet in a hotel in Kuching. Forgot the name already. :P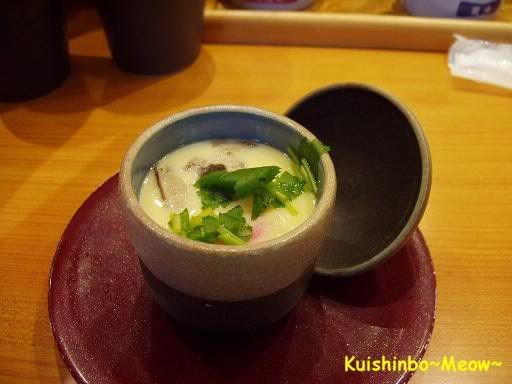 As an ending for my meal... I order my favourite chawan mushi (steam egg). 168yen (RM 5.75). Oh my god... only now I see i was taking too much egg tat evening. >_< Must be careful next time. Or else, sooner or later I will be listed as one of the top colesterol carrier.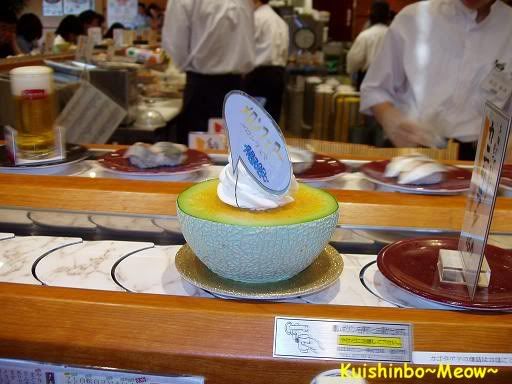 We didn't order this, but seem so cute. Half a meron with ice cream. Wow... no way we can finish tat. Heee... temptating look. 630yen (RM21.60).
To be cont. 2nd part.