8 August 2004
Come to 21 August oledi... wow!! Time so fast. Yuko cmailed me 2 days ago, saying tat she likes the talk bout her trip to Kyoto. Hehe, I promised her I will try to finish the post once I hv time. But it happens tat these few days I am damn busy with my research. Wat more, not running smooth, so kind of very stress now actually. Ate 4 buns & 1 cup noodle just now as dinner!!! Didn't eat the bentou tat I brought from home. Very crazy huh... Still hv many work to finish tonite, but I think I need a break for me to hv a deep breath. So, come to my kuishinbomeow... :P
Yuko, I hope I can finish them tonite for u. :) Here u r, my dear...
Byodoin
We went to
Byodoin
around noon time. We r supposed to get out from home 2 hrs earlier, but delay delay... :P Anyway, it's just 5 min walk from my house. Heeee... Yuko like the place so much. In fact, it's a very famous shrine in Japan. See the back of the 10 yen coins, tat's the byodoin. And this November, the new 10000 yen note will hv byodoin at the back as well. :D Ok, here are some of my favorite pics from this shrine. Hope u all like it.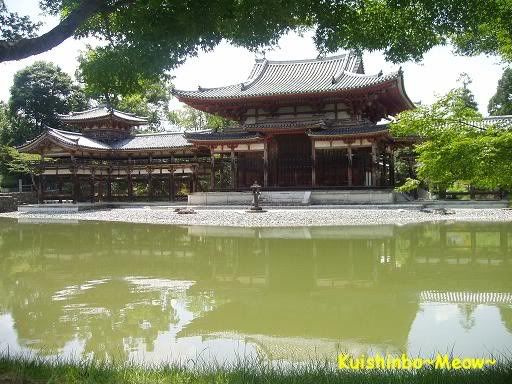 This is the main focus in byodoin. It's called Hou Ou Dou (Phoenix Hall). For entrance into the shrine is 600yen (RM20.86), excluding Hou Ou Dou. If u want to enter the Hou Ou Dou, another 600 yen will be charged. However, there isn't much to see in the Hou Ou Dou, cause most of the things inside have moved to the Byodoin museum, which charged is oledi included in the entrance payment. Wat I like bout this Hou Ou Dou is its dignity. And it has different look in 4 seasons. I never realise it looks beautiful too during summer, isn't it?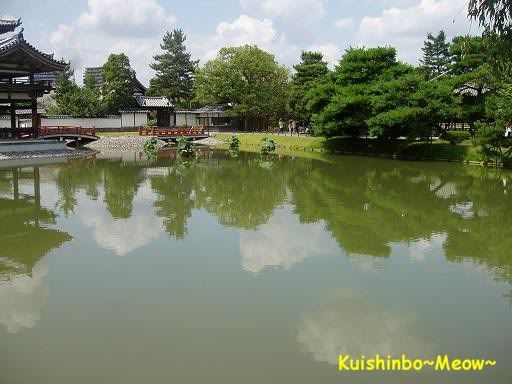 This Hou Ou Dou is built surrounded by a pond. As today weather is very good, the reflection of the pond make it a perfect time to take picture. Wat do u think of this one? All colours of nature... Hmmm... I like it. :)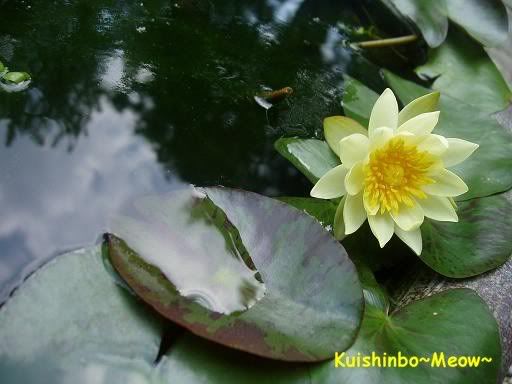 Summer time flower, Suiren (water lily), is in full blossom in Japan. Uji dun hv much, but surprise to see they have a few tiny suiren tat r pretty good in Byodoin. I am kind of satisfy with this pic of mine. :P Kind of artistic rite? Heee... another effect in using water reflection. ;)
Suiren is one of my favorite flower. And
Claude Monet
is one of those impressionist who I think draw good suiren. He was very good in using light effect for his drawing. His passion towards this flower can be seen by many of his drawings.
Itokyuemon
We r supposed to meet Sylvia in Kyoto station at 3.00pm. But we know we wouldn't be in time, so the time is postponed to 1hr later. So after we finish the Byodoin sightseeing, Yuko n me were heading to another maccha shop which r very famous in Uji. It's called Itokyuemon, an old shop with 280 years of history. One of my favorite shop in Uji. :)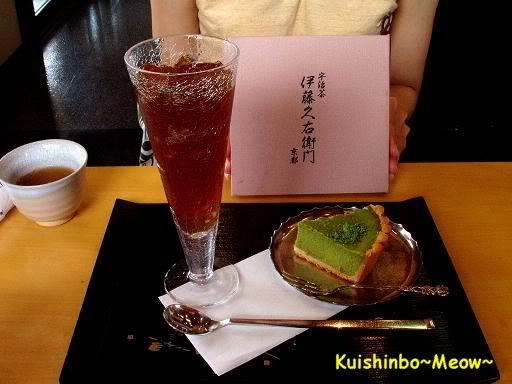 Yuko saw this tea jelly, she wanted to try it. And I was attracted by this maccha cheese cake. I saw it in the webpage last time, and when I went to buy in the shop, they said it's only sell online. Kind of disappointed tat time. Was surprised n happy to see they finally make it sells in the shop. Guess this cheese cake must hv been popular they decided to make it a regular product.
Ok, here it is, the tea jelly n maccha cheese cake set (1/4 cake). I forgot the price oledi, should be 850 yen (RM29.53) if I dun remember wrong. The cake taste so rich, cheese cake lover must try this one. Yuko was thinking to buy the whole cake for her mum as omiyage, but it is 2310 yen(RM80.26) for 1 cake. Kind of expensive, so Yuko changed her mind. I just gone thru the web, seem like they have promotion now starting from 24 August, 1995 yen (RM69.32), hmmm... if only Yuko is here tat time.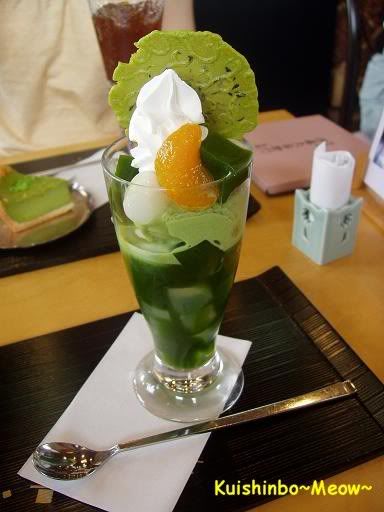 We oso ordered one of my favorite menu in this shop, the maccha parfait. See, it's not as colourful as the one from Nakamura Tokichi rite? I told Yuko this one is my favorite, taste better than the Nakamura one. When she first see the outlook, it is not as colourful. But once she tried it, especially the green tea jelly, she just totally agree with me. :P And she likes this one better too. Heeee... I wonder if the Nakamura Tokichi saw this site, they will surely get mad with me then. :P No offend, just personal preference, rite? Oso, I love the white ball in this parfait as well. Very good mouthfeel when u bite it. :)
Biwako Hanabi
One of the main events happening during summer is the hanabi (firework) performance here and there in Japan. For Kansai, besides the
PL Hanabi
(biggest hanabi in Japan, with 120,000 shoots), which I haven't has a chance to see yet (next year must go, cause most probably will be my final chance),
Biwako hanabi
is also one of the famous in Kansai area. Even though it's only around 10,000 shoots, the way they arranged the shooting and the contrast scence with the Biwako lake (biggest lake in Japan) is irresistable. Here is the link to the
hanabi events in Kansai area
this year.
We are supposed to meet Sylvia at 4pm... But we couldn't catch the train in only 1 second. Stubborn JR driver, just wouldn't wait for us when he saw we were running down the stair for the train. UUuurrrgggghhhhh~~~~ if Keihan line, for sure they will wait. Luckily, Sylvia was patient enough to wait for us after we called her to apologise and informed her bout our late arrival.
By the time we reach the spot, it's around 4.30pm. We went to get a good seat first before we can move our butt to buy food.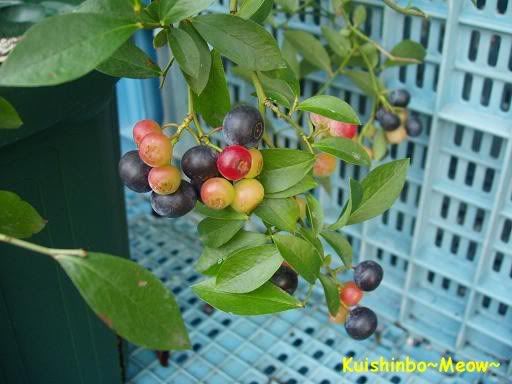 Me n Sylvia go first. Whereby Yuko n Naomi (Yuko's fren who came directly from
Fukui
tat day just specially to see this hanabi) look after the seats first. On the way, we saw this blueberry plant on sell. It was my first time to see a blueberry plant, though blueberry has been a favorite fruit of mine for years. Well, M'sia dun hv one mar... :P Looks cute rite?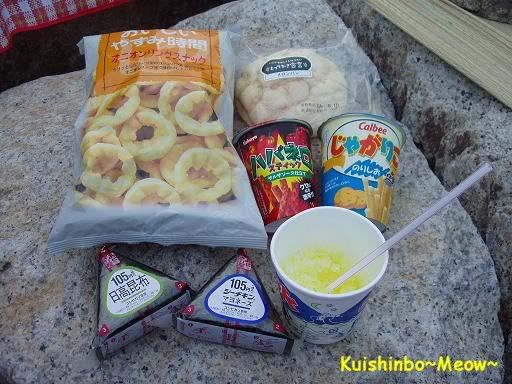 We then went to
Lawson
(famous franchise convenient store in Japan) to buy some foodstuff. Man... the crowd was terrible. We had a long q b4 we can settle our payment. Back to the seats quickly so tat Yuko n Naomi can hv their turn as well. Here r the food me n Sylvia bought. Onigiri, junk food and Sylvia's kakigori. She has been keep saying wanting to have a cold cold kakigori to clear off her heat in body. She looks so shiawase (blessing) when she eat the ice. Heeee....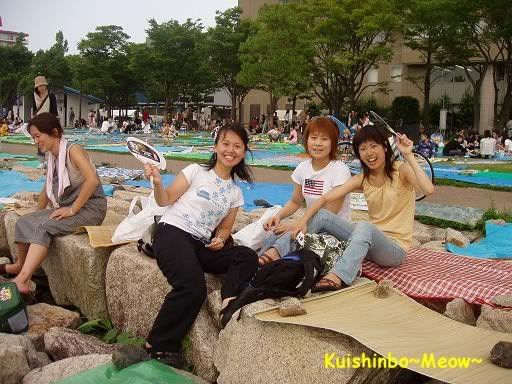 Ever wonder how these 3 frens of mine look like? :P Yuko, sorry... I think this one is near enough tat people will be able to c ur face. ;) But cute cute gal, nvm show to other people rite? Heee... Ok, here r the 3 sweet gals. From left to rite, Sylvia, Naomi n Yuko. And see the big stone?? Yap, tat's our seats. Hah!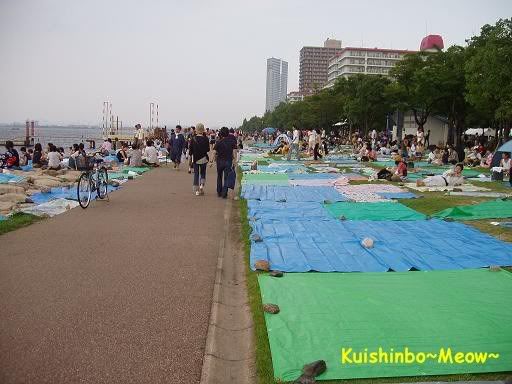 B4 I went to buy food w Sylvia, took some pics of the scene of the crowd. Ok, still very empty, with a lot of mat around. Means those places are booked oledi. One thing good in Japan is people dun disturb ur reserve place, so it's safe for u to book earlier then come later by only putting the mats. But make sure u put big big stone on top of it, or else, the wind will steal them away from u. Heee... Tat time was around 4.30pm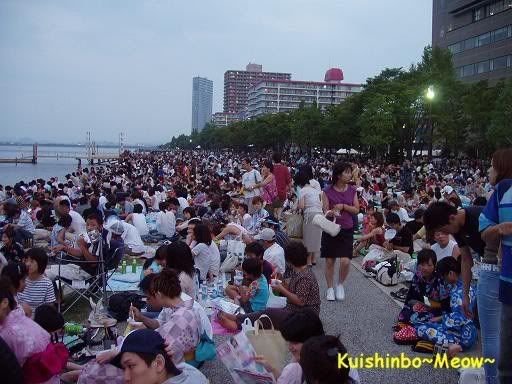 Then, after 2 hrs... here is another version of the same place... U can only see people kepala (head) here n there. Many people wearing Yukata... especially those young gals tat comes with their gals' gang, or their bf. :P Dun ask me how many people, I just dun know... Too many to be able to count.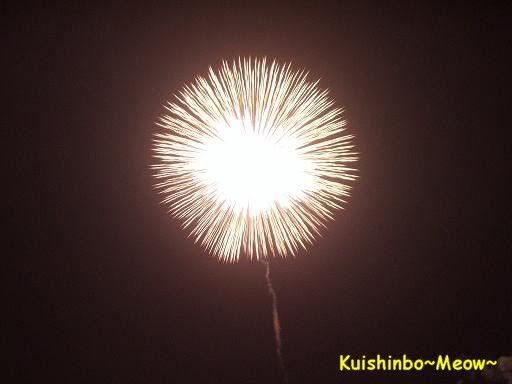 Took many pics on the hanabi, even though I told Sylvia beforehand dun want to take any pic, just want to watch. Eventually, I break my own promise. :P
Only a few turned out to be satisfy. Damn! Should hv bring my tripod. But bit heavy n troublesome to bring for a crowded event like this.
This big bloom not bad huh? We were kind of far away from the Hanabi, n my camera can only 3 times zoom, so I guess this was not bad oledi huh... (self comforting, sob sob).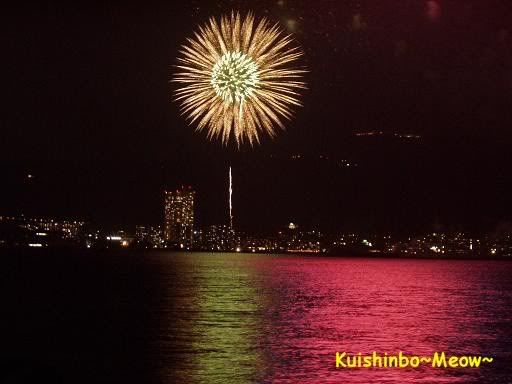 This was my favorite. Especially the reflection. The red reflection was due to a taller bigger explosion. But I think without it was oso a good effect. Wat do u think?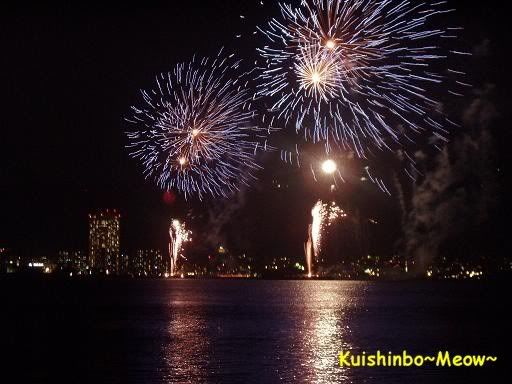 This one was Yuko favorite. I like it too. Good combination of the buildings, lake n hanabi.
We had a good hanabi tat nite. With frens to see this kind of event, was very enjoying. But after the end, we just tried our best to rush as fast to the station. Cause if we dun do so, it will be lucky enough if we can get home with the last train. I experienced it 2 years ago, so I know it.
Ok... finally finish for the 2nd day. Dear Yuko, sorryyy... I think the 3rd day will hv to be delayed till tomorrow. Cause I am in my maximum now today after working with my research for 14 hrs. Please wait for another day ok?
Till then. Nite nite everyone.