12 August 2004
EARTHQUAKE!!
Yesterday nite, 5 September was an unforgettable experience for me. In same day, the west area in Japan where I am staying having 2 times of earthquake, with magnitude(M) 6.8 at 7.00pm & M7.3 at 11.55pm. For the 1st time I felt scary with the earthquake, even though I hv experienced a few times while these years in Japan. Dun worry everyone, I am very fine here. I didn't feel the 7.00pm one cause I was on the train way back to Kyoto from Tokyo. Luckily, nothing big problem happened for my journey except tat the train was a bit delayed. When Wai Wai cmail me if I am ok, I was blur blur cause hv no idea bout the earthquake at all. But the 11:55pm one, I experienced it myself. It was lasted for more than 30 seconds. I was sleeping in my room, but somehow dun know why, I woke up a few seconds before it happened. I dun know if tat is my sense or wat, but same kind of things hv happened to me for 3 times, whereby everytime when I was sleeping, I will wake up just a few second before the earthquake. Guess I must prepare a safety bag besides me all the time from now, in case a bigger one will happen. Even the earthquake experts are confuse with this 'twin' earthquake.
Ok, back to my little post tat was supposed to post on 12 August. :P
Souvenir again
We had 2 kinds of snack for dessert today. One from Kaori, it was baked biscuit made from sweet potato. Very soft biscuit.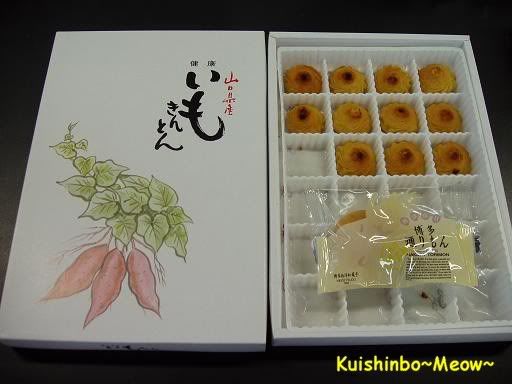 The lower right have another dessert in a package. This was the souvenir from Kimura, think she got it from Hakata. I love this one. Very nice. The white bean paste was good, and the buttery flavour was so nice. The whole thing was very creamy tat it can even melt in my mouth. Yummy!!