14 August 2004
Summer hiking
Went to hike with Sylvia in the early morning this summer weekends. It was Saturday, we thought it will be crowded, but in the whole trail, it seems like we r the only 2 human seen. :P But we do encountered with many other creatures: 2 snakes, 1 crab, 1 green frog n many insects. Sylvia r very phobia in crawling things. She keeps saying I am the one that attract those creatures. Heee... so I hv the witchery power in attracting them huh. :P Maybe yes~~~
We hike for about 6 hrs. Finally we finished the trail. Actually we could hv been faster, but we walked into the wrong path for twice. Oh well, no pain no gain. ;) But i did get impatient a bit while we r lost. Cause the sun was too damn strong shiny on tat day. Shouldnt blame the good sunny day huh.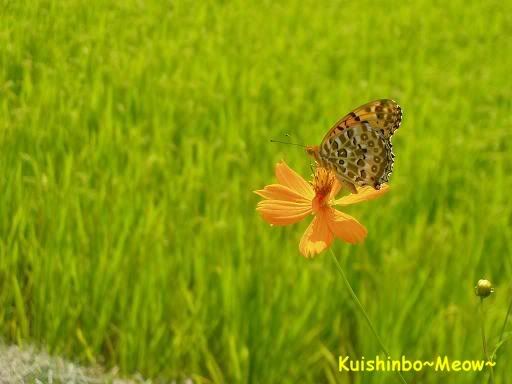 After we get out from the jungle track, ahhhh~~~ big piece of green green paddy field was in front us. Now this is wat I call nature... U get the mistery dark wood area, n u pass the shiny green green field. It happens tat this orange flowers was in full bloom, and when I was taking picture, this pretty little miss butterfly suddenly fly into the flower. Shot!! Heee... didn't expect it to be come out so good. I like it.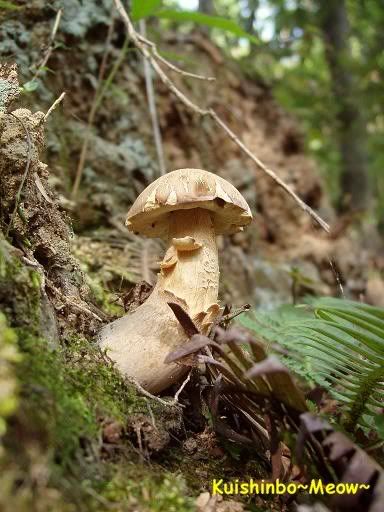 Then on the way we walk walk walk to find a shop introduce in the booklet, I spotted many mushroom was growing beside the road. Took quite a number of pics of the mushroom. Cause I am crazy bout eating mushroom. I keep asking Sylvia whether they are edible, but in the end, I didn't dare to pick any. Not confidence they r 100% safe. :( Too bad. Or else, tat nite I will hv a great mushroom feast. Oh well, at least got pics, better than nothing. One of my favorite pics... Isn't it cute? Hmmm... looks so delicious. :P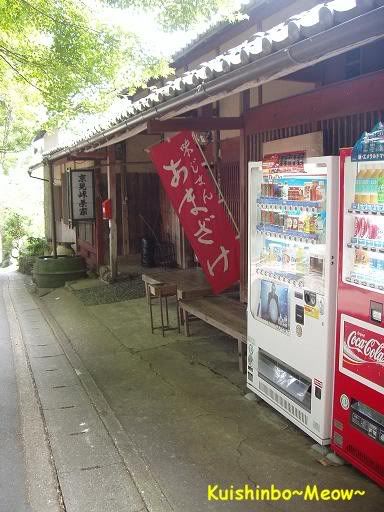 Finally we found the shop. With the vending machine standing there exactly like the one in the booklet. I took one for my own. Very typical Japanese rest house. So glad we find a place to buy drink. Bought 2 in one time, for moisture reversing.
The little boy in the shop was popping out to see us with his mother when we were resting on the bench. He saw we were eating Mr. Donut crispy stick. I gave some to him, but he was too shy n hide into his mother back. And I past to his mum, and he eat them from his mum's hand. Then he quickly run into the shop. After a short while, he came out again. This time he seemed braver, cause he came closer too me. To my surprise, when I put the donut into his mouth, he opened them and ate it. Wah~~ me so happy. Heeee... so he likes Mr. Donut as me too... Heeee... I got the final bite, and I decided to give it to him. He munch the final bite. Pheww!!! Then he off like a wind into the shop and never comes out anymore. Cool... wat he wants is finish, so he got nothing to get from me anymore. Heee...
By the time we reach the city, it was almost 5.30pm oledi. Sylvia suggested to bring me to a vegetarian shop. Of course yes. So here we off...
Cafe Peace
The shop is called
Cafe Peace
. The first image I walked into it, very oriental. After we ordered our food, I used the time for taking some pics before the foods were served.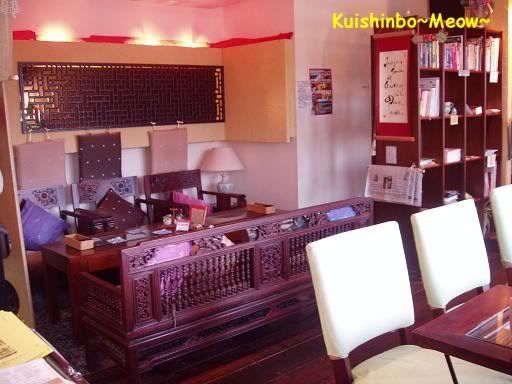 It looks more like a dining room at home rather than a restaurant, dun u think so? Feel so relaxing inside.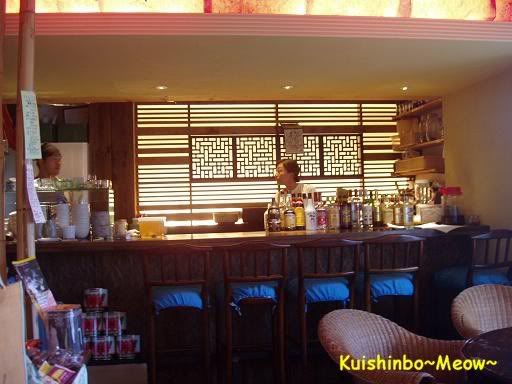 They oso hv the counter seats.
Our food finally comes. We were damn hungry, especially Sylvia, cause she hardly eaten anything for the whole day. This one was ordered by her, strongly recommended. Poor she, has to wait for me to take the food pics when her stomach was screaming for food oledi. Sorry ar dear... :P I love this appetizer. The sauce was so good. Sylvia like the avocado mayonaise more, n me prefer the sour salsa sauce. The combination between these 2 sauces were so irresistable. The nachos was very crunchy and freshly fried. It is called Guacamole with Chips, 700yen (RM24.27).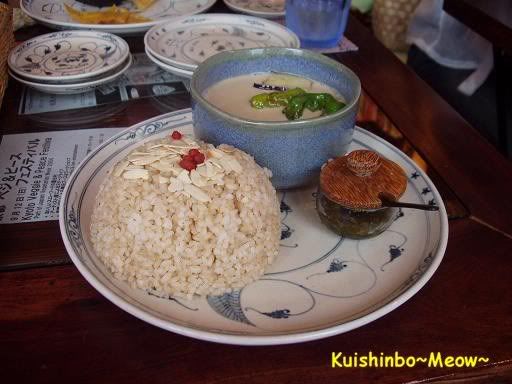 Then, Sylvia main course come up. She ordered green curry with organic brown rice. The special thing bout this curry is, the green paste was not added beforehand. So, u can add in according to ur own taste. Sylvia prefer the soup just like tat without any paste. As for me, I prefer it to be more spicy. One complain bout this soup, the ingredient inside is too stingy. They should hv put more veggie inside. 850yen (RM29.47).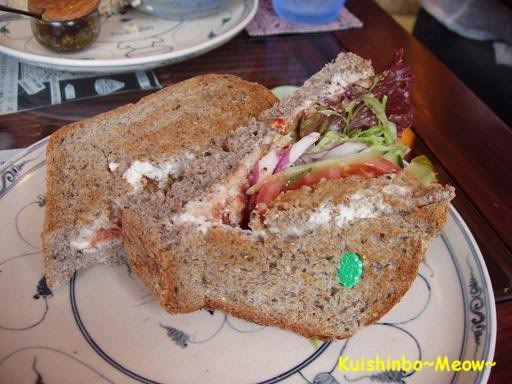 As for me, I was confuse between 2 meals. And finally I ordered this soyburger. I'm glad I made the choice. The most touching ingredient in this meal is their home made bread. I just love it. Very nice. I guess they use somekind of black cereal, maybe the black rye. The moment u eat the bread, u can feel that it is very healthy food. Delicious. Wat more the sauce they use is the tofu mayonnaise (mayonnaise made from tofu, without any egg), so even though it is as creamy, but lighter kind of feeling. 850yen too.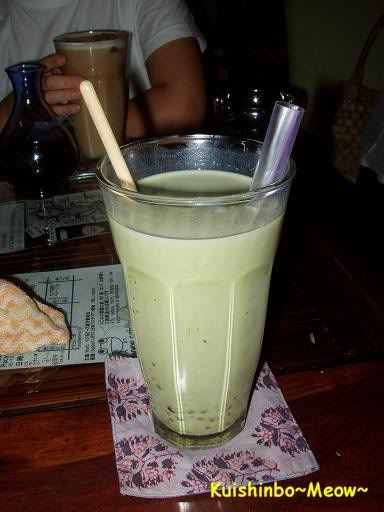 I ordered the organic green tea soymilk pearl tea as my after meal drink. 580yen (RM20.11). Wow!! Huge glass. I never had any good pearl tea in Japan. But this time was different. The pearls were cook to the right softness. Munchy. And the drink was light. After adding their homemade syrup, I can finish the whole glass even after the big plate of foods. Sylvia ordered ice coffee, and she just love it too. She is so happy adding the syrup bit by bit into her drink. Hmmm... this gal, happy more with the syrup than the drink. Hah!!
But for sure, next time I will go to this shop again more than once. Still got many foods I hven't tried.
We sure had an exhausted day. But a very interesting weekend day. :)
Tata.