16 August 2004
I get connected to my little cousin back in Sibu today. Hven't keep in touch with him for a long long time. His mailbox always full. Oh well, maybe he is too busy with his STPM study. (R u?? Gilbert n Jerry... Heee, ur mum sure damn worry bout ur 2 exams now. We all know her style. :P) My sis sent him this blog address, n he finally wrote mails to me. Here is part of the content of 2 mails that he wrote. Interesting. Giving me encouragement to continue on my blog, knowing got people out there who appreciate my works. :) Thanks all.
Here is wat he wrote in the 1st mail...
u know what is gloria response when she saw those picture?

"whoa~~ Waisei... There is no such food in Malaysia. i oso want it.
ask jie jie to bou for me!!"
In the 2nd one, he wrote again...
Well, actually gloria like the food than what u think it is. that's real because after she saw the picture she wants me to bring her to the sushi cafe in "Parkson" sibu.haha!
Ok, gloria my dear, I promise u, next time either u r in Kuching, or I go to Sibu, will do a few for u to try. Meanwhile, u hv to be a good gal study first. R u in Form 2 now? I hope I am right. Oh well, more worry for ur mum again next year... Heee... A very dedicated wife n mum... u guys r very lucky. Should understand why she nags too much sometimes. Just like my mum mar... (Well, they r sisters). Heeee...
Andy (my another cousin, Gilbert elder brother), stayed in my house for a few weeks when he has his
UMS
school term holidays. After he went back to Sibu, he said to his mum...
Andy
: Mum, u know, u really like a copy of auntie. The way the 2 of u walk, talk blah blah blah... everything just so same. The only different is auntie earn more money than u.
Auntie
: ....
Ha!!! When my mum told me, I laugh until tears come out. Cause I feel exactly the same as Andy. Seeing auntie, is really sometimes feel like seeing my mum. The 2 ladies are crazy bout collecting Ang Pau. So when my brother's wedding, with all those Ang Pau by the guests, tat nite when they do the calculation... Hmmm... I dun see their eyes shine with the money inside. Wat make them so excited r the red red Ang Pau outside... (Auntie said:"Aiyor... how come this fren of urs got this Ang Pau but didnt give us ler?" And mum replied:" Eeeee... yalor... Wat more such a cute one. Haiyah! Next time see her must scold her why hide the Ang Pau?")(FF:...) 2.00am in the morning. Oh my god!!! I couldn't stand them, go to zzzzz....
Heee... enough for the family stuff. Back to my blog talk on 16 August. (Gosh!! Now I realise I hv bunches of talks to do...)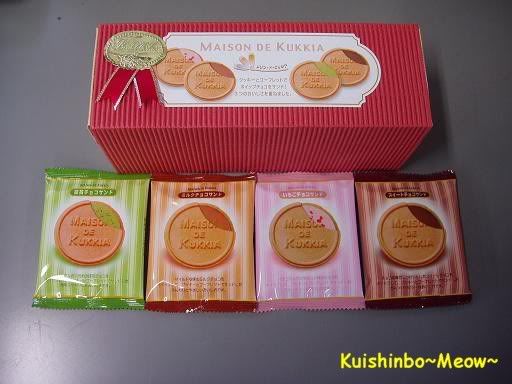 Yamaguchi is a new Master year 1 student in my lab. Very hardworking guy. Sitting besides me. He bought this box of biscuit as snack for tea time. Gave me one. I chose the green tea flavour one. Yummy. Very crunchy outside. The green tea cream inside is just to the rite sweetness. :)