19 August 2004
New style
Yesterday, left a comment in Wena's blog, a regular food blogger in Kuching. Her
mum-mum eat-eat
is strongly recommended. Got her feedback on the suggestion to my blog. Didn't know tat my big pics are the reason tat push my right column to the bottom. Been wondering why for a long time. Thanks a lot.
So today goin to try with this new style, smaller pic but bigger tag in the pics. Here we go to the 19 August blog.
Fish fish brand fetuccini soup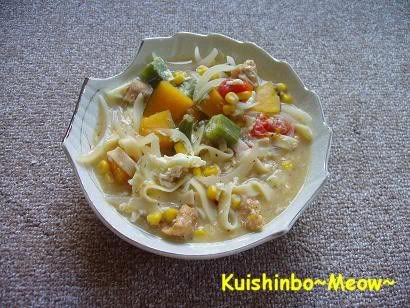 This morning woke up. Suddenly feel very much to have pasta n soup. So came up with the idea of soupy pasta. I used fetuccini. And use any ingredient I can get in the freeze for a combi. Dang dang! Here is my end product. Heee... looks not bad huh. The taste was good, yummy!! At least for me. :P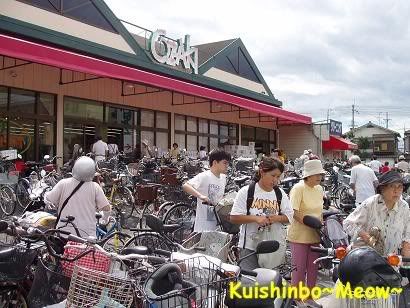 After closing for renewal, Ozaki supermarket near my school finally reopen today. My my, when I past thru the shop, so many cars oledi lining up. Not to mention the very very crowded bicycles. The picture says everything. Never seen such a packed Ozaki.
I was worry will be the same situation s the closing day of their renewal, whereby when I went at evening time, the whole shop omost empty. :( So this time the Kiasu fish fish oso join the crowd for the very jam situation. :P When I hold up my camera to take pic from upper corner, everyone look at me like an alien. See the bengkok pic. Well, better than nothing. Wat more, see the crowd. Hardly move a step inside.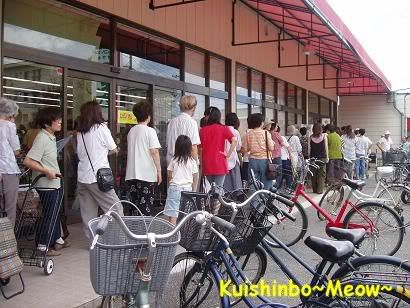 After finally bought my stuff. It was oledi 1 & 1/2 hrs. Line up for omost 1 hr just to pay $. Hhhmmmm... the Japanese Kiasu spirit not kalah us at all. After I get out from the shop, still many coming. But the shop r doin limitation in entering. Only after a certain amount of customers get out, then the new one can get in. Good system.
Tat nite, I opened the
Oimatsu
canned warabi mochi tat I bought last time. Hmm... like it. Different taste with the high standard warabi mochi I had last time in the shop. But still good. Actually I prefer the mouth taste of this one more, cause more munchy. :P
Ok, extremely hungry now. Planned to go for gym, give up. These few days take too much CHO, no good. Still feel tired after long trip last week, n these few days school. Hmmm... ganbatte tomorrow then for the sport... Miss my aquawalking very much actually.
Tata.