21 August 2004
Had a good brunch on tat Saturday morning. Something typical Japanese food tat I used in my cooking. Guess wat?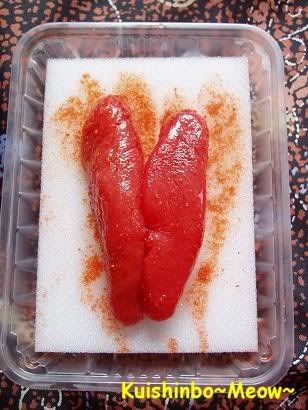 See this raw n red stuff? It is called mentaiko (spicy fish egg). The red red colour is the chili paste they use to marinate the fish egg. One of my favorite. Especially eating it in a rice ball with seaweed wrapping it.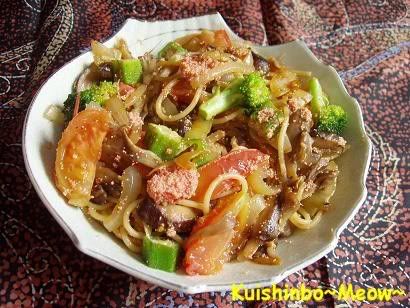 Today I tried to do a cooked mentaiko version. Yap, I used it into my spaghetti goreng. Only add in the mentaiko just before I serve my meal. So tat it is not overcook. Put a lot of veggies... broccoli, ladies finger, onion, mushroom and tomato. So another kind of my rainbow food. The taste? As good as the look. :)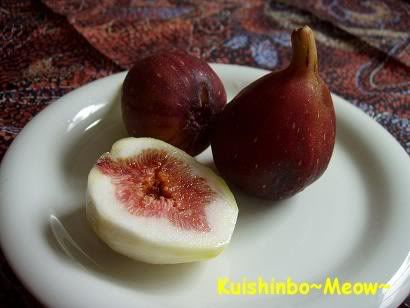 The Japanese called it Ichijiku. And we called it
fig
. I never seen or eaten a fresh fig before until I came to Japan. It taste very different from the dry type tat we normally had in M'sia. I love the fresh one. The mouthfeel is like an
avocado
, but less creamy and sweeter. Must handle with care cause easily smash when it is ripe.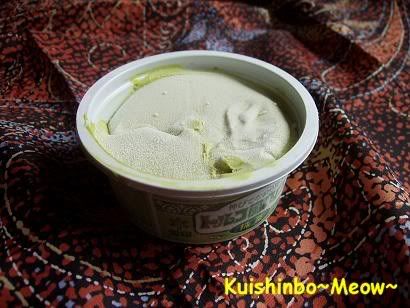 Bought this Turkish maccha ice cream few weeks ago. Didn't eat it until today. Why is it call Turkish? Cause it is different with normal ice cream in texture. It has a strong viscosity after u stir n stir it, something like an Italian gelato. Not a bad taste for a 84yen ice cream. :P