22 August 2004
Hakodate Ichiba again
Ok, after Sylvia saw my blog on this
Hakodate Ichiba
near my house, she c-mailed me on 21 August, to see if I am free to go with her the next day for this sushi shop. Well, as it's very near my house, n nothing particular for me on tat weekend, the 2 gals are heading for some good Japanese stuff again. :P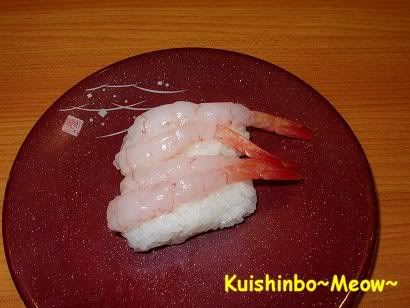 Well, we did order a few food same as last time. This time, goin to post the new one tat we ordered. Go to
this
for the last time post. Yellow plate:126yen (RM4.37), maroon: 168yen (RM5.82), green: 220yen (RM7.62), orange: 300yen (RM10.40).
Sylvia took one amaebi (sweet prawn). I never tried one, but frens said they r really sweet. See the pinkish colour? It's the original colour even with out cooking. Looks pretty.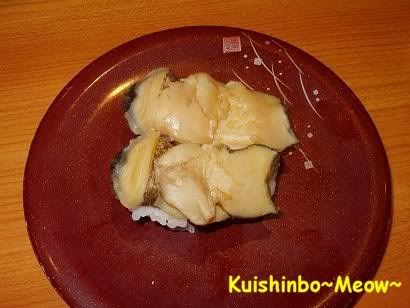 Sylvia kind of like shellfish. I dun know the particular name of this one, so just call it shellfish then. :P Sylvia said it's very fresh, and the meat is very munchy.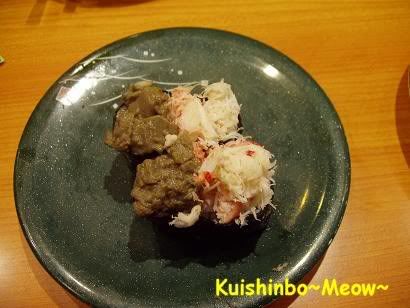 She likes kani miso (crab paste) very much. RAW!! I ask her how does it taste? She said a bit bitter, and a bit fishy. But tat is where the attraction is. Hmmm... hard for a vegetarian like me to understand. But seeing her very happy face while eating it, I know it must be good for those who know how to enjoy it. Big sis, would u like to try it when u come?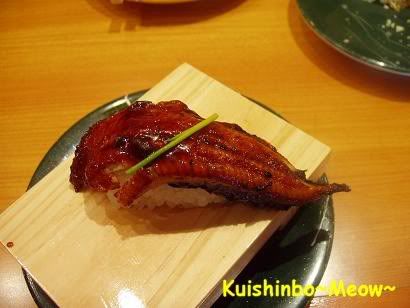 After that, even though she is so full oledi, after seeing this unagi (eel), she shake out her stomach a bit for some space to fill in it. Now, among all the sushi, I think she looks the most shiawase (happiness) with this plate. She said the eel taste so good.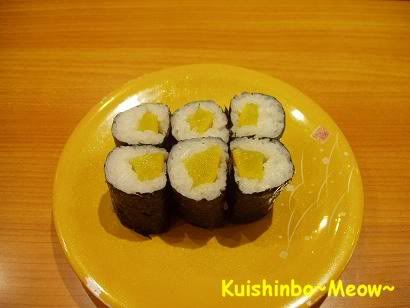 As for me, I wanted something light. Miss pickle too. So chose this shinkomaki (pickled radish). A bit sweet. Very chrunchy. Very common pickle in Japan.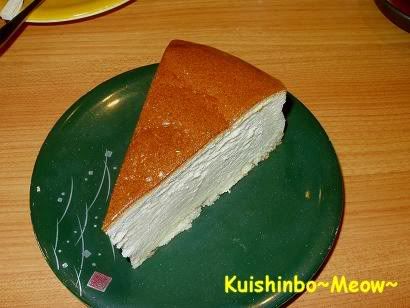 After the main meal, we order 2 desserts. The first one is the cheese cake make from Hokkaido milk. Not too bad. But I prefer my own big sis one. She can make one of the best marble cheese cake tat I hv ever had. Yummy!!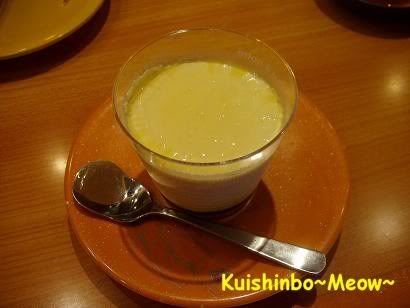 The 2nd one, is the pudding. Mmmmmmm~~~~~ Sylvia n me were quite surprise with the taste of this pudding. I had uncounted pudding before, this one is one of the best. It was sooooo creamy. Very very smooth. The moment Sylvia n me put it into our mouth, we can really feel tat we r very lucky, very touch indeed. Too bad can't bring back to Malaysia, or else, really want to let my family try. Hmmmm...
Sylvia:"Yong, this is a great place. I love their sushi. But I think the pudding is the best."
Heee... so I think she forgot bout the unagi she had earlier oledi. :P
After tat, where did the 2 gal go?? KARAOKE, of course. :P :P Ciao ciao.