25 August 2004
To Tokyo by 18 kippu
I took a day off earlier from my prof for moving up to
Tokyo
. I am moving up by
Seishun 18 Kippu
(ticket youth 18). For a 2h journey by
Shinkansen
from
Kyoto
to Tokyo, I took 9h on the train by this ticket to Tokyo. But the difference of the price is 11230yen (RM388.78) for normal people (normal shinkansen ticket is 13530 yen). As I am a student, even if I can get a discount ticket, I still hv to pay 11892 yen. But if 18 kippu, if move from morning, u can reach to Tokyo only by 2300 yen. See how big the different is? But for sure, u will waste a lot of time n energy. Well, nothing is perfect, depends on ur choice.
Ah... for those of u who wants to come to Japan for travelling, and want to save the travelling time, I would strongly recommend u get the
Japan Rail Pass
(JR Pass). Who can get the pass? As long as ur visa is chopped Temporary Visitor, u hv the right to buy this pass. But this pass can only get in other country, not in Japan.
Finally Tokyo!
Been in Tokyo for a few times, so nothing much for me to do sightseeing. Anyway, too tired with the long train travelling, wat more stomach damn hungry.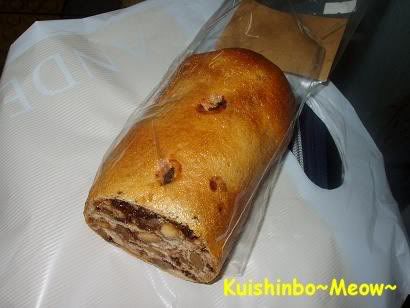 Saw this yummy bakery shop inside the Shinagawa station. Look look around, was confuse to choose which one, finally get this one. The 5 cereals n dry fruit bread. Damn compact n heavy. I was very full when eating until half way, but slowly I finish all of it cause dun want to eat later, might not as fresh oledi. Never had such a bread with so many filling inside. Half bread for 472yen (RM16.35).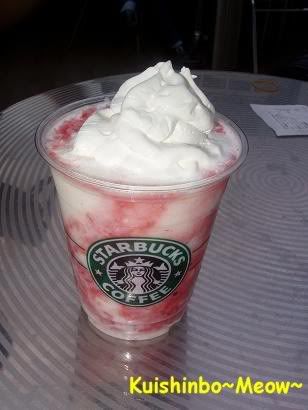 Then, I met Ah Fu at around 5.30pm. We r suppose to meet another fren, Hui Wen. But she was still busy with her lab work. So we lepak lepak around, sit in
Starbuck
near the
Takashimaya Times Square
, and get ourself some drink. Ah Fu treated me a Maccha Frappucino, and he got himself one Strawberry frappucino. Actually he wanted to buy the Mango Frappucino for me, but sold out. So he bought these 2, and let me chose one. ;) The maccha of course. :P
Finally we met Hui Wen at 9pm. She felt so guilty for letting us waited so long for our first meeting. Yap, this is the first time we met with Hui Wen. And she is the gal tat goin to have the Taiwan trip with me. Surprising?
Actually kind of ridiculous how both of us turn up to be in the same trip. One day, I got her mail, she wanted to come to Kyoto (never here before). Ask if she can stayed in my place. But at the very bottom, she mentioned she wanted to go to Taiwan actually, but nobody to go with her. The devils in Tokyo all got their own plan. And she just wanted to get out from
Todai
, get out from Tokyo for some break. In the end, she asked me if I am interested to join.
So tat nite, I thought for around 1h. (I told her I got imsonia, she thought I couldn't sleep for whole nite, when know tat I imsonia for only 1 hr, she wanted to pengsan. :P) Then, the next day, my decision to her is
"Let's go, Hui Wen"
. I use tat 1 h to think, wat excuse should I give to my sensei, and should I go with a gal I never met b4 yet. But still the temptation is just too strong. Who knows, I might develop a good frenship from there, heee... positive thinking? Over positive sometimes, I think.
On the 3rd day, she called me bout booked the ticket, and yap, our trip were fixed. Before the booking, I went up to my teacher and said...
"Sensei, can I take a holiday from 26 August till 3 September?"
He ask:
"When?" "26th till the 3rd..."
, my face was looking very worry.
"OK."
Very simple answer. He didn't even ask me wat I want to do with the holidays. Kind a surprise he said ok so fast. But I guess he has get used to my style. :P Come on, I hv been with him for the 4th year...
The day before I move to Tokyo, I told him I will be away from Japan.
Sensei: "Back to Malaysia?"

FF:"Again???" (Think, didn't say). "No no no." I answer....

FF:"To Taiwan". I said.

Sensei:"Really?"

FF:"Really."
And our conversation end.
So, now I ended in Tokyo. And we went to an Italian restaurant in
Lumine
2 in Shinjuku station for a dinner. Forgot to notice the shop name. :P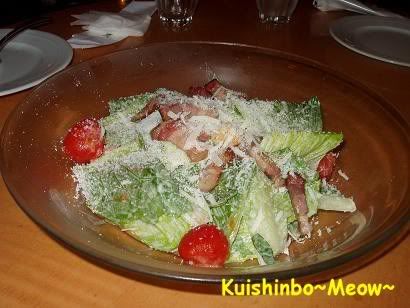 We ordered one caesar salad as appetizer.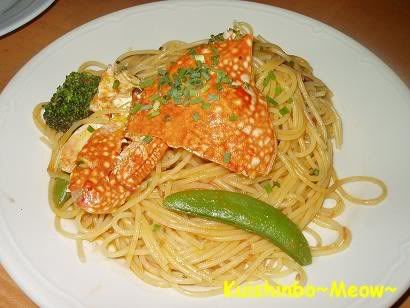 Then, we had crab spaghetti. Crab always goes very well with pasta, no matter it's the tomato based sauce or white cream. I didn't eat the crab, of course.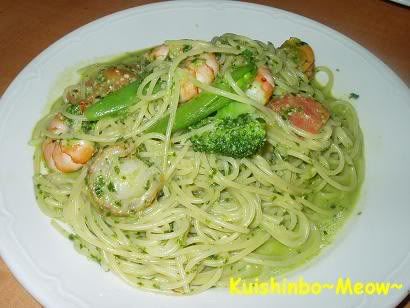 We oso ordered one green seafood spaghetti (I forgot is it the basil sauce or the spinach sauce). Which is not so common menu. Not bad too.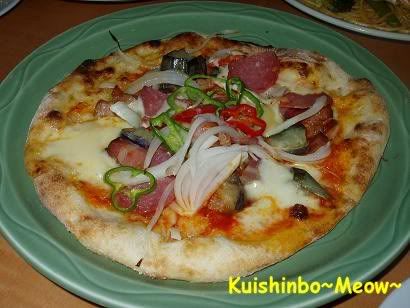 Finally we had a Capricciosa pizza as the end of the main menu. With salami n bacon inside. Was kind of full by tat time oledi.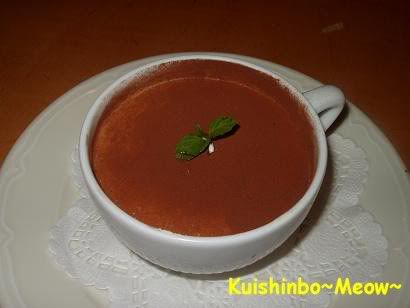 But Hui Wen worry we were not full, so she ordered one more tiramisu. I can't take coffee, so I skip it. Actually i tried a sip of the bottom part of this tiramisu. Good taste.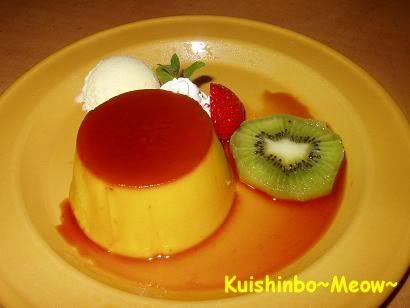 And we oso ordered one pumpkin pudding. Arrrggghhh... kind of disappointed with it. Too much pumpkin, make it too hard. If not, it will be a good one. So, I only had 2 sips of this too. The leftover, finish by Hui Wen n Ah Fu. :P
Hui Wen felt guilty for letting us wait. But me n Ah Fu felt guilty for letting her paid the dinner. Hey dear, next time u come to Kyoto, it will be on my treat for the sushi shop near my apartment. ;)
Ok, I'll stop now. Still need to walk home. Kind a late oledi. Till then, nite nite.