26 August 2004
I went to do my driving translation in Malaysia Embassy in Tokyo on 26 August. Was around a 30 min walk from Hui Wen's dorm.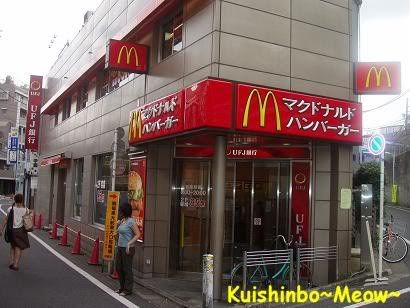 Hui Wen need to get some money. So we stop by in
UFJ bank
. Wat attract my attention of this branch is sharing the same place with the
MacDonald's Japan
. See the pic, kind of a interesting huh. I went into McDonalds for only 3 times for 3.5 years in Japan. And only once ate the stuff inside, the other 2 times was goin in with frens. I dun know, just dun like the taste. Maybe becoz I am a fan of KFC, the
Malaysia's KFC
, not the
Japan's KFC
.
I ate KFC in Japan twice, but very disappointed with the taste (ok, only eating the potato fries n the salad). However, other M'sian frens who r in Japan too having the same view as me, the KFC in Japan just taste weird for M'sians who r spoilt by the good taste of KFC M'sia. The menus in 2 countries r very different. In KFC Japan, please dun expect to hv Chili Sauce. Yap, they dun hv it. It's super rare to hv Chili Sauce in most of the fast food restaurants in Japan. One info for u all if u dun know tat, my prof in
UKM
told us before, tat KFC's brand chili sauce (if I'm not mistaken, it's Life), was started in Malaysia. And yap, tat's one of my favorite brand for chili sos. Another favorite brand of mine, is the Sarawak product Nyonya chili sauce. Mmmm... yummy with the fried beehoon.
Still remember when I was in Form 6, my brother will ask me to go with him every Friday nite for a KFC meal in
Sarawak Plaza
. He is owez double burgers, at least. And me, my favorite coleslaw and potato wedges. Oh my, how time hv past all these years. He is now someone husband oledi. Hmmm... I wonder will he ask me again to go to KFC with him or not.
Oops, driving back too far. :P
Malaysia Embassy in Tokyo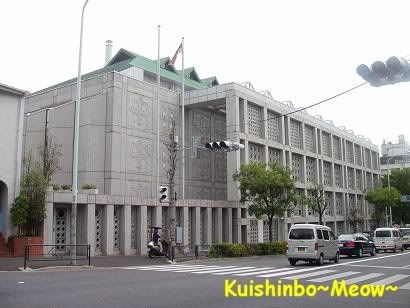 First time to the Malaysia Embassy in Tokyo. They used to hv one branch in
Osaka
too, close oledi last year. :( So for those outside Japan, we hv to go all the way to Tokyo for the Embassy.
Once u see the design of the building, u know it's M'sian. Kind of a big building actually.
My comment of the inner of this Embassy... The service of one of the lady in the front service counter that deal with visa, passport blah blah blah... is really disappointing. Both Japanese. But the other one is a typical polite Japanese way. Was very surprise to see such a rude service from a Japanese gal. She even talk in a very high pitch with the guests tat goin to deal their important document. A Malaysian lady who came at tat time too, told us tat she is owez with tat bitter gourd face. She hv seen this lady for a few times, and everytime like tat. But, I hv seen she smiled very sweet to one of the person tat came on tat day, even dun hv to let him wait, and deal his thing first. Wat kind of service is tat? I wonder if writing a complaint letter to the Embassy, will it be dealt? Or just let as it is. Oh well... Pity her to have to pull her face muscle so much everyday. Not worry in getting many wrinkles? Hmmm...
Royal Host
After deal with my translation, still hv to wait for another day to get the Japanese version. Hmm... Ah Lam got his in 15 min last time. Well, wat to do? They r the boss. Gosh, damn hungry. And it's time to meet the new faces in Tokyo. We met in
Shibuya Hachiko
. Then, after strolling around for a suitable place, we decided to eat in
Royal Host
. Couldn't get the non-smoking area, so have to bare with the smoke.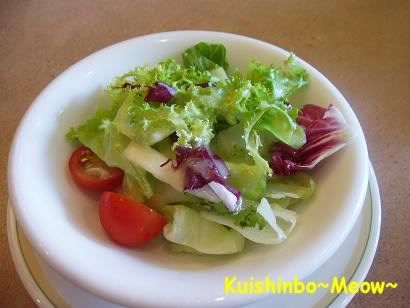 I forgot who ordered wat menu, but 2 sets of salad come up first. Look fresh. Like to eat salad without salad sauce.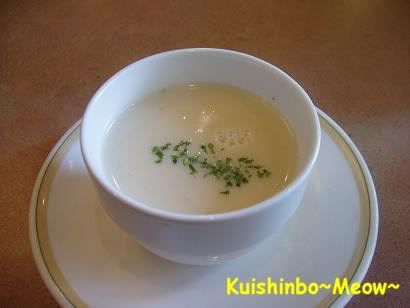 Oso for the same set of menu, potage is attached too. Didn't ask if it's delicious or not.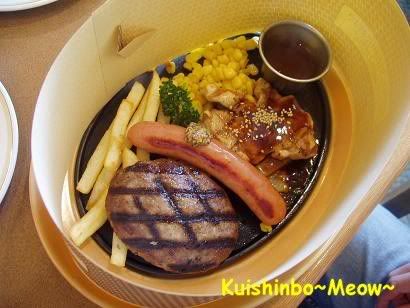 Now, this one is cute. It's a burger set meal for Min Hui. Wat I feel fun is the paper cover around the plate, so tat the sizzling plate wouldn't splash to the customer when serve in the beginning.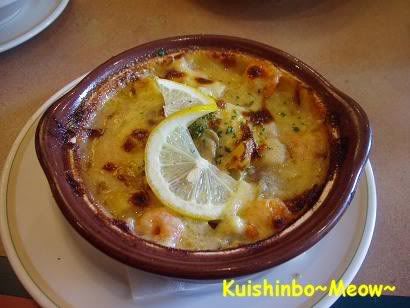 Beatrice ordered a macaroni gratin. Gratin is one of my favorite, but didn't order it today, cause something else attracted me. Right portion for ladies actually.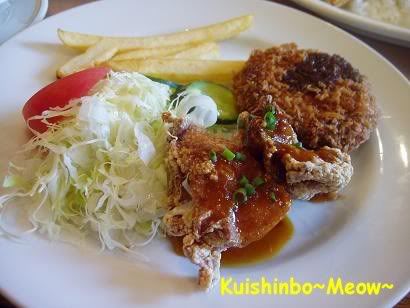 Ah Fu ordered a fried chicken set menu. I think among the pics, this one looks the most delicious. But one thing I dun like Japanese frying things, is they owez use sliced cabbage as side vege. I dun like raw cabbage. I wonder why dun they use lettuce. Hmm... maybe becoz of the cost.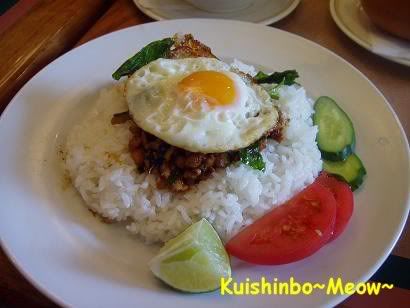 Hui Wen n Shanti, ordered spicy chicken rice (now, maybe the salad n potage is the set for this). I tasted some of the rice. Not spicy at all actually. Thought it's the chicken tat is spicy, but they said not spicy oso. Hmmm... typical Japanese level of spiciness.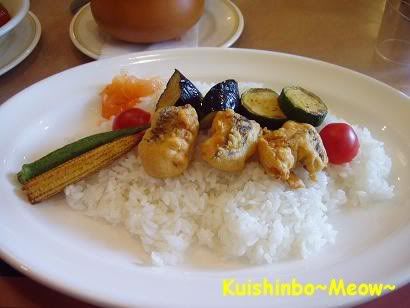 Dang dang! Finally my red sea bream n summer vege curry rice is on the desk. 1280yen (RM44.16). I ordered this just simply becoz it's written 'Summer limited'. And the vege n curry r really attempting me. As for the fish... :P I donate to every other members. hehe... kind ler...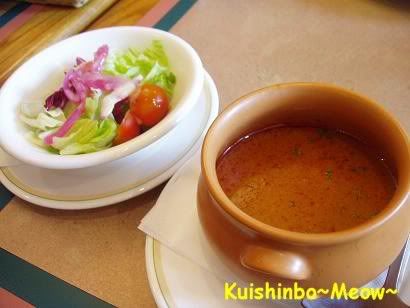 This is the curry sauce n the salad tat comes together. Mmmm.... I simply just love this curry sauce. Not the Japanese curry taste at all. More like a curry fish gravy back in M'sia. I finish the whole plate of rice with the gravy. Nice nice lunch.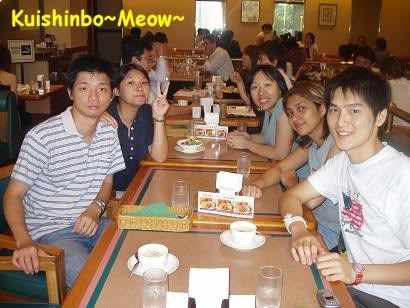 Ok, time to show u all who r these new faces. From left to right: Min Fui, Beatrice, Hui Wen, Shanti n Ah Fu. All nice nice people. Handsome guys n sweet sweet gals. :P Sorry guys, didn't ask permission before publish. Jangan marah yah...
Another little unsatisfaction during the bill paying. The gal was not polite. Hmmm... 2 times in a day in Tokyo. I wonder if I stayed in Tokyo, will I hv to face this kind of things everyday. Gosh... dun even want to think bout it.
Anyway, I'm off from Tokyo tonite, to Taiwan... YIPPIE!!!