Taiwan 1st day
We went to
Taiwan
from 26 nite till 2 Sept noon. Some
good reading
bout Taiwan. So, these coming blogs will be all talks on Taiwan, Taiwan, Taiwan... Here we start.
26th August (1st day)
Narita Airport - CKS Airport - Free Go Bus - Fu Shing Hotel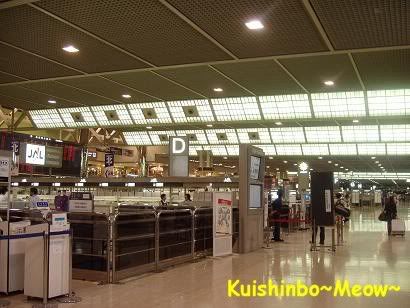 We went to
Narita Airport
by train. Very convenient. This is how it looks on the departure floor. We did some forex for Taiwan Dollar (TD). The exchange rate much lower in Japan, but hv to change some as when we arrive, will be late nite, no place for us to get TD then.
15 min before boarding, I called my mum.
FF:"Wei, mummy, I'm in Narita Airport now, airport in Tokyo."

Mama:"Narita Airport? Wat u doin there?"

FF:"I'm flying to Taiwan in another 15 min time."

Mama:"Ah!?? To Taiwan, tonite? True or not?"

FF:"Do I sound like I am making a joke?"

Mama:"..."

FF:"Yes, I'm flying soon. I'll call u when I get back. OK?"

Mama:"When u come back?"

FF:"2 Sept evening."

Mama:"Must be very careful when to Taiwan ar... Take care of urself, tahu?"

FF:"I will mum, dun worry. I hv another fren with me there."

Mama:"Just the 2 of u?"

Mama:"Gal or boy?"

FF:"Gal."

Mama:"Ah? Gal ar..." (Oops, she sounds more worry. Heee... guess she is very suspicious the 2 gals can really take care of themself or not.)

FF:"I got to hang up now, it's calling. Bye bye mum. Call u when I get back."

Mama:"Ok, bye bye. Must call ar when u back."

FF:"I will." (Du du du...)
China Airlines (Hua Hang)
We used
China Airlines
to Taiwan this time. Frens said it's not safe. Owez got hijack. Well... if tat is my destiny, wat to do?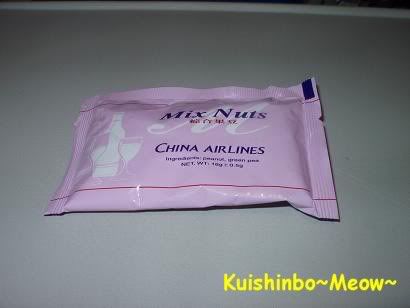 We were given this little cute pink package for before meal snack.
Ah... it's a mixture of green peas and peanuts. Both r my favorite. This one very fresh. Eat slowly while reading thru
National Geographic
bout US obesity articles. The peanuts in
MAS
oso very nice. Still remember last time when Fukumoto sensei travel with me to Malaysia, we had a great time enjoying the peanuts. One of the steward was very kind, he saw both of us likes the peanuts so much (coz we go for 2nd round, :P)... He didn't say anything. After turn 1 round for every passenger, he came back to us. Without saying anything, he grabbed a big bunch of these peanuts, and put onto our little dining board. Instantly, me n sensei blushed so red, but we were very happy at the same time.
FF:"Can we?"

Steward:"Certainly. Shhh..." (He smiled)

FF:"Shhh..." (I smiled back. Like a greedy kid tat got many candies... :P)
Heee... Tat was a great flight. All the crews were very nice. Lucky.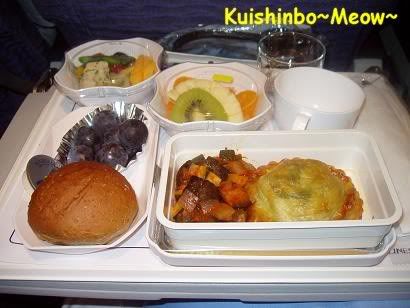 Before I can finish my nuts, my meal is up. Everyone around me looking me like an alien. Why, becoz they dun hv it, except me. Heee... cause I hv the vegetarian meal, easy for them to serve one meal first. Well, it will be their turn soon.
Now, doesn't it looks as delicious for the vege meal? I like the spinach pie the most. First time hv this menu. The grapes were very sweet too. They oso gave me mango slices for the salad. Yummy yummy meal. I like it. I can see surrounding eyes peeping my meal curiously. :P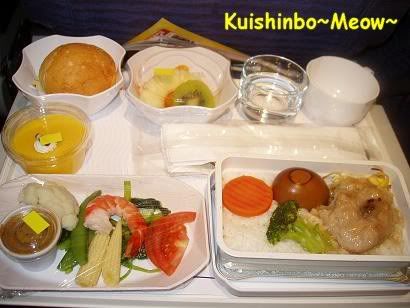 Then, Hui Wen one comes up. Meat n flavoured egg (forgot if it is pork or chicken). I hv half of the egg. Yummy!! Hui Wen like the meal too. Nice nice she said. Yap, they hv pork menu, which we will never see in MAS. Ahhhh... and the mango pudding is just so nice. I just love mango, and I love pudding. So, mango + pudding... love love. Heeee...
We finally reach the
CKS aiport
around 10.20pm. As scheduled. But when we get out from the gate, omost midnite oledi.
We look at the airport, seem not like a place for overnite. So, Hui Wen n I decided to go direct to
Tai Chung city
tat nite, the centre of
Taichung prefecture
. We planned heading to
Alisan
in
Jiayi
the next morning.
There are a few bus company in the CKS airport. We chose this
Free Go
(Fei Gou, which means Fly Dog. Heee... actually prefer them to call it this way).
Now, when we get on the bus, oledi the next day. 27th August. Really can feel our journey is starting oledi.
OMG!!! Hui Wen n me was big big eyes looking at the bus when we first see the seat. Why? See below, u will understand.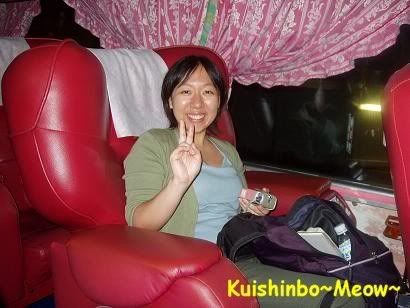 VVIP seat!! For only 230TD (omost RM23) to Taichung. Cheap huh!! Only 2 seats for 1 row. We called it super big single sofa. :P Must try next time if u go Taiwan.
Then, we get down in front to Tai Chung train station. There r a few hotels just in front us. We went to the first one, didn't like the smell, get out. Then the 2nd one, Fu Shing hotel, one semi double bed, 630 TD. We take it. Surprise to know kind of cheap. Tell u how the feeling of sleepin inside tomolo.
Yap, I'm very exhausted now. My study, my gym then the 2 long long blogs. Hv to save the final bit energy to cycle back home.
Stay tune for more. Tata nite nite.