Taiwan 2nd day (1)
Oops... a few days delay in updating my Taiwan talks. Was away from Kyoto. Friday n Saturday went to
Itami
in
Hyogo
to homestay in my Japanese fren's house. And Sunday celebrating Sylvia's bd in Osaka. The 2 gals had a whole day eating n walking there. Today, meet Kok Han from Tokyo for a lunch with Patrick n Sylvia as well. Stories bout these will be on later.
Ok, let's get back to the Taiwan trip.
27th August (2nd day)
Fu Shing Hotel - Zhong San Park - Tai Chung City Government Hall - Guo Guang Bus - Kao Shiung City - Jian Hua Hotel - San Feng Temple - Tian Gong Temple - Love River - 85 Mall - Nan Hua Night Market - Liu He Night Market - Jian Hua Hotel
The 2nd day was a big blog. So I will devide it into 3 posts.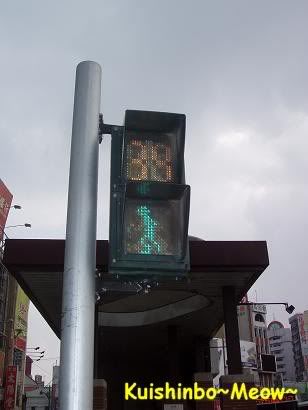 We woke up after a 5-h sleep. Then, looking for breakfast. Need energy b4 we really starts. Waiting for the traffic lite to turn Green. Woo... nice nice little green people walking inside it. With time countdown for u before the lite turn red again. It looks really cute. Too bad I didn't take a short video for it. Memory card limited.
We asked a few people where can we hv spots for breakfast. The answer is McDonald. :( :( Uh? (No way, all the way to here just for it?) Taiwanese like MsDonald?? So me n Hui Wen decided to walk blindly for our luck. We past by one stall style breakfast, so decided to eat it here.
So, wondering wat kind of menu they hv? See the menu board... Surprise tat this small small stall can hv so many choices ler? The 2 gals were kind of greedy, our eyes were so busy looking at the food and pointed to the foods and said
"We want this, this and tat"
. :P
"Ah, oso add this one too pls."
So, here they are. The tofu fah with peanut soup. Mmmmm.... YUMMY!!! The peanuts were so well boiled tat it melted in my mouth the moment I put it in. I had many tofu fah in my life, but not with this kind of combination. Kind a shock for me. The tofu fah itself are very smooth. But the long long You Char Kueh was kind of disappointing. Too crunchy. I miss the munchy You Char Kueh actually. The Luo Buo Gao (radish cake) was not good too. Too much flour, hardly taste the radish. :(
Then, the 4th menu up. It's the Yu Mi Dan Bing (Corn added egg pancake). It looks good, but me n Hui Wen was wondering if the taste will be disappointing again. One bite... Mmmmm... good good. Luckily. It's just freshly done. So still hot hot. We especially love the sauce. It looks like a sweet sauce, but actually is a salty taste. :P I just love the sauce. Went to add some more myself. ;)
How much all? Very cheap... 70TD only. ;)
So next time if u ask Tai Chung city people where to get a breakfast, and the answer is McDonald... Just say TQ and go to look food for urself. Dun believe wat they said. :P
After breakfast, we wanted to change some money. So we walk walk n ask where is the bank. They said no bank in near Tai Chung station. (Huh?) So pointed us to go to the further down street. Yippie, saw a few banks there.
"We want to change Japanese yen, where should we go?"
I asked.
"Do u hv a security of our bank?"
They asked. I dun really know wat it is, but guess something like a bond of the bank or wat.
"Nope, we dun hv."
I answered.
"Then sorry, we can't change for u. Please go to Taiwan Bank."
So, disappointedly, we went off. To other banks. Same Qs and same answers given.
"To Taiwan Bank please..."
So, Hui Wen and I decided just heading to Taiwan Bank. But we dun know where.
"Could u please tell us how to go to the Taiwan Bank?"
We asked shopkeepers in a CD shop.
"Taiwan Bank?! Oh man, tat's really far away. Very far. U need to take a taxi to go."
They said.
"How far?"
I asked.
"30 min by walking?"
"Hmmm... more than 30 min if u walk."
Their face look as our mission is impossible.
Tat makes me n Hui Wen worry a bit.
"Anyway, could u please tell us which direction should we ahead?"
"Just walk down this street and ask the people on the way, u will get there then."
"Ok, thanks."
So, the 2 gals decided to walk for our mission. On the way, we did ask a couple times for confirm of direction. Finally when we asked another ladies... "Oh, it's just down this street."
Then we walk walk walk... We were standing beside a big building.
TAIWAN BANK
. Written big big there.
Know how long we walk? Less then 15 min from the first time we ask for direction.
"..."
Hui Wen n I look at each other wordless. Our conclusion is, the Tai Chung people are spoilt by transportation. Or they walk too slow (are we too fast?) Heee.... anyway, glad we found the bank.
Inside Taiwan Bank, took us more than 30 min to change for a small amount of money. U need to fill in a form. With ur name n personal info in it. Then they will take ur passport for photocopy. After permit from the authority, then finally they give u the Taiwan Dollar. Gosh!! First time in my life, for a forex, hv to be so troublesome. I just dun understand. We really glad we hv the legally useable money for Taiwan now. Then, we hv the mood to search for some fun before we depart for the next destination to southern area.
Hui Wen looked at the guide book. We decided heading for a park called
Zhong San Park
. At the junction, we were kind of lost. With the map in our hands. Then wait for the traffic lite to turn green. We were wondering whether to pass the road or not. (I am a terrible map reader. Luckily Hui Wen hv a much stronger orientation in direction than me.) Then, a guy on bike besides us keep listening to our conversation, when the lite omost turned green...
"Pass the road... the place is down there."
He suddenly said. (Ah... so he is trying to catch our concersation to know where we want to go.) We were surprised by his helpfulness. But somehow, I think I started to like Taiwan, I feel warmer now. Helpful people. "TQ, TQ" Me n Hui Wen replied. And here we go.
Well, Zhong San park is just a normal park, with artificial lake and trees and walking path. We took a few pics there. Then we headed to the next building.
On the way, I saw one of the stall written Suan Mei Tang (Sour plum soup). Mmmm.... I want!! I hv heard Taiwan Suan Mei Tang very good. But the one I tried before, all canned one. Hv always wanted to try a fresh one. Hui Wen never heard this b4. So we bought one. Look dark dark drink, rite? But it's a very good drink during hot summer time. Ahhhh.... so soothing. Hui Wen oso love the taste. She said a very unique taste. Yap... very unique. Complicated taste instead. Some people might not like it though.
Then, we reach this Tai Chung City Government Hall. We didn't go inside. Just take a few snapshots. I like this one. The contrast of the fountain in front n the hall at back. :)
After tat, omost time for us to take a bus to the south. We rushed back to the Fu Shing hotel to check out. Grab our luggage and head to the bus station. Glad we r in time. Instead we still have around 15 min.
So I used tat short time to take the picture of the Tai Chung train station just beside the
Guo Guang bus
station. Nice little small station. With many people waiting in the station tat time.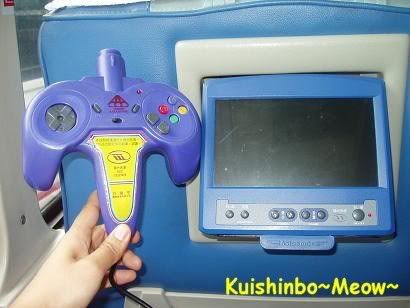 Another spacious seats. Got 4 seats in one row this time. But wide enough for me to move around. Wat I like bout this bus is ur own personal TV and game set. So u can watch TV or play game. But my game part is mulfunction. :( Urrrghhhh... Hui Wen one works well. Oh well, watch the movie then. Without realising, we reach the Kao Shiung quite fast. The ticket from Tai Chung city to
Kao Shiung city
is only 210 TD per person. (Note: If u go afternoon time, the ticket will be more expensive. Around 250 TD per person).
Yap... we didn't head to the Jia Yi for Alisan as we hv planned earlier. In fact, our coming journey was quite stray from our original plan. Becoz of the typhoon tat just ended b4 the day we reached Taiwan. The Alisan was closed. No way for us to go up. Well, we didn't regret though for the new journey we had... :)
To be cont...