Taiwan 2nd day (2)
We reached Kao Shiung city around 3pm. Found a nice hotel just besides the Kao Shiung train station. Called Jian Hua Hotel. Including breakfast is 800 TD per room. Well, HW n me were lazy to walk for some more, so decided to stick on this. The room was better than the Fu Shing Hotel tat we had in Tai Chung.
When we reached our room, the owner came to ask us if we want cold water or hot hotel. We requested for a hot one. He brought in the water, and just stand there and talked to me for quite some time. Hmmm... actually wanted to tell him I am tired and need a rest, but just dun want to spoil his mood seeing tat he talked in such a good mood. Heee... so get tat chance to train my patience.
Finally he said,
"Hv a nice rest, got anything just call the frontier."
I replied,
"Ok, we will. Thanks."
Once the door shut...
"My my fish fish, u really hv a good patience for tat."
Hui Wen said.
Heehee... Maybe~
After a short refresh, we decided to start our exploration in this city.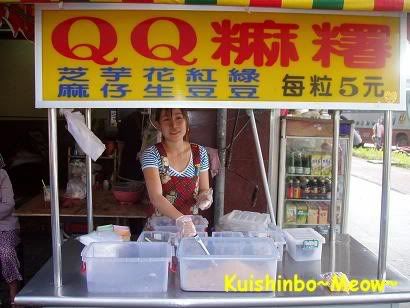 Near the hotel, we saw this little stall selling something round round. The owner is a beautiful young lady. And the title of the stall very cute - QQ Ma Shu (a kind of dessert made from rice flour). When I said I wanted to take her pic, she got so shy and get kind of panic in making our QQ balls. Heee... I told her, "Just relax".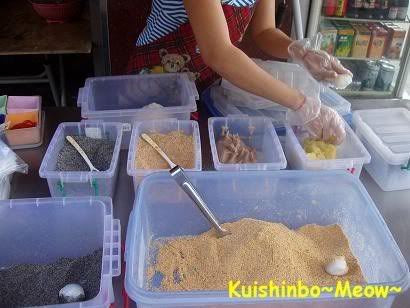 With a very quick speed, she put the filling into each ball, then, throw each ball into the colourful 'sand' plate. Roll roll roll, until the whole balls get dirty by the sand. And there we hv our QQ balls. 5TD for 1 QQ. I still like the peanut more, maybe becoz of the flash back of this flavour towards the Qi Ba back in hometown. Ohh... miss tat so much.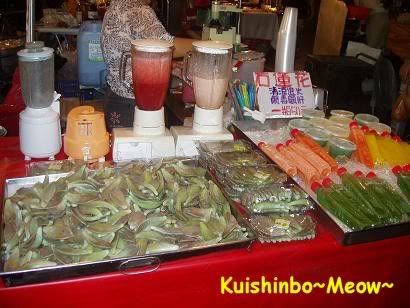 Then, we past thru a fruit juice stall. Something green attracted us.
"Eee? Wat's tat? R this stuff for eating?"
I asked.
Hui Wen response,
"I think so. Hmm... I wonder wat they call. And how do they eat this. Want to try?"
"Yap, yap."
FF answer (for sure).
"Excuse me, may we know wat is this?"
I then ask the owner.
"This? It's called Shi Lian Hua (Rock water lily flower). Very nice wor... want to try?"
The owner trying to tempt us.
"Come, try it."
She took out the thing to let us try it just like tat.
Very unique taste. Lite sweet n sour taste, but very succulent, my kind of mouthfill. I try to found the site for this plant, seem like belongs to the Echeveria sp.
This one
got many species of this group of plant, n I dun know which one of them is the edible one tat is selling in Taiwan. It is original from Mexico, for decoration. Found this
short info in mandarin
bout how the Taiwanese eat this plant. Sorry. Seem like it's a good plant for high blood pressure. (This pic was not taken from this stall, it's from later day tat I took in one of the nite market. Yap, it's selling everywhere in Taiwan.)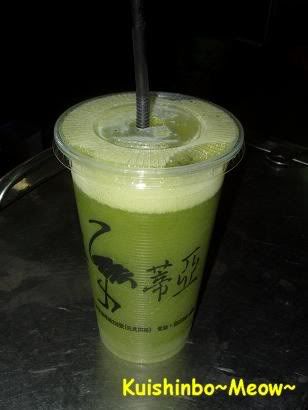 The owner mix this plant with pineapple n honey into juice. Looks very green huh. Looks very healthy. And the taste? Definitely worth a try for those of u looking for new things. ;) Anyway, it's 50TD for one glass. Worth to pay the money for the taste.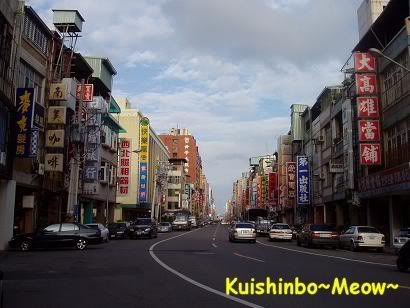 We felt nice nice with the 2 stuffs we had. Walk around the city. Not many car at tat time, instead kind of quite. Hmmm... Nice city though, slow pace life.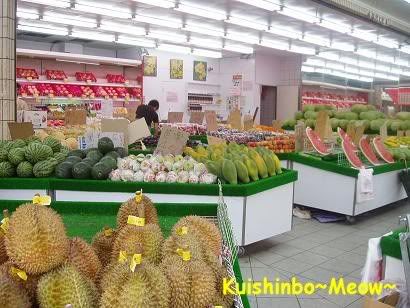 After tat, we past thru a fruit stall. Aiyah! Saw them selling durian. Too bad, Thai durian. I like this fruit shops, very spacious.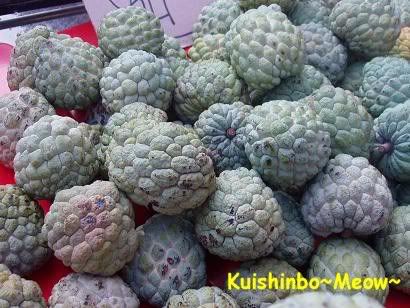 Outside the stall, saw a few ladies were very busy picking something. Ar... my favorite fruit. The backyard of my grandma oso hv it too, but not as big as this one. I think it's 3 times bigger than the one in my grandma backyard. My family call it Ling Kim. The taiwanese called it
Shi Jia Tou
(the Buddha Head), cause of the shape. This stall was selling very cheap, 10TD for one. Imagine tat, with the size like tat. I wanted to buy one. Ask the owner, but she seems like too busy with the ladies there tat buying 20-30 in one go. Arrrrggghhh... lost my patient, lost my appetite too. So, didn't buy in the end. Heee... maybe next time. (well, good excuse for me to go back to Taiwan next time. :P) Maybe those of u tat r goin, can tried it and tell me how the taste.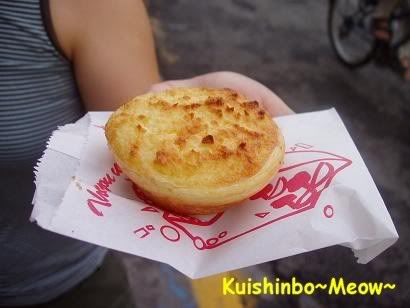 We past thru a small river, and heading to the San Feng temple. Saw a small stall selling tarts. Ah~ coconut tart. Japan dun hv any. So me n Hui Wen decided to buy one to try. 15 TD for one. Hui Wen one bite...
"Mmmm~~~~"
she can't wait for the whole thing to be inside her mouth first before she express herself.
"FF!! Good good!!"
finally she scream out.
Me get a bite on it.
"MMMMMM!!!"
Now I know wat she meant. Really very nice. Better than the one in
All Joy
in Kuching. The all joy filling was not as much as this one, and smaller. :P This one has a more fluffy taste. But both r equally tasty actually. Must let my mum try it next time. Really want to bring my mum to Taiwan liao. She will like it.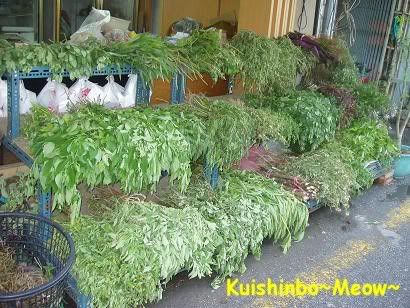 We oso saw many stalls selling different kind of plant. Hui Wen was telling me they r the herb stall. Ah~ i c.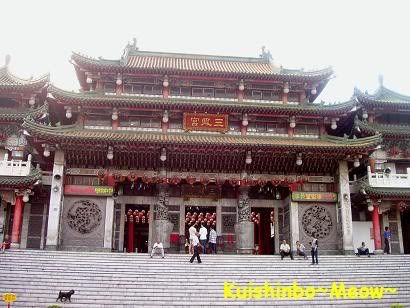 Finally we reached the 1st temple tat we visited in Taiwan. Temple in Taiwan all for free. Not like Japan, u usually need to pay for entering into a Japanese shrine. But the temples in Japan some r for free too. This temple is called
San Feng Gong
(3 phoenix temple). A temple with more than 300 years history. One of the temple in Kao Shiung city tat with the most amount of followers.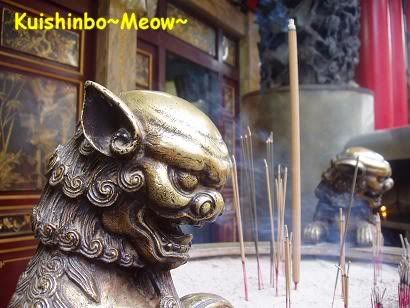 I took some close snapshots of the interior of this temple. This is the jotstick burning on the jotstick pot.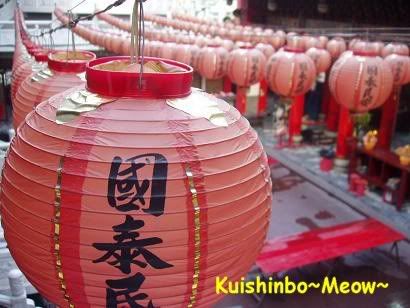 Then, I went up to the 1st floor to take the red red lanterns roll. I like the feeling of red lanterns in rows. Looks cute.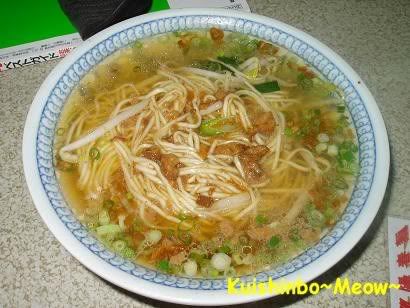 After the temple, we r heading to the next destination. On the way, we see many shop putting Yang Chun Mian (Yang Chun noodle). So Hui Wen n me r curious to try for tat. The noodle taste a bit like the kolok me. But dun like the soup too much, too oily for me. I guess wat I like bout the food, is the chili sauce tat let us hv as much as we can. Make me miss the hometown sambal chili paste so much. :P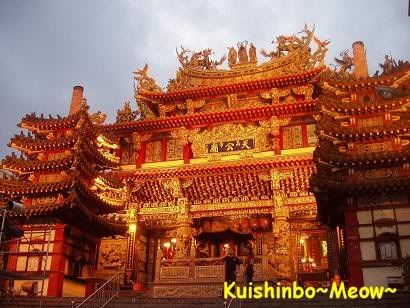 After tat, we r walking towards the river back side. But suddenly another temple showed in front us. Hui Wen n me were kind of surprise when our eyes first met this builiding. Wow!! Golden ray. See the pic, it looks omost like this in reality too. Hui Wen was saying we came in the rite time, cause it's sunset time. Yap, I guess she is rite. It is called Tian Gong Miao (Heaven God temple). Hokkien people mostly go to Tian Gong Miao on the 9th day of Chinese New Year (CNY). For them, tat's the true day for CNY. (This was told by Min Feng from Parit Buntal, Perak when I was in UKM).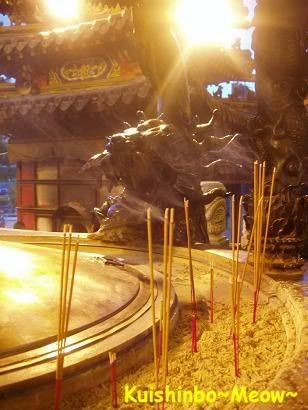 Another version of jotstick inside a big jotstick pot.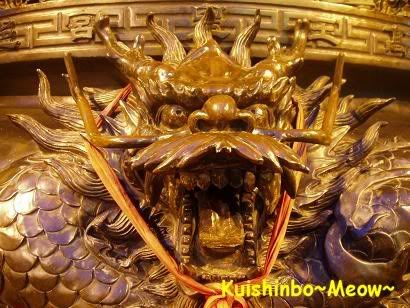 This dragon head is actually the front side of the big jotstick pot. Gaaarrrr!! I can feel as it is roaring at me. :P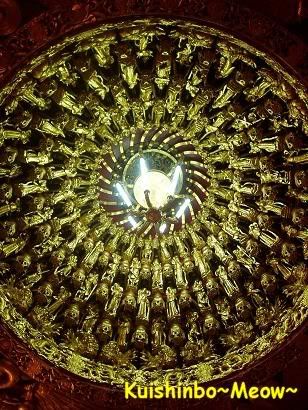 Now, the part I like the most in this temple, is this part of ceiling. Inside the pic, u can't feel the prettiness actually. I still remember when I look up and saw this piece, I was "Wow!!" Hui Wen was oso amazed by this piece of work. Very nice work.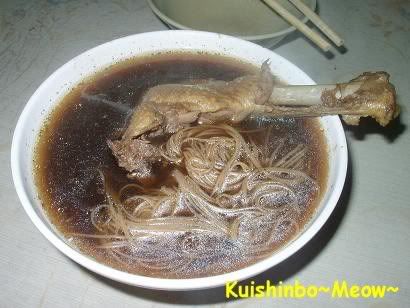 After the 2 temples, we walked pass a stall tat selling Duck Mian Xian (Very fine noodle). I love mian xian, back in hometown. Everytime go to Hoi Chin's house for CNY, her mum owez like to feed us her Red Wine Mian Xian. :P I do love it too, but can't take too much. Alcohol! Sibu has a good way in getting good red wine (this is not the red wine form grapes, but red wine from rice. Think the Foo Chow called it Ang Chou). This mian xian version is using Chinese herb in boiling the duck meat for a long time. But Hui Wen said the meat is not soft enough. Hehe... She didn't take the skin of the drumstick at all. As for me, tried the soup n the mian xian. Both of us concluded the mian xian taste different from M'sia one (so do from Japan one). A very unique mouthfeel, a cross between mian xian n bee hoon. Got me?