Taiwan 3rd day (1)
Today my lab all went back very fast. Came back to the lab after my aquarobic. Just me in the lab. Got to update my Taiwan trip, or else tomorrow n 26 sept, will hv a 2 days trip again. It's a lab trip. I dun like the place, but hv to join. Coz it's a lab's activity. Expensive. 22,000 yen (RM 755) each person. Oh well. Maybe it will be fun with the people even the place is not so interesting to me (I hv been there, once is enough). Bless me then.
Ok, back to my 1st part 3rd day Taiwan talk.
28th August (3rd day)
Jian Hua Hotel - Lian Chi Tan - Guo Guang Bus - Kenting Street - Tong Hai Resort Hotel - Kenting Nite Market
We woke up kind of early too the 3rd day. Trying to hav half more day tour in Kao Shiung city before we r heading to the next city.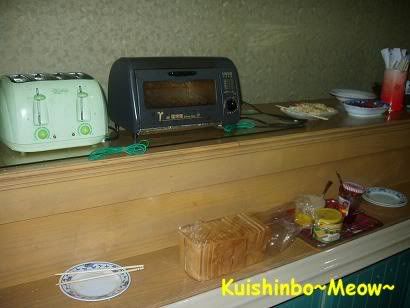 I mentioned bout the breakfast attached for the Jian Hua Hotel. And they said it was a buffet style. Heee... it's really a buffet style. But I would call it's a family simple breakfast. Bread, ham, egg, jam n butter. Oh yes, drinks. Milk n water. The drinks were inside the fridge.
The old owner said:
"Open the fridge. Got milk n other drink. Take watever u like inside."
Heee... I am really feeling like at home, helping myself with the things I want.
Anyway, Hui Wen had one piece of bread, with ham n egg. And me, 2 pieces. One with jam. Another with egg. Haven't had bread as breakfast for a long time.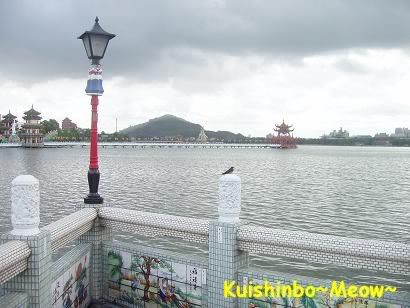 Then, we took a bus to
Lian Chi Tan
(Lian Chi Lake). See the nice nice little bird with the lamp pole? I like it. We assumed we will finish the tour by noon.
We reached there by bus. There was this little happening in the Kao Shiung while we were waiting for the bus. A young man came up to us when he saw us trying to figure out which bus to take. Then he pointed to us the bus number. And after that, he keeps following us all the way. I felt very uncomfortable. So I sat down, but Hui wen remained standing. Then, he kept trying to communicate with Hui Wen. He even wanted to shake hand with Hui Wen. And Hui Wen did. Brave gal. Me? Hehe... pretending to look at other direction all the time. :P (Had bad experience b4, so now super careful with this kind of people. >_<) Then we know why he wants to be so helpful, he wanted to get money from us. Hui Wen was so kind to give her. Hmm! Finally the bus came (the one he told us), but it turned up to be a wrong one. So we had to went to another stand to wait. Urrrggghhh... damn, wrong info. But finally we get on the bus. And I was so glad we finally get rid of him.
On the bus, another guy was sitting in front us (or should I say he is a boy? I dun know). He remained silent all the time. (He was there oso when the incident of the guy at the bus stop. I told the bus driver to stop for us when we reached the Lian Chi Tan. Guessed he heard my conversation. So, when we omost reaching there, he hurriedly pointed to us tat our destination omost there. Hmmm... helpful.
Yap, finally get to the destination. Big big lake. Our first sight is a temple. Yap, temple again. Instead, there r a few temples along the lake. The first one named Long Hu Ta (Dragon n Tiger Pagoda).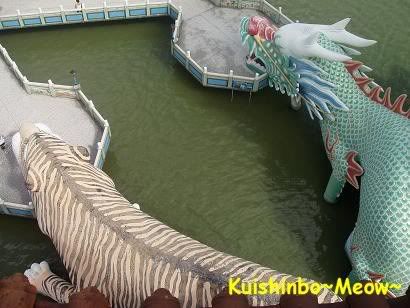 Wat is on ur mind when u see this pic? Well, it reminds me of the Crouching Tiger Hidden Dragon. "Woooo.... we r coming out" I heard them whispering. Or roaring? :P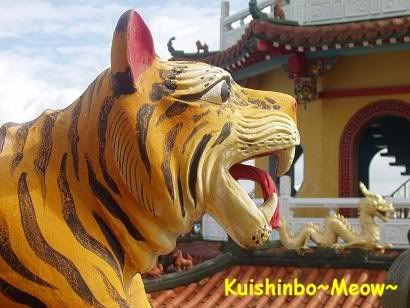 I hv a great passionate towards tiger. Besides dog, I think among the animals, tiger has a very pretty face. Seriuosly, if having tiger as a pet is not illegal, I would hv one by now. :P So, I took a few more pics on Tiger.
This one I think kind of fun. See the front tiger tounge with the back dragon tail? Looks like the tiger like to play with the dragon.
"Kuchik, kuchik, kuchik..."
It was licking the tail, make the dragon so itchy.
"Hahaha...."
Couldn't stop laughing dragon.
"Stop it u fool..."
Dragon trying to crawl away.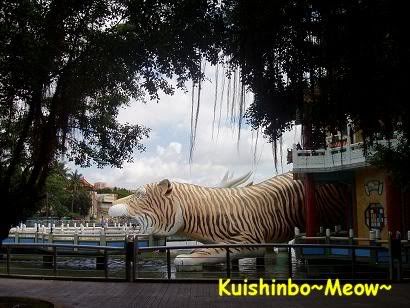 Ok, so the tiger are getting tired teasing the dragon. So, it decided to come out from the pagoda. Woooo.... big big tiger is coming out...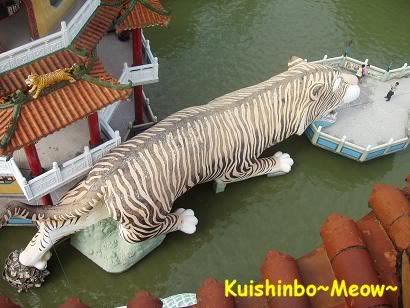 Ah~~ so it's looking for food.
"Mmmm... u look yummy to me..."
It's targetting to a man.
"Oh no!!! Run!!!"
The man scream. Well, I think he managed to escape away then. :P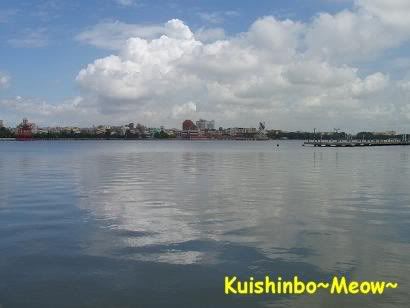 Here is another pic of the lake during we walk along the lake. We then reached an Agricultural Expo. Wooo... food... time for a good hunting again. Lucky. :P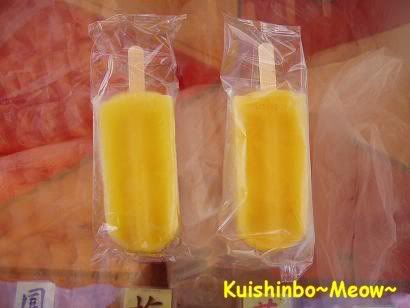 The first stall... ice cream attracted us. The childhood kind of ice cream tat I used to had. I had the passion fruit flavour (right) and Hui Wen get a pineapple one (left). Mmmm... miss the feeling when young. 10TD for each.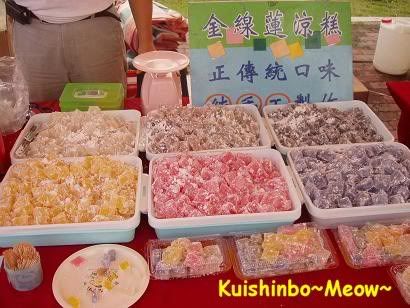 We then saw one stall selling Jin Xian Lian Liang Gao (a kind of plant made jelly). Taste light and soft, very good food for summer. Many colours too, different colour different taste. We bought 1 small package, with a mixture of all the flavours. 50TD. Too bad, I dun know wat kind of plant is it.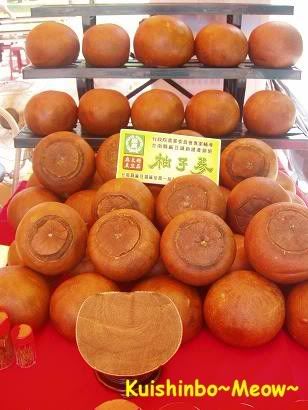 Then we came to a stall selling big brown thing. Go near n see. Eee? Still dun know wat it is. Then the owner said,
"It's a pomelo." "Huh?? Pomelo???" "Yap, good for throat. Come, try it."
So, me n Hui Wen tried. Ahhhh~~~ it's so soothing. I thought there was mint inside. But he said no mint, was another type of plant. So, very interesting how they use pomelo with other kinds of things to change it into a good for throat food. The small bottle one for 50TD, and medium for 100TD. Hmmm... I look at him...
"Ah? 50TD for this small bottle ar? Very different size from the medium one."
I remained thinking. Then, he started to say
," How bout this? U buy the medium one, I gave u the small one?"
Now my eyes shine. :P
"Really?" "Yes, really." "Ok, dealt." I said. "Gave me one too."
Hui Wen suddenly said. Heeee.... so the 2 gals happy, the boss oso happy too. ;) I have a very sensitive throat, this one is sure wat i need.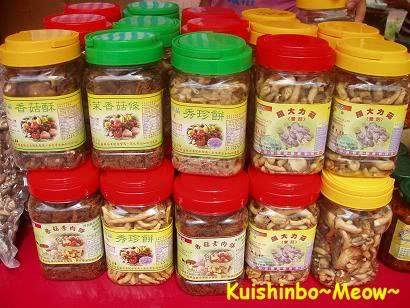 Oops... the next one attracted a mushroon maniac like me. Heee... mushroom... yummy yummy. They r not selling the normal mushroom only. They r making processed mushroom. I tried each of them. And Hui Wen tried a bit too, but not as much as I do. Hehe.... guess the boss sensed I do love mushroom.
"How much?"
I ask.
"130TD each for these all and 150TD for this one".
She answered.
"Hmmm...."
I paused.
"Since u r our first customer today, I will give u a discount if u get the 130TD two. 2 for 250TD"
. She added.
"Well, temptating. It will be a bigger attraction if u say one 150TD plus one 130TD for 250TD only."
I look at her, smiling.
She think think think, then said.
"OK"
.
Ha! Got it.
"Please give me one of this (Green cap one, the 2nd upper left) and one of tat (Red cap one, the 2nd upper right)"
. Aiyoh~ fish fish was very happy with this two big big mushroom in my bag tat day. ;)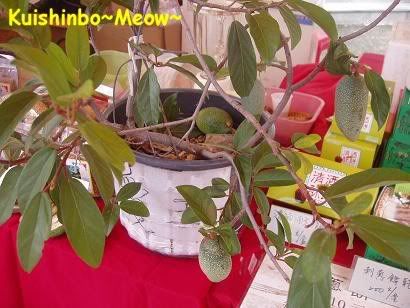 Do u know wat is Ai Yu Bing (Jelly Fig)? Well, I had it first time in KL. But I've never seen one neither in Kuching nor Japan. But it is actually a Japanese professor named Makino Tomitaro that first published the existence of this original Taiwanese plant in 1904. Scientific name
Ficus awkeotsang Makino
, belongs to family Moraceae. Same group as fig. Here is a
good site
for the info of Ai Yu, but it is in Mandarin. I can't find a good english site for it, but hv a
brief one
. Ok, this is how an Ai Yu tree look like. Kind of surprise it is actually kind of a small tree. I wonder how tall it can grow? Forgot to ask the boss.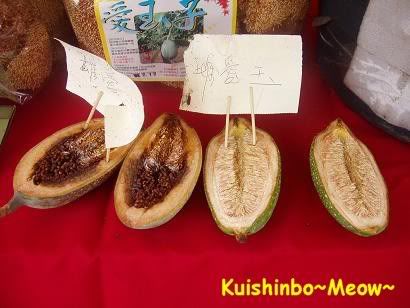 Then this is how the inner look of the Ai Yu fruit. So, it's devided into male n female fruit. Hmm, interesting, like a papaya tree.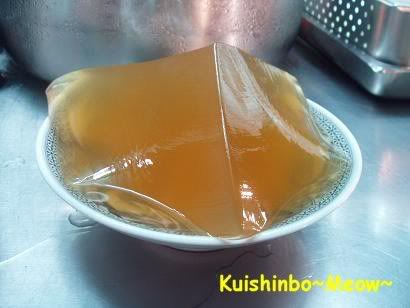 I dun know how do they do it. But owez when u see in the nite market, it has changed into something like this. It is said the gelatine of the Ai Yu seed tat formed the jelly. Very BIG piece!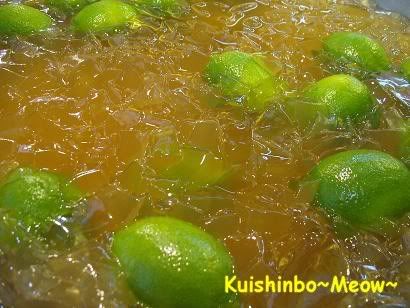 And they make it into small pieces, mix with lemon n honey or syrup. And yap... there u r the nice nice Ai Yu Jelly. I love it. Coz I like something sour sweet. Well, the jelly itself actually barely got taste, it's the lemon n honey tat make the flavor. A very cooling drink. The drink is said to be good for facial beauty n throat soothing. Hehe... exactly wat I need. :P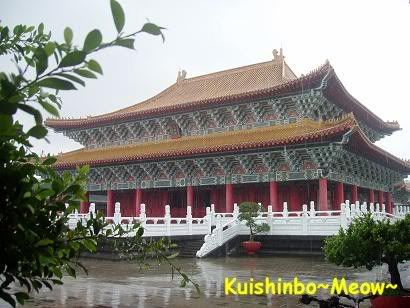 We finished the expo, and decided to go to the next temple called
Kong Miao
in a very heavy rain. The whole temple was just Hui Wen n me. Very wide place, make it seems like a bit too lonely. Hmmm...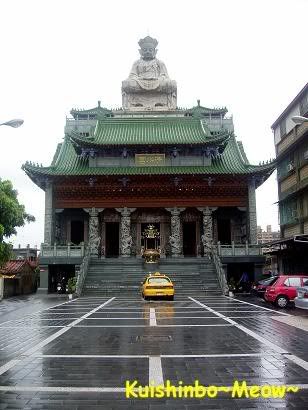 We visited another few temples around the lake. Become look the same to both of us. So just skip until this last one. Call Qing Sui Gong. Still got rain tat time, sky so grey, not too good to take picture. But there was this kind old man tat passed by, and offer himself to take picture for us. Nice nice.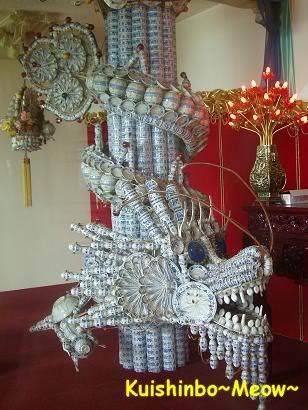 We went inside the temple. There, we saw a few old men there.
"Ah moi, go up. Got nice nice thing to see."
They said to us.
So, Hui Wen n me turned up in front of this dragon by lift. Cool huh, lift in the temple. I like this dragon, cause it is actually made from bowls, plates n spoons. Wat an art. Another half is the phoenix. Didn't show here.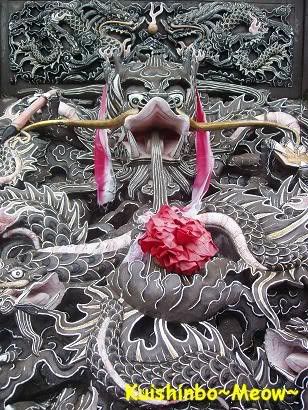 Hehe... this one I forgot which temple hv I took it. But I think this is a nice dragon. So showed it here too. Ok, guess enough for dragons n tigers today. Too many. :P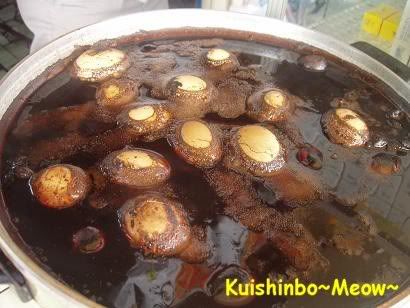 Now, after we finish all this, omost 2pm oledi. Stomach hungry. Happened tat someone selling tea egg for 5TD each. Cheap. Bought 2. Nice nice. So long time didn't eat egg tea oledi. U want to hv one in Japan, it's around RM12. Can buy 24 eggs in Taiwan. >_<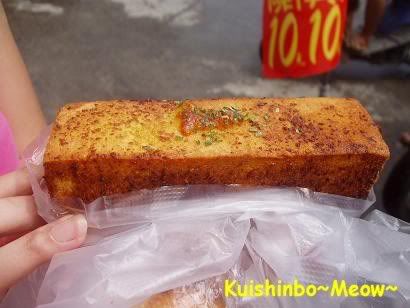 We were on the way to take a bus back to the hotel. Gosh! Supposed to check out at 12pm. But we hv over 2 hrs. Dun know how much they will charge us. If we know, should hv check out earlier.
Then, we saw this bakery shop. The garlic loaf seem to be temptating us. So, we bought one to try. 10TD for one. :( Very disappointed with it. Too hard. Aargghhh... but still swallow finish the thing, cause dun want to waste food.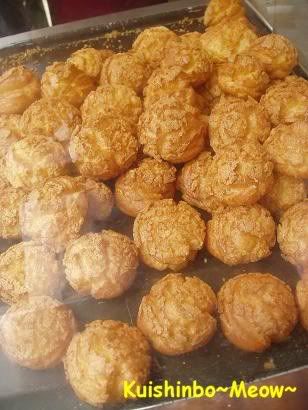 In the same shop, we bought a chou cream. 10TD for one too. I forgot wat flavour we bought. Think it's a yam flavour one. Luckily this one is yummy. Ok, so it compensated the bad feeling of the garlic loaf.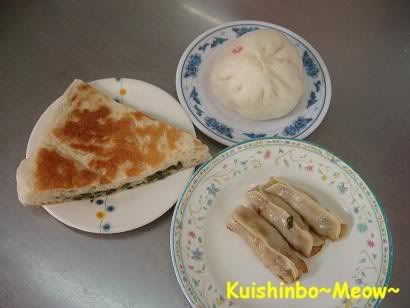 Now, near by this bakery shop, there is this coffee shop. we were attracted by the foods tat they displayed in front of the shop. Sure looks yummy. So we decided to settle our lunch here then. Heehee... not too common to hv lunch when it's omost tea time.
The triangle one is the green onion pancake. Very nice. Munchy n fluffy. Not too salty, just my kind of flavour. :) The bun is a mushroom bun. Very nice too. The nice smell of the mushroom make the soft white bun taste even better. And Hui Wen oso ask for some dumpling. I tried a bit on the skin. Chrunchy. Dun know bout the meat. Each for 10TD.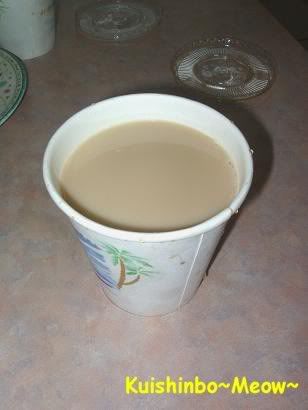 We were kind of thirsty after so much of these wheat flour bakery product. Heee... The owner of the shop asked us wat we want to drink.
"Wat do u hv?"
I asked.
"Soymilk, red tea"
. She said.
"Soymilk red tea??"
Heee... i heard the wrong thing. Didn't notice she was actually saying 2 drinks. I thought it was 1 kind of drink.
"Hmmm.. interesting. I never taste soymilk with red tea."
Think she got wat I was thinking oledi.
"Oh, u should try."
she said.
"Ok, gave us one please."
So, she came up with 2 drinks. One soymilk, and one red tea. Huh?? Heehee.. puzzle look on our face.
"We didn't make one. But u just mix the soymilk n red tea. It will be a very nice soymilk red tea."
She then added,
"This was actually told by our customers. We didn't know bout it b4. But after we tried, it was really good."
She then said again,
"Want me to help u to mix?"
(Hmm... very interesting way of doing business. I like it.)
"Ok, please mix for us."
So, it turned up to be 2 glasses of soymilk red tea. Hehe... wonder how the taste is? Well, try to mix it urself, u will hv the answer. ;) Worth a try wor. But I guess if u put sugar in soymilk, then just let the tea be plain. I dun know if the typical red tea like teh Boh or the Liang Teh tat we owez hv. Maybe u can try both to see with one taste better. Good luck. :P
We rushed back to the hotel. Oledi 3pm something. So we r charged 200 TD. Well, not too bad. Managed to take a bath before we goin to take bus to the next destination.
To be cont...