Taiwan 3rd day (2)
We reached
Kenting
at late evening. It was heavy rain, didn't able to c any sunset. :( But we managed to find a nice resort hotel. It was Saturday, everywhere is tourists. And the hotel mostly fully book, despite of the hotel room fee is more than double than weekdays. Ok, we admit we chose the wrong days to go to Kenting. But in fact, we didn't thought it was weekends when the time we reached. Totally forgot bout day passing when u do travelling. :P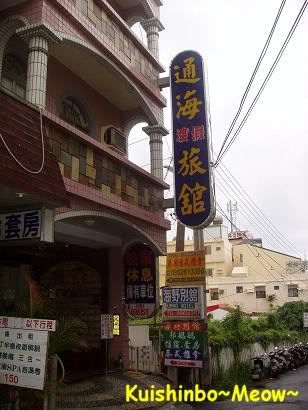 The hotel is named
Tong Hai Resort Hotel
. This is how the outlook like. A very small hotel actually, with only 2 floors of hotel rooms. They left the final room of 2 double beds. 2500TD per room for Saturday nite. And 1500TD for Sunday nite. The room rate is according to room type n which day u stay. Yap, we stayed in Kenting for 2 days, cause kind of a waste for a long journey just to come here rush rush then away again.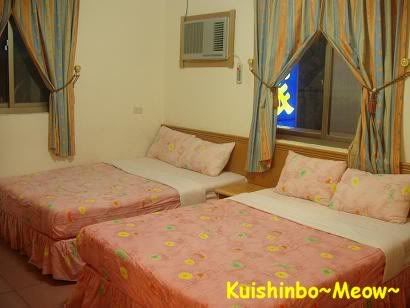 This is how our room looks like. Nice nice bed. Yap, very spacious for a 2 gal to sleep on one bed each. :P Well, Hui Wen n me think we really need a good rest, why not go for something luxurious once a while. ;)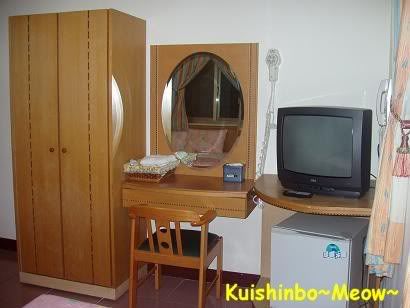 Here is another corner with the mirror n wardrobe.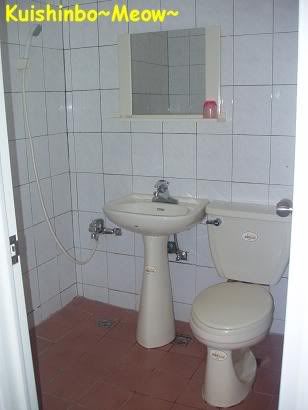 The bathroom n toilet r in one. Too bad they dun hv the bath tub. Only the standing type shower.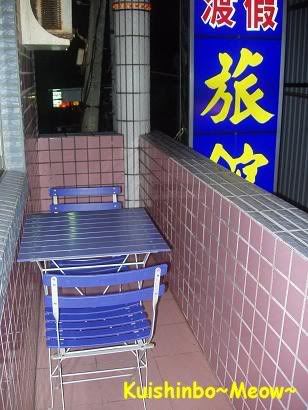 But we hv a little balconi of our own. The 2 gals didn't use the balconi. Cause most of our time is outside. Heee...
After a refresh of a good hot shower, hmmm... we went out to hunt for mum mum. Yummy!!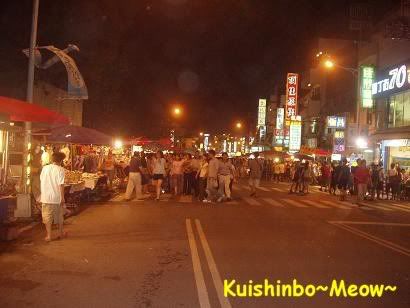 The nite market of the Kenting street was very merry today. Guessed becoz it was a weekend time.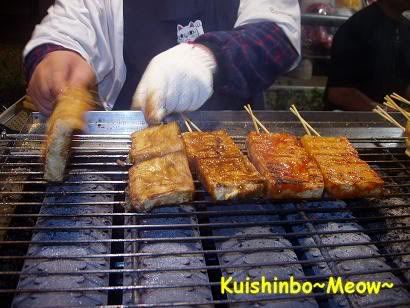 The first food tat really attracted my sight was this Chou Tou Fu. Mmmm... BBQ style. Of course want to try. Ordered 2 flavour. One is the Sha Cha flavour, and another one is the Sweet n Spicy sauce. One stick for 30TD. Has black pepper flavour too, but we didn't try. So after turn n turn...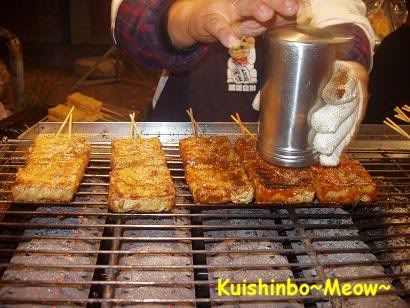 Then the boss ask one by one...
"Want spicy or not?"
"Want!"
...
"Dun want!"
...
Then he looked at me...
"U ler?"
"Want!"
... Can't wait for my turn to give this answer. Sound so fun. Hehe... sound like a teacher asking students one by one, and the student answered in order.
The taste?? The 2 gals got so excited with these smelly tofu. I just couldn't stop saying "Oishii!! (Delicious!!)" or "Shiawase! (Happiness!)" all the time when eating it. Hui Wen love it too. She prefer the Sweet n Spicy more, I love both.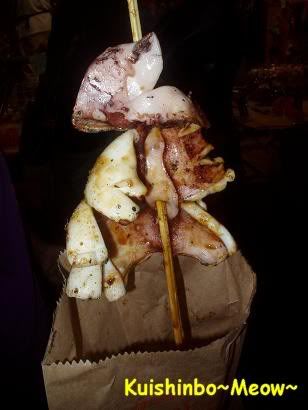 This attracted Hui Wen so much when I was buying the Chou Tofu. She want to buy a grilled whole squid. The squid was grilled in a whole, when it was done, then it was cut by scissors, and turned into something like this. Hui Wen love this one so much too. She said the squid was very sweet n soft. Dun know the price, forgot ask Hui Wen. Hmmm... if only my mum see this. She can't resist something like this.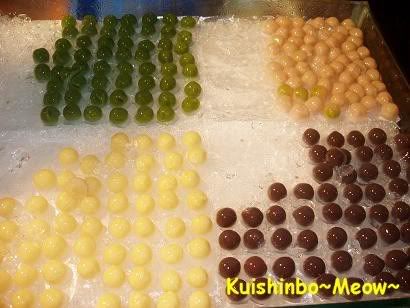 We agreed we should hv something cooling after hot stuff. Happened tat we past thru this stall, selling Liang Gao (Cooling dessert). Look nice. So we had one package of all flavour mixed. Green tea, sweet potato, green bean n red bean. I like the green bean the most. 50TD per package of 15 balls.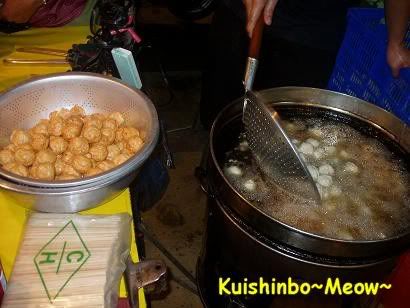 Hui Wen saw this stall selling freshly fried squid ball. 3 balls in one stick for 10TD. Well, she said the taste was ok.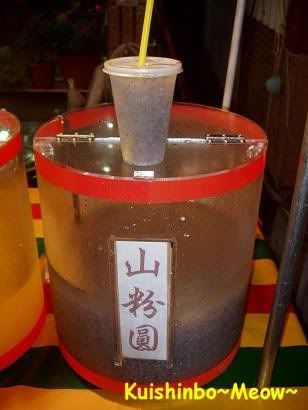 The food was making us thirsty. So, we decided to buy some drink. This drink is called San Fen Yuan (Hill powder ball). 20TD each glass. Big glass. Cooling. Very strange kind of taste. Sweet sour, and the black spot is the seed.
"Kachik, kachik!"
And the flesh outside very slimy. Heee...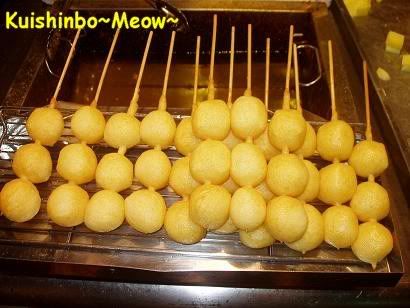 We see a young guy selling something written Nai Qiu (milk ball). Eeee... milk ball? So we see how he made it. Very easy. He just cut a small cube of yellow stuff, throw it into the hot oil for deep frying. Phewww!! In seconds, it changed into something like this round round stuff. Amazing, like seeing a magic show. Heee... We bought one. 20TD. Well, the taste is custard actually. I m enjoying the performance much more than the taste.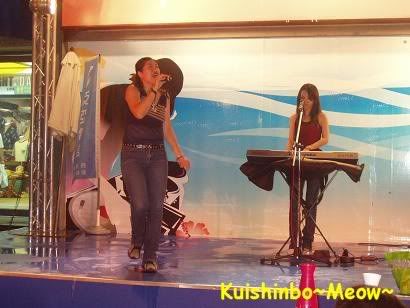 We walked to the end of the nite market. Then there was some performance there. The 2 gals on stage was singing Mandarin n English song. Well, not too bad. But the slimmer gal at the back can't pronounce the English word too good. Voice not bad though. Think they sang Roxette "Sleeping in my car". Haven't heard it for a long long time.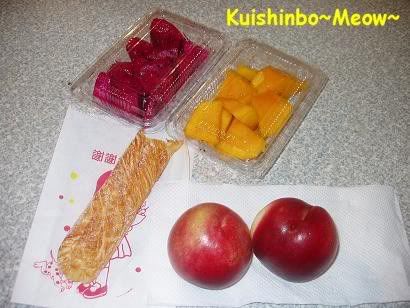 Then, we turned back and walked the other side of the market. We saw some stalls selling peeled fruit. Bought 2 packs. Red dragon fruit n mango. Hmm... the dragon fruit was very disappointing. Definitely not the one I owez had in Kuching. (Aiyah! Few days ago when I called my mum, she said she has found a good place to get me the red dragon fruit. Very sweet indeed. :) Hmm... so next time I can eat as much I want when I get home then. Yippie!!) We oso bought some Xiang Cui Tiao (Crispy stick). The 3 things cost 100TD. Well, the Xiang Cui Tiao was just so so. Had much better one in Japan. Think it should be introduced from Japan to Taiwan.
We bought 2 peach too on the way. One for 20TD. Imported stuff. But very crunchy n sweet. I love it.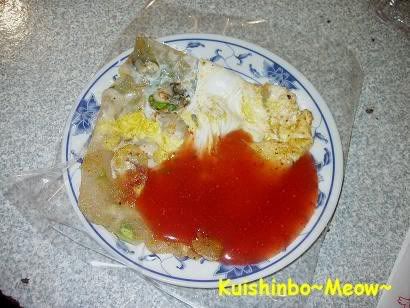 Now, Kuching is very famous with oyster fry. Indeed, quite a few restaurant offer very nice osyter fry. Taiwan oso hv. They call it Ou Wa Jian. Hmm... I dun like it. Cause the pancake part is too soft, and a bit too rubbery. Hui Wen said the oyster was not good too. Dun like the way they eat it with this red red chili sauce too. 40TD for one. Aarrgghhh... after having it, I wish so much to munch on the crispy Kuching osyter fry.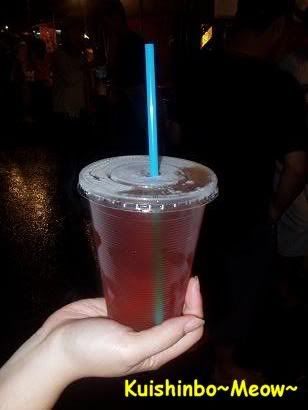 After the food. We felt kara kara (thirsty) again. So we bought one Dong Gua Cha (Dong Gua tea) for sooth our throat. Ahhh~~ so nice.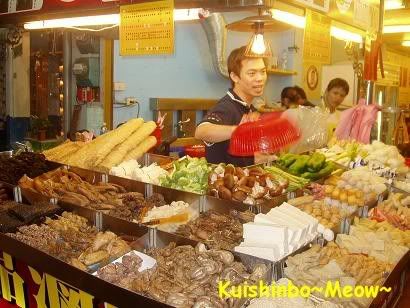 We were just a few stalls from our hotel when we saw this shop. They r selling Taiwanese Lu Wei. This guy was shouting whole nite
"Huan Yin Guang Ling!"
(welcome). Heee... well he did attracted our attention. And yap, we turned into one of his 'victim'. Actually, it's the food tat make us drop into the store.
We dun know how much things we took. But I just know I keep asking
"Is this meat?" "Yes.... No... Yes... No... No, but made from blood..."
he answered my Q one by one. So I got the things I wanted to try, and Hui Wen got hers. We dumped the foods into a big plastic net bucket. And sit down waiting for our food to come up. We waited for quite sometimes, then Hui Wen asked me
"Wat is our number?" "Ah? Number? Ooopsss... did he tell us?" "Yes, he did, but I forgot to remember..."
Hui Wen said. Oh oh... I went up to tell the owner. He asked me which one... then finally found mine when I mention the stuffs we took. Aiyor... these clumsy 2 gals...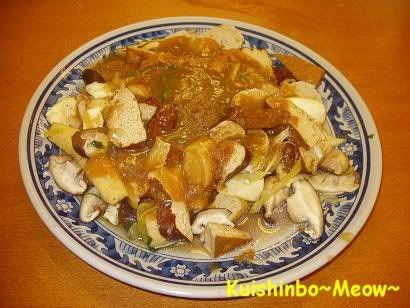 Yippie!! Finally the food came up to us. Yap, sure they got the correct one. A very big plate. They put the whole things into the boiling pot. Then take out and topping with sauce. This sauce was really good. And this plate was really big. How big? I think a diameter of about 35cm. So u can see how much food it is.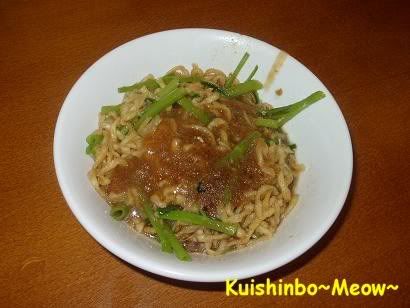 Oso we had a small bowl of this Yi Mian (noodle). They added kangkung for us. Heee... Hui Wen love this Yi Mian n kangkung so much. The whole things r for 180TD. Good price.
The taste of the whole things was very good. U see, even the 2 gals hv had so much thing before we ate this Lu Wei.... Hmmm... guess wat? Yap, we finish the whole things. We was kind of shock to see the big plate in the first place, but we even more surprise when we talk talk talk bout our next day trip that we finish the whole food. U can imagine our stomach tat time like a frog's one. :P Nope, should say we r ruminant. Heee... 4 stomachs.
We went back to the hotel finally. But I was in a great anxiety to look for one internet cafe to download my xD memory stick into my USB flash memory. The lady boss of the owner told us the place.
We managed to find it. About 5 min walk from the hotel. We went inside. Eee??? No one looking after the stall. Ai yah... lazybone, where has he hide? wait wait wait.. nobody hiew us...
"Excuse me... may I know who is the person incharge here?"
I ask a young teenager nearest to us.
"Ah... here is no one look after shop. U just put in the coin into this box, and u will be able to use the internet."
She told us. Then showed as the way.
Ai yor!! The 2 sakai gals really felt like digging some deep hole to hide inside tat moment. We really blushed. Ok... i never seen one like this in M'sia. And I never been to any internet cafe in Japan. Can't blame me ler... Hui Wen oso dun know. Heeee... :P
Hey, know how much it is? Only 10TD for 30 min. Very cheap. Too bad, the USB port is not functionable. :( :("
Went back to the hotel sadly, saw the boss n the lady boss there. Told him my problem. Was kind of surprise he asked me to use his. Aiyar... so I became the front counter person for quite some time, downloading my pics. A safe downloading. If not, will be a lot of good pics be missing from this blog today.
Sob sob!!! Really felt like giving a good good hug to him tat time. Ooopssss!! Definitely not. Or else, the lady boss will kick me out. Ouch!!! Heee...
Hmmmm... very sweet sleep tat nite thinking I can take more picture without worrying no more memory. Yippie!!!!
Tata.