Taiwan 4th day
29 August 2004 (4th day)
Tong Hai Resort Hotel - Kenting National Park - Er Luan Bi Park - National Marine Museum - Tong Hai Resort Hotel - Kenting Street - Tong Hai Resort Hotel
Found one good site,
Visit Taiwan Year 2004
.
The owner of Tong Hai Resort Hotel was not only kind to lend me their pc for my photo downloading. But oso let us used their washing machine for free to do our laundry. We really need tat as our clothes are quite smelly due to a few days uncertain heavy rain and strong sun.
The morning when we woke up, oh oh... sky very dull. And yap, it's raining again outside. Arrrggghhh... I was hoping my shoes to get dry quicker by putting in the balconi to wind dry, but it became even more wet. :(
So while Hui Wen was taking her bath, I was busy the whole morning use the hair dry to dry my shoes. :P Hmm... it's dry, but the smell of the shoes... Yark!! No choice.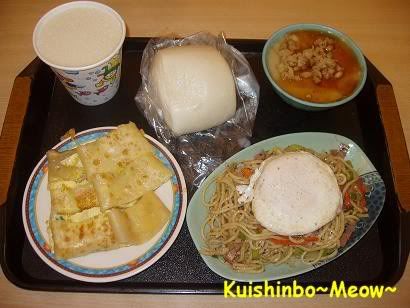 The boss offer to drive us up to the Kenting National Park at 8am. When we went down the lobby, he was still sleepin. Poor guy, guess he must be tired after a very busy nite with the frontier. So we sneaked out to find some food, be4 wake him up.
We found a nice shop selling breakfast. Self service style. Quite many people tat time. Seem like not many shops open in the morning, this is one of the very few tat offer breakfast.
Top row, from left are soymilk, man tou (white bun) and wan kueh (bowl dessert).
Lower row, left: Dan Bing (egg pancake) and fried noodle.
All are good. Especially like the wan kueh n fried noodle.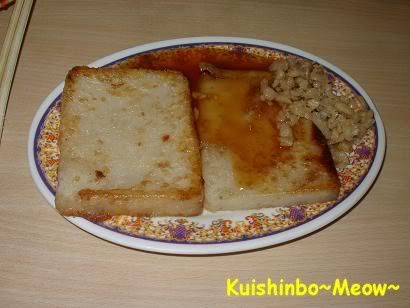 We then decided to take another menu. It's Luo Buo Gao (Radish pancake). Well, not as good as the look. Both of us kind a disappointed with this final plate. Or is it becoz we r getting almost full oledi tat time. :P All the food are for 140TD.
Then when we got home, the boss woke up. He saw us came back from outside, kind a surprise. We told him we let him sleep more, so went to look for mum mum. Kind of us ler... :P Actually we really feel guilty owez let him helps us a lot.
So, we then headed to the
Kenting National Park
by his car.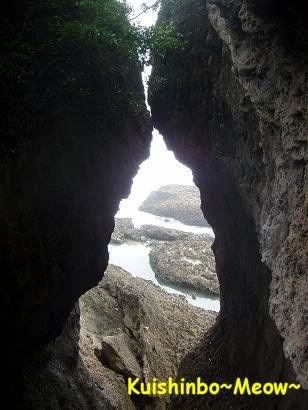 Maybe we put too high expectation on the word 'National Park'. Hui Wen n I actually were very disappointed with it. Hmm... before came here, the boss was telling us we need a long time to look inside here, and it's very big. Well... if u been to
Bako National Park
, or even
Mulu National Park
or any other National Park in Malaysia, I advice u dun put too much expectation on this Kenting National Park. U can hv a close look of
Adventure with Nature in Malaysia by downloading this brochure
if u want. Kenting NP is just too artificial for the 2 gals. Well, luckily, the entrance fee was not too expensive, wat more we were given student discount. And since we were there, so might as well enjoy the scene, instead of grumbling more and made ourself more miserable of a heavy rainy morning. But anyway, we try to spot some of the real nature in this park though.
This is the stone shaped naturally by the power of nature. They call this the 'kissing rock'. Looks like a couple kissing. Heee... I did help a couple to take picture here. Hmmm...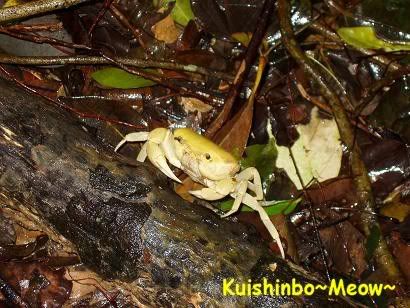 Now, one of the thing I like in this park, many little yellow crabs in this NP. Wat more, it's a rainy day, so they all really coming out to enjoy the rain. Ai yar... this little crab was trying to attack my camera when the camera flash worked. Poor little thing, must thought tat it was some kind of strong storm.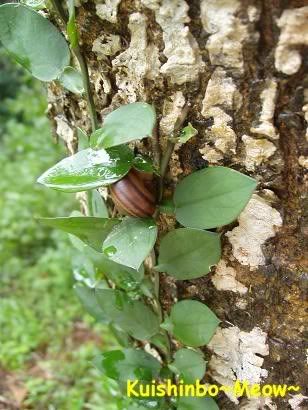 I spotted one clever little snail was hiding under some leaves. The leaves got wet, but little snail remain as dry as a sunny day. Heee...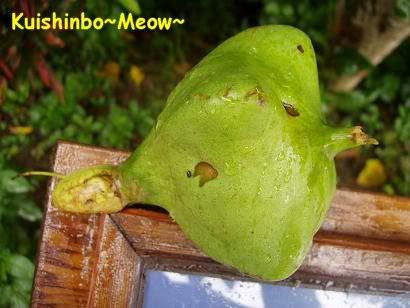 Before the end of our journey, I took a pic of this big fruit. I dun know wat its name. But really very big fruit. Guess it's not safe for eating though.
We finished the NP tour half of the suggested time by the park. Well... tat's good too, we can hv more time for other places then. The fastest bus come was in another 1 hr. So, after think think think, we decided to try our luck to see if anyone would let us have a free ride down to the town.
Guess wat? We were very lucky. The guide of the park was just in time for lunch in the town, when he saw us sign for free ride, he really stopped for us. Lucky! And there we off to the town for taking bus.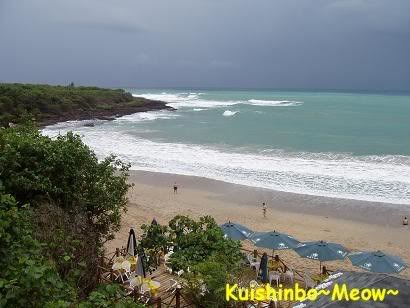 He let us down in
Xiao Wan
(small bay), a small beach in front of
Caesar Hotel in Kenting
. We wanted to take the
Kenting Street Bus
to
Er Luan Bi
.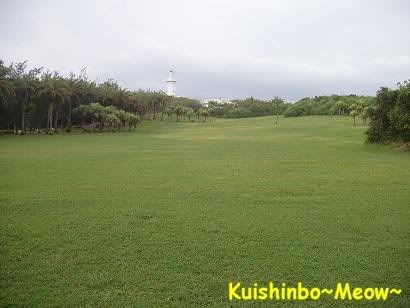 Er Luan Bi is said to be one of the 8 most beautiful scene in Taiwan. We didn't put much expectation on it after the NP tour.
However, after we reached the place, we glad it was better than we hv thought. They got a good green field for the 2 gals to make funny pics. We were trying to catch a jumping snapshot at this spot by ourself using a tripod and automatic timing. Guess wat? The gals jumped for more than 10 times, then finally we managed to take only one satisfy one. Gosh!! We were really exhausted tat time.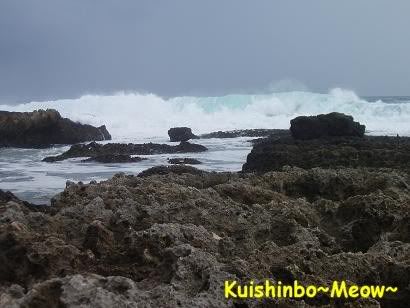 Then, we saw some path was closed, and signed dangerous. So, tat attracted both of us more. And yap, we past the blocking rope, and here we r with rocky land and heavy wave. I like this one quite a lot actually. The waves were kind of high actually. But dun worry, we r in a location safe from bring away by the waves.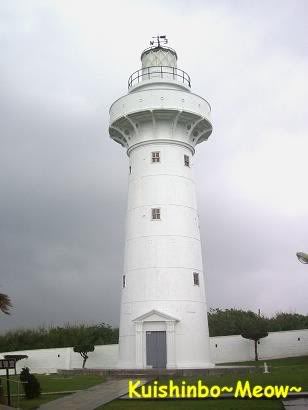 Then, we reached this lite house in a very heavy rain condition. The 2 gals really looked like chicken tat fall into soup. Ai yor... since we oledi wet so much, so we might as well dun care bout rain and take picture without the umbrella in front of this lite house. Too bad, it was too grey sky for taking good picture of this nice little lite house.
We ended the Er Luan Bi tour when the rain was really damn heavy. We jump on the Kenting Street Bus tat happen to came tat time, and heading towards
National Muzeum of Marine Biology and Aquarium
.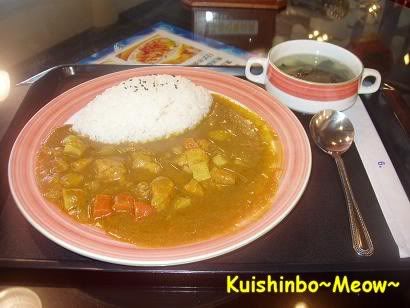 We were kind of very hungry when we reached the place. So we decided to settle our lunch around 3pm time at the cafeteria in this muzeum. Hui Wen ordered curry rice. We thought it's something like in Malaysia, but it turned up to be a typical kind Japanese curry. Hmm... the taste? I think the Japan one taste better. So do Hui Wen. She is not too keen into Japanese curry actually. I like spicy level 4 or 5 Japanese curry, but not the one below these.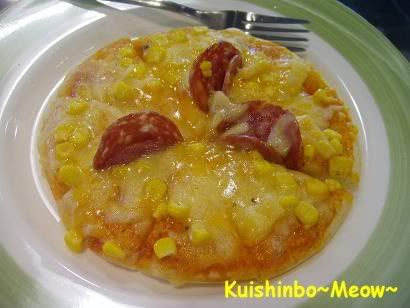 As for me, I ordered one Pizza. Ok, actually dun know wat to order. coz they dun hv much choices on the menu. So might as well stick to a pizza, easy to eat.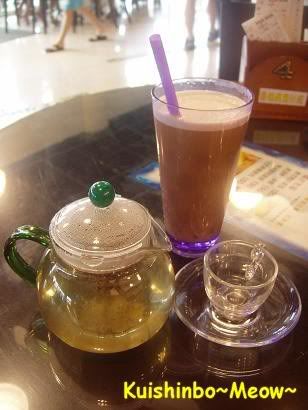 We oso ordered drink. Hui Wen asked for Lavender Tea. She wanted to taste how is it cause she never had one. (UUrrr... i would say I am not a fan of lavender stuff. So, after a trying a sip on the tea, oh oh... no TQ, tat's enough.). In fact, Hui Wen just had a small cup of it, and the whole pot was wasted. If u want me to tell u the truth... the tea taste really terrible. :(
My one is hot milk tea. Turned up to be a very big portion. Well, this one was good. I finish the whole thing.
The total price for these 4 things were kind of expensive, 414TD. Well, it's a tourist destination, so can guess oledi for the pricing standard.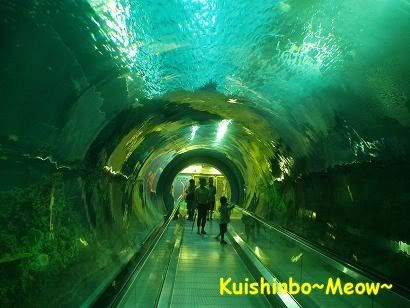 Inside the museum, they have one good tunnel. Not too long, but u can see the nice nice fish swimming over ur head.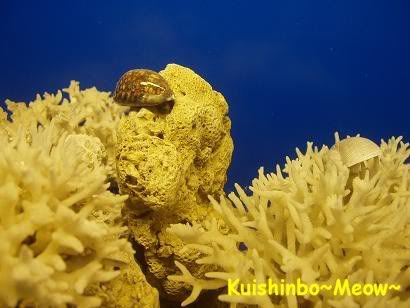 Hee... this pic was taken from a coral aquarium. Didn't expect the pic turned out to be this clear without any reflection of the mirror. Actually I tried to apply the technique tat Hui Wen taught me. Seem like it is a success. Thanks dear.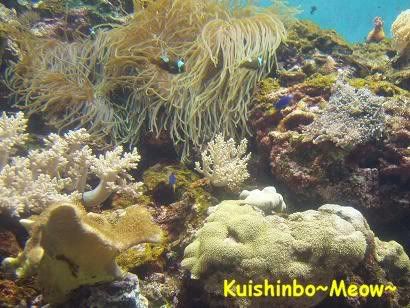 This is another artificial undersea scene tat I 'steal' from the museum. Not bad too... :P
We finish our tour finally around 7pm, and took the final bus back to Kenting street. It was damn rainy whole day, and we have to bare with the wetness whole day by walking around. Hmmm... very patient.
Went back to hotel rest for a while, took a hot bath n hunting for our dinner again.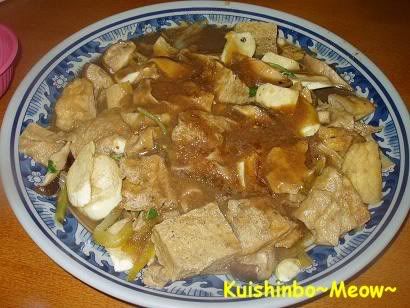 We decided to go back again to the Lu Wei shop for our second nite dinner there. This time, we wanted to eat it with empty stomach. :P We took some of the things same as yesterday, but some new stuffs too. One of my biggest flavour is fat white shoot tat is very crunchy. dun know the exact name. Ah~~ big plate again.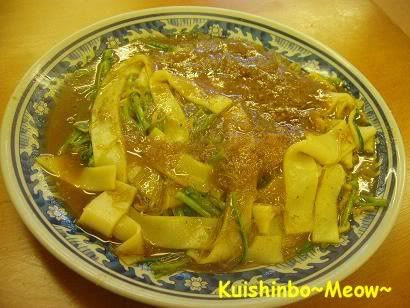 Oops... actually another big plate. This one is the CHO plate. Beside the noodle, we oso took some kueh tiaw n vermicelli. Oooo~~~ the kueh tiaw was so good. It is thicker, fatter and wider than the one in Malaysia. Very good mouthfeel. The 2 gals just couldn't help to finish the whole 2 big plates again. Total price 200TD.
We were thinking to try the smelly BBQ tofu again. Too bad, it was not open tat nite. Guess the heavy rain made him rest. :( :( Wanted to eat again the tofu so much.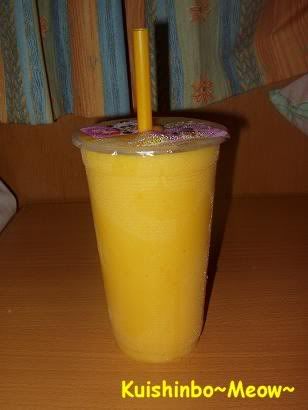 We stroll around the shops to buy some wearing n souvenirs. The Kenting street was very quiet tat nite, just a few people walking around. Heavy rain, who wants to go out on a nite like this on foot? Except these 2 crazy gals. :P
Then, we finally got ourself another glass of fresh 100% mango juice. And there we off back to our home sweet room for zzzzzzz...
Wat a day!!