Taiwan 5th day (1)
30th August (5th day)
We decided to take flight to Taipei, instead of using bus or train. Coz too wasting time. We wanted to take our time more slowly to look around rather than just sitting on a vehicle whole day long. So, after the help from
Tong Hai Resort Hotel
owner last nite, we booked our flight ticket online. So our trip on 5th day turned out to be a schedule like this.
Tong Hai Resort Hotel - Kenting Farm - Tong Hai Resort Hotel - Hen Chun Airport - Song Shan Airport - Nan Guo Hotel - Train - Ji Long City - Kek Lok Temple - Zong Zheng Park - Ji Long Nite Market - Train - Taipei City - Nan Guo Hotel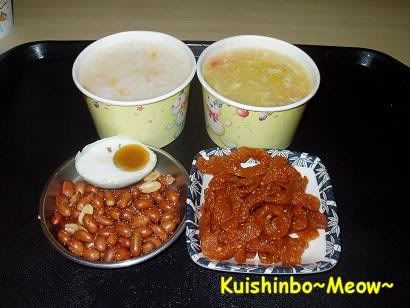 We went back to the same shop for breakfast again. But with different menu. I felt like having porridge, so chose peanut, salty egg n vegetarian soybean stick to eat with Di Gua Zhou (porridge with sweet potato). Oso get one corn soup. Hui Wen dun like much these stuffs, instead she ate very few of these.
We then added one Ge Pau (Sliced bun) (right) and one sandwich with meat fluff (left). Luckily, she likes them, especially the sandwich. The breakfast this morning was 175TD. Our conclusion for the 2 days breakfast, eating too much egg. :P
After the breakfast, we walked towards the farm. But on half way, Hui Wen reminded me tat the Tong Hai hotel boss promised to lend us the bicycle for free if we need it. But tat time, we oledi half way to the place. And when we omost walk 80% of the journey, we still decided to walk back all the way again to the hotel to get the bicycles. Heee... silly uncertain gals. But, we did glad we finally made the right decision, cause tat really made us travel further to see much more things then. Wat more, we dun hv to rush for bus to go to the airport, cause the boss offer to send us to the airport himself. Sob sob... wat a very kind man.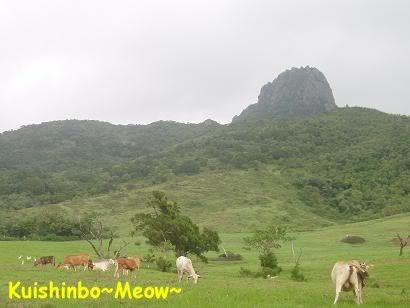 This is the Kenting cow farm that we were looking for. Not too many cows actually, but nice green field with very fresh air (oh wait, except some 'fragrance' of cow shit). :P
We cycled until very deep inside the farm. And when the time we get out from their, arrrgghhhh... heavy rain started again. Damn!! So we rushed so fast back to the hotel.
Our flight was at 12.30pm. When we omost packed up everything, ready to check out and go to the airport, the hotel owner called me in urgent. He wanted me to do translation for him. I was thinking he wanted me to help with the English. When I rushed down, then I realised there were 2 Japanese sisters who oso the hotel guests trying to communicate with him, but chicken n duck talk, no kam cheng.
So, I hv to stay in the frontier to help them. These 2 sisters wanted to cancel n rebook their hotel by using phone. Due to different language, the 2 sides were trying very hard to explain things to each other. Poor guy, was so anxious tat time. Until he unpurposedly cut off their phone. And it's 50TD inside, no refund from the phone. The 2 gals scolded him for hang up their phone and made them lost 50TD just like tat... Without hesitating, he quickly get own the 50TD pay them back. (Frankly speaking, these 2 gals kind of fierce tat time. :P)
So, finally the thing was settled when i taught them how to look for book flight online in Mandarin homepage. Actually I was very very rush, cause it was 12pm oledi, only 30 min for the flight to fly. Gosh!! U can imagine how worry I was. Until final minutes, we quickly departure with a damn heavy rain to the airport. We reach there 15 min before the flight fly. Luckily, it is very small model plane, and they still let us check in. Woooosshhh!!!! Wat a rush.
We really glad we made the right choice for the Tong Hai Resort Hotel. The owner n his wife really helped us a lot. It's not something tat money can buy with. We felt like home when we stayed there, instead. Really need to write him and his family and TQ letter, but might be in another few weeks time.
So, if u happen to go to Kenting, I would strongly recommend u to stay there. (Heee... help him to make a free CM here.)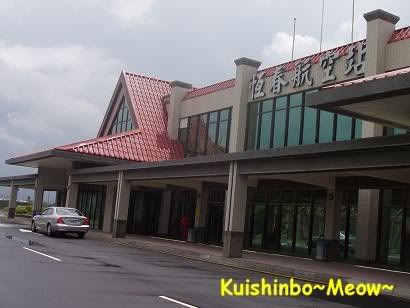 So, this is how the Hen Chun airport looks like. Small little airport, quiet n clean. So ironic tat when we reached the airport, the rain stopped. Uurrggghhh...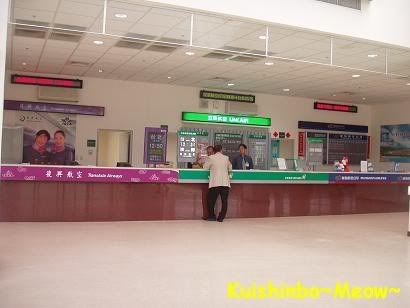 The domestic flight tat operate tat day was
Uni Air
. There is only one flight per day from Hen Chun to Taipei. We are lucky to be able to get the seats, even more lucky we were in time for the flight. Or else the 2 gals might hv to squad in Kenting crying loud loud... :P
The lobby of the airport is oledi the departing hall. I think we were the last passengers tat reach tat day. Heee...
I like this small airport actually. Kind of new. And more important thing, this will be our departing gate to Taipei... Yeah!!
This is how the plane we took look like. Very small plane, can fit in around 50 passengers. I think the smallest flight I hv ever tried was my trip to Mulu Cave from
Miri
. Only 15 passengers. Ai yor, the pilot was damn handsome... My frens n me just can't stop teasing him (one of the gal's bf is oso with us. brave!!). :P He was so kind to fly thru the pinnacles in Mulu Cave to let us see tat time.
As it is a very small flight, we r not allowed too use any electronic devices actually. I didn't hear the announcement. So a couple pics, before I was stopped by the stewardess. :( Oh well, at least I got a few, better than nothing. This one was the sky view one unknown city (or town?) Only 2 stewardess was with us. Sweet gals.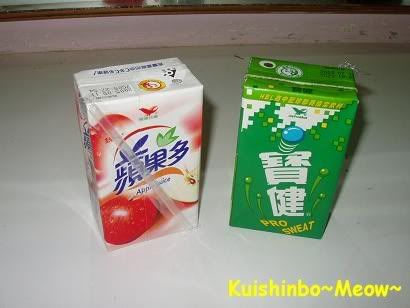 We were given 2 types of packed drink as inflight drink. I chose the apple one. Then I requested for one package of sport drink as well, told her I wanted to hv the other one for photographing. She came back with 2, one for Hui Wen as well. Nice nice gal. She told me to bring down for snapshot then. :)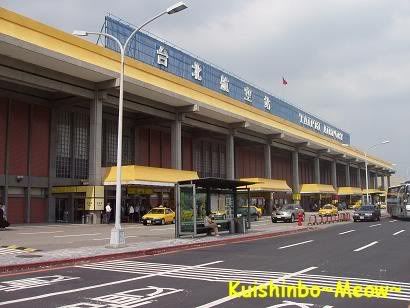 The flight took around 75 min to reach
Taipei Song Shan Airport
. Ticket for one form Hen Chun to Taipei is 2130TD. Ai yor, the moment we reached Taipei, Hui Wen n I was so happy. Hooray!!! After do some more forex there, we took a bus heading to the city (very cheap, 15TD per person from the airport to Taipei railway station). Finally our last destination in Taiwan - Taipei.... Yeah!!!
Stay tune. Will be a lot of fun fun thing in Taipei then. ;)
Tata, nite nite.