10 seconds energy recharge
Ok, today I'm goin to do a bit of talk on Japanese drink. Sixthseal talked bout the
Al bottle drink
that was exported from Japan to Malaysia. As for me, maybe I should let those of u who interested in this topic know other kind of packaging that is quite popular in Japan. :)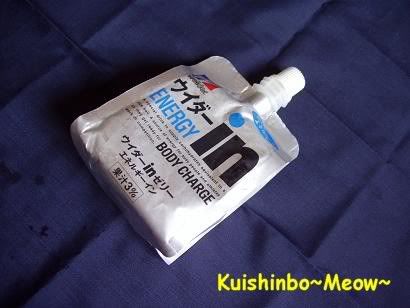 This is how the packaging looks like. Colour of Aluminium, but actually is plastic material. This one is energy recharging jelly drink by
Weider
. A famous health functional food brand in Japan. This Energy is a product of
'in series'
. 10 seconds will give a recharge of energy equivalent to one onigiri (~180kcal). Market price for ~ 200yen (RM7) per pack. But can get one around 130 yen (RM4.50) in some pharmacy shops when got offering.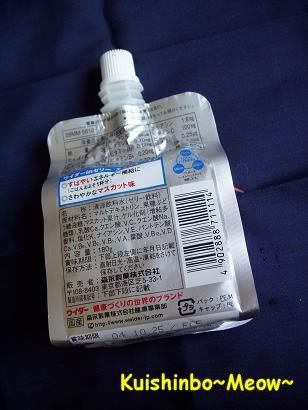 This is the back side of the packaging. With all the
nutritional info
on it. I love this fruity taste jelly drink. Yummy. Oso very easy, just twist open the cap, then suck suck suck... hehe... I can finish it in 10 seconds. :P Other products of this series include
Protein
,
Multivitamin
,
Fiber diet
and
Collagen beauty
.
Besides jelly drinks, normal drink oso packed in this way. Other brands such as amino acid supplementary drink
Kirin Amino Supli
,
Asahi Charge
and
Suntory Nenshoukei Aminoshiki
... fruity drink such as
Qoo by Coca Cola
and
Nacchan by Sunctory
oso used this kind of packaging as well for parts of their product.
Asahi
,
Kirin
together with
Sapporo
, account for the top three beer selling in Japan while the number four beer selling
Suntory
is more famous for its
Suntory Whisky
. Hee... btw, I only drink
Asahi Super Dry
when I hv to take beer. (I dun really drink alcoholic drink actually. :P)
Ok, tat's all for today drinks info. Hope u like it.