Dinner with host family (12 Sept)
It was Sunday nite. Had a dinner promise with my host family. From my apartment to their place, only around 15 min by bicycle. Wanted to pass them the omiyage (souvenir) I bought from Taiwan.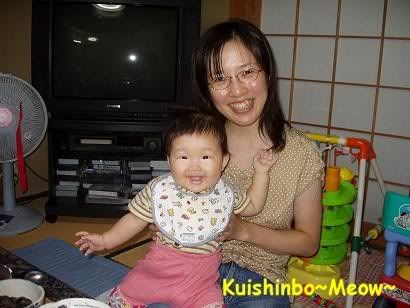 Hee... this is my host family new born grand daughter. Name Haruna. 6 months old at the time this pic was taken. Her mummy, Mayuko was working with the Japanese Embassy in Indonesia. Stayed there for around 2 years. But last year, came back to get married with a Tokyo guy who is now working in Sudan. Oso in diplomatic line. Then, got pregnant. And now having 1 year baby raising holidays.
Very kawaii (cute) Haruna. She laughs a lot. And she loves the pineapple tart I bought from Taiwan. Ai yar~~ kept licking her grandma fingers for the tart. ;)
According to my host family, Haruna laugh a lot when see me. Their conclusion is tat she likes me. Poor Haruna, she likes the wrong person... I am very terrible even at embracing baby in a correct way. *shame shame*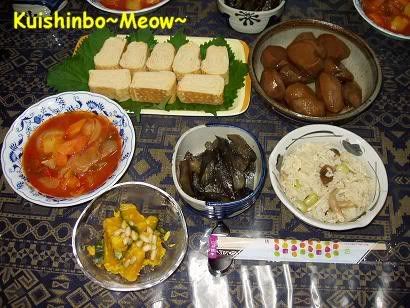 Nothing better than a home made dinner must I say. Everytime when I am having my host mama home cooking, I feel a warmth goes into my heart. :) And yap... I finish all my portion.
In the pic, from top left: yakitamago (roast thick egg), satoimo (taro cooked in soy sauce). From bottom left: Tomato soup (yummy!! one of my favorite dish of hers), kabocha salada (pumpkin salad, too bad she didn't make pumpkin pie tat nite. she can make one of the best I've ever had), nasu no tsukorimono (dish made with egg plant) and takikomi gohan (rice seasoned with soy sauce and boiled with meat or seafood, and other savory vegetables. My favorite way of making rice in winter).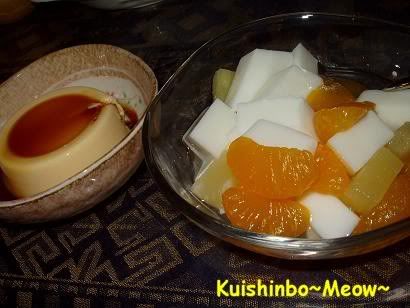 After I was full with the dinner, host mama took out some more stuff to make me 120% bloated. A bowl of annin tofu (almond tofu) with assorted canned fruit and caramel pudding. I love pudding, and I love caramel. Good for this one. Slurp!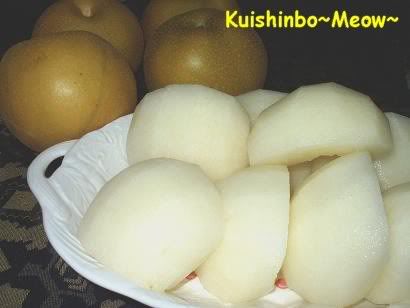 And finally, we ended a very good dinner with this big juicy sweet
Koushuiri
(Kousui pear). In Japan, the normal pear tat sells in market is this Kousui,
Nijusseiki
(20 century) and
Housui
species. I am a big fan of Kousui. Can even finish a big one by myself. But tat nite, I only had one cut, cause can't stuck more into my stomach anymore. Burrrpppp!!!
I never like pear when I was in Malaysia. But after I tried the Japanese pear for the 1st time, I am falling in love into it. I know I will miss Japanese fruits when I leave this place one day. The price of fruits in Japan much more expensive, but it really worth the pay sometimes. :)