Kushiya (9 Sept)
I was shopping with Wang Hao after school time. Very hungry, but she was on diet. It came the right time when I past thru this shop and was given this coupon. :)
Kushiya
... my favorite shop for deep frying food buffet. Kushi means skewer. Basically, this shop sells food that deep fried with a skewer. It was really a special offer, for usually a 90min buffet, it costs 2625 yen (~RM90). But tat week, for 5 days, there was offering 60min buffet with only 1029yen (~RM36) for annivesary thanksgiving to the customers. Wow! I really wanted to eat, as I haven't ate for many months since last year. But Wang Hao dun want. So, after thinking who I can call, yap, my eating partner... Sylvia. She was learning koto the time I called her. But really glad she wanted to join me too for the special offer after her class. We went into the shop at around 8.30pm, and still many people there. This was the first time for Sylvia to have this kind of experience, she was very satisfied with it. :)
After we were led to our table, :P time for the 2 gals to race against the clock for as much food as possible.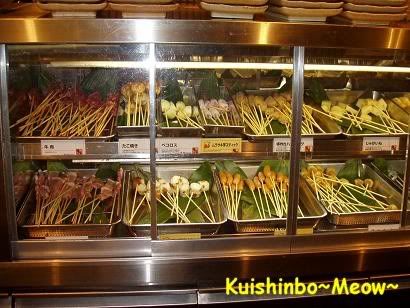 This is where they keep the ready to fry skewers. Many kinds of meat and vege and other stuffs including smoke cheese n rice cake. Around 20 types of varities for u to choose.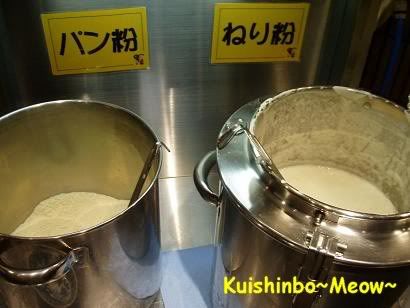 Then, u get the bread crumb and batter coating.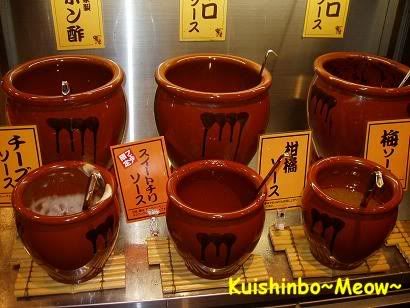 Oso, they got 6 types of sauces for eating with the food. Well, among them, I prefer the most the chili sauce. Seem like a limited edition sauce for the shop. Yap, they didn't have this sauce the last time I went.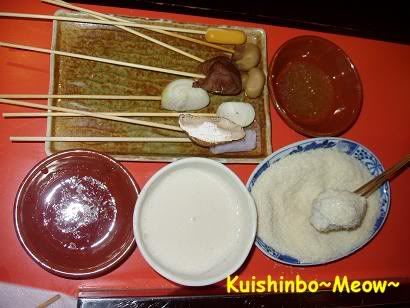 Ok, these r the few skewers I took. :P No meat. Then, u dip the food into the batter coating evenly, after tat, dip into the bread crumb, until the whole thing covered by it (see the finely done stick on the right side).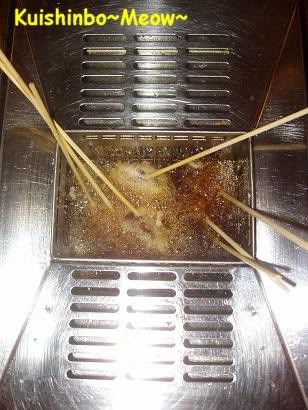 Drop the ready to fry skewer into this frying pot with very hot oil in the table. Chaaaaa~~~~~ wat a nice sound of the food inside the boiling oil. After waiting for 2-3min...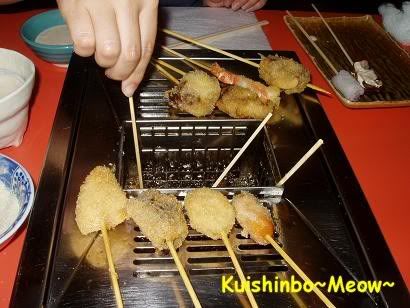 Take out the skewer and put at the side of the frying pot to let the unnecessary oil drip back to the pot. And yesh!! Ready to eat... Mmmm~~~~ yummyyyy... U just couldn't help but to continue frying and eating the same time.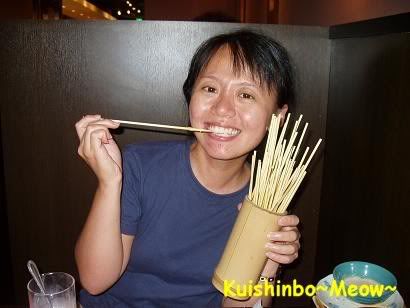 See how satisfy Sylvia after a great deal of the empty skewers? :P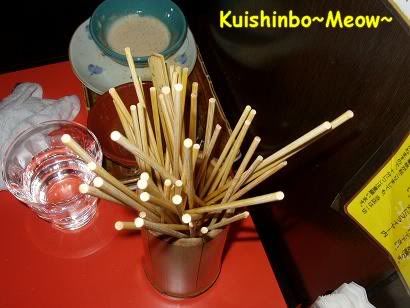 We counted the sticks we hv eaten. Was thinking to reach 60 sticks. But, only managed to reach 57 sticks. U might be saying since only left 3, why not ganbatte? Well, I experienced last time tat I forced myself to take more... and in the end, I omost wanted to vomit... So, I wanted to enjoy my food this time... So enough for the frying stuffs. ;)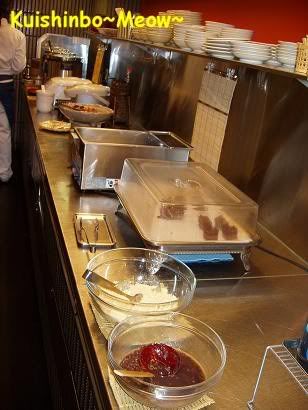 Hey wait... if u think there is only frying stuffs, then u r very wrong. They got around 20 more other types of foods for u to try. Curry rice, fried beehoon, soup, blah blah blah... Both of us love the beehoon the most. Soooo nice... Think we took 3 rounds. :P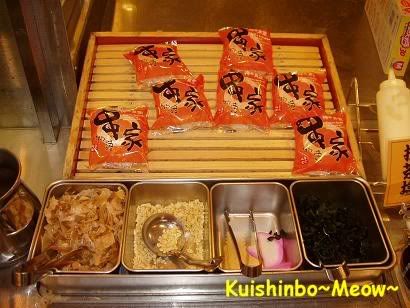 And oso, they hv the udon set for self serving. Just open the orange packaging udon, dump into the boiling water, topping with things u like, and there u r, the udon. I didn't take this one, cause it will be expanding in ur stomach.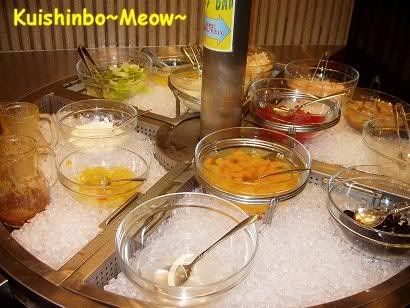 Oso, they hv around 10 types of salads and dessert for u to clean up the oily mouth. Mmm... i like the pineapple and jelly. We oso took some ice cream. Nice nice...
Even though it said 60min buffet, but we turned up to hv 10min extra given. :) I would strongly recommend it. Nice service n good food.
But remember... definitely a dangerous caloric killer... So, once in a year is ok... Make it a regular place for my grumbling stomach?? I will have to think many times. ;)
tata...