Lab Trip 2004 (25 Sept, Pt 1)
Our lab trip this year was in
Shiga
prefecture. I was hoping to go to
Shirahama
in
Wakayama
as I hv been to some of the places they planned to go in Shiga, but from the voting, even though it was an equal votes for both, they chose Shiga becoz the 3 sensei vote for Shiga. :( Well, anyway, might as well try to enjoy myself then. Wat really made me not satisfied was those who vote for Shiga, a few of them didn't turn up in the last minute. Hmmm... not quite a responsible attitude.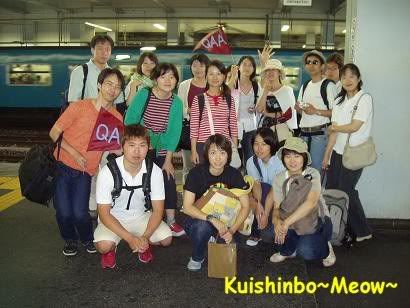 Here was the starting group for the trip. This was taken at the platform waiting for train to go to our 1st destination. QAA means Quality Analysis and Accessment, my lab's name.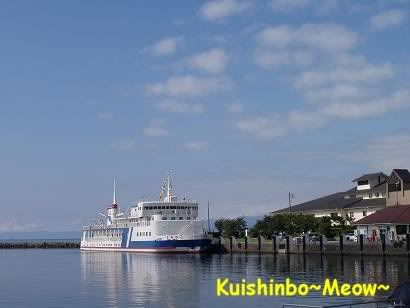 We reached a small harbour in
Nagahama
. Need to take a ferry ride to a small island called
Chikubushima
. It took around 30min just to the island in the middle of
Biwako
, the biggest lake in Japan.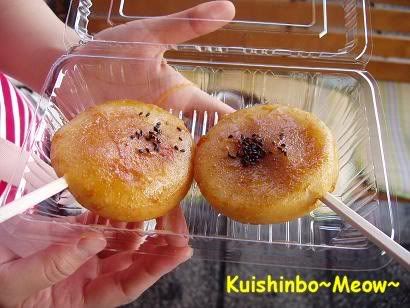 The first thing tat attracted me was this Benten Imomochi (a kind of glutinous cake). One for 150yen (~RM5.40). It was just freshly baked. Yummy!! 2 thumbs up for this. The mochi itself very bouncy when u munch on it, and the sauce coating the mochi was just to the rite match, a flavour of saltiness that make u want to munch more n more on it. :) Chou manzoku (super satisfied).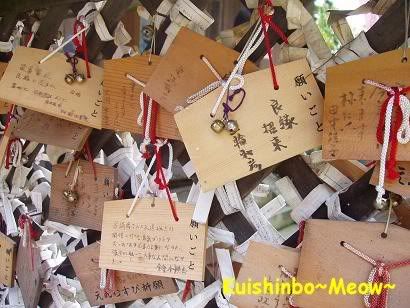 We then started to go uphill in this small island and reach Chikubushima Jinja (shrine). Saw this small wishing board hanging outside the shrine. It is a very typical practice of Japanese to write their whishes on board or something else, then hang at the shrine for the wish to come true.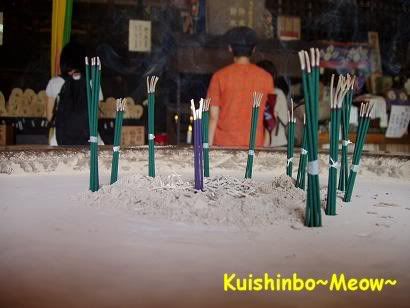 Inside the shrine, they hv a big pot for putting the jotstick. As u can see, it is very 'slim' green jotstick, not like the
Chinese one
. Jotstick in Japan costs a lot more expensive.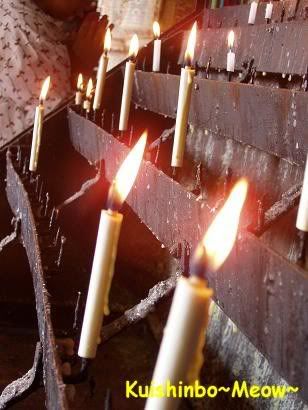 Another difference of Japanese shrine is the use of white candle instead of a
Chinese red candle
.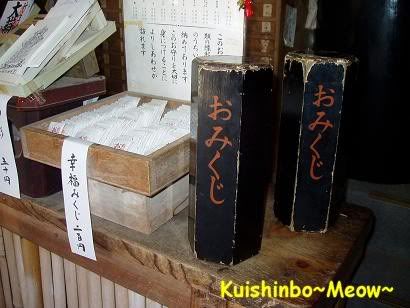 This is a written oracle of a Japanese version. They called it Omikuji. Basically in every shrine, they hv it. All u need to do is pay money, then get a stick out from the divination box, hand it to the owner of the temple, and they will give u a piece of paper telling u how is ur luck in the thing u wish to know.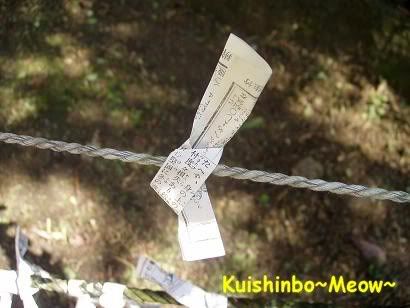 I got a bad one. :( *sob sob* Didn't want to bring it back with me, so I tied the bad luck oracle to a string, and let it there with the temple.
Oh, by the way, in case u dun know. Monks in Japan some can be very rich. Why? Because they own the temple. And to be a monk, u dun hv to pay any tax to the government. Wat more, u can get married, hv family, eat meat n drink alcohol. How tat sound?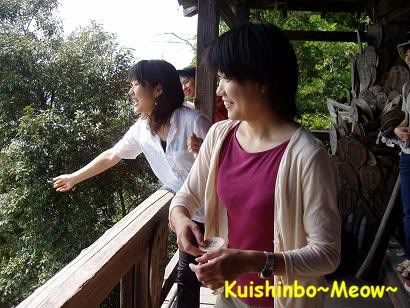 We then went to another shrine in the island. And 2 gals in my lab wrote some wishing words on a small round plate, and throw it towards the torii ( a gateway at the entrance to a Shinto shrine). But they seem to miss throw. Hehe...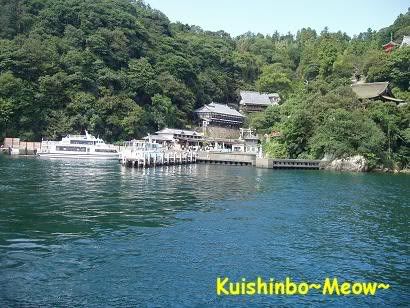 After spending like 2 h on the island goin around a few temples, we leave this peaceful little place.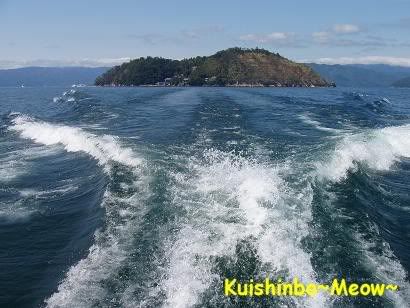 There we go with the wave getting farther n farther from the island.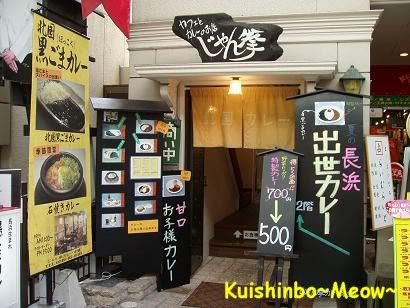 We then came to Nagahama shopping street, for our lunch in this cafeteria cum curry shop called
Janken
(the name of a game called 'paper, stone and scissors').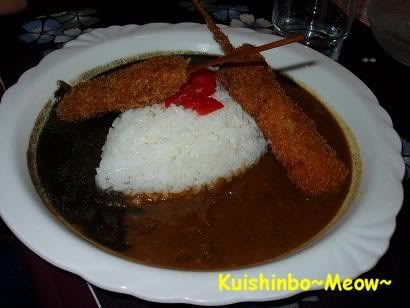 The reason why we chose it as our lunch place, becoz it sells kurogoma karei (black sesame curry). How many of u hv tried before? ;)
Almost all of them ordered Katsu karei (2 flavours, black sesame curry and normal curry, with fried battered pork. Katsu oso means 'win' in Japan, which very fit the concept of the shop's name). Think this was for 1050yen (~RM38)
I ordered omost the same, except no fried pork on top. But with spiciness class three, so add another 100yen for paying. Which made my curry 950yen (~RM34). The taste of the black sesame was strong, makes the curry sweeter than usual. A new kind of experience, but if u ask me, one time is enough, I will still prefer to stick to the old flavour curry. :)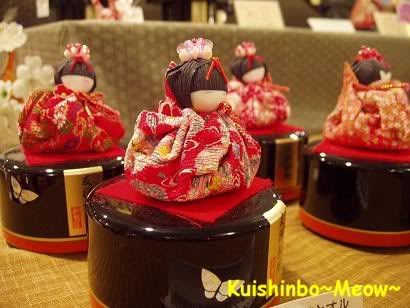 After the lunch, we had freetime to walked around the street. We went in small groups. I found the dessert which I wanted to eat so much. Had once when last time I came, so thinking to hv another try. But they dun hv a hot one for the flavour I want at tat moment, and I dun wanna eat a hot one for other flavour neither a cold one for the one I want. So, I waited for the hot one to cook. While waiting, my group strolled around a big music box shop opposite the shop. Saw this, think was quite a cute and good combination of Japanese and Western culture. :)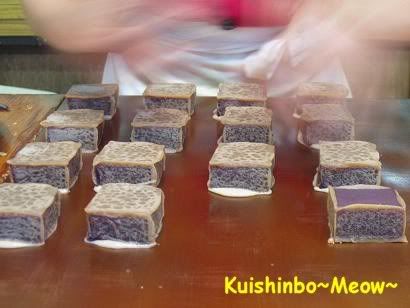 Ok, this was the little dessert tat I wanted to eat so much. Imokenpei (dessert made from sweet potato). It was done by using a hotplate. One is for 210yen (RM7.50).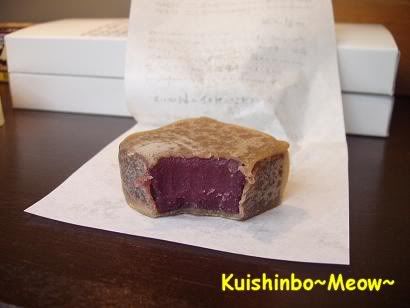 The one I had was this murasaki imokenpei (purple sweet potato cake). Not only the colour looks good, but a freshly baked hot imokenpei is just marvellous. I just love it. :)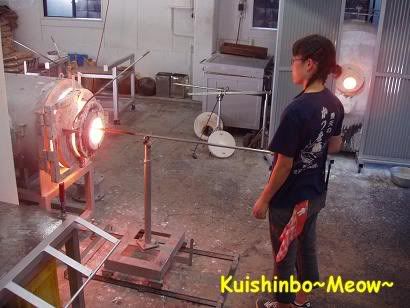 Nagahama is oso a place famous with glass making. They make all short of things from glass. This was one of the workshop showing customer how a glass product was made. Impressive with the patience of them towards the super high temperature working place. All the products definitely very cute and beautiful, but... too expensive for fish fish. :P So just eyes see, but no money buys.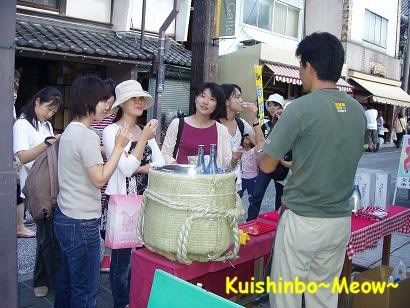 When we past thru a sake (Japanese wine) shop, saw another groups of gals in our lab. Boy~~ these alcohol lovers. They just stand there trying a few types of sake one by one. See their shiawase (happiness) face? They keep telling me, "Yang san, oishii yo~~" (Yong, it's delicious). Hehe... no thanks. I think after tat they bought 3 bottles for tonite's dinner, with our travelling expenses. Btw, we paid 22000 yen (~RM790) for this 2-day 1-nite trip.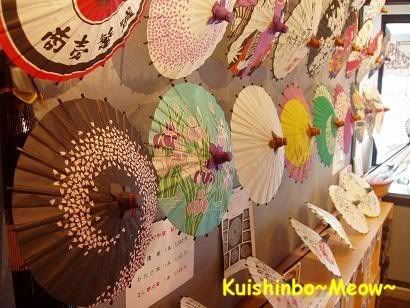 We went into this little shop selling handmade Japanese umbrella. A few Japanese customers keep saying "Natsukashii na~~" (Wat a fondly-remembered memory~)
Yap, I do agree. It reminds me of the old old Chinese umbrella tat my past away grandpa used to hv.
I like these rows of tiny version. Very Japanese. The owner was demonstrating how he made one big umbrella in a corner.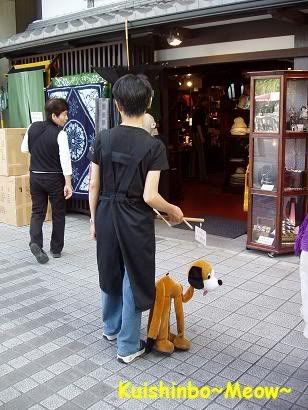 Now, I like this one. A lady hold a doggy doll, moving it around, as though she is bringing a real puppy for a walk. :) She was actually doing publicity for her shop. It's a 1050yen shop. Everything inside all priced for 1050yen. I guess this doll puppy oso 1050yen then. Hmmm... too big for me to bring back.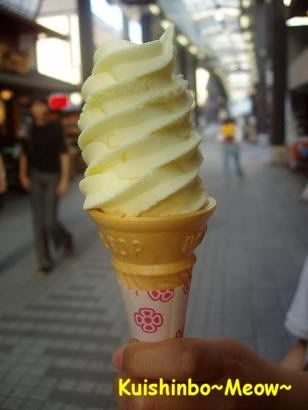 One of my lab gal bought this yuzu ice cream (a small citrus fruit which smells very much like a big pomelo, but Japanese only use the skin of this fruit for making meals). One for 300yen (~RM11). Very nice. I would rather call it yuzu sorbet. As the taste was very sappari (refreshing taste). A very good teatime heat quencher.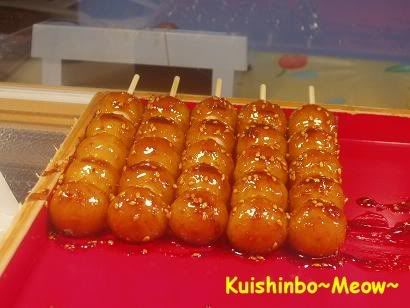 As for me, I bought a stick of goma miso dango (sesame with fermented soybean paste dumpling). Forgot the price. But it was good too. Like the goma n miso. And the dango munchy too.
We saw in the guiding map in booklet written 'The world biggest kaleidoscope'. Interesting. We wanted to see how big it is. So... off we go.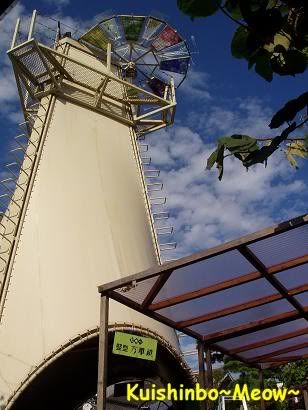 Dang Dang! This is how the kaleidoscope looks like. Does it look like a kaleidoscope to u?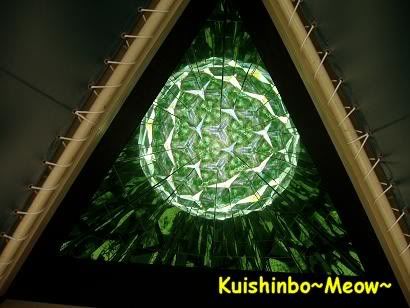 My fren hv to help me to turn the wheel, in order for me to able to see the pattern changing of this kaledoscope. It was very beautiful. Amazing. But I had a neckache after keeping my head looking up for quite some time.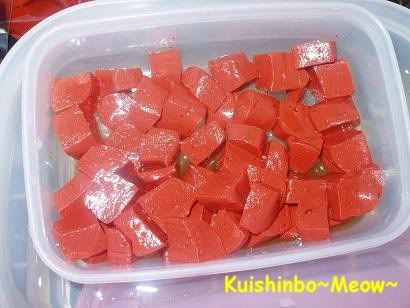 Ok, I saw this red red thing selling along the shopping street. Been curious how it taste like as it is written akai konyaku (red konjak). Uuurrgghh!! Look kind of scary, but it didn't stop ff from trying it. So I took one of the tester, put into my mouth. Hmmm... the taste actually much better than the look. Salty taste, good to go with rice. And the texture very unique. Smooth and yet munchy, bit like a over concentrated jelly. But I didn't buy, cause I do believe it somehow will keep staying in my fridge if I do so.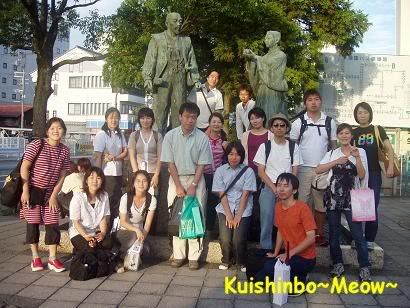 We finish the Nagahama trip around 5pm. Groups remeet in Nagahama station. From there, a bus of the Japanese inn where we r goin to hv our dinner and stay overnite came to fetch us. :) Arrr~~~ wat a day.
To be cont. ;)