Lab Trip 2004 (25 Sept, Pt 2)
We reached a national guesthouse called
Yogokosou
(Yogo Lake Villa). It was oledi omost 6pm. Our bus moved along the Yogo lake, very beautiful scene. Feel like in another world. Mind gets into a very relaxing situation.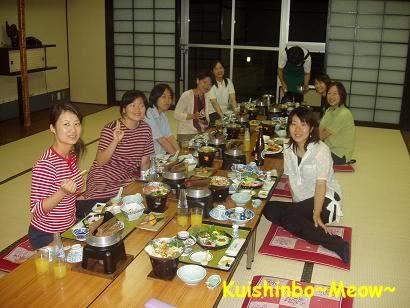 This was the long dinner desks where we sat. Got 2 rows. It seemed like all the gals get to a row, and so do the guys. :P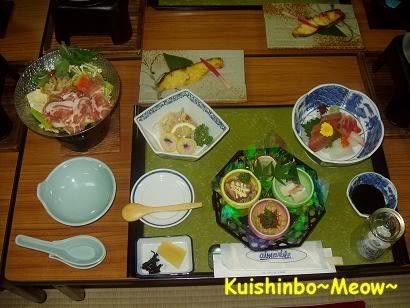 Our kaiseki (banquet dinner) was in a big room. This was a part of the layout for other members who hv normal menu. Each member meal cost 4500yen.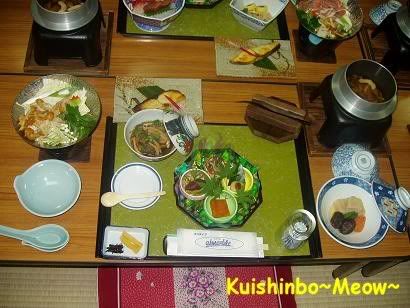 Mine was a vegetarian meal. See a grilled fish lay out for me too? They made a mistake. Later they took it away and replace with something else.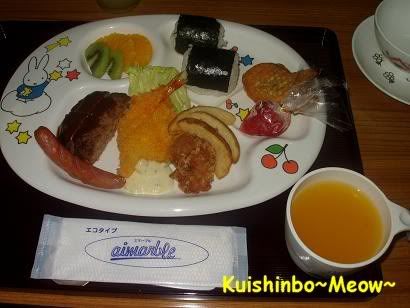 And this was for Hayashi sensei little son, Dai chan. Kid's menu. Cute. But I dun think a small boy can finish it all.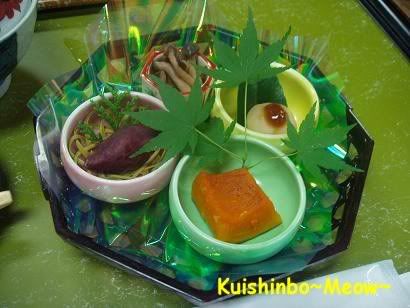 We have 4 types of appertizer. Mine were mushroom, sweet potato, small taro and pumpkin.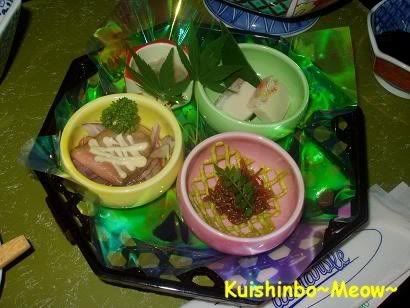 The normal version had 4 types too, but I dun know wat was wat. :P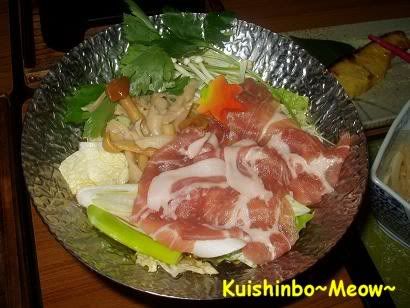 For nabemono (hot pot), the normal version had a generous portion of pork.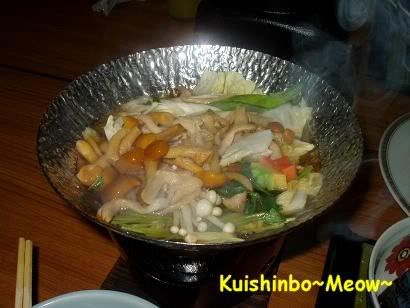 Whereas mine was generous in vege and mushroom. Very nice taste. But the portion sure a big one for 1 person, counting the keeps coming up menu later on.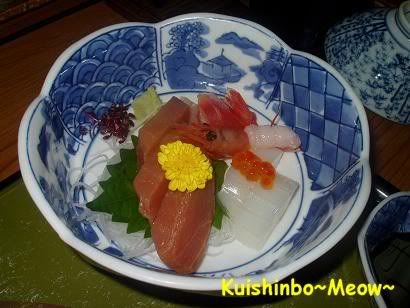 For sashimi (sliced raw fish), they had assorted nice fresh seafood.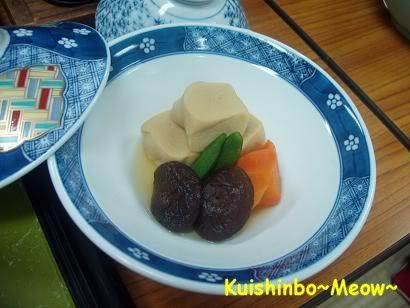 I got a very healthy bowl of boiled koyatofu (dried tofu) with kinoko (mushroom), okura (lady's finger) and ninjin (carrot). This was a very mild taste. Which really suited my taste bud.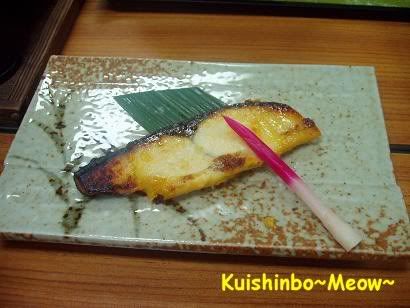 The fish menu I mentioned just now, was a yaki sake (grilled salmon) with benishoga (red ginger).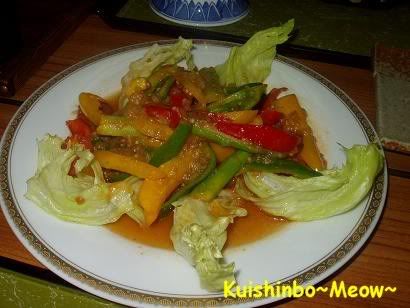 They replace mine with a very big plate of Chinese style stir fried vege. I love the capsicum and asparagus inside. Goes very well with the sesame sauce. It was a very nice hot place. Yummy Yummy! I ate a lot of rice with this. :P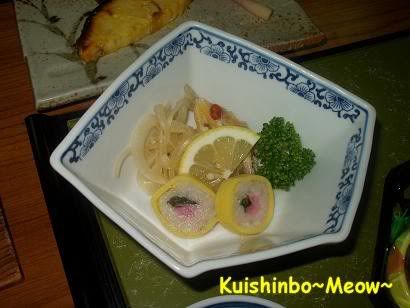 For tsukurimono (decorated meal), I dun know what they hv. A combination of few foods make into a colourful cubes. Guess somekind of ground fish or meat maybe.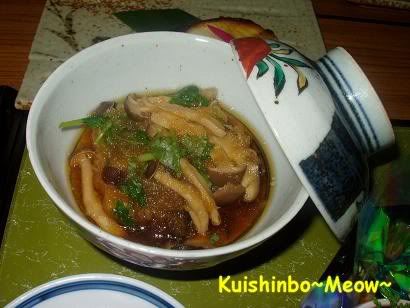 But I do love mine. Agedashi tofu (deep‐fried bean curd in a light savory sauce) with a topping of mushroom and grated radish cooked with shoyu (soy sauce). The tofu was very soft, and the mushroom still left a lite crunch when bitten. :)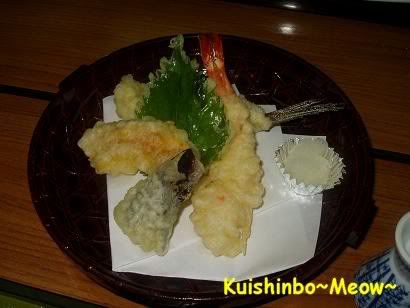 Ah~~ finally my favorite tempura was served in the middle of the dinner. It is a normal pratice for a banquet like this, so that the guests can hv a maximum nice taste of a freshly fried tempura. ;) The pic shown here was for normal meal, with prawn, fish n some vege.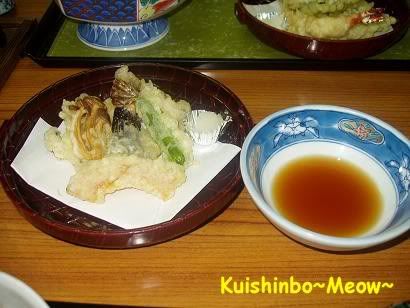 And mine was vege and mushroom tempura. I must say I love this one so much. The shimeji and maitake mushroom... I just love it. Totemo oishikatta yo (It was very delicious!)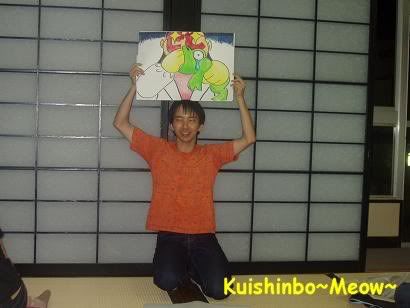 When our dinner omost came to the end, one of the master 1st year student who incharged the trip did some performance. See the cute pic? It was his product. He was talking bout story of our ex-senior who had some incident during the research. Ai yar~~ poor frog.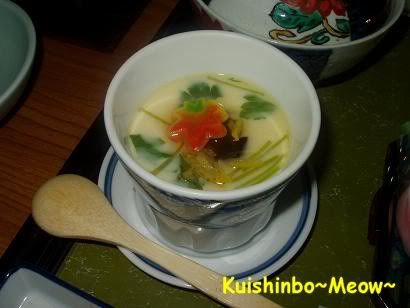 Everyone of us then has a bowl of hot steamed egg with assorted ingredient inside. Mine again, meat omitted.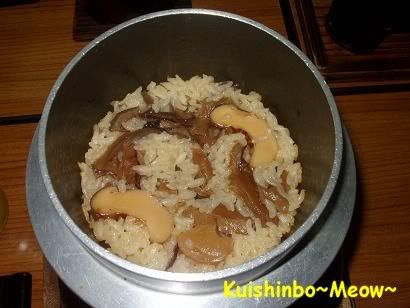 The takikomigohan (rice steamed with assorted things) for a banquet owez serve in the end... we had kinoko (assorted mushroom) takikomigohan...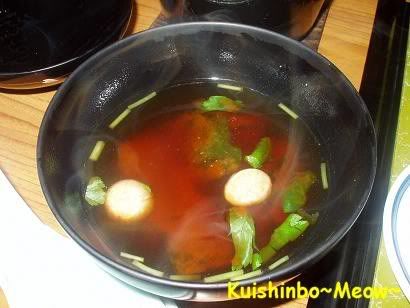 With akamiso shiru (red miso soup).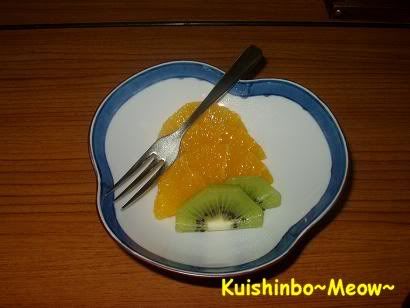 And ended the whole series with a cute little dish of sliced orange and kiwi.
Wow!! FF finished all the food of hers, which most of the gals can't. :P Yappari kuishinbo ya na~~ (You see... I am really a greedy pig).
Overall, we felt very manzoku with the menu served. Not only the portion and variety, but oso the great taste. :)