Lab Trip 2004 (26 Sept, Pt 1)
Stayed with the others eating and chit-chating till omost midnite. We woke up in the morning with a very fresh air. But the sky was kind of a cloudy. I woke up earlier than Mirian n Wang Hao in my room, took a good ofuro (Japanese style bath) and went outside for a morning short walk.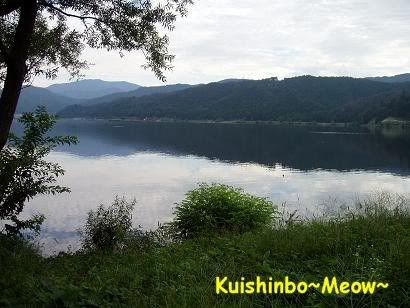 A morning Yogo Lake was very quiet, and yet full of beautiful sounds around. The sound of morning birds tweeting, early autumn breeze blowing and woods leaves whispering. Ah~~ ur mind just got blank and think nothing else.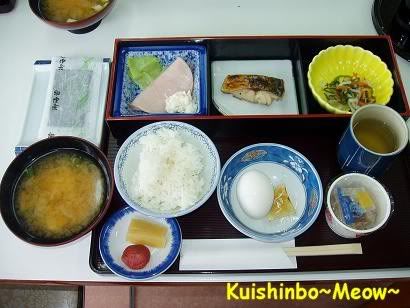 Then, I went back to the villa to hv breakfast with the others. This was the normal meal set. With fish, ham and potato salad, pickles, half boiled egg, natto, nori (seaweed), Japanese style cold salad, rice and soup. This was a typical Japanese style breakfast.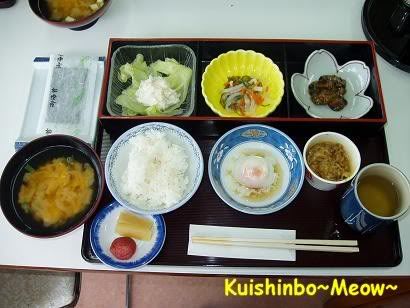 As for me, omost the same except tat i dun hv the fish n ham. But was given mushroom pickle tat cook with miso paste. Very nice. I like it. Ate a lot of rice again with tat. Gosh! Dun want to think bout the calories intake for these 2 days.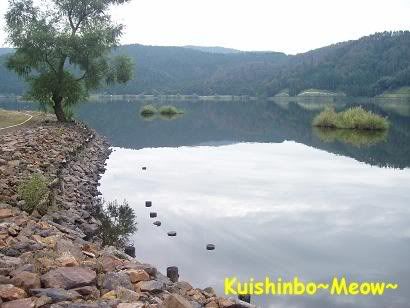 After the breakfast, we hv another 30 min before depature. So, with a few gals in my lab, we walked along the lake again. This pic was taken in another corner beside the lake.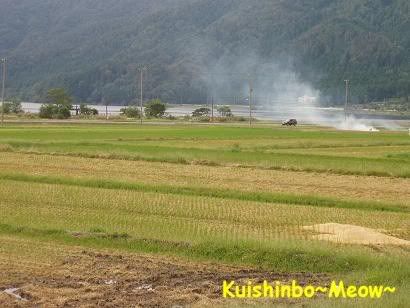 Then, the villa bus sent us to the nearest station to take train to our next destination. While waiting for the train to come, we strolled around for a short while. I like this paddy field tat just being cut not long ago. Spacious place like this seldom can be seen in Kyoto.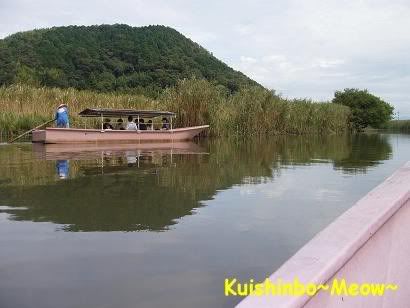 We then took another 1.5 h train journey to our next destination called
Omihachiman
. A famous riverside district and full of old time shops. We went to a place call
Maruyama Suigo Meguri
for taking a boat ride along the river. It costs 8400yen (~RM300) for 6 people an hr.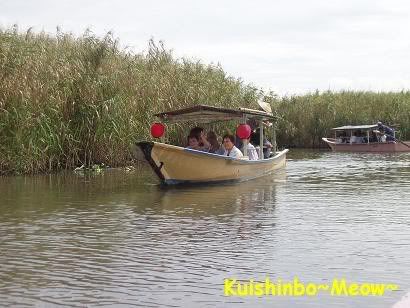 It was Sunday, so the business was quite good. Keep bumping into other boat that bring passengers.
"Konnichiwa!"
Everyone greeting like this to other boats.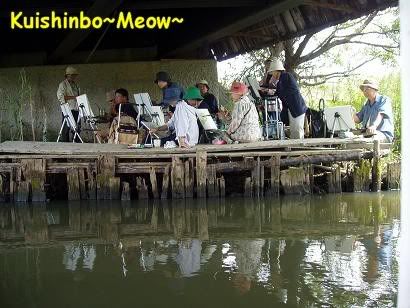 On the way back to the harbour, we saw a group of energetic old folks having a painting session. :) If only when I am old, I hv money, energy and time to do the things I like as them...
After the boat riding, we went to our lunch place. It was a restaurant selling famous beef,
Omigyu
(Omi beef), one of the 3 most famous beef in Japan. The cafeteria named Senrian was in a shops area called
Akindo no Sato
. Our lunch set cost 2100yen (~RM75) per person.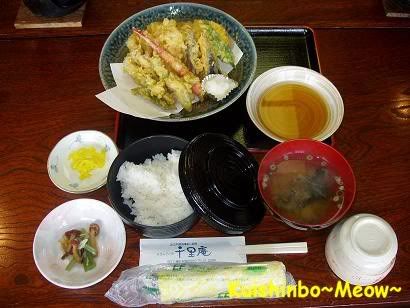 Mine was a tempura lunch set.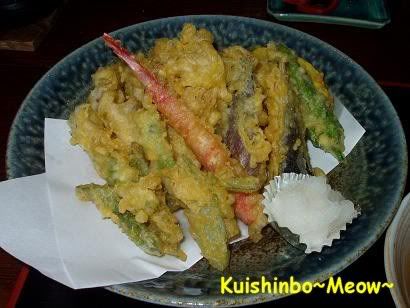 The main dish definitely tempura. :) Assorted vege tempura. Very generous portion. And very good taste too.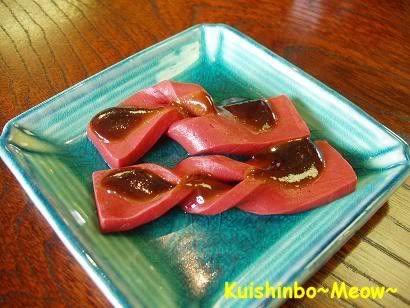 Lisa, my junior in my lab who incharged of the trip asked the restaurant dealer to provide me one more dish. :) It was the
red konnyaku
tat I mentioned yesterday. Hmm, I like the taste of this better when they mix with the black sauce on top. Good to go with rice.
My, I was very full... bloated indeed after I finished the whole meal.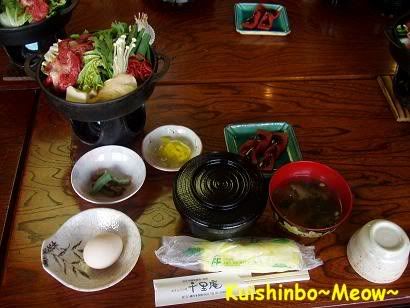 For those who chosen beef set, 2 choices. First was this Sukiyaki lunch set.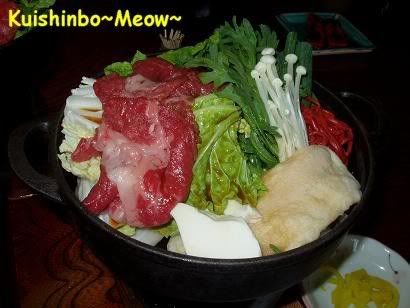 Main dish was this sukiyaki pot. Very red beef. Didn't take a picture of the cook version. But for Sukiyaki, the sauce was sweet, and u eat by dipping into raw egg. I tried a bit of the sweet sauce... hmmm... just not my style.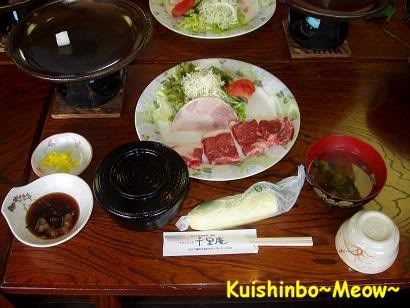 Majority chose the 2nd menu. Teppanyaki (hot plate) lunch set. A white cube on the hot plate (top left) was the beef fat. Replace butter or oil for doin the hot plate cooking. Cholesterol!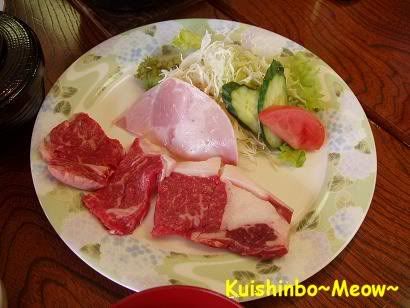 As u can see on the place, there was only very stingy 4 pieces of Omi gyu. If u buy from the fresh market, usually it is 420yen (RM15) per 100g for the cheapest category of Omigyu. The most expensive one is 1890yen (RM67) per 100g. I hv even seen in TV before introducing a kind of super expensive beef, a type of
Kobegyu
for 10,000yen (~RM356) per 100g.
"Eat gold "
, I say.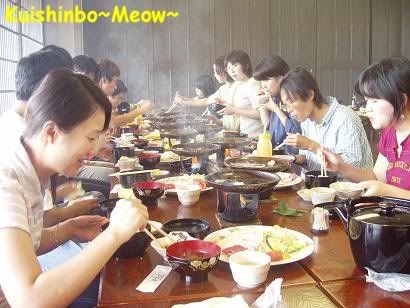 Heee... see the big group of my lab people enjoying their smoky lunch? Everyone was saying the beef was excellent, but everyone was complaining stomach still hungry even after the lunch. So, they still go around looking for food in the next destination after this high class beef lunch. ;)