Lab Trip 2004 (26 Sept, Pt 2)
My god, when woke up yesterday morning n today, with a room like a freezer. Gosh! The weather suddenly just get so cold in one nite. Even use wool cap n gloves to school. But, now it is getting warmer, nice nice. :)
Ok, my last post for the lab trip 2004. :)
After the lunch, we decided to walk around
Omihachiman
area. We used ropeway to go up to
Hachiman Yama
. Up there got
a temple
and u can hv a good view of the
Omihachiman city
. When we came down, we decided to hv our nice tea time in Club Hare, western dessert part of
Himure Village
. It is belonged to
Taneya
, a very famous Japanese and Western sweets shop in Omihachiman.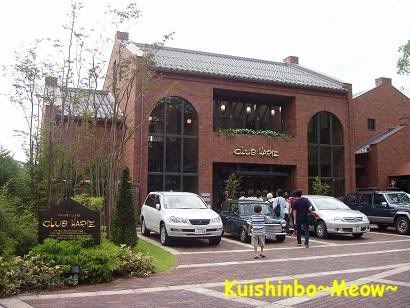 This was how the out look of the Club Hare building. The place where we had our tea time.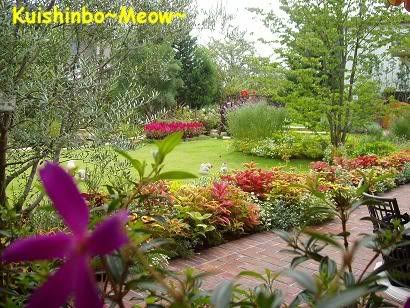 We went to the back part of the building. It was a very westernized
coffee house
. I just love the garden, a bit like 'Alice in Wonderland', keep following the bunny.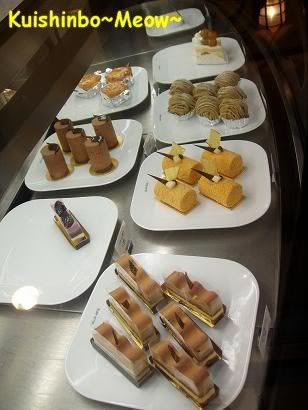 Inside it, just beside the paying counter, had a layout of lovely cakes that inviting this kuishinbo to taste them. :P I was so confused of which one to choose, as everything just seemed to be so delicious. After waiting for 15 min, we got our place. But can't fit in 7 of us in one place. So 4 inside, and 3 outside. Mirian, Wang Hao and me were arranged to be outside, having a great time by relaxing on a splendid tea time. ;)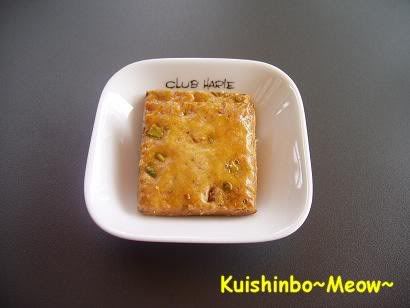 We were given a piece of this pistachio biscuit as tea time appertizer. Mmmm... I just love it. It was not sweet at all. A taste of saltiness, which bring out the nice crunchy flavour of this little piece. Arrrggg... I was so attracted by it that I bought 1 package home tat day. :P By the way, 1 piece for 30yen (RM1).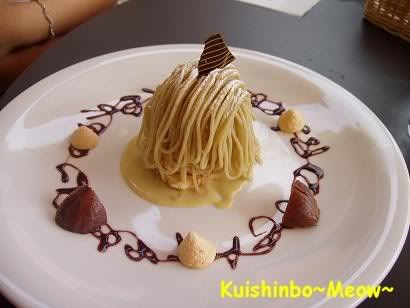 This good looking mont blanc ice cream was ordered by Wang Hao. I love the artistic layout of this plate. So cute. Mont blanc means white mountain. And mont blanc is one of the most favorite cake among Japanese during autumn especially, as it is the season for chestnust. Inside was vanilla ice cream. And surrounding with marron glace, meringue and chocolate sauce. The dessert itself was not too sweet. But Wang Hao was kind of disappointed with the vanilla ice cream inside. It was delicious, but just normal vanilla ice cream, nothing special. Heee... This plate was for 840yen (~RM30).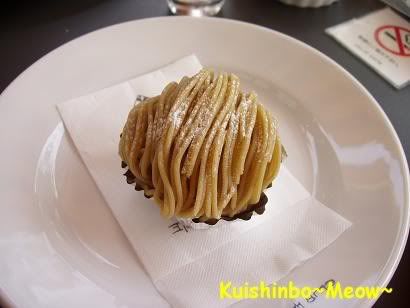 Mirian oso ordered a mont blanc, but a normal one. with cream and spongy cake inside, instead of ice cream. And no decoration around it. The cream inside was good. And it was much cheaper, 420yen (~RM15).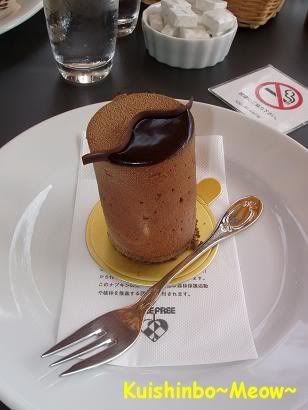 Hehe... a chocoholic like fish fish never will miss a good chance in having nice choco. S0 fish fish let go of the grape layer cake, and stick to her old choice, chocolate...
If this looks good to u, well... believe me, the taste is even much better than its look. A cute shape dark choco on top, followed by a firm but melt in ur mouth choco mousse, then in the middle, a hidden round choco gave u a surprise when u bitten one it unexpectedly. And finally, a cold choco ice cream taste like cake gave u another different kind of feel. I got 4 kinds of feeling by just eating one cake. :P Chou suki (super like). It was for 420yen, which I think really worth the value.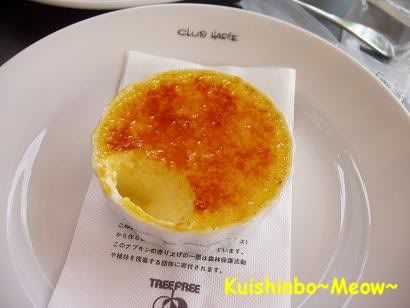 But hv to admit, the choco was kind of insufficient for ff. So, she ordered another favorite dessert of hers... creme brulee. Too bad, even though it was good, but didn't reach her expectation. Oh well, guess next time I hv to go back to the one I had try in USJ again. Think this was for 400yen++, forgot.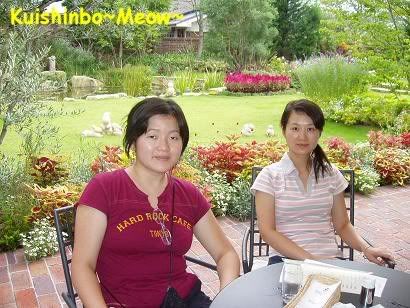 This is Mirian (left) and Wang Hao (right) after a good tea time.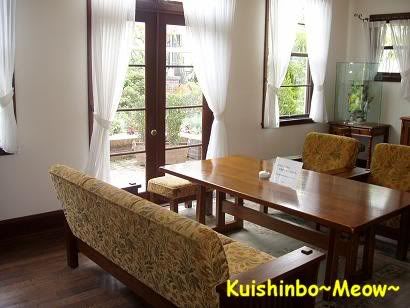 We even found out 2 private rooms tat can be rented for tea time.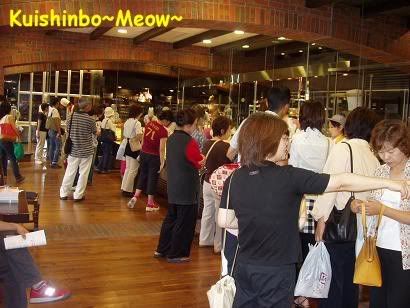 With a full stomach, we went to the
front part of the building
, looking for the famous baumkuchen. My... it was sure a long line for a cut of fresh baked baumkuchen. U can buy a
packaged one
too with a longer shelflife and cheaper price.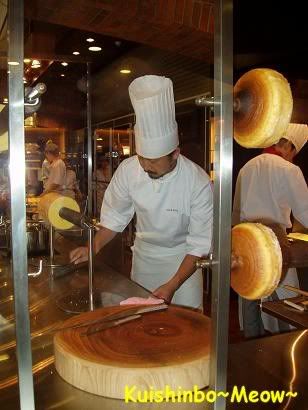 Here is the chef busy demonstrating how the making of baumkuchen. It was the first time I see people getting so serious in making cake. He was like handling with a very fragile artpiece.
See 2 round edges tat left after the long baumkuchen cut into pieces? Know wat happen to these edges? All will go into pig stomach. Yap, it is true, they use this for feeding high class pig. Hmm... I wouldn't want to think bout the price of these pork then.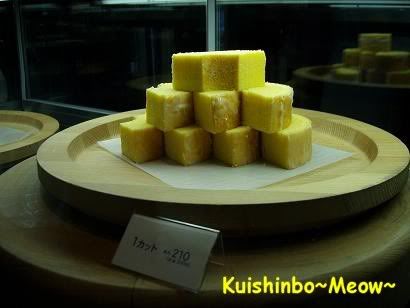 This is wat people been crazy about in lining up for. Yap, a small cut like this for 210yen (RM7.50). Hv to say it was one of the best baum kuchen I hv ever tried. Very spongy and soft. Hmmm... a freshly baked version really do make a difference.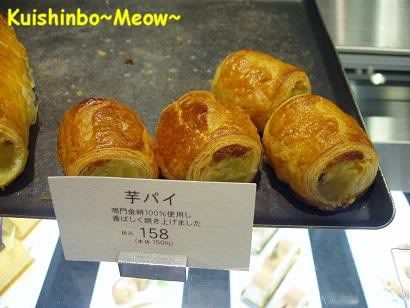 I saw this imopai (sweet potato pie). Lovely. So bought a long bar as omiyage for my host family. It was for ~470yen (~RM17). My host mama was telling me the taste was great. She really like it. :)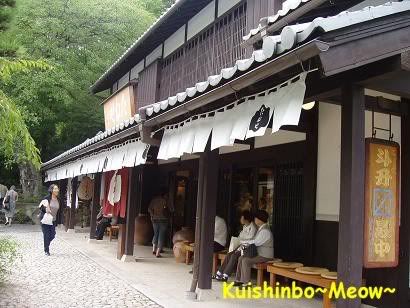 Opposite the Club Hare, is the Japanese sweets corner of Taneya, containing
counters selling wagashi (Japanese sweets)
and a
Japanese teahouse
for u to enjoy an authentic wafu(Japanese style) teatime. If u hv a sweet tooth for red bean, must try their most famous zenzai (Japanese style red bean soup).
Overall, the thing I enjoyed the most in this trip was the foods. Really hv a very relaxing time enjoying walking around and munching non-stopping. :)