Meeting Kok Hann (20 Sept)
It was Monday, but a public holiday in Japan. It was Respect-for-the-Aged Day. Japan is definitely one of the country that has the highest proportion of aged people in the world.
Patrick, Sylvia n me was meeting Kok Hann from Tokyo today. He is goin to Tokushima for a conference in tat evening. Stop by in Kyoto for a nite. We had lunch together in Karakuri Ramen shop. Went there
last time with Patrick and David
. We glad we chose the rite one for Kok Hann, as he was very impressed by the standard of a shop tat merely sell ramen.
"Man~~ Kyoto is good. I like it. Must come to visit longer next time."
He said.
Only 3 ramen menu to choose from. With other side desserts as well.
Kok Hann n Patrick ordered kaisen tsukereimen (cold dipping seafood noodle). As for Sylvia n me, we chose goma tsukereimen (cold dipping sesame noodle). Mine was a vegetarian version.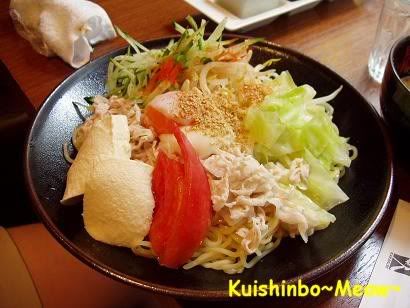 This one was a normal version with pork. Which I hasn't shown yet in my last post. I like the colour combination. Very attracting.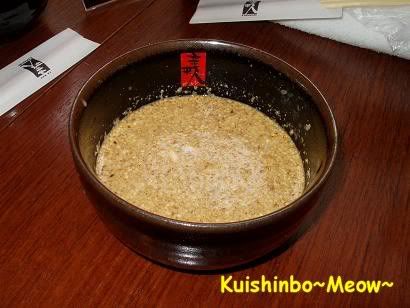 This was the sesame sauce we used to dip the noodle. The noodle was in a good bounciness as usual. I like the addition of their home made chili oil in the sauce. Make the flavour more appealing.
After a good lunch with the ramen and chit chat, we sent Kok Hann off to the train station for his bus.
On the way, we brought him to pass along
Nishiki Ichiba
. A very old market street in Kyoto. Oso a must see spot to observe daily Kyoto's people living style. However, price of the things in tat area are more expensive. But it's oso a good place to find some very typical Kyoto things which u can't find in other places.
We went to a very famous shop specialized in soybean product called
Konnamonja
. The soymilk donut is very famous. But I like the Tofa more (a very soft version of tofu eat in a dessert way with syrup. U can hv black honey syrup or green tea syrup in this shop). Oso hv soymilk soft cream.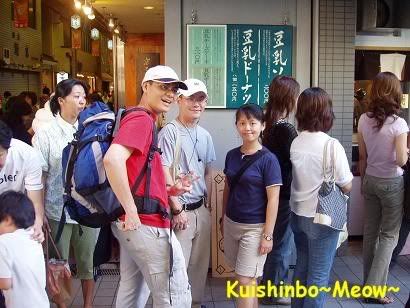 The guys wanted to try tofa. So they lined up. Red shirt is Kok Hann, middle Patrick and Sylvia in blue shirt. Hehe... Patrick is the one tat produced
the Sunflower
. I got permission from him for putting on this pic. This time is an 'OK'.Can see a long Q infront and at the back of them. The tofu donut is 8 little rings for 150 yen (RM5.30).
As for the Tofa, it was usually 250yen (~RM9) for 1. But tat day, it was only for 150yen. Wow!! Tat attracted fish fish to buy one too. But very very disappointed, it's not the usual tofa tat I had in tat shop. The texture was so bad. And the taste was not good too. I wonder why? I would rather pay 100yen more for a good one. If next time I eat, and still the same, I am goin to complaint to the owner.
Anyway, no pics for both of the donut and tofa this time. Too many people. No good take pic and jama (disturbing) the business. Will post tat next time. :)