Meeting Yuriko (17 Sept)
I left school early on tat day. :P To meet my old Japanese fren, Yuriko, who came back for a holidays. She is now studying in
University of Oregon
. We went to
Kyoto Municipal Museum of Art
for Kyobijin (Kyoto beautiful gals) exhibition. A good experience for me with the Japanese art. :)
After tat, we decided to look for something sweet and cold. Nothing will be better than a tall glass of parfait. :P
Gion Koishi
We went to Yuriko favorite place in Gion, a place in Kyoto tat famous with
Maiko
, which I have done an intro in
my previous post
. Gion is oso a place for finding good Kyoto's cuisine. This shop tat we went called
Gion Koishi
. It was first time for me. Never know this shop before. But I trust Yuriko's taste bud. She has a good evaluation for Japanese style things.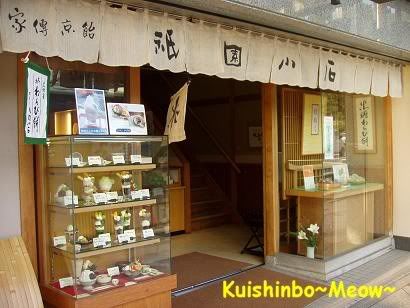 It seems like this shop is specialized in hereditary Kyoto style candy. It looks very quiet outside. But once we get in, kind of a surprise with the amount of customers. We were lucky enough to be there a few min earlier. Cause after that, a long Q formed.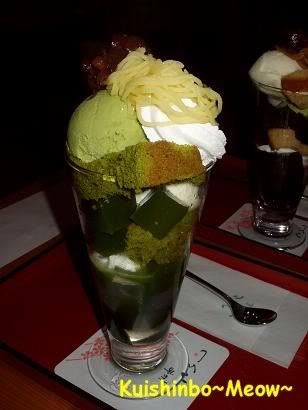 Yuriko ordered her favorite maccha parfait, but this time with maccha chiffon. I forgot the exact price of hers, but think around 900yen (~RM30). Other ingredients inside are satsumaimo (sweet potato) paste, anko (red bean), maccha dango (green tea ball), shiradango (white ball), maccha jelly and white cream.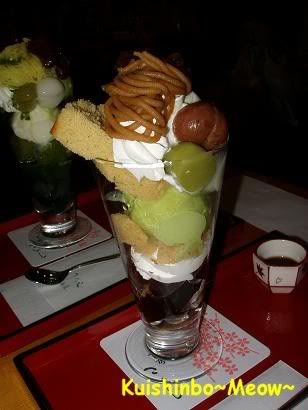 I had one seasonal menu, the kuri (chestnut) parfait. 950yen (~RM33). We have omost the same ingredients inside, except tat kuri paste for satsumaimo paste, one whole kuri for anko, kuri chiffon for maccha chiffon and less maccha jelly, but with additional black honey jelly. Silly ff, didn't see the black honey syrup tat attached aside. Only realised tat after I finished the whole parfait. Wat did I do? I drank the syrup. :P
Both parfaits are divine. A fine taste of typical Kyoto sweets. I love the maccha jelly the most. They really make a perfect maccha jelly for me in term of texture and taste. Yummieee!!! Not kalah (lose) to my favorite shop in Uji,
Itohkyuemon
.
We did window shopping for a while in Kyoto shopping area. Past thru a shop tat selling crepe. Yuriko felt like eating one.
Making of Crepe
After Yuriko bought hers. I got a permission to take pics. Hee... they thought I was some kind of mag writer. :P Nope, I told them I was just having my own web site introducing food. The gals were nice. But the crepe, frankly speaking, was just so so. I was spoilt by the nice nice crepe in the 2nd floor foodcourt of
KLCC
. :P Crepe in Japan just too expensive, and very stingy with the filling inside. Really miss the crepe.
Anyway, here is how the progress in making crepe in Japan. Usually it is sold in Yatai (stall) style.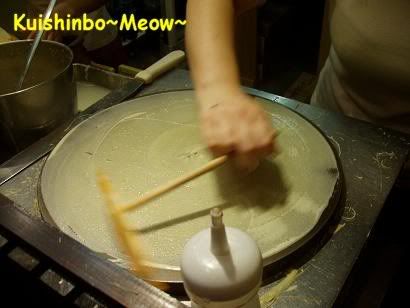 First, pour some blended batter onto a hot plate. Let it cooks.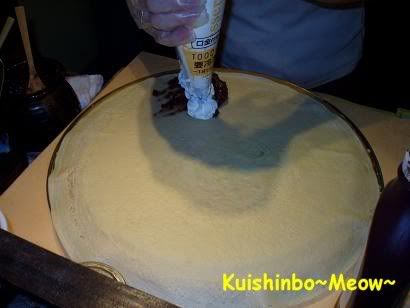 Then, fill in ingredients tat wanted by the customers layer by layer.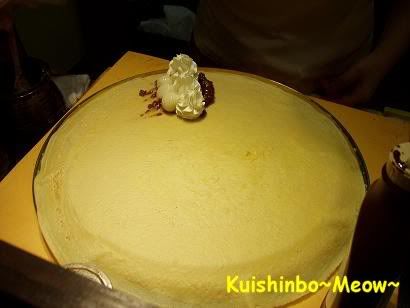 This was how one of the done filling looks like.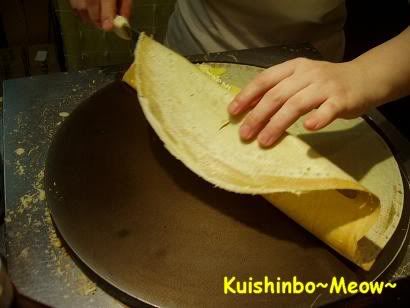 After tat, with a quick hand, hold up the other end and... in seconds...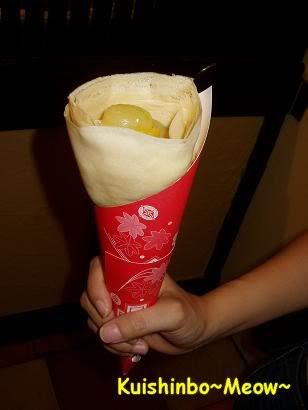 Crepe tat was nicely done. One of this costs 280 yen (RM9.90). Which can say very cheap. Usually it costs around 400 yen (RM14). I complaint to Yuriko bout the portion. Heee... Yuriko was saying, "Poor crepe stall, let u take the photo, thinking u will be doin promotion for them, but instead u make a negative comment." :P Well, a consumer got to be frank mar, rite? Anyway, I didn't show out the shop name, for their kind service. :) Actually, the crepe in Japan all taste omost the same to me. ;)
We then headed to Yuriko's place. Am goin to stay in her house tonite. Her parents didn't see me for omost a year. Invited me to go there. As for me, I miss seeing Masshu sooo much. Masshu?? Heee... I'll leave the answer to later day. ;)
Gyukaku
In Itami, we decided to hv our late dinner in
Gyukaku
, a famous franchise that specialized in charcoal Japanese bbq. Even hv branches in US and
Taiwan
.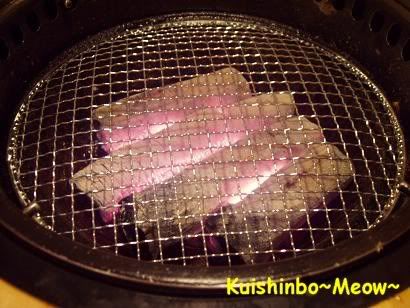 In the middle of the table, got a bit hole to put the charcoal pot. It was damn hot, too bad it was summer, dun feel like having bbq tat nite. So we asked the waiter to take it off. Hee... pretty flame though.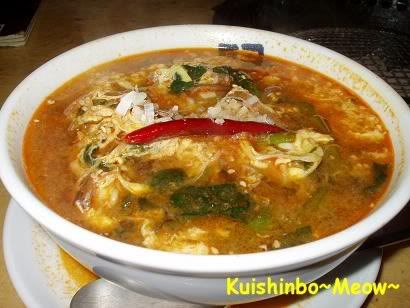 Instead of enjoy ourselves by roasting food and eating at the same time, we ordered some side dishes. First is this kuppa (means rice with soup). I love it. Eat a lot of this. The spiciness of the soup made me sweat a bit, but the sweat cooled up ur body once it was evaporated. Yummy yummy... Chou suki (like it very much).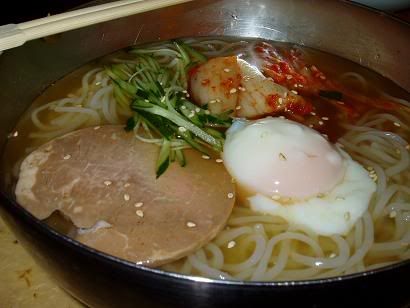 We oso ordered one cold dish. The morioka reimen (morioka style cold noodle). The noodle is not the normal Japanese ramen, but the typical type of Korean noodle. More transparent for the noodle itself, and with a good bounciness for the texture. Yuriko hv more of this, and let me take more of the kuppa. Wat a nice gal. Thanks.
We then ordered Gyukaku fu hiyayakko (Gyukaku style cold tofu). I like this one too, but a bit troublesome to eliminate the mince meat inside the sauce. Hee... so I tried to eat the tofu and the onsen tamago (egg tat boil with hotspring condition water) only.
Burp!! By the time we ganbatte finish all the food, the 2 gals r even hv a difficulty to breath. :P
It was a treat by Yuriko. Thanks a lot dear. Really was a good place. I like it. :) Next time will try the bbq vege. ;)