Meeting Yuriko (18 Sept)
Masshu!!
This is little 'babe' in Yuriko's house. Their sweet Pomeranian. I never see it with a full scale blooming fur. Owez being cut during summer to reduce the heat. Wish I can see it in winter. :P Btw, Yuriko told me, for the haircut, it costs 5000yen (~RM176). Man!!
I grab the chance to take its pics when she was busy eating.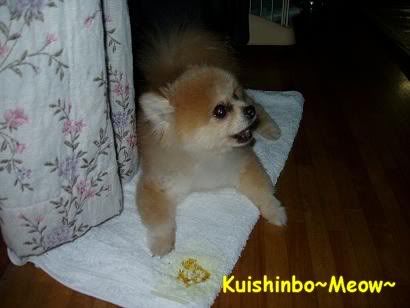 "Hmm!! Dun watch me eating ok? I'm shy... No good to watch a lady eating..."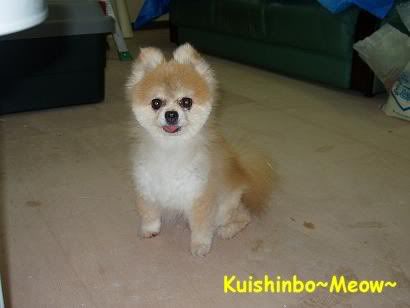 Gosh! It took me a hard try to take its still look pics. It was hyperactive. Never really stay still. But glad i got this shot of hers. ;)
Ume no Hana
That evening, Yuriko's parents booked for dinner in
Ume no Hana
. A famous Japanese franchise restaurant serving yuba (soymilk sheet) and tofu dishes. It is belonged to the
Umenohana group
. This was my 3rd time having dinner in Ume no hana. Everytime was treat by someone. :P And this is a place strongly recommended by me if u want some elegant fine Japanese food. :)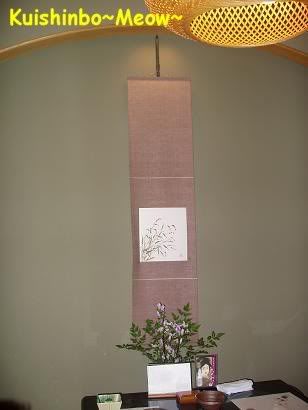 This was the decoration of our dining room. We were led to a private room for 6 people.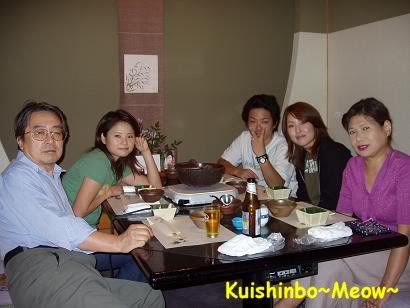 That nite, besides Yuriko (left 2), Yuriko's parents (left 1 and right 1), Yuriko's brother, Nao and his future bride, Yuko (middle and right 2) oso joined the dinner. They drove all the way from Hamamatsu. This was the 1st time I met Yuriko's brother in person. Ai yah~ so fast want to get married oledi.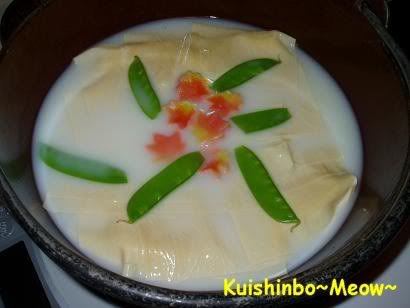 Yuriko's parents order a set of kaiseki ryori (kaiseki dish) called
Umenohana-zen
for each person. Each set is for 4500yen (~RM160).
On the table, there was a big pot of tofu for 6 of us. When we reached, the waitress tat serve us started to heat the pot with candle. Yap, every room have a waitress specially serving the group.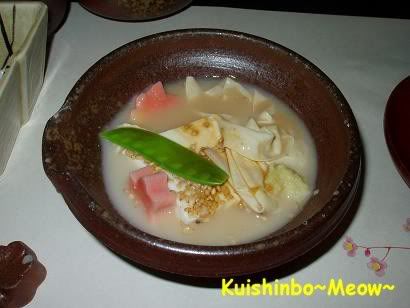 After it boiled, Yuko distributed it to us. This tofu dish is the 7th menu in the set. :) Hmm... good chance for Yuko to appeal to be a good future daughter in law. Me? Just need to busy with eating. :P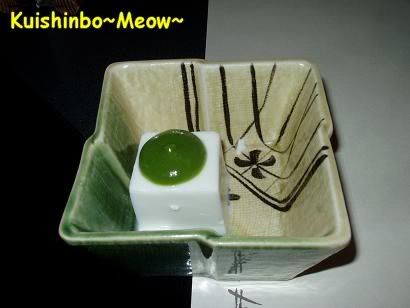 This one is a tofu-like food made from milk, fresh cream and arrowroot starch. I am really amazed with this dish. It is so divine. I would say a texture of tofu with a bit of bounciness. But a creamy cheesy taste. With a mugwort miso paste... The person who think of this combination must be a genius. :)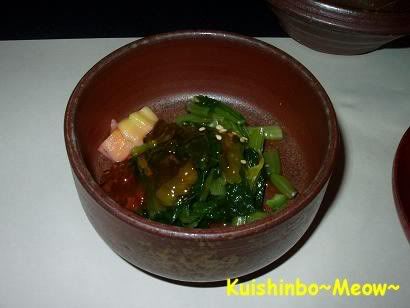 The next menu is boiled green vegetable. This one is horenso (spinach). Mild taste. Good source of diet fibre.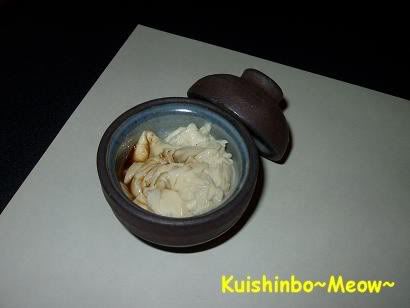 Then, a small pot of cold yuba was served. Add some soysauce, and just eat. This yuba is not the usual dried up yuba from China. A Japanese Yuba is a high class food. They called it nama yuba (fresh yuba) cause no process of drying up gone thru for it. And the price? At least 10 times the normal yuba we get in Malaysia market.
I made this raw yuba by myself before. An ex lab assistant gave me thick soymilk before, and teach me how to make it. Hee... it was damn fun. And the texture was very rich and creamy. Yummy!!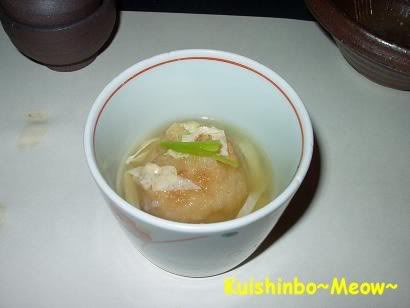 This one is another very good idea menu. It is a manju (chinese bun) with tofu and lotus root. U can feel a spongy texture surrounding crunchy bits when u munching it. Slurp!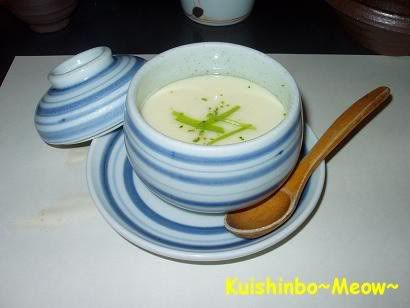 Next, we hv a great cup of chawanmushi (steamed egg custard). I love the yurine (lily bulb) inside and the smoothness of the egg.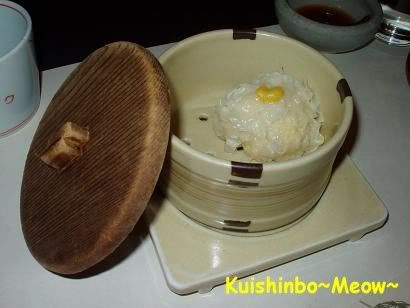 This one looks so delicious. It is tofu shumai (Chinese-style dumpling made of tofu) with crab meat inside. Ahh~~ if only they dun put crab meat inside. So me just watched others eating.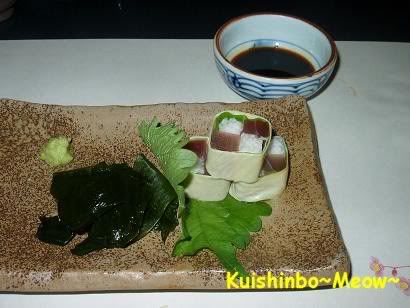 Now, this one is a very typical Japanese style dish. Sliced raw tuna rolled with yuba. The white cubes are Chinese yam. I took out the maguro (tuna) and eat the Chinese yam with yuba by wrapping inside the shiso (perilla). :P
Even though it is a restaurant tat serves yuba n tofu, and still got meat. Yuriko's parents so worry I am not goin to be full. So they ordered extra menu for the dinner.
First was this big bucket of kinoko (mushroom) and mizuna (potherb mustard) salad with ponzu dressing (Japanese salad dressing from juice tat pressed from a bitter orange and with a mixture of sesame oil). Very shaki shaki (crispiness for vege).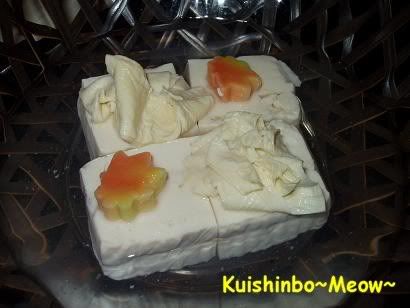 A big pot of cold tofu with yuba and namafu (the red leaves shaped thing, is a glutinous substance made from wheat gluten) decoration.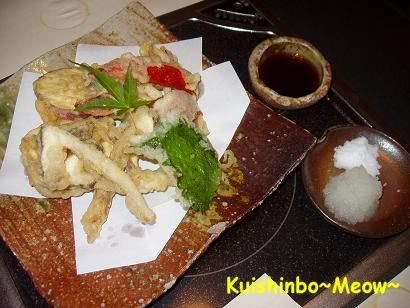 And the 3rd extra menu we had definitely the best for me. Tempura! I had a great experience for this tempura, as there were some food tat I never tried in this way. Matsutake is one of them (A very expensive mushroom in Japan, only can be eaten in autumn season. The reason why it is very expensive is due to its failure in cultivation. Matsutake is well-known for its crispy texture and the great fragrance it releases, but in term of nutritional value, shiitake is more recommended. And matsutake in Japan r different from those in Canada or Korea. A true Japanese matsutake prices a few folds compare to these cohorts). The other 2 tempura tat I tried for the 1st time there were fresh ichijiku (fig) tempura and red capsicum. 1 bucket of this for 1500 yen. The batter of the tempura very nice. Not too oily, and very crunchy. :)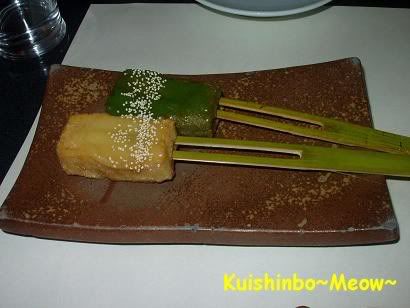 The waitress then continue serving us the unfinish menu for the set. This one is namafu age (Fried wheat-gluten coated with miso paste). The green one is mugwort. And the yellow one is normal flavour. Little awa (millet grain) was spreaded on them, istead of sesame seeds. Great dish. Especially love the blending of the taste with the texture.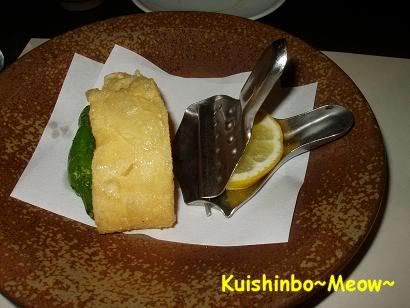 This was a good one for fish cake lover. Fried ground whitefish meat wrapped with yuba. :( Another nice nice dish tat cannot touch by fish fish. I am very sure a sprinkle of lemon juice on the fish cake will make the taste very divine. *Sob sob* Can see, but no touch. I can even feel the fish cake is bouncing inside my fren's mouth.
The next one we had was this gratin. With creamy white tofu blended with crab meat. Can smell the irresistable tempation once it was served. Too bad, the crab meat very jama (disturbing). I hv to spit out the crab meat like spitting out bone while eating it. Wooosh!! By the time I finish, the dish oledi turned cold.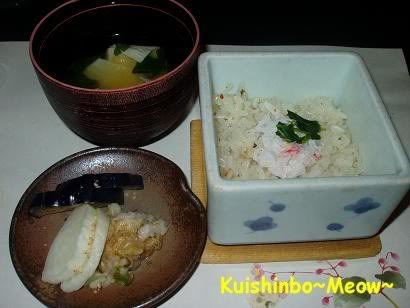 Before we had our desserts, we ended our main meal with okowa (steamed glutinous rice), tsukemono (pickled vegetables) and suimono (clear soup with yuba). Yap, it is a typical way of Japanese style in serving rice at the final point before the dessert in a series of dishes. I dun know why. Maybe in this way, u wouldn't feel too full in the beginning. And can fill up the empty part in ur stomach with this carbohydrate.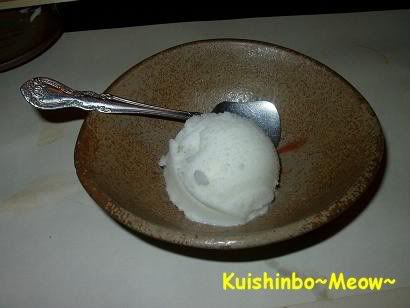 For the dessert, we had 3 choices. Yogurt ice cream.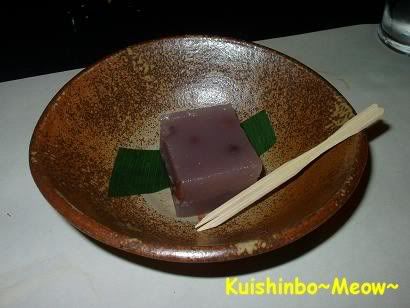 Red bean willow.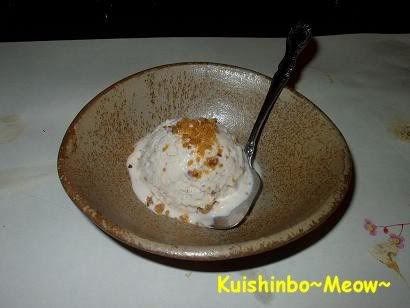 And chestnut ice cream. I chose this one. Very rich taste. Definitely a good sweet thing to rinse ur mouth after all the foods.
Gochisosama deshita (Thank you very much. I have really enjoy my meal very much.) Hontoni umakatta (It was really a delicious meal).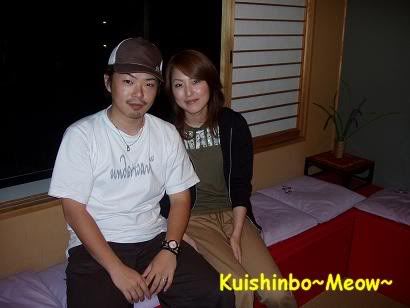 Before we left the restaurant, I took another few pics of Yuriko's family. Here is the future bride n bridegroom. Their ceremony is going to be on 30 October. Yuriko is coming back for that, all the way from US, just for 4 days. Man!
Sue nagaku oshiawaseni! (May happiness be with you till the end.) :)