Patrick's Drawing!
Well, today I got a very short mail from Patrick. Actually he is sending to a few frens in one go. Wooo~~ impressing. So, I mailed back to him ask if I can post these pics on my blog. The answer is 'Ok'. :) :) Heee... last time he
rejected my requirement on posting his pic when we had ramen with David
. Ai yar~ so glad this time his answer is yes. Of course, good things need to share with everyone mar...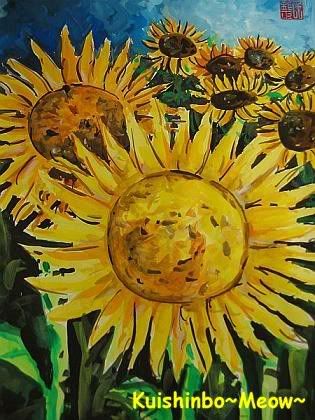 This one he named it Hokkaido-summer. Now u might wondering wat is the connection of Hokkaido summer with sunflower? Well, tat's the symbolic things u will c when u go to
Hokkaido
in summer time. I've never been to Hokkaido yet, sadly to say, even though I hv been to 28 out of 47 prefectures in Japan.
I must said I love this pic. I hv a great passion towards sunflower even since I came to Japan. Thought the stroke of Patrick is not the type of
Vincent van Gogh
, but it's another kind of beauty inside for the sunflower. Hey buddy, good job!! I showed Wai Wai these pics, heee... she can't believe they r Patrick's painting, :P Well, dear... it's really his artpiece.
Ok, this is a pic based on a famous animation called
'Sen to chihiro no kami kakushi'
. In English, it is called Spirited Away. Another
siries of Studio Ghibli
. Product by
Miyazaki Hayao
in 2001. He has a new film called
Howl's Moving Castle (Hauru no Ugoku Shiro)
this summer. Well, I hven't seen it yet. But really looking forward for a chance to watch it for sure.
I love Spirited Away story plotting soooo much. In fact, hv watched it a few times. Well, if u haven't got any idea bout this film, I must say, u hv been missing something really good. Especially for those who likes mysterious kind of fairy tale. I get a lot of surprise from it the first time I watched it. The first surprise... 'Chihiro parents changed into pig...'... want to know more, watch it for urself then. ;)