Summer in Tokyo (4 Sept)
The final nite of summer 2004 in Tokyo, ended up in this restaurant called
Ninnikuya Goemon
in
Takashimaya Shinjuku
, spending eating n chattering with the 'old devils' in Tokyo. :P Ninniku means garlic. So, basically, this shop use garlic in every dish of them. It was a Saturday nite, and glad we managed to find this good place. Yeah... found by Wai Wai, Hui Wen n fish fish wor... ;) We booked and waited for around 1hr before the other joined us and the shop hv vacancies to fit in 10 of us. Finally, we could really place our butts on the chair. But worth the waiting... :)
Ninnikuya Goemon
I forgot bout the order of the foods which came first, which later. But here were the foods we had. :)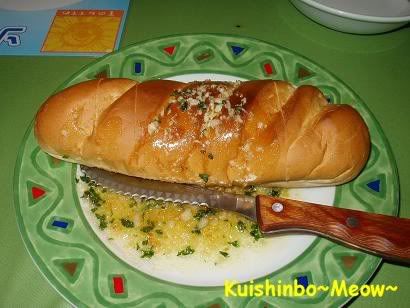 Wai Wai:
" Fish Fish, I want! The garlic bread... seem sooo oishii..."
(This was why Wai Wai decided to hv this shop our choice after we round n round many restaurants.)
Fish Fish:
"Can... no problem. Many choices, food seem nice nice too... Price reasonable too."
(Well, I decided on this one considering the choices of foods n the price).
Hui Wen was waiting upstair at the 1st french restaurant we earlier booked. We then cancelled tat, cause too expensive. I dun think the other members would be willing to pay too much for a big gathering dinner like this.
The garlic bread was very soft n fluffy, with the nice combination of garlic oil... Mmmm... just so irresistable.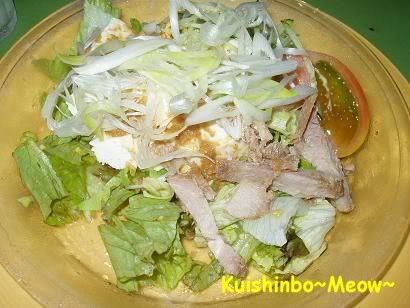 We ordered this mainly because considering my special diet, vegetarian. Heee... owez a normal happening when gangs r having meals with me. It was a good salad. Nice appetizer.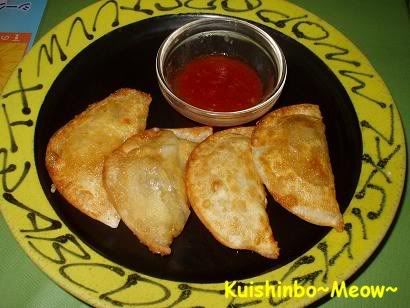 Now this cheese puff was good. Outside very crunchy. And inside, the hot cheese just melting out when u cut it. Yummy!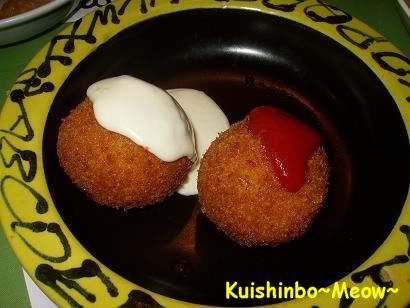 Some wanted this rice croquette. I seldom had rice croquette. Think this is my 2nd time. Not a bad one. The nice smell of the garlic. But still, I prefer cream croquette better. Caloric killer...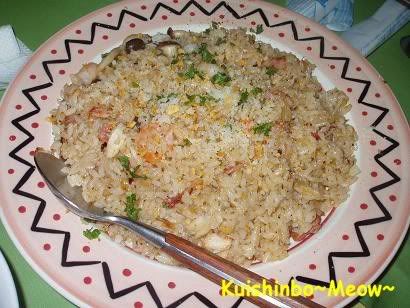 We ordered 3 kinds of fried rice. First, this chahan (fried rice). When u mentioned chahan in Japan, it means Chinese style fried rice.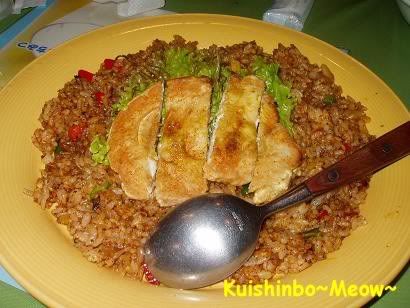 Next fried rice was this Jambalaya. I love this fried rice the most. Much much better than the one we had in
izakaya last nite
. With a mild spiciness in it, and the good blending with the garlic... Made me wordless n busy munching. :P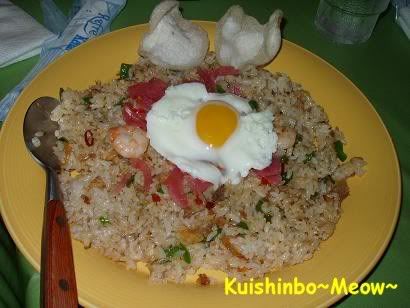 We oso had nasi goreng. Still means fried rice. But when u mention nasi goreng in Japan, it means a more south east asian style like those from Indonesia and Malaysia. More popular one is Indonesian style. Wat's the different? The Indonesian use more kicap manis for seasoning, beside the belachan paste. And must with keropok and a topping of a bull eye egg.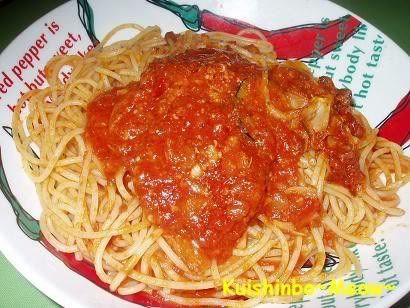 As for spaghetti, we ordered 4 types! This basic Napolitan style. I usually not so keen on tomato based spaghetti. But this was good. The ninniku flavoured up the whole dish. Good job.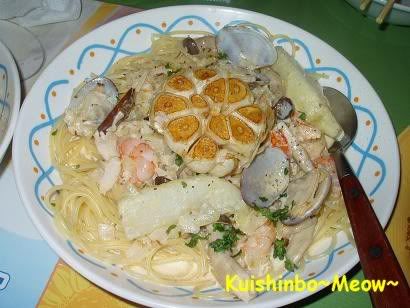 We oso get one seafood spaghetti. I like the way they used the roasted garlic as the decoration. Instead, I ate one of it. Heee... guess I had a very stinky mouth then. :P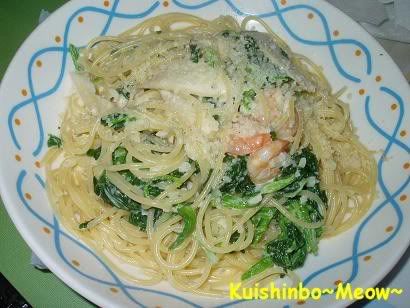 This spinach spaghetti was my favourite. Needless to say, the cream tells u the reason. :)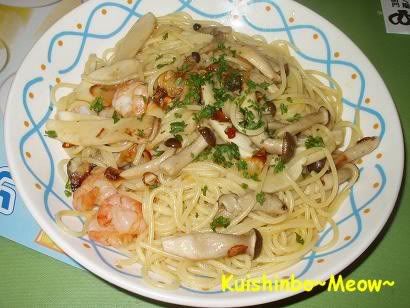 And oso this Japanese style mushroom spaghetti. They used shimeji. Well, I like this one for its taste, but dislike it for its oiliness.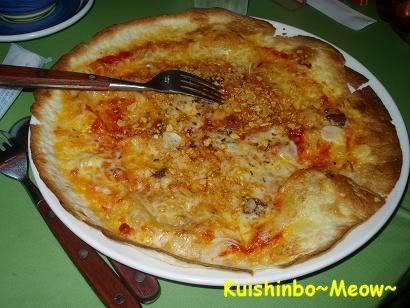 We ordered only one type of pizza. Instead, they only have one choice for us. This was very good. The fried garlic bits goes very well with the cheesy flavour and the crispy thin layer of the pizza. We ordered 2nd round for this.
The whole dinner cost less than 2000 yen per person. And we really felt satisfy with the food. Good quality. :) This is the first time I'm into Ninniku restaurant for dinner. Think it will be my choice again next time. But I wonder where is a good one in Kyoto.
Ah Lam:
"Fish Fish, good place. First, when u gals mention eating at Takashimaya. My face turned green... Wah lau eh... these gals ar... so rich ar..."
FF:
"Heee.. good place ler? ;) Well, remember, we r students, so of course we wouldn't choose a place too expensive for a big group like this."
So, I guessed next time Ah Lam will change his concept in eating in this kind of place oledi.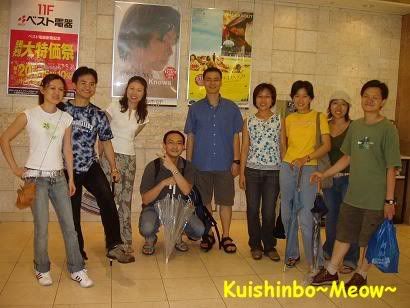 Here r the devils... the old devils... :)
From left to rite: Angie (Goh gf, or maybe wife oledi, he remain no comment.Hmm...), Ah Goh (now doing his postdoc, got his PhD this March), Li Qing (the only gal from China. ehhem... know why? heee. Now working in Panasonic), Jin Aun (doing PhD in
Toukoudai
), Kok Hann (PhD in
Toudai
), Chor Wai(nickname Wai Wai, PhD in Toudai, my very regularly keep in touch buddy thru mail mail), Hui Min (PhD in
Juntendo
), Hui Wen (yap, dear HW tat went to Taiwan with me. :) Master in Toudai) and finally Ah Lam (they call him little bee. PhD in Toukoudai. Very nice and funny guy. Damn! He got his driving license in Japan with one pass. FF dun know when will go to hv one. Damn scare to fail...)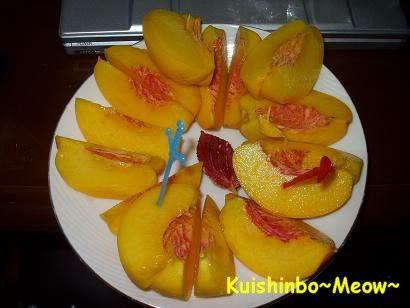 It was a heavy rain on the way home. Jin Aun tired, went to sleep earlier. We stayed in Hui Wen room for chatting some more n eating fruit. Hui Wen was so kind, she cut the fruit for us. Yellow peach.
Ah Lam:
"Ee~~ very sour. How come ar? Doesn't taste sweet as it looks like."
Wai Wai, Hui Wen n FF... looked at each other with ?? How come?
FF:
"Nope ar... very sweet wor..."
So I tried a bite from his. Ee~ sour... That lucky guy, he kept eating the sour one. Ha!
So, we chose one sweet piece for him.
"Mmm... Sweet sweet."
Heee... finally see his smile.
Ciao.