Taiwan 5th day (2)
We found the hotel we wanted to stay after we reach Taipei railway station. The hotel room was damn cheap for Taipei rates. One room with 2 single bed, 900TD per nite. We decided to stay there 3 nites.
Hui Wen:" Eee~~ FF, u see this red spot... look like a lipstick sign... Hmmm... sooo..." ok, so she is getting suspicious of the possibility wat might happen to the bed cover tat she is goin to sleep tonite.
FF:"Well, u know, it's cheap hotel... and u see... they hv rate for 3 hr staying only. so wat do u think u can do with tat 3 hr?"
FF:"I think they hv washed the bed cover. Dun worry..."
Hui Wen:" Yah... they washed... just tat the spot dun go away..."
Heee... poor Hui Wen... but she was alrite then.
Actually the place was kind of clean actually. The most important, very convenient place, near to the bus, subway n train station.
So, after rest for a while, we decided to go to a small town nearby Taipei city. Called
Ji Long
city. We reached there around 4pm i think. Then, we took a bus to the place we wanted to c, Kek Lok Si (Paradise temple)and
Zhong Zheng Park
.
I actually know bout this city in Taiwan from a song called "
Piao Bo de Xin Ting Bo Zai Ji Long Gang
" which means 'A floating heart anchored in Ji Long harbour' by
Zheng Hua Juan
,
a Taiwanese writer who married a German guy
. Since then, I had owez dreamt tat Ji Long Harbour is a very romantic place, yet full of sadness...
Well, it happened tat the day we in Ji Long city, it's the
Chinese Ghost Day
, we called it Zhong Yuan Jie. And yap, it's a very big ceremony in Taiwan.
We can see lantern decorating the street.
Our bus stopped very nearby this temple. Kek Lok Si. It's kind of a wide place. The Smiling Buddha was welcoming us. :)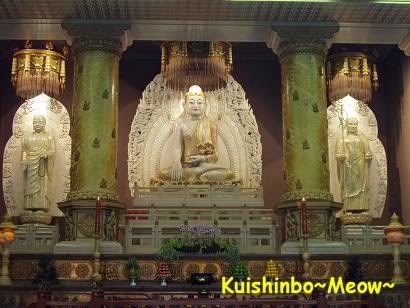 I usually dun take the pics of Buddha in temples. But I'm kind of attracted to this white Buddha, so break my own rule tat day. Hui Wen was surprised I took the pics of Buddha, as she knows I usually don't. Heee... well... she then did the same thing. :P I hope we didn't do a sin.
Then we started to climb a stair near the Kek Lok Si to the uphill of Zhong Zheng Park. It's a big park. With a few scenic spots to c. We just climb up to the main spots.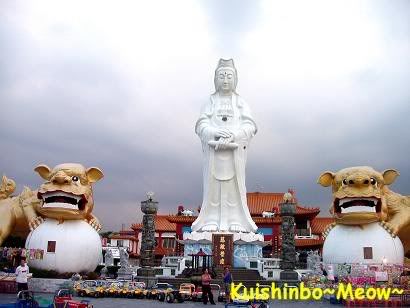 On top of the hill, they hv this big Guan Yin standing just between the 2 Qi Ling (Legendary chinese animal) take care of the Ji Long harbour.
So, this is how the Ji Long harbour at dark evening looks like. I like this harbour. It is actually makes u feel very relaxing by seeing from top of the hill.
Ok, it's the ghost festival. Before we reached the top of the hill, we past thru this altar. So this main altar is having a big ceremony tonite. This is how the altar looks like when the day still bright. Very colourful building.
Now, when we came down from the top hill to reach this altar again, it was very dark oledi. Light up is sure very pretty now. And the crowd were getting more n more.
Among the ceremony, the thing tat amazed me the most is - PIG!
See this one? Hmm... at first, Hui Wen was telling me the pig here very different, they dun use real pig, but mimic version. Really?? Kind of a boubt with her words, I went to check one by one. Well, the small n medium pigs mostly r the mimic one.
But... hey... see this above? This is a real~~ one. I omost couldn't believe my eyes when I look at it very closely. The hair on the pig body is too real to be imitated. OMG!! This is a real one... I screamed out once more. Even called Hui Wen to come close and had a look. She was kind of a shock too when realised tat it is a real one.
Still dun believe? Well, look at the pig head. See the bloodstream around the ears? I dun think one can imitate this. Dun u?
Wat really puzzled me was how they made it into this round.
Ok, it was just not one giant pig there, but 2 of them. Can u see the chicken, fish n duck below the pig? I purposedly took this picture for the comparison of size.
Then, the local people told me it's the champion pig this year. Yap, champion pigs mean the No 1 & No 2 biggest pigs. Heard they was feeded with beer or something. Eee~~~ sound like the Japanese branded beef.
Poor pigs... if they know the final episode of their life will be ended like this, they will die hard for a good diet to keep fit.
Hmm... very agree which a chinese colloquial 'Ren Pa Chu Ming, Zhu Pa Fei'. Means 'Men scare fame, pig scare fat'.
The ceremony finally starts around 8pm. All the things tat bring by believers for praying their ancestors, were laid on long desks. And on top of every of them, was inserted jotstick n flag for the ceremony.
We only stayed there half way then went away to our next destination.