Taiwan 6th day (1)
I am supposed to go to my aquarobic today. But changed my mind. Kind of tired, n outside is raining whole day for me to move. So, will go to dinner soon, then come back to cont my lab work n blog my Taiwan posts. :P
I read the news today, was kind of surprised to know tat the
Satok Suspension Bridge was collapsed this morning
. Feel sayang. I do hope there will be a reconstruction for it. Miss the feeling everytime pass thru tat area, can see tat old old bridge there.
31 August (6th day)

Jiu Fen - Nan Guo Hotel - Long San Temple - Dansui - Yu Ren Harbour - Shi Lin - Nan Guo Hotel
Ok, the next morning after a long day from the
southest
to the
northest
in Taiwan, we decided today to travel mainly the outskirt of Taipei city.
We had a porridge with vegetarian dishes in a coffee shop just opposite our hotel,
Nan Guo Hotel
. Hui Wen dun really feel like eating yet, n she was not so much into porridge. So she let me chose the dishes. Heee... after she saw the thing I took...
"FF, u eat tofu everyday, u dun get tired ar? How come no green veggie at all?" she asked.
"Err~ I want to try if this tofu different from others. And oso, the green veggie dun look nice nice." I replied.
Anyway, the whole breakfast was 80TD. I like porridge, so it was a nice one for me. Hui Wen ate some too. But she is saving her stomach for searching more delicious stuff. Ai yor~ if u r a porridge or congee fan, and u stayed in Japan for a long time, u will craze for them when u see it.
We were heading to the
Taipei train station
when I saw this cool cool policeman. Heee... so I took out my cam, and there he is. Guessed he noticed me took his picture, cause when I push my button, he look the other way. Cheh! Anyway, this is the morning office hour street look in Taipei. ;)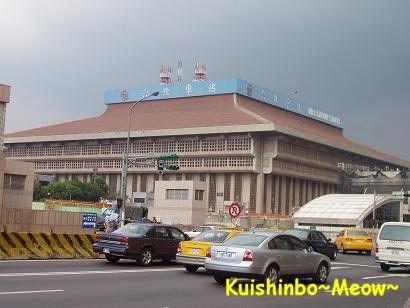 This Taipei station was kind of a big.
I like the interior of this building. With the sun shining down from the glass roof. When I was buying ticket from Taipei to Jiu Fen, an uncle was standing behind me and heard my Mandarin. Oops, he suspected I am not a Taiwanese. Yah, he was rite. The 2-way ticket to Rui Fang cost 144TD.
Then, from Rui Fang, we took bus in front of the Rui Fang station to Jiu Fen. 38TD per person. We decided to stop on upper hill bus stop, so tat we walked all the way down for our tour. :P Save energy. When we get down from the bus, after a very short walk, we reached the Jiu Fen street. A very old style street, with many type of shops.
Why this small uphill place was so famous today, was becoz its historical past. Used to be a place for gold mining. Tat time, only 9 families were staying there, all the movement hv to depends on water transport. And today, they preserved the old fashion view of this place as tourist destination. A great favor among the Japanese.
Hui Wen n me bought some very cheap but cute hp strips.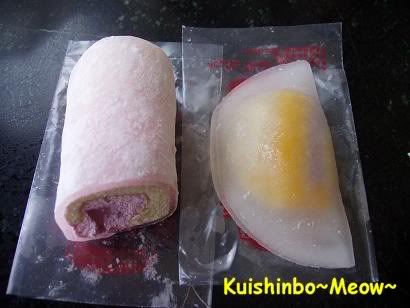 After walking for a few shops, we were attracted by this dessert selling shop called
San Su Gong
. Well, the layout of the foods seem so attracting. So, Hui Wen n me went in. We tried their hand made n machine made pineapple tart. Sure got different. The hand made one was marvellous. So we go for the hand made one. It was 300TD per box with 15 tarts inside. But the shopkeeper offer us 900TD if we buy 4. Heee... so both of us each bought 2 boxes. ;)
We also bought these 2 Japanese style desserts, which I actually never seen in Japan. Hmmm... left one is called Xue Yu Juan (Snow Roll) and right one is called Jing Xuan Xue Guo (Crystal Snow Fruit). Well, the looks were very attracting, but the taste was not till my expectation. Oh well. Each for 35TD anyway.
Each of us held 2 big boxes of the pinapple tart and started to walk again. Damn, the things were heavy. Showed tat it is real good stuff. :) Btw, I am a BIG FAN for pineapple tart. ;)
After we walk for a while, we saw another shop selling pineapple tart and many other product. These r a corner view of the products they hv. This shop is called Zhang Shi Fu.
"Hello miss, come try our pineapple tart. No where can beat us."
The owner said.
"Oh, we hv bought it."
Hui Wen n me said.
"Ai yah, it's must be the machine made one. They all cheat one."
"Nope, we bought the handmade one."
We added.
"Did u see the handmade process by urself."
Hmm... i kind of dislike this guy. I hate people who do business tat like to spoil the other people image in order to pursue customers buy their stuff.
"Nope, but we tasted 2 types. And we know how to differentiate the taste."
I answered back.
"Anyway, please tried ours. See, our chef made it on the spot. Very very soft outside and very nice jam inside."
He seems to know tat I dislike his talking, so changed the topic.
Oh well, it's for free try, so we ate. And yap, it was good frankly speaking. But it was not as big n as compact as the first one we bought. Both has their own uniqueness. And tat guy offer us 200TD for a box of 20 tarts inside. Nice price though, so again the 2 gals bought 1 each.
"Boss, see... u dun hv to spoil other people image in order to want customer buy ur stuff. If good stuff, people will sure buy. It's not good to do business in this way."
:P Hehe, keypo FF kind of giving him a business lesson. (Even though I m much younger than him, doesn't mean tat I dun know how to do business.)
"Yes, yes."
Hee... guess he might be kind of felt shy of wat I hv said.
I saw this yum puff seem to be so oishii, and it's still very hot wor... So i bought one. And yes, it was very yummy. 15TD. Me n Hui Wen shared half. I am a big fan of good yum. Hardly can resist them. So, after walking a few shops away, I asked Hui Wen to stop. Then, I went back alone to the shop to get another one of this by myself. :P Oishikatta!! (Yummy!). But the 2nd one did make me feel kind of bloated.
Jiu Fen is a very famous place for its dessert called Yu Yuan. A dessert that made from starchy tuber like sweet potato n yum. Very colourful ball ball. We past thru a Yu Yuan shop with a very long Q beforehand. And past thru another with only a very few customers. But Hui Wen wanted to try the one in the magazine. So we walk for quite a distance again for a shop called Ah Po Yu Yuan (Grandma Tuber Ball). Finally we found the sign board, but the shop under the signboard was closed. So, no choice, we chose to go back to the one with less customer as the one with a lot of customer was kind of far away walking uphill.
The shop got a very nice eating place which u can c the outside view. But it is just happened tat with our height, the band of the window blocked our sight. Aarrgghhh...
The silly owner, just put all the ingredient under the bowl, and put the ice on top. So, can't take any good pic from the bowl. Was trying to take from the big pot then. But the lighting in the shop no good, so the pic kind of blur without the flash. :(
Anyway, this is how the look of the Yu Yuan.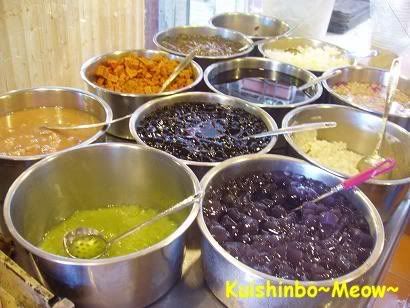 With 3 other types of colourful toping as ur own choice, it cost 35TD per bowl.
Bout the taste. I could only said it was so so to me. I dun like eating yum in this kind of form. I wonder how the other shops will taste like. Hui Wen was oso not too favour into this. Oh well, we didn't finish all i think. Then we went away again. Only went we past thru the Ah Po Yu Yuan again, we found out it was opened actually. The shop was actually the opposite side of the sign board. Damn! If only we walked another few more steps tat time. But oh well, we had tried it. And we can't fill in another bowl anymore. Poor dear Hui Wen, she was looking for this shop the first thing she reach Jiu Fen.
We past thru this shop called Ah Lan Cao Zai Kueh.
Saw these new looking green cake all the way for the trip. And the one in this shop looks yummy. They got a few flavours. So after asking the recommendation from the shopkeeper, we bought one with the Cai Pu (a kind of Chinese pickle) filling (left). And we oso bought one yum cake (right).
Yummy!! The Cao Zai Kueh (the green cake one, actually the green colour was becoz of mugwort, in Japanese it is called yomogi) was so fantastic. In Japan, they only hv the sweet type one, with the red bean. :( I was kind of surprise in Taiwan, they r so smart to make it into a salty n spicy food. Yummy yummy!! Really highly recommended.
As for the yum cake, hmm... no no good. Try to skip tat. Not worth a try. Too hard, and less taste. Each only for 10TD.
We reached the hill view at Jiu Fen. Here, can see the design of the buiding very clearly. Feel relax in this place actually. It faced the sea. And back with mountain. Really You San You Sui (Got mountain, got sea).
After stayed there for a while. We decided to walk down hill to the bus stop. Saw this plant, think it's kind of a cute.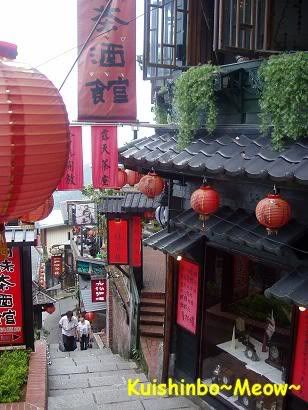 We went down a place with a lot of red lantern. These shops were actually place for drinking tea. Hui Wen n me didn't go to any, not really into tea. But, it was a good spot for snapshot. A bit look like the scene in the animation
Spirited Away
. I took this shot from top.
This one was taken from the bottom.
Another final shot before I left this place.
We took bus and train to back to Taipei city. Stopby in our hotel for a while for a refresh. Then moved to the next destination by
MRT
. We bought a 1 day ticket. 150TD per person. It was still too early for us to go to
Dan Sui
for a sunset view. So we decided to go to
Long San Shi
(Dragon Mountain Temple) for a short stop on the way to Dan Sui. They were on the same MRT line.
This is the main hall of the temple. This temple design was a combination of Qing dynasty, Japanese era and Restoration time.
<
I saw this pretty man-made waterfall in the temple area, so try to take a few pics on it. The effect turned out not bad.
It was still the Ghost Festival month. So, the place were kind a lot of people tat doing praying ceremony. I found out these red candles look attractive to me. In Japan, all the temples used a white candle. Very different from the typical Chinese style. Heee... dun know why, I still prefer temple candles to be in red.
While we were there, heavy rain started to fall. But still, we need to move on for the sunset. Hui Wen n me were very worry tat the weather will failed us to see the sunset. We did pray for a good weather.
On the way from the temple back to the MRT station, we past thru this long long small alley with a lot of booth style shop. They dun sell anything, but with their own unique design. Yap, this place r for those who want to hv divination of their life, romance, money blah blah blah... Was surprise to see tat there were actually quite a few customer was having the predictions when we past. Ah~~ so Taiwan is really a place very popular with this stuff.