Taiwan 6th day (2)
Today taifu goin to attack the Japan in evening time. My place should be minor effected. But my mood is greatly influent, glooming... by this grey grey sky. :( Came to the lab a while ago for continuing my work. Damn! Dun know why, my sample just dun solidify. So try to put them in refridge n hopefully tomorrow I can cont it smoothly. Oh well...
I hope bloggin would make my mood turns better. Cheer up, ff!
Ok, Taiwan cont...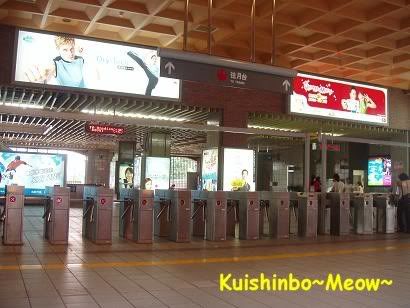 We reached the Dan Sui MRT station around 5pm. Still early from the sunset. Man! How we glad the sky was clear there. :)
While waiting for Hui Wen, took this pic. This is how a MRT station in Taiwan looks like. Not bad huh...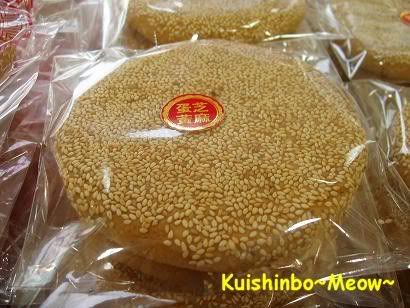 We decided to see around the
Dan Sui
by walking from the shop streets before we heading to the harbour site. Saw this shop tat selling Li Bing (Biscuit tat made for good occasion). We tried this Zi Ma Dan Huang (Sesame egg yolk). I was kind of hesitated to try thing with egg yolk, but kind of surprise tat this one really match its taste. The egg yolk crunch was dispersed in the whole biscuit with other fillings. Very harmony. We bought 1, 60TD. This Li Bing then was given to Sylvia, cause I can't find the mooncake with egg yolk tat time for her, too early for Mid Autumn. Hui Wen n me actually walked a few shops but can't find a good one. But I promised will bring her one when she said want egg yolk mooncake. So, after negotiated with Hui Wen a few days after, she kindly sell it to me as Sylvia's souvenir. :)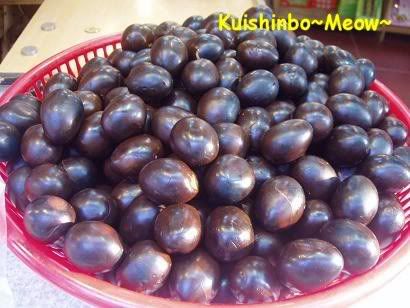 Then, we saw stacking like mountain round round black balls were everywhere. Oso pack in packages. When I showed this pic to my other frens n asked them to guess.
"Stone, chestnut, guli..." No one answer EGG!
Yap, this is the famous product in Dan Sui called Tie Dan (Iron egg). They have different sizes from as small as a quail's egg until a hen's egg. I bought one medium size one to try. 10TD for 1.
"Hey miss, this one very very nice. It's a special food in Dansui. U can't get it in other place. Very cheap, 10 for 70TD only."
She pointed to this stacking eggs in front of me.
"How many packages do u want? We can give u furthur discount."
She was attempting me. Cause I think she can see my expression of getting interested to buy it.
"Er~ one."
I answered.
"One package only ar? Enough or not?"
She was smiling... and talking.
"No, I want one egg only."
Heee... I think I am kind of blush when I said tat.
"..."
The shopkeeper smile gone. (
"Stingy gal. Buy one egg only for wat!?"
) :P Anyway, she can't reject customer requirement, rite?
I just wanted to taste how it was. So, for wat I need so many eggs? Heee... Anyway, the taste was not too bad. Just tat a bit too cold. And yap, it's harder than the normal boiled egg. So tat's why they called it Tie Dan? I dun know.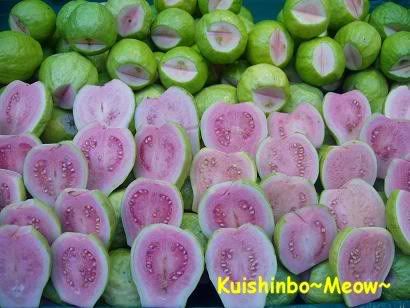 I hven't had guava for a long time. When Hui Wen n me saw this nice looking pink guava, we can't wait to try. So we bought one package. 50TD. They put some plum powder for us.
We tried it when we reached the harbour... Uuurrrggghhh... becak!! (Over ripe). Both gals were showing the same expression to each other. We felt like being cheated. But it is our fault of not confirming earlier with the owner whether it's soft or the chrunchy type. Never worry bout tat in Kuching, cause the one usually selling on the store r the crunchy type. The taste was good, but the texture spoil the whole guava. :(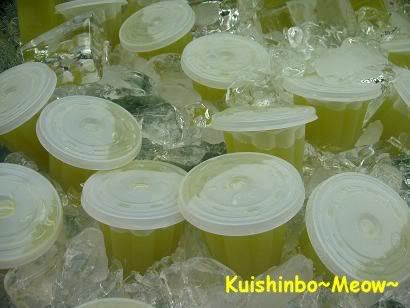 In the same stall, we bought a glass of nice nice sugar cane juice. 50TD oso.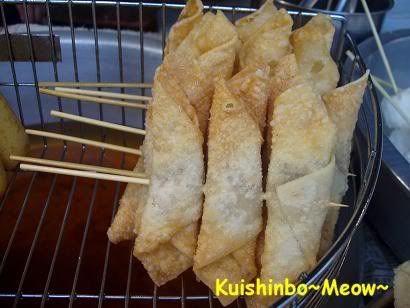 Hui Wen oso wanted to try this prawn roll. 15TD for 1 prick. She said the taste was just so so.
With the foods, we decided to leisurely spent our time waiting for the sunset.
In front of the place we sat at
Dan Sui Ma Tou
(Dan Sui harbour), I saw this stall selling Hong Suan Mei Sui (Red sour plum juice). It is one of my favorite drink back in hometown. Bought one. 35TD. Uuurrrgghhh... too few suam mei inside. Made the drink a very diluted taste. Not worth. The
Suan Mei Tang
tasted much much better.
Anyway, I must said, tat was one of the evening I like the most during my stay in Taiwan. Good weather, relaxing mood n calm place.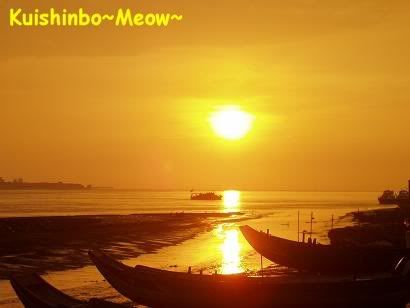 Took many pics for the sunset scene from early sunset till late sunset. I kind of like this one. Actually the harbour in front of us was kind of dirty. But when u see the sunset far from the harbour, ar~~ romantic. Heee... The sunset in Dan Sui will always be one of the deepest memory in my mind bout Taiwan then. It made me miss Kuching beaches n sunset sooo much.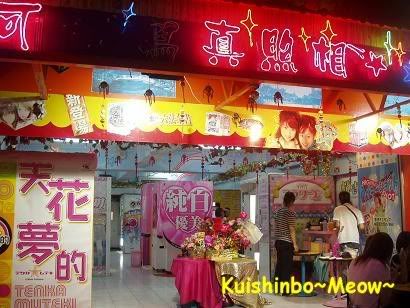 I wanted to ask Hui Wen to take purikura (in Japanese) or Da Tou Tie (in Chinese) when I saw they got one here in Dan Sui. It is actually means sticker photos. She never took one b4. I went down to check the price. Aarrgghh~ expensive. 200TD for 1 sheet. Not worth. In Japan much cheaper. So, we decided to just let go. We made promise to take one back to Tokyo then. But we totally forgot bout it. Hey dear, next time u come to Kyoto, we must take one together then. Believe me, it's fun.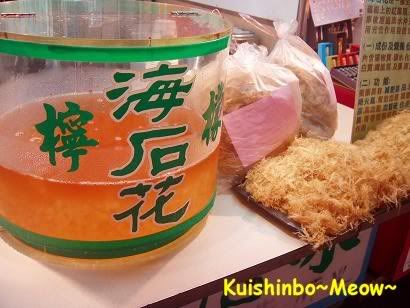 Saw this stall selling something called Hai Hou Hua ( a kind of flower? seaweed?). The right side show the original looking of the unprocessed Hai Hou Hua. Anyway, drink with jelly inside. Something tasted like the
Ai Yu Bing
. But not really so. 30TD for 1.
We saw someone selling crispy pancake called Chong Zua Bing (Pancake with green leek). With topping of sweet n spicy chili sauce. 35TD. We had a very good impression for our first bite. Our conclusion is "Roti canai". Yap, it's actually roti canai, but with sweet n spicy chili sauce. Maybe back in Malaysia, the mamak stall can try this version too. It will fit the Malaysians "Hot n spicy" taste. :P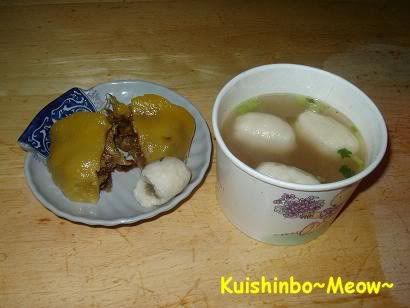 We then past thru a stall selling fish ball. Hui Wen read bout it is one of the famous food in Dan Sui too. She wanted to try one. Ok, so we ordered the most classical fish ball for her. As for me, I ordered this pumkin skin with mushroom filling cake. Both for total 60TD.
This fish ball was special becoz they actually have the minch meat inside the ball. But Hui Wen said the taste was just so so, nothing special.
As for my pumkin cake, I dun like it too. Cause the skin r too thick. It will taste much better if they made the skin much thinner n more filling.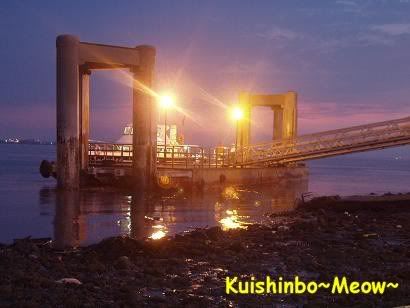 This showed the harbour where we took our boat to the next harbour.
We decided to go to the next harbour in Dansui, called
Yu Ren Ma Tou
(Fisherman harbour). A famous tourist destination. From the 1st harbour to the 2nd harbour by boat was 80TD per person.
Yu Ren Ma Tou was oso a song by Xiong Tian Ping
. Unluckily, I dun hv any idea if I hv heard it be4. Maybe I hv, maybe I hven't.
A little episode here. A young guy who work in the harbour talked to me. For a short while. We waited a while for the boat to move out. Then, he talked to me again.
"Where u come from? Student?"
"Yap. Malaysia."
I said. Blah blah blah... then he asked me a few more Qs. Can't really remember. Wat I remember the most was this...
He came back with a package of Bing Nang. OMG!Bing Nang. One of the thing tat attract my curiosity a lot.
"Hey, know wat is this, very nice thing, want to try one??"
With his cunning smile, he asked me.
("Oh yes, ff, u know u want it."
my evil side. "
Uh uh, no no, ff. U know wat it is, u know u shouldn't.
" my rational side reminded me.)
"Nope... I know wat's tat. And thank you."
I said.
"Saw in the bus... Smoking, drinking, drugs, bing nang n No 18 sign board. Thanks anyway."
I smiled back in a wicked way too. So, my angel side won this time.
"Ee~ smart gal. Thought u dun know wat this is" He said.
Well, I didn't tell him another truth. I tried Bing Nang before even when I was only a few years old. My father was teaching in Simunjan, a very small town in Sarawak, few hrs drive from Kuching. And so my family mixed with the Iban n Dayak (the ethnic local) a lot. I remembered some aunties put the Bing Nang into one green leave, and put some white powder on it. Then they just munch munch munch n munch... Puk puk!! The split the things out. And smile at me. Man!!! The whole mouth is all dark red. Like a vampire. And yes, I tried them. But I didn't like it. Crazy people, how can they munch on such a terrible taste stuff... I would say all I remember was tat a very mouth-puckering taste. I wonder if the Bing Nang in Taiwan taste the same. Can anyone tell me how it's taste? Anyway, the locals told me it is a good thing to avoid the long time hr worker like lorry driver to fall asleep. They called it 'Taiwan Chewing Gum'. It's actually not the Bing Nang tat played the trick, but it's the white powder or the content added inside. Some 'good maker' Bing Nang can make one addicted. Hmmm...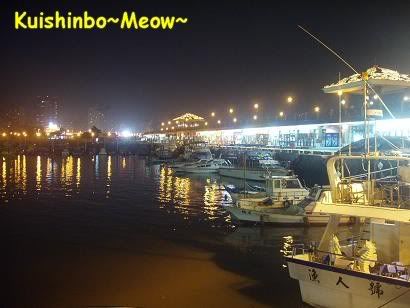 Dang dang! Finally we were in Yu Ren Ma Tou. A good place for Pak Toh (dating). Not a bad place huh. This is how the harbour site looks like. See the word "Yu Ren Hao" written on the boat? :)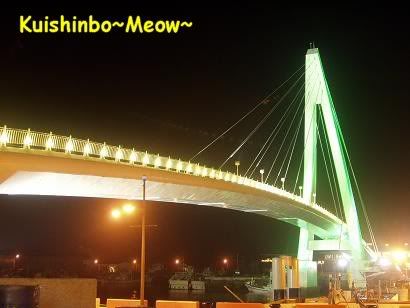 This bridge they called it Qing Ren Qiao (Lover's bridge). See, even the bridge name is meant for couple. Oh well, Hui Wen n me oso 2 mar... Can lar... :P
From Yu Ren Ma Tou, we took bus direct back to the Dan Sui MRT station, to depart to our next destination. The long waited
Shi Lin Ye Shi
(Shi Lin nite market). :) One of the very famous nite market in Taipei city.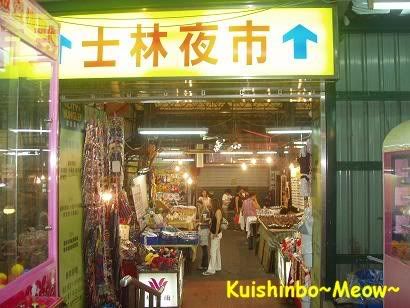 This is one of the entrance to the stalls tat selling assorted stuffs. Not much of foods for this area. I bought a few pairs of pierce here.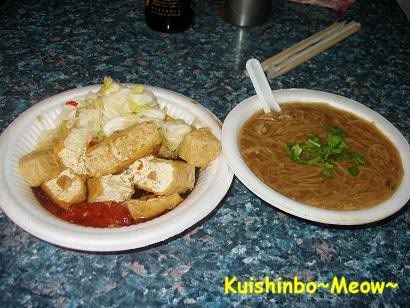 Ok, we came to another stall tat sold Chou Tofu (smelly tofu)(left). Again! :P Ok, this seem to be another kind of version. So me n Hui Wen ordered one. It's deep fried, and topping with chili n garlic based sauce. Ok, I'm not too much into this one. But not a bad taste too. Still prefer the bbq ver the most. ;)Tat made us tasted 4 versions of chou tofu for a one-week tour in Taiwan. Heee... 35TD per plate. The right one is called Ou Wa Mian Xian (Osyter vermicelli noodle). 30TD. The 2 stalls were just side by side. The taste of this Mian Xian was very good. 2 thumbs up!! :D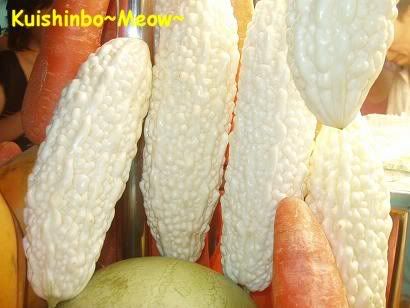 Now now, this is one of the drink tat I wanted to introduce the most to u all out there. If u been to Taiwan, and u never tried this be4, I can tell u, u r missing something really good. (Provided tat u r not scared of bitter gourd.) Taiwan was actually the first place I saw white bitter gourd. Never know it can be so pretty. If I see one in Kuching next time, I would surely wouldn't let the chance of buying it fly away. Just love it...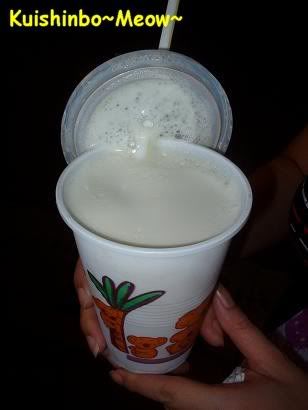 So, we ordered one Bai Ku Gua Zi (White bitter gourd juice). One thing I like bout the juice in Taiwan, is the purity of the juice. 100% juice. Means no water, no ice. Just the fruit or veggie itself. I saw this lady making this juice for us. She took out the white white long cleaned cut bitter gourd, and oso pineapple slice. Zzzzrrrrr... go the 2 into the juicer. And with some honey added. And there it is, our nicely come out white juice.
First sip... Aaahhh~~~ soooo nice. It's not as bitter as we thought. We felt a cold flow inside our body. Make a perfect thirst quencher for a hot sticky nite in summer. Ku Gua Ku Gua, I love u... (Modify from Mei Gui Mei Gui wo ai nu). ;)
We then went to the other sides of where all the food stalls gather together. But me n Hui Wen were just too full for anything more. So gave of trying anything. We stayed a while at a glass-made accessories to choose souvenir. Hui Wen bought one glass apple. I wanted one too, but no more. So we told the maker to do more tonite so tat we can hv it tomorrow. Yap, tomorrow we r coming back to this place. :)
Stay tune...