Taiwan 7th day (3)
Last nite Wai Wai called me, n we talked for a while. Little part of our talked, was tat she's been complaining my blog updating been extremely slow. :( Yah... I know. So today I must try to finish my Taiwan blog. Damn! Got to prepare my seminar talk for next Monday some more.:( Might hv to stop blog for a few days after the Taiwan talk finish. Got to finish the more important job first.
Ok, back to 7th day 3rd part.
Time for us to hunt for food. We decided to walk on foot to the famous eating street called
Yong Kang street
.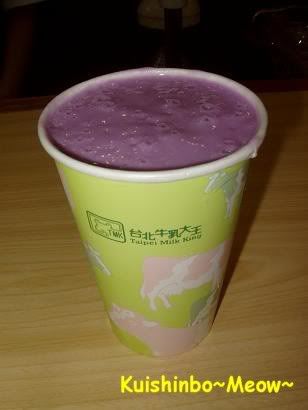 While walking, we saw a cafeteria style shop written Taipei Niu Ru Da Wang (Taipei Milk King). Hui Wen saw it was introduced in the mag. Can't find a good site tat introduces it. However, it seems like they hv
5 branches in Taipei
.
We wanted to hv something different, so we ordered this San Yao Milk. Taste like yam with milk. Nice nice. :) One for 60TD. The milk really helped the 2 gals to walk until the Yong Kang street.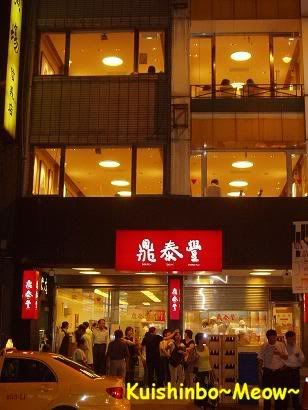 We finally found the Yong Kang street. And the dim sum shop tat Hui Wen been mentioning. She really wanted to try this shop, ever since she saw it in the mag.It is called
Din Tai Fung
.
This is how it looks like. A 3-storey building. Very easy to spot from the main road actually. A lot of customers even for a normal weekday.
There was this little episode happening when we wanted to enter the shop. The waitress stood in front didn't let me in, when I was still confuse why, she hurriedly push me to the side. Then, within seconds, a few people coming out, seem like the centre was on the middle young gal. She looked a bit familiar to me. But more to more, I was kind of angry why the waitress suddenly pushed me. But she seemed to didn't even notice, cause she was into kind of hyper excited n clapped when the gal came out. Then, I heard the yelling n screaming of the young kids tat stand in 2 rolls. One of them quickly gave this gal some present. She received it. Tat made the kids screamed even louder. OMG!! Crazy!!! So this is wat they call the Zui Xing Zhu (Chase star group)??? To me, they sound more like they hv hysteria.
Then it flashed on my mind. Wait a minute, isn't she
Abe Natsumi
? The ex member of
Morning Musume
. Yah! I was rite when those kids screamed her name. Well, she's kind of cute, but very petite. Hmm... I guess my mood been quite bad cause of the push. It was a BIG NO NO for a waitress to act like a kid when she was supposed to do her duty tat time. (Well, if u consider pushing me tat time was part of her duty?) Was thinking of complaining tat waitress tat stood in front the door. But then, I didn't. Somehow I managed to control my temper raised up. Which was a good thing. But poor Hui Wen, she became my companion for my mumbling tat time.
Anyway, besides tat, the service in the shop was quite good. At least the other waiters were very well trained courtesy. So, I decided to forget bout it.
The order was in bucket for the dim sum. At first we ordered each 1 bucket. Then, the waitress who served us said it will be too much for both of us. She suggested we hv 1/2 bucket for each type. Ee? didn't know they can order this way. Much to our pleasure. :)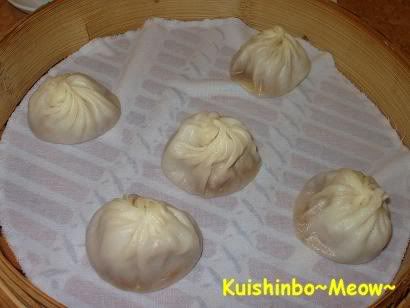 The first thing came is this Xiao Long Bao (small meat bun). 5 pieces for 1/2 bucket. Same for other dimsum as well. It was the first time for me to hv such a kind of Xiao Long Bao. I always saw it on the food tv programme in Japan, but never really had a chance to try it. Can u see the very soft look of the skin? Yap, it was extremely thin. Once u bite, the juice of the dimsum just flowing out. I love this kind of feeling. Btw, I only ate the skin n juice. The meat, Hui Wen incharged. :P She like this dish the most for the dinner tat nite.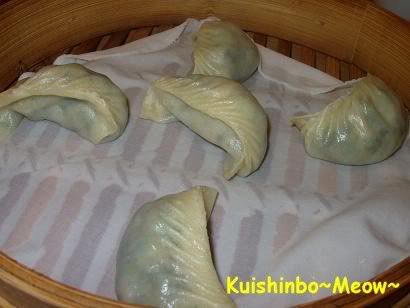 Ok, we ordered this, specially for me. This Cai Jiao (vegetable dumpling) very different from the Xiao Long Bao. The skin a bit more munchy than the Xiao Long Bao,which I like it. But the taste of the filling was only so so. Not as juicy. And a bit too thin for the flavour. Oh well...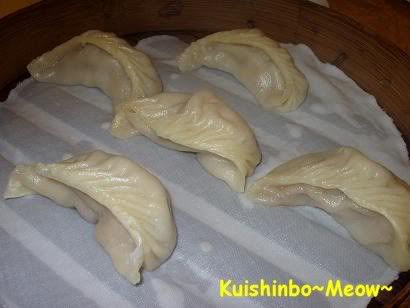 Next, the Xiao Jiao (Prawn dumpling) came up. Woo... looked nice. After I tried this, my conclusion was tat this dim sum will be my most favorite for today. Yap, the skin was even more munchy than the Cai Jiao, and it was juicy, though not as juicy as the Xiao Long Bao. But the sweetness of the juice was unbeatable. Heee... again, the filling inside served to Hui Wen. :P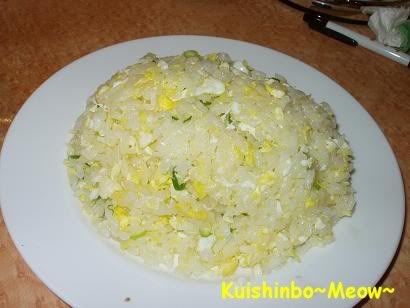 Now, this was the thing we were regretted to order. We haven't had good fried rice for a long time, and we haven't tried one in Taiwan. But this was came out to be 'no good'. Very disappointed actually. Not only the ingredient inside was too simple, but the seasoning was badly done too. I think mine taste much better than this. :( I think it was for 100TD (or 80TD?). Which was not worth at all. This was the last thing we worked very hard to stuck in into our mouth.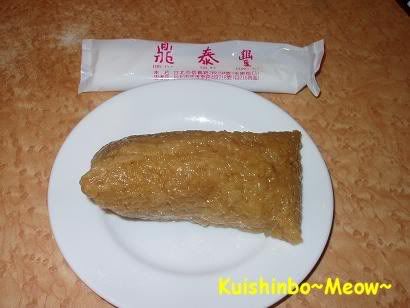 Hui Wen has been mentioning want Zhong Zi (rice dumpling) for a few days. So we asked for one. Aiyah... forgot to show the inner part. However... this was a good one. The thing tat impressed me the most was the rice itself. Very very softly done. Like omost melting in ur mouth. The taste was just to the rite point, not too thin, not too thick.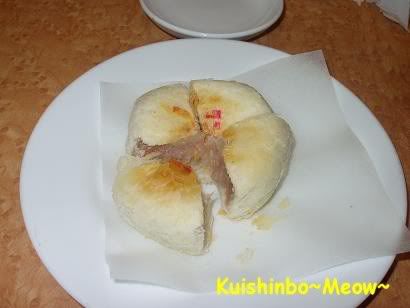 The last thing we had was this yum puff (again! heee... this was ff request). I love this one. The filling was very 'yum'my.... And the skin was very well done too. A bit expensive though. A small puff like this for 60TD. Heee... but felt satisfy after tat.
We paid a total of 455TD for the whole dinner. Reasonable though. If only we didn't call for the fried rice...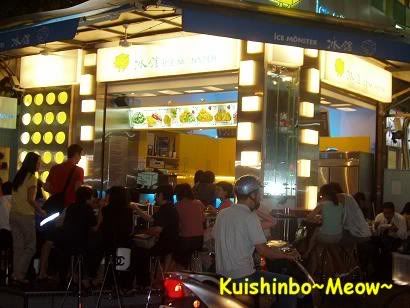 After the dim sum, we wanted to go for a noodle shop, tat selling Dao Xiao Mian (Knife shaved noodle). We found it, but it was closed. So we went straight for having something sweet. We found the
Bing Guan (Ice Monster)
tat Hui Wen wanted to try. Ee~ wat a hot spot. Never ending crowd in n out in the shop. We found 2 counter style seats. Hui Wen went to order.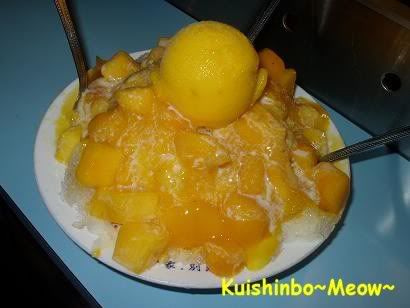 She came back with a big plate of mango ice. 130TD for 1. Really big wor. With a lot of fresh mango cube and a scoop of mango ice cream as topping. And an adding of fresh cream. Mmmmm... oishiiii... strongly recommended. :) The mango cubes were very sweet. The mix the soft n hard cubes. I prefer the hard one. I just dun like the texture of over ripe fruit. Too soft tat u can't even hv a satisfaction in munching them. Even for banana, I like to go for a greenish yellow one.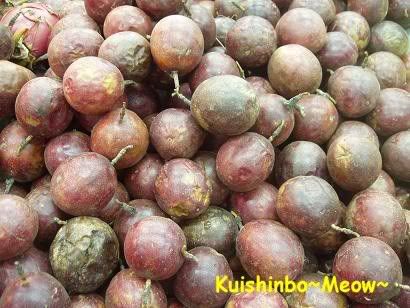 We then walked to the nearest MRT station, to go to the next nite market, the Shi Lin nite market tat we went last nite. Wanted to exchange the dress tat I bought, too big size. And oso wanted to buy the glass accessories tat we ordered last nite.
On the way, saw a food store. I wanted to buy passion fruit, as I never had a fresh one before. Heee... they got it here. I just picked 4 pretty one. I dun know how to choose a good one actually, but just wanted to hv a try. Very very cheap wor... they used weight measuring system. The 4 tat I chose, only for 7TD. Imagine, not even reach RM0.20 for one. Saw the one sold in Japan. RM10 for one. Gosh!!
I tried one the next morning. Ahhh... sour. :( Felt like cheated. But then, the other 3 I brought back to Japan. Just let them in the freeze until the outer skin look terribly wrinkled. Dun want to waste, so tried one more again. To my surprise, it taste very good now. Much sweeter. And very good smell. Hah! Now I know how to choose a good passion fruit then. Made me believe 'Dun judge a fruit by it cover'! :P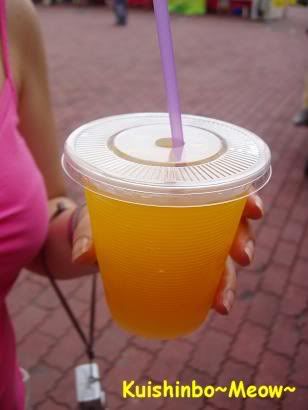 Passion fruit was commonly used for making drink in Taiwan. We had one when we travelled other place of Taiwan. More sour than the condensed liquid for making drink tat we usually hv in M'sia supermarket. But a better kind of fragrance. Can feel tat it was from fresh fruit. :)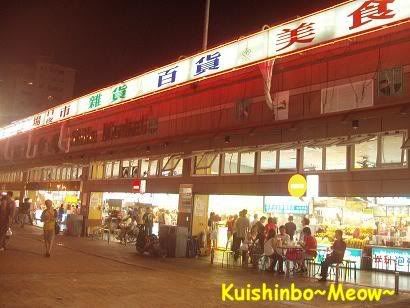 We reached Shi Lin nite market. Unluckily, the dress selling stall didn't open today. :( So I hv to bring my oversize dress back with me. We then went to the food stalls area. Didn't buy any thing to munch, cause was too full. But me want to drink Ai Yu Bing once more, so bought another one. Damn full after finished it. Burrrpppp!!!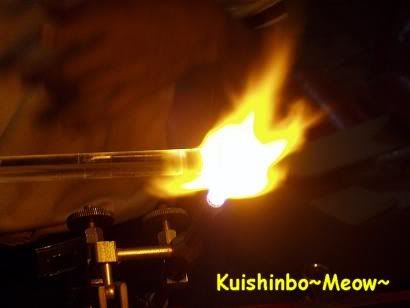 "Ee~ boss, u r making our apples now ar..."
:) So glad he remembered the apple. But then he didn't recognized us. He just remembered he had to make apple.
I took out my camera, wanted to take pic.
"One pic 100TD!"
He said.
"Ai yor, so stingy ler u, boss! I just only want to take the burning glass pic."
Hee... stubborn ff.
"Dun take my face, I dun like my pictures."
He insisted.
"Ah.. ur face ar... dun worry... I am only interested into ur glass."
Which was true. "
Nah, proof ar! No u in the pic."
I showed him my camera. Heee... he seemed satisfy after tat.
"Btw boss, I'm helping u do free publicity ler..."
So next time u see someone making glass accessory selling in front of the building I showed above, tat's him. He was actually easy to do bargain with. Very nice guy. :)
The glassmaker was still making the apples that we wanted. It was still very hot, so we had to wait for 30 more min to cool down before we can hv it. Stroll around the place. Watching the local bidding toys for their kids. Very fun. Hee... Silly ff, use 100TD to buy an electrical torchlite from there. Heavy... now think back... really silly... Wat more the voltage in Japan not suitable to used it. Ai yah... well...
We went back to the glassmaker, chat with him for a while. :P And the 2 gals each got 2 free gift from him. Very nice guy.
"Boss, u dun want to give us discount, tat's ok."
Then continued...
"But we would love to hv these cute cute little animals here. Heeee... can??~~"
Hui Wen n me smiled at him.
"Mmm... arrr... Gao Xin Jiu Hao (If happy, why not?)".
Aiyah! Didn't expect he would say yes. Like him. :) If I stayed in Taipei, I sure believe I will be one of his regular customer then.
The last nite in Taipei, turned out to be a good one. Tomolo fly back to Japan liao... Sob sob!!