Taiwan final day
Ah~~ feel so stressed now. The translation of English into Japanese, really make a non-native like me big head!! But if I dun do it in Japanese, then the next Monday talk will merely the 3 sensei n me understand only. Ai yah~ Listened to Wai Wai's mp3 file, ate one big banana n now... my mind still not calm. I need to go out to hv a walk, but hv to wait for my Chinese fren to finish her msn chatting with her ex-classmate first. Oh well... better use the time to finish my Taiwan talk then.
2 September (Final day)
Di Hua Street - Hotel - CKS Airport
Our last day in Taiwan. And goin to fly back to Japan this afternoon. Well, we hv to treasure every minutes we left. So, tat morning, we went to
Di Hua
street. We didn't know it was a walking distance from our hotel. So we took the MRT, then go down at the station suggested in magazine, and walked kind of a distance. We past thru a busy morning market.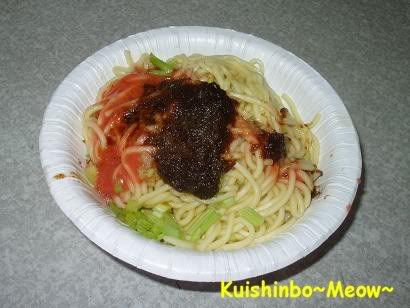 Saw a stall selling vegetarian food. Ee~ sa cha mian (Noodle with Sa Cha sauce). I dun really know wat the normal Sa Cha is, can someone tell me? Anyway, it taste a bit sweet. This vegetarian Sa Cha noodle taste not bad. A bit too sweet for a noodle though. I still prefer noodle in hot n spicy. I lost my record for the price of the final day. But think it was around 30TD.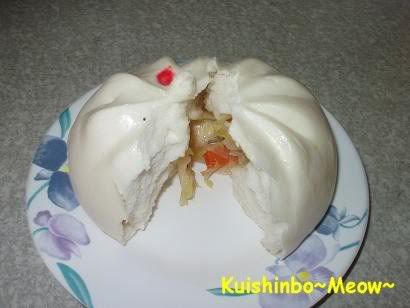 In the same stall, I saw Cai Pao (vegetable bun) too. Ordered one. Was hoping it to be real good. :( Nope. The skin was too thick, and only very little filling inside. The filling actually tasted good. Stingy... It was for 15TD.
After walking for around 30 min, we finally reached the Di Hua Jie. Mind u, as we walked with a quick pace, so u can imagine how far it is from the station. Wrong info from the mag. :( Anyway, so glad we reached the street.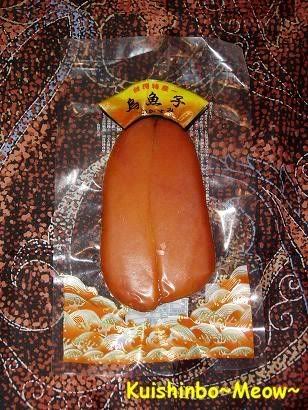 This was why I wanted so much to come to Di Hua street. It is called Karasumi (dried mullet roe). I saw it in the TV many times, but never try one myself. And I know Taiwan is famous with this, and the price is much cheaper than in Japan. Along the Di Hua street, many shops were selling this Karasumi. With different brand. Finally saw this shop, actually Hui Wen was the one who spotted this shop first. The karasumi looks very fresh. And the lady was very nice person too. It was sell by weighing system. This pack cost 280TD.
Heee... now I know how karasumi taste like. But still I prefer
mentaiko
.
After we bought the karasumi, we asked the lady how to go back to our hotel.
"Oh, tat's easy, u just walked straight down this street, turn left, then u will see Taipei station from there."
In a min, she finish her direction explanation.
"..."
Hui Wen n me looked at each other wordless. Tat is?? Damn, wat a long-winded way we had to come here. :( Yah~ u can say we had a very good walk. But think we had enough for the whole trip.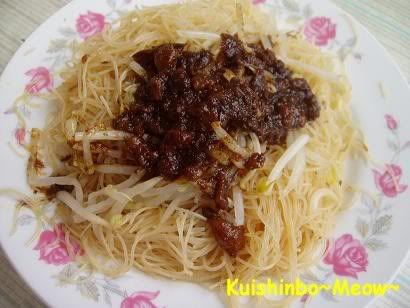 On the way home, we saw one stall selling fried rice vermicelli.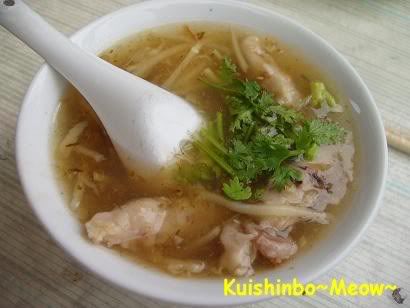 And oso this squid ball gravy. We asked for one each. 2 for 60TD. Nice nice taste.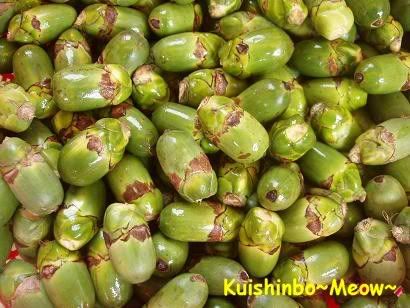 Next to this stall, got someone selling Bing Nang. The boss showed me, asked if I know wat it is? I answered yes, but never really seen a real one.
He was so kind to show me, 2 types of the ready to sell one. Kind of surprise, cause I owez thought there was only one type. He even arranged it to let me take pictures.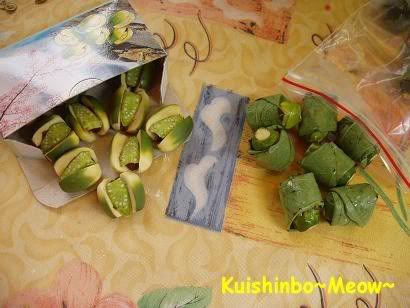 "Hey gal, hv u seen Bing Nang Xi Shi?" He asked.
"No~ no chance. Dun know where to find one." I replied.
"Ah, wat a pity. U can see them in the Hua Lian area."
"How do the Bing Nang Xi Shi looks like actually?" I am curious to know, wat make these gals so famous in Taiwan.
"Like u lor..." Didn't expect him to say this. His answer didn't anser my Q. :(
Then, later I heard some of my frens telling me how the BNXS looks like. :( So, now I know the boss is making fun of me. Ai yar~ if only I know tat earlier.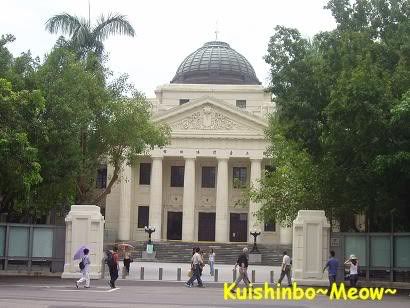 We smoothly went back to our hotel street, less than half the time we occupied to go there. Before went back to the hotel, we still got around 20 min. So we went to this nearby National Muzium just to take the building pic.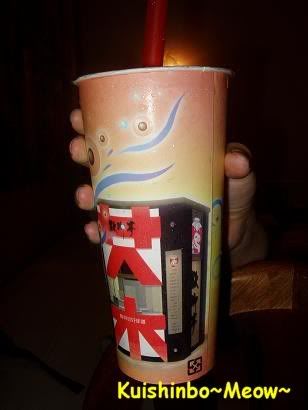 Then I bought one super big (700ml) bubble tea for only 25TD.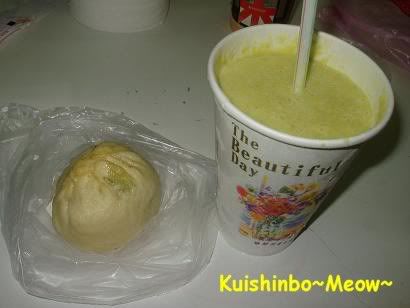 And Hui Wen bought this avocado milk for 50TD. Very smoothie flavour. And the left side was called Sui Jian Bao (Water Simmer Frying Bun). This bun definitely one of the best I hv tried in Taiwan. 10TD only for 1. Love both. :)
Then we back to the hotel, packed up, and said bye bye.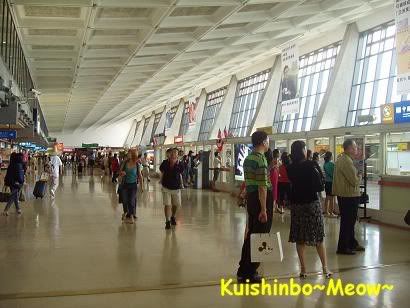 We went to the CKS airport by bus. Very cheap n convenient from the Taipei station actually. The bus station was just besides it. And they hv one bus in every 15-20min. While we wanted to check in, there was this middle aged lady trying to tumpang us with her luggage. Stupid ff, didn't even think bout the risk, omost said "No problem". But smart Hui Wen said no. So, in the end she didnt tumpang us. We saw her bring the 'small luggage' on flight by herself. Make me even more suspicious to see such a small luggage.
On the immigration booth, the person who incharged in my line was damn slow. Know why? He was very 'trouble maker'. When my turn, he looked at my passport, look at me, and look at my passport again. Then he used a ruler to measure my passport.
Ok, this time I am goin to say something.
"Yes, Mr inspector, may I know wat r u doing now? Wat is tat ruler for?"
I know wat he did, but I asked him purposedly.
He looked up at me, and I smiled at him.
"Oh, I just wanted to check if it is a real passport or not."
He said.
"Ah, I c~ So this is how the inspector check one's passport. Interesting. I never see people checking for the originality of the passport. Eee~~ glad I hv chance to see it today. Thanks."
I smiled to him even sweeter, but with a very surprising expression.
"Wat else do u do to check a passport?"
Heee... think I am getting more nasty.
He then flipped my passport for a little more. Then...
"Finish checking."
Think he surrended.
"Really? Oh, tat's was fast. So, may I go now?"
I smiled at him again.
"Yes"
. He said.
"Thank you. And bless u hv a good day."
Ha!! Feel so relax after tat. Think I haven't teased someone for quite a time.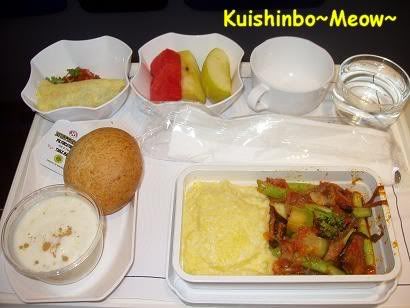 On the flight I had these vegetarian meal for an early dinner. Think the day came tasted better.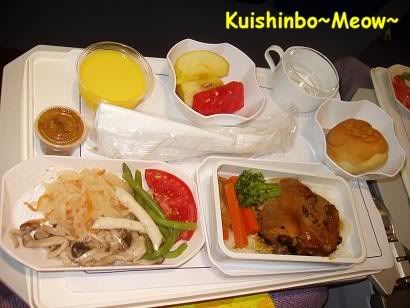 And Hui Wen had this one.
In the airport, Hui Wen left her hat on the flight. So we waited for the staff to get it for us. And during our waiting, we saw this lady tat was trying to let us check in her luggage for her, was under inspection at the quarantine department. Man~~ she got so much luggages. Think more than 10 luggages. Aiyar~ forgot to take pic for that. And all inside r the fresh veggie n fruits... We wonder wat she is goin to do with so much of them? For doin business??? Anyway... sure glad we didn't helped her to bring.
We reached Hui Wen's dorm around 8pm. Went to Wai Wai's place to sleep tat nite. I'm sure was too tired, tat I dun even care Wai Wai stay late until 3am. And me, guess I was sleeping like a pig then. Heee...
Yippie!! Taiwan trip was over. Hope u enjoy the whole trip as much as Hui Wen n me did. :)
Starting next post goin to get back to the Japan's food talk. :) But first, hv to finish my seminar for next Monday first.
Tata. Heavy head now...