Watami (11 Sept)
Hmm... it's Taifu (typhoon) No.23 blowing in the Japan these 2 days. Keep raining... and windy. A 1600km diameter Taifu... Kyoto is owez not so greatly effected by the typhoon. Places in
Kyushu
n
Shikoku
r much more serious.
Anyway, today I will talk bout an Izakaya (Japanese style bar) tat I went with Patrick few weeks ago. It's called
Watami
. Belongs to the
Watami Food Service Group
.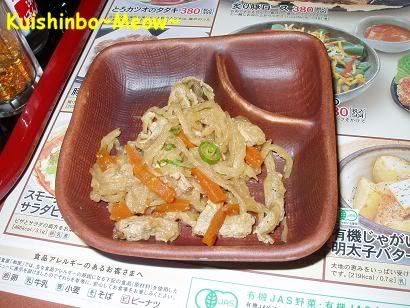 We had this Daikon no sengiri (radish fine strips) as zensai (appetizer). Usually, when u go to an Izakaya, either u want or not, these types of appertizer and warm hand tower will be served. Which will be then charged into ur bill.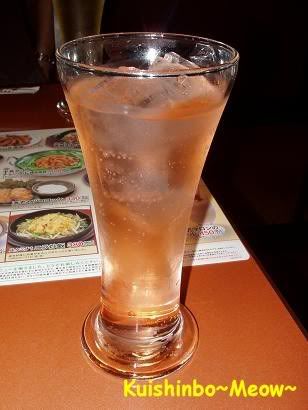 We were given coupon for a free drink each person down stair... So, I ordered a Sakuranboshu (Japanese cherry wine). But somehow after 1/3, I felt dizzy, so the rest I gave to Patrick. Normal price 280 yen (~RM10) without tax, and yap all the price i mentioned here not yet including the tax.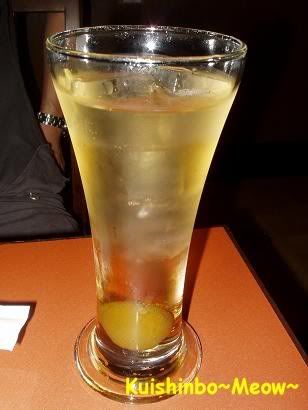 As for Patrick, he wanted a glass of Umeshu (Plum wine). An Umeshu is a Japanese must try drink for foreigners. It taste sweet, very easy to drink. Patrick love the one he had in Watami. Yap, it was good. Very much taste like a
Choya Umeshu
. In fact, I believe it is a Choya Umeshu. Hee... I grabbed the green plum inside and put into my mouth. Yummy!!! Same normal price as the sakuranboshu.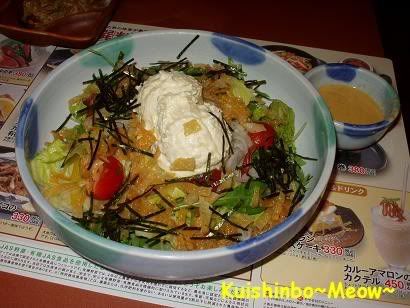 We had organic salad. This was good. And generous portion as well. I like the crispy chip that spreaded on top of the salad. 480yen (~RM17).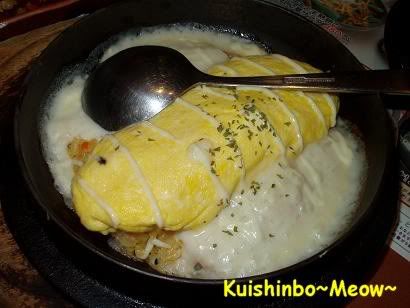 Then, we ordered 2 types of rice. One is this Ishiyaki omuraisu (Hot pebble omelette rice, with white cream n tomato rice). 480yen.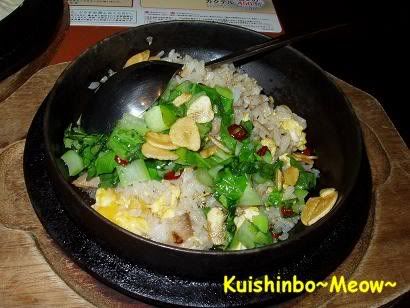 The other one is this galikku chahan (garlic fried rice). 380yen (~RM13). I prefer this than the omuraisu. Dun know, the omuraisu was not until my expectation. Just tat bottom of this garlic fried rice, a bit too oily.
Patrick felt like having some meat. So he ordered this seasonal menu, called aburi buta rosu (lighly toast pork loin). The cracker was good, same as those tat spreaded on the salad. Patrick said this pork menu was good. He finished it all. 380yen.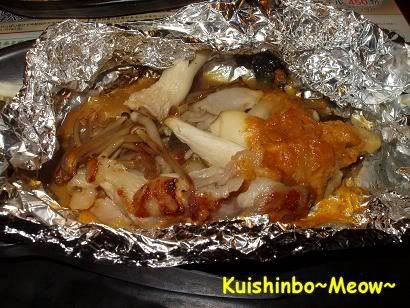 We ordered another seasonal menu. Actually, becoz ff wanted to try it. :P It is Iro iro kinoko no hoiruyaki (assorted mushroom toasted in aluminium foil). This one was good, cause the idea of combine mushroom and miso paste. But the only complaint for tat was a bit too salty. :) Good dish for eating with plain rice though. 330yen (~RM11.50).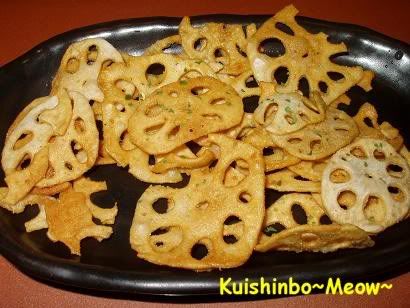 Finally, as a dessert, we had this renkon (lotus root) chips. Now, I like this one. Very crispy. Good tit-bits to go with alcoholic drinks. 280yen.
We paid like around 2000yen for each person. Which I think very worth it. Strongly recommended place for varities of good food with reasonal price. :)