Cafe Peace (7 Oct)
I went to main campus for a routine monthly sign up. Called Fukumoto sensei a few days before to join me for a dinner. Been quite some time didn't meet up with her. In case u all dun know who Fukumoto sensei is, here is a bit of introduction bout her.
She is a Japanese language teacher teaching in the Foreign Student Centre of Agricultural Faculty in my university. I joined her class for the 1st year I was in Japan, but then becoz of packed time schedule for my study and research, I stopped. But still, we keep in touch once a while for goin out together. :) She has been to Malaysia a few weeks time 2 years ago. Teaching Japanese in
Cameron Highlands
. And went to
Kuching
for a few days to home stay in my place. Heee... our frenship getting closer since then. Yap, I would say it is more like a frenship between sensei and me. Just exactly the same age as my mum.
I made on the decision where to eat for this time. And I chose
Cafe Peace
.
Went with Sylvia the 1st time in summer
.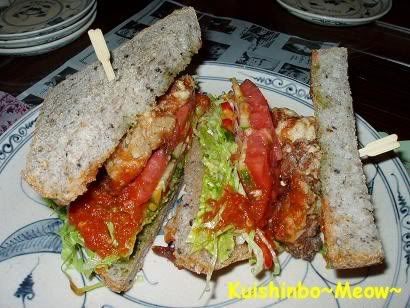 We ordered foods different from last time I tried. First, we had spicy chicken sandwich for 850yen (~RM31). Frankly speaking, I would still prefer the soyburger sandwich tat I had. It's not tat this chicken sandwich not good, just my personal preference. This Peace-style chicken sandwich was topped with sweet and sour sauce, served with homemade bread. I just love the bread. Will be my all time favorite. :) This is a healthy and low calories meal. Good for people who want to hv diet. ;)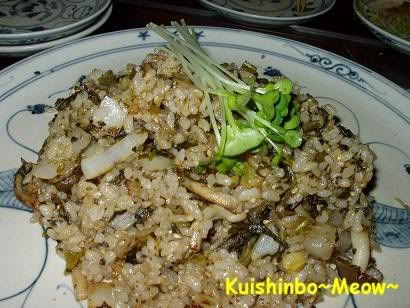 The 2nd dish came up was this takana pilaf (leaf mustard pilaf). 800yen (~RM29). The word pilaf actually original from Turkish. Takana is a vege indigenous to Japan. And yap, fish fish like anything with tanaka a lot. Yummy yummy. This takana pilaf is a combination of west and east by putting takana into a brown rice pilaf. Well, the taste was good. My only complaint... too oily. Hmm...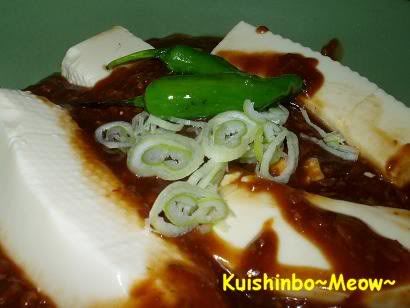 We were kind of full when our last dish was served. My, sure shock to see such a big bowl of mabo tofu. I think they used a whole cake of tofu for this dish. By the time we finished this mabo tofu, our stomachs bloated like frogs' one. Oso 850yen. This modified Chinese dish used tofu and minced 'vege pork', and topping with sweet and salty sauce. I like this dish actually, as it was not as oily as the normal mabo tofu. Ok, my only complaint, not spicy enough for fish fish. :P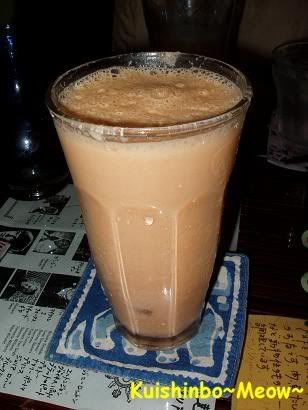 I ended my meal with an organic carrot soymilk. Heee... it was good. But not the milky creamy flavour of a normal carrot milk tat I had usually. The substitution of cow milk with soymilk made the rich taste turned milder. One of this 630yen (~RM23), a little bit expensive though. As for sensei, she had a big glass of pineapple juice.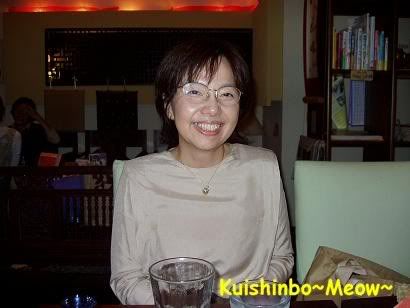 After the dinner, I decided to take a pic of Fukumoto sensei to show u all. Lovely madam, isn't she? Tat day, she was wearing a skirt that she had for more than 25 years. My my, she hasn't gain an inch of flesh on her body, sure not an easy work. How I wish I can hv a good maintenance like hers in future. :P Difficult lor... a kuishinbo fish like me.
Ciao.