Kio University Gakuensai (24 Oct, Pt 1)
The people and the place
Went to
Kio University
for their
gakuensai
(campus festival). This is a very new private university in Japan, in their 2nd year. How I knew bout this university was becoz of my ex-professor, who retired from our university this year March. He started to teach in Kio University in April. Shifting from a research field, into a more academic field. He has been joking to me that
"Oh~ it has been really a long long time I didn't touch textbook. Goin to be a 2nd stage performance in my life from now on."
He said tat the last day he was in school. That's what I like bout Prof. Mori, always hv a positive mind to think brightly about future.
I went with Wang Hao, a Chinese gal in my lab.
We reached the campus exactly the appoinment time. Called sensei, he was still on the way with the other few members. So, I used the time to do some snapshots.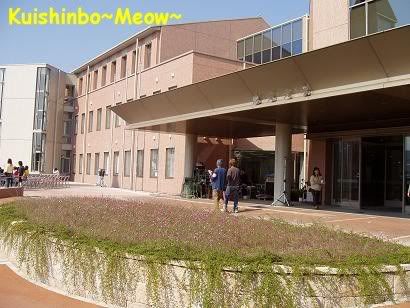 U will see the main entrance of the building once u entered the campus. Small campus, but new n nice.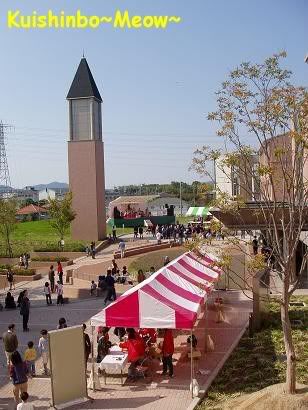 From the 1st floor, u can hv a very clear view of the campus layout. I like the clock tower. Standing in the middle of the campus, a good landmark for Kio University. A stage was set to let live band be performed for the gakuensai. Heee... those young energetic spirits... my my... u should hear the loud voice they played tat day. :P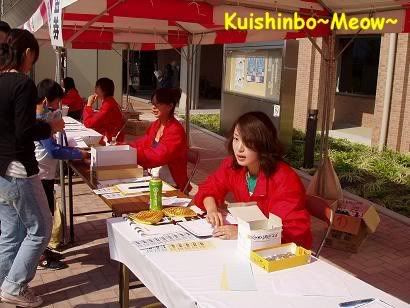 Beside the entrance, a reception counter was set to sell ticket and give guidance to guests that were coming for tat weekends.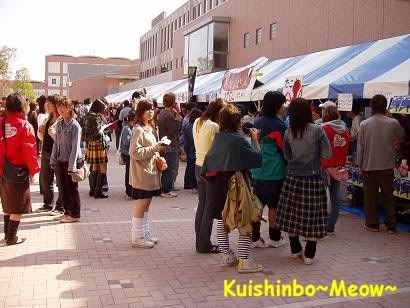 In the open space of the campus, many stalls were built up. See the crowds that lining up to buy their foods in each stall.
Mori sensei n the others came. We then went to Mori sensei office 1st to hv a look. Small office, but for one person, it is really good.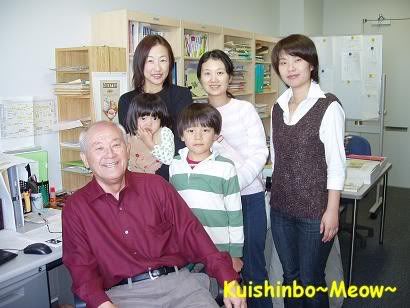 Attending members on tat day. Mori sensei (sitting), Hayashi sensei (behind Mori sensei, she is our lab lecturer), Daichan (Hayashi sensei's elder son) and Kaochan (Hayashi sensei's younger daughter), Wang Hao (in light pink shirt) and Nose (ex-secretary in our lab, stand in the most right side). And fish fish, holding the camera. :P All 7 of us. For a great food exploitation. But the food talk will only be shown in the next post. :)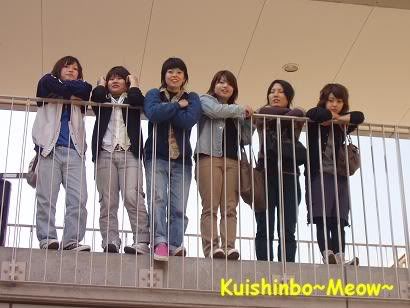 We went down to the open space. I saw a few gals standing upstair. 2nd year gals. Only 19yo. Yap, the students in this university all not yet 20, which means they r not yet an adult. So, all kinds of alcohol are prohibited. U wouldn't be able to find any alcohol drinks selling there. But I'm sure next year will be a big change for them. :P
Ok, back to the gals. They didn't really notice me when I first took this pic. Busy with their own talkings. And enjoying looking people at the same time.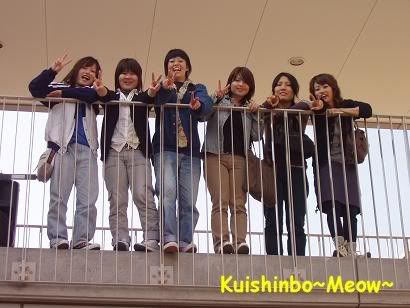 Mori sensei said they r his students. Heee... but he mistaken them as 1st year students. Made the gals screamed...
"Sensei! How can u forget that we r in 2nd year?!"
Cute!
So, I shouted to them:
"Hai... po-su"
(Ok gals, hv ur pose). In seconds, they change into a camera ready mode. My, sure fast.
"Ok, chee~se~"
. And there they r, with their sweet smile and a very get-used-to peace fingers.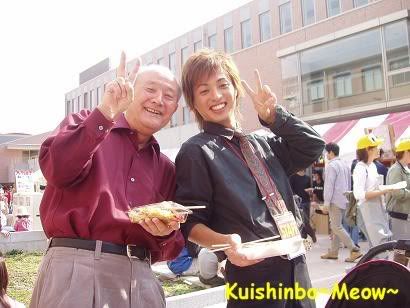 While we were eating, sensei suddenly introducing a young guy to us. One of his student too. Sensei said this guys is Mr. Kio. Dun know whether it is true or not. Hee... not bad looking, but a bit too girlie for me. Yes, I'm not get used to guys that hv their eyebrow being pulled off and drawn like a gal's one. Sadly to say, half of the young guys in Japan nowadays, hv their eyebrows even thinner than gals' one. I miss seeing guys with thick eyebrows. Think tat is very sexy and attracting. :P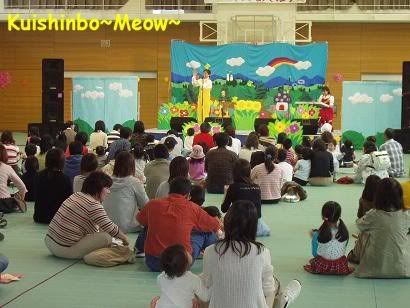 We oso went to the hall. That weekends, it was changed into a children corner. Many parents were having fun with their children there. Yap, a very good place for children actually. They hired 2 performers to do children shows for the kids. The whole hall was filled up with the jolly songs of all the parents and children.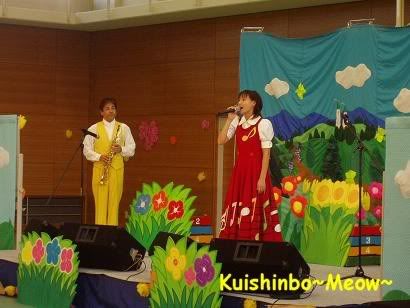 These 2 performers actually do their performance too in
NHK
. Notice the lady? A very pretty slender lady. With a very good voice for opera. Yap, she was an opera vocalist before actually. Was surprised to know that she is a mother of 2 children, with the elder son oledi around 10yo. And no, the guy standing next to him is not her husband, they r just partner. :)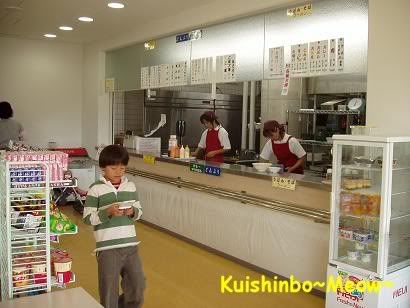 We oso went to the canteen to hv a quick look. Small but clean. Not much people there tat day. Everyone focus was on the food stalls. Hee...
Now now, Daichan was really busy with his
Game Boy Advance
tat day.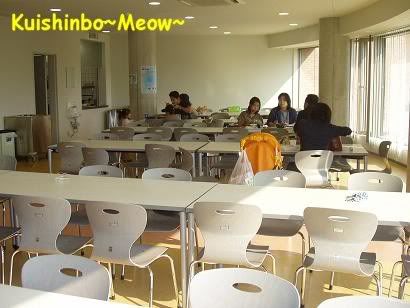 And this is the place where the Kio's students hv their meals.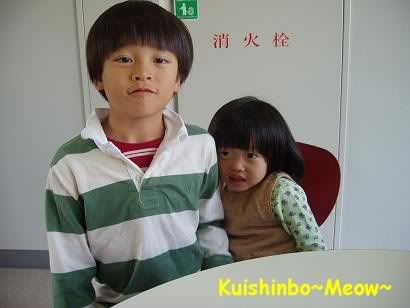 After we finished eating and looking around, we waited for Mori sensei to drive his car over. These 2 kids... aren't they adorable siblings? Kaochan trying to push her brother away cause he was sharing seat with her. Heee... She was like... "Hmmm!!...Mmmm...!!" and showed a sour face.
But Daichan was naughty enough. He purposedly squeeze more to his sister side...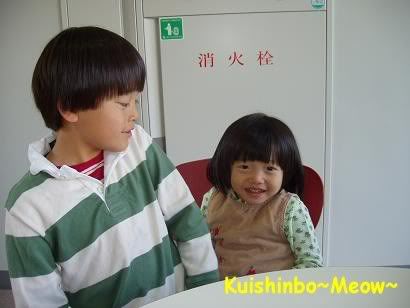 Seeing tat, I said: "Kaochan, shashin wo toruyo" (Kao, I'm goin to take ur pic..)
"Waratte". (smile...) I said again.
The very next moment... a sweet smile was captured. I like Kaochan. A very sweet little gal. But very strong with her own will. Can see that from a few hrs with her.
Ok, enough for the people and place.
Next, food~~~ yum~mie~