Weekends in Hamamatsu (2 Oct, Pt 2)
After we visited Yuko's grandma, we went to Hamamatsu Station to fetch Naomi. While waiting for her, I saw this unagi (eel) shop in front of the station. Yuko told me it is a very famous shop specialized in unagi dishes.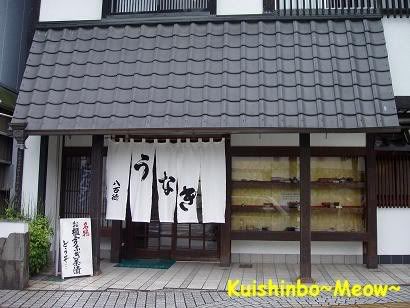 It is called
Yaotoku
. We didn't go in to eat, coz no time, and fish fish dun eat fish. :P
Fruit! Fruit!! Fruit!!!
Yuko brought Naomi n me to
Hamamatsu city Fruit Park
then. Normal entrance fee is 700yen per person, but we had 10% discount cause we hv the ticket for entering
Hamanako Hanahaku
. It was a rainy day, so not many people were in the park tat time.
We actually wanted to go in the morning for experiencing picking pear. But as Naomi can only reach Hamamatsu around noon time, we hv to miss tat one.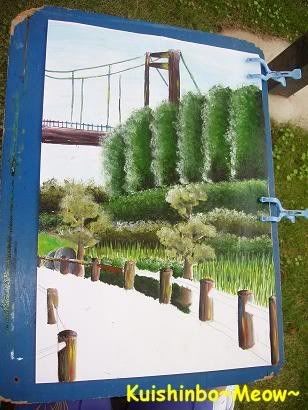 The 1st thing tat attracted me was this piece of drawing. I am very lousy in art, so very envy those who hv a talent in it. Guess... whose art is this?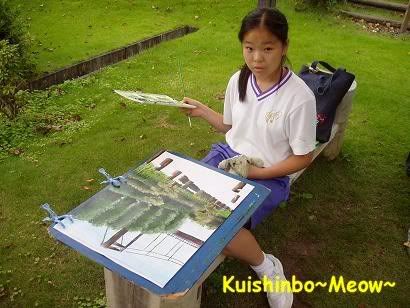 Heee... a young gal. Very young indeed. Only junior high 2nd year. Means around 13~14 yo. :P She was kind of a shy gal. She was sitting under a roofed bench, as it was raining tat time. There was only park train in front of her. I ask her where did she get the scene. She told me she went to sketch out the scene, and remember every part of it... and she was actually recalling all the colours combination from her mind. Wow!! FF has a big problem even do the colouring with the object exactly in front of me. *Shame Shame!!*
Hey Patrick, she will be a good artist, isn't she?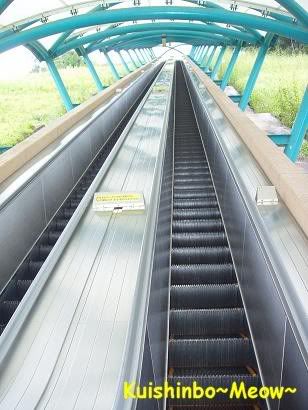 Then, we came to a very long escalator in an open place. Wow!! Sure long enough.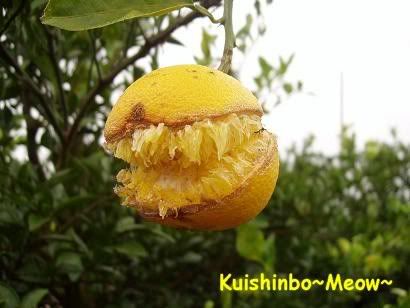 The first garden tat we visited was citrus garden. With all kinds of citrus fruit. This over-ripen citrus looks so much like a pac man huh... :P
Yuko n Naomi got so excited with this big citrus. They look more like a pomelo to me. Hee... the 2 gals never seen such a big citrus before actually. Hmm... wait till they see the Ipoh big pomelo. ;)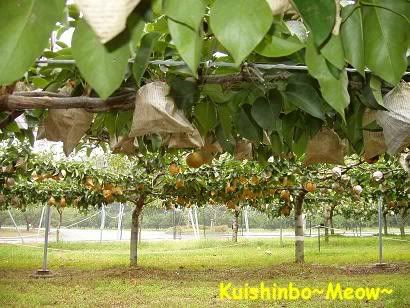 We found the pear garden. The picking experience was over. But still we were very stimulated the moment we were inside the garden. All the big big pear on our head. The pear trees were kind of low, so we have to bend down all the time.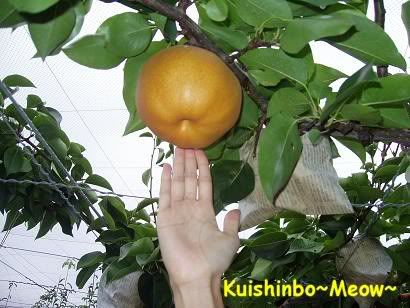 See the size of the pear compare to Yuko's hand. :P I nearly wanted to pick one from the tree. But I didn't. No good.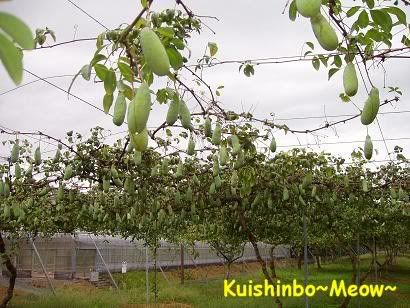 How many of you have seen this fruit before? It is called
akebi
in Japanese and akebia as common name. This was the 1st time Yuko n Naomi saw this fruit. They didn't even think the look of it can be eaten. They were kind of a surprise when I told them the name of it. Heee... :P an info from foreigner to local Japanese for their native fruit. Actually, I first saw it 2 years ago in Kyoto fresh market. Bought them home to try.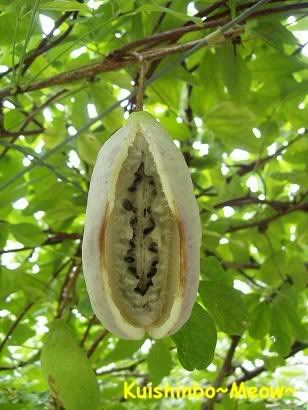 This is how a ripe akebi looks like. The reason why it is named akebi is because the fruit will split to expose semi transparent white flesh with black seeds. Ake means open, mi means seeds. So the word akebi means open seeds.
The flesh is sweet with a mild sourness. It is grown wild in all region of Japan except Hokkaido. Akebi is a native fruits normally found in Japan, China and Korea. There are 2 common species, fiveleaf akebia (Akebia quinata) and threeleaf akebia (Akebia trifoliata). The fruits remain wild until recent 2 decades they are cultivated. Yamagata prefecture cultivates this fruit as one of the local souvenir product. For further info, u can read this
Japanese site
(sorry, no English).
Japanese have a joke saying people who didn't know how to eat this fruit throw away the flesh and seed and eat the purple skin. But now, this is no more a joke. They now do eat the skin. The skin was very bitter, more bitter than a normal bitter gourd. But, after u cook it with miso and sugar, it can turn into a divine dish. Heee.. how did I know? I tried to cook one for myself before. I believe it will sooner or later become a hit edible wild plants that is served as seasonal food in autumn if more publication is done. Hmmm... i would like to try one tempura akebi. :P
Ok, enough for the akebi info.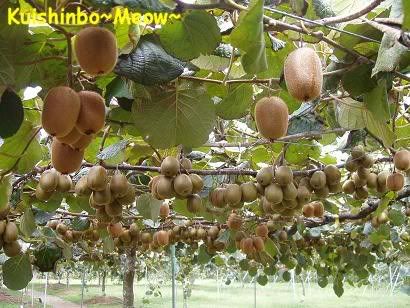 We next came to kiwi garden. Wow!! So sure many kiwi... One gal said it looks like super big grape... Another say the blocks look scary. Heee... me think they r so cute.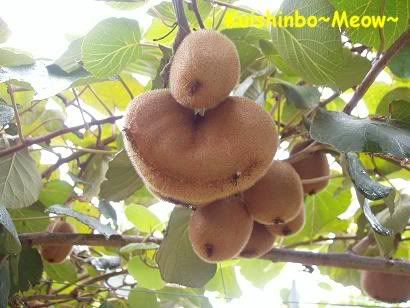 There were some very strange shape kiwi around. We spotted this one. Seem like 2 kiwi genetically bound together to become one. The gal say it looks like bum.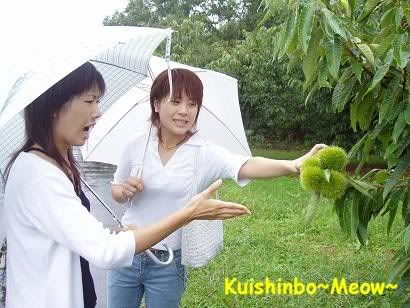 At the chestnut garden... most of the edible one been taken off from the prickly skin. Aarrgghh...
Yuko:
"Ah~~ Naomi, itai yo."
(Naomi, it's goin to be painful.)
Naomi:
"Itai~~!!"
(Heee... poor Naomi, she didn't intend to hurt herself with all the thorn, but somehow she accidentally touch them to near and "Itai!") :P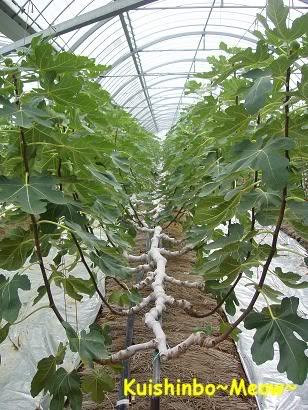 There were kind a lot of green house there. We went into an ichijiku (fig) green house. Amazed me to see how the park take care of this plant in such a systematic way. I am sure a natural fig tree wouldn't look like this.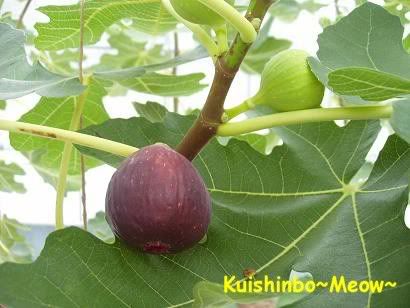 Not much ripe fig on the tree. But I saw this very beautiful one. I am a big fan of fresh fig. Aaarrggg~~ nearly pick it off. But I didn't. Dun want to feel guilty later. Heee... I won my devil side.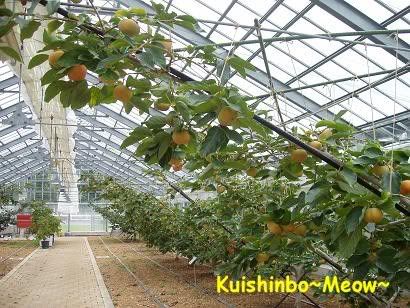 Not only the fig, even the kaki (persimmon) was grown very systematically in the green house. I guess by tying them this way, the fruit will be able to hv maximum sun exposure. Hmm... didn't try one, but believe it will be sweet.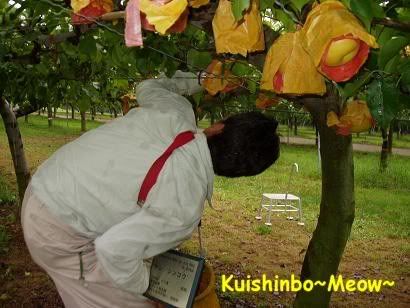 We missed the chance of picking pear by ourself. But we were lucky enough to spot one of the worker there picking ripe pears for selling in the fresh food market inside the park in the late evening. The pear tat he picked was Shinko pear. Which I hv never tried before. I told him I want to buy. So he said he will try his best to rush for us then. Arrgghh~~ stupid ff, now I remember I should hv ask him to let me to pick one for him tat time.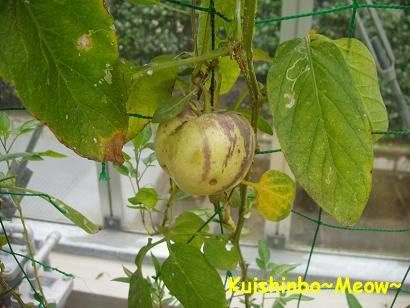 Before we finish our trip in the fruit park, we went to the tropical garden. Saw this unknown amazon fruit. I never seen it. Look like a big yellowish tomato. But it is written there this fruit taste sweet like a honeydew. Hmm... tat's interesting. Even Mirian, a Brazillian gal in my lab never seen it be4. So, not much info tat I know for this.
Saw this strange purple flower. Beautiful.
We reached the fresh market 15 minutes before the park is closed.
Yippie!! We saw the man that picked the pears. He was in time to rush for us. I both 4 packs. One pack around 3-4 pears. Pretty one is 400yen per pack. But for the one with a bit of black spots on the skin, the price is reduced to 200yen only. wow!! Cheap! How bout the taste? There r actually no different for the both. Both were very sweet n crunchy.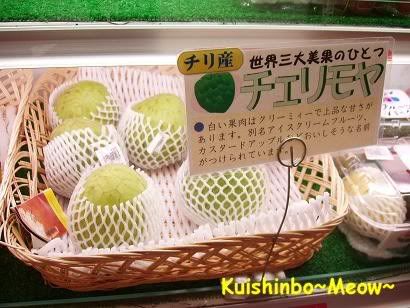 I saw this
cherimoya
(Annona cherimola). I didn't know it is same as the
Shi Jia Tou
tat I talked bout in
Taiwan trip
, until I checked from the internet. Frankly speaking, this was the 1st time I saw such a smooth cherimoya.
Luckily I didn't buy the fruit. I thought I never tried it before. It sold for omost 1000yen (~RM34) for 1. Too expensive. It is written there " Product of Chile. One of the world's 3 most delicious fruit. CHERIMOYA. The white flesh is creamy with a refined sweetness. Also named ice cream fruit, custard apple etc."
Hmm... I wonder wat r the other 2 world's most delicious fruit then. :P