Weekends in Hamamatsu (2 Oct, Pt 3)
Island Style Payaka
We decided to hv our dinner at
Island Style Payaka
, an authentic South East Asian shop. Yuko was telling me it is a Bali restaurant. But after visited the shop, my conclusion was more to a combination of a few South East Asian style. My assumption was right after checking from the web site. Payaka cafeteria offer Indonesian, Vietnamese and Thai foods.
Outlook of Payaka. It was very isolated from normal shopping area. In fact, the shop is located in the middle of housing area. Man... nobody will ever thought there is such a nice shop if u are not a local that is familiar with the place.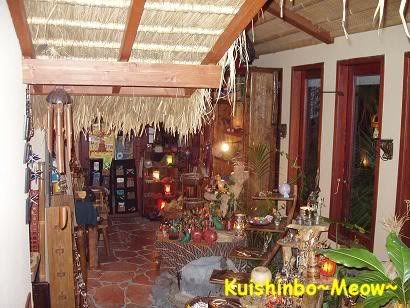 Before we entered into the cafeteria area, we past thru front part of the shop with a lot of furniture, clothes and groceries.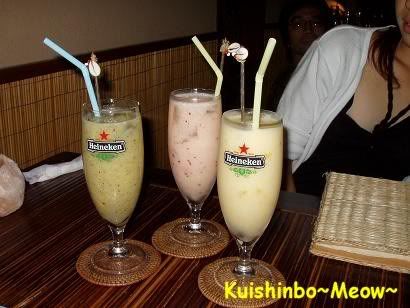 We ordered Payaka original fruit juice. I had peach passion milk. It was really good. Even Yuko n Naomi said mine tasted the best. :P I forgot wat exactly the other 2 gals had. But I do remember one of it was kiwi banana juice. Yummy too... but not for fish fish too much. Fish fish prefer to eat banana either raw or deep frying style. My only complaint on the juice, portion too small for me. Ai yah~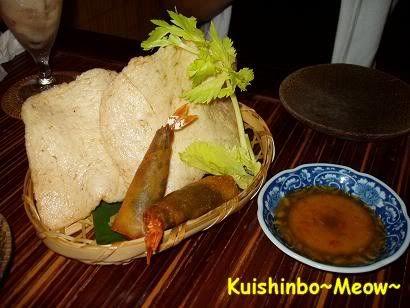 Our first dish was Poppiakun. A modified Indonesian prawn spring roll with prawn cracker. I didn't take the spring roll. But I had some of the cracker. Oops! I know there r some prawn blended inside... but I am a big fan of keropok (local Malaysian way of saying cracker). And yes, my stomach got upset tat nite, which was a common occasion after I had some animal or seafood product unintentionally. :P The cracker was very good, especially with the sweet Chilli sauce. Only tat it was too oily, I hv to use a ply of tissue to get rid off the oil.
Next was a hotdog salad. I dun really know which country was this menu originated from. But more to a Vietnamese food for me. Unluckily the 3 of us were not too good in handling this salad. Naomi n Yuko like the salad part, cause they like vietnamese fish sauce. But they gave up on the hot dog, it was too sweet for them. They r very surprised to know tat hot dog can taste such sweet actually. As for me, I dun like the taste of fish sauce, so I hv to give up on this salad. :(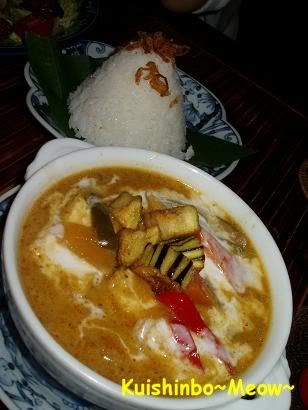 We ordered one green curry. This was my most favorite dish for tat nite. It was very creamy with the coconut milk inside. Just the right spiciness for me. But it was too spicy for Naomi. So, fish fish finish omost 2/3 of this dish. :P The filling of the ingredient definitely much more generous than
the one Sylvia had
in
Cafe Peace
.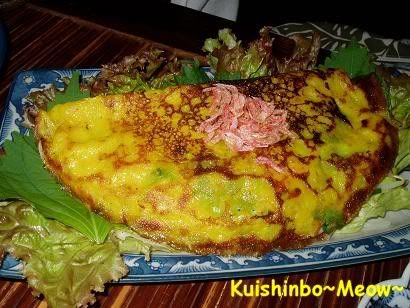 Payaka called this Bainseo. Vietnamese okonomiyaki (pancake). Hee... I dun really know how Vietnamese food taste like, but I like this one very much too. This pancake is wrap with lettuce or big leaves veggie to eat. The pancake itself has turmeric powder inside. Yummy!! Totally different from the hotdog salad.
Ah~~ we had a good dinner. Only that in the beginning, I was very hungry, and need to wait for a very long time to hv the food served to us. So, kind of lost my patient tat time. My advice is, if the moment u r really hungry, and want to fill up ur stomach as fast as possible, dun look for a restaurant like this. This is only the best when u want to hv ur time very leisurely taking ur meal and enjoying the place.
The whole dinner cost more than 5500yen. A bit expensive for the food. But good environment.
Poor Naomi, she was sick tat nite, think was becoz of the rainy day in
the fruit park
. So, she didn't really eaten much tat nite.