Weekends in Hamamatsu (3 Oct, Pt 1)
After Naomi had some medicine and slept for the whole nite, she got much better. Thanks god. We woke up with a very nice simple breakfast by Yuko's mama again.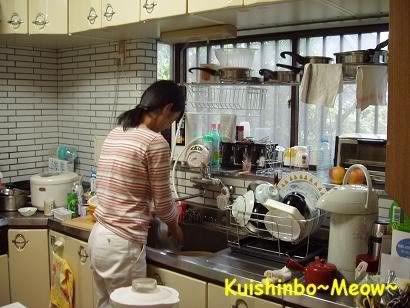 Here was Yuko's lovely mother busy in her kitchen. Isn't a serious working woman has the most beautiful back? :) Remind me of a song from
Gao Hui Jun
,
Ren Zheng De Nu Ren Jui Mei Li
(An earnest moment lady is the most beautiful). :P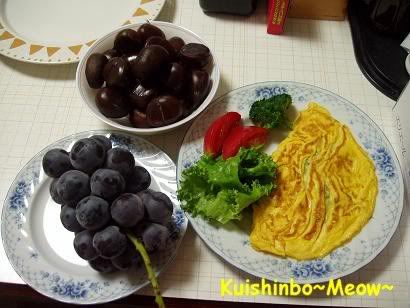 It was a simple breakfast. But I like it. The kuri (chestnut) was bought by Yuko in the fruit park last nite. It was not so sweet, but powdery, and I like it. The grapes was brought by Yuko's mama. Very sweet. Japanese grapes hv very thick skin, so usually eat without the skin. Very easy, just put in ur mouth, suck it, and the whole flesh will come out from the skin. I love grapes in Japan, just tat they r expensive, dun eat regularly.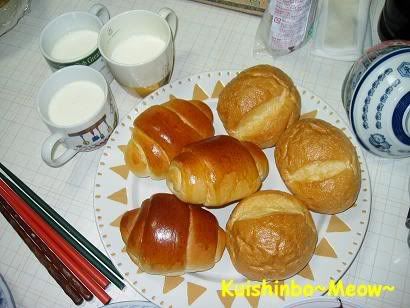 We oso hv home made corn soup and bread tat brought from super. I like the taste of the corn soup. Less sweet and more salty than normal instant pack one.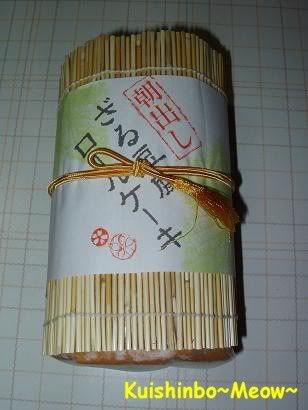 Yuko specially ask her mum to buy this tofu cheese roll cake for me to try yesterday. We were in the food park, and can't line up to buy. So, Yuko's mama helped her to buy for me to try. *Touch touch* I actually told Yuko no need, but she really wanted to let me try this, as she knows I love roll cake very much. This roll cake 1 day only come out 10, and within 1 hr, it is usually sold off. Hmmm...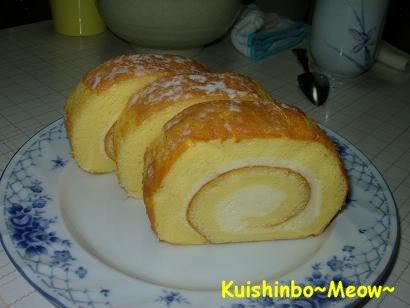 So, each of us had a piece of it. Yummy!!! Very nice taste. I think I know why people want to line up for it oledi. It was not too sweet. Just to the right cheesy flavour. Compare to normal fluffy roll cake texture, this one is firmer. So, u actually feel the whole cake is heavy when u hold it up. Shiawase!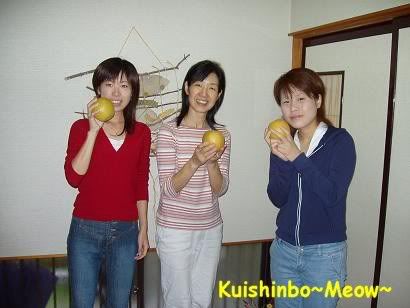 Before I say bye bye to Yuko's mama, we had a short photo session. From left to right: Yuko, Yuko's mama and Naomi with nice big Shinko pear on each of their hands. ;)
It was a rainy day again, heavy rain indeed, but we still heading to
Hamanako Hanahaku
(Pacific Flora 2004). The biggest flora exhibition in Japan.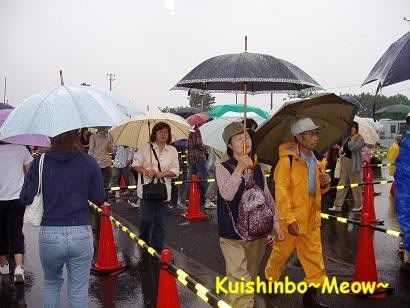 Yuko had to park her car in the parking area, which is around 15 minutes apart from the exhibition site by bus. Hmm... even rainy day, didn't stop the big crowd to come. Long line up with umbrella even when we were not in the place yet. One thing I owez amazed in Japanese society, very systematic.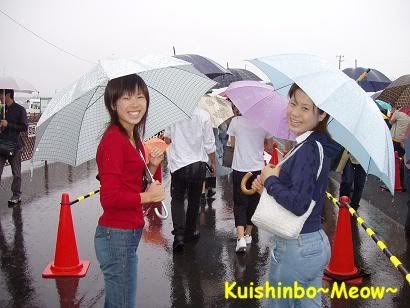 Heee... heavy rain didn't stop Yuko n Naomi from showing their sweet smile either.
Finally we reached the entrance. Hmmm... a very big exhibition site. Yuko told me the place was as wide as
Tokyo Disneyland
.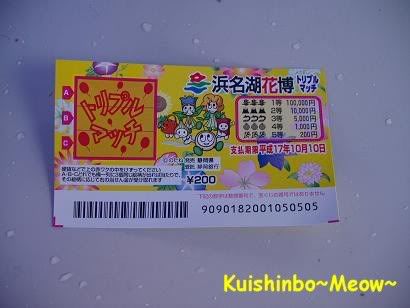 We saw a lot of people busy scratching somethings. Yuko told me it was a lucky scratch. If u get triple match in either direction, u will be able to get either 200yen, 1000yen, 5000yen, 10000yen and even 100000yen (~RM3580!). So fish fish bought one just to try her luck, though she knows she never has luck in such things.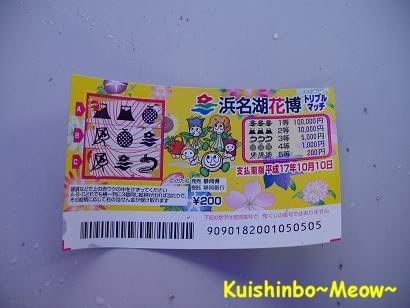 :"( See~~ I told u, I am never lucky for myself in this thing. But I always bring good luck for people besides me. And this time, it's true again. Cause an obasan was scratching besides me... and she got 5000yen! So envy~~ (Ok, she bought 10 pieces in one go, so the chances of hers getting the price were higher. Hmmm... she still earn 3000 yen). Maybe fish fish should hv done wat she did. But, it's just not my nature to spend money on something like this. Oh well~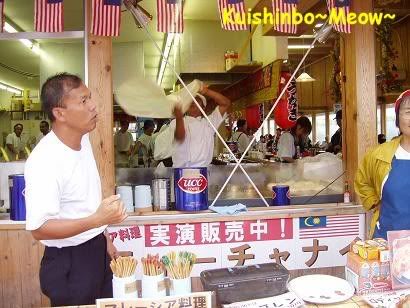 We oso past thru a food fair tat selling international food. Ee~~? Something very familiar... Roti canai!! Very common local food in Malaysia. 800yen! RM29 for a set of roti canai set? That sure too much for a Malaysian like me. But I did talk for a little while with the guy who made the canai when he knows I am a Malaysian too. See the pic? He has a very good skill. :)
Canai guy:
"Moi, mahu beli?"
(Gal, want to buy?)
FF:
"Boleh, nanti. Perut belum lapar."
(Can, later. Stomach not yet hungry.)
Canai guy:
"Ok, balik nanti yah!"
(Ok, come back later ok...)
FF:
"Ok..."
(Heee... but I know I won't. :P)
When we left the place...
Naomi:
"Otokomai!! Chou kakkai..."
(Gosh!! He is so man. Super attractive.)
FF:
"So? Mareshia no futsu no otoko yo!"
(Really? He is a common type man in Malaysia.)
Naomi:
"Maji?? Mareshia no otoko minna so?"
(Really?? Malaysian guys all like this?"
FF:
"Daitai."
(Normally.)
Yuko:
"Naomi... so yo... Mareshia wa yasashikute kakkoii otoko ga takusan iru."
(Naomi, yap, a lot of nice n attractive guys in Malaysia). Hee... tat's the conclusion from Yuko who has went to Malaysia before.
Naomi:
"Iina~ Mareshia ni ikitai!"
(How good~ I want to go to Malaysia.)
:P Guess I managed to do promotion for Malaysia again.
Well, in fact, it was not the first time I heard Japanese gals saying they just love Malaysian guys. Oso heard this comment from other countries gals too. ;)
I forgot to tell them, Malaysia has a lot of pretty gals too. Heee...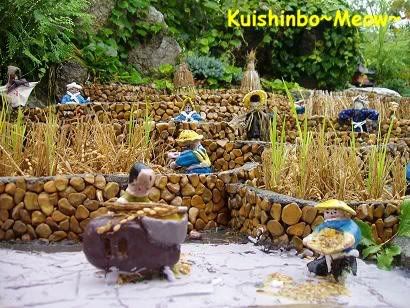 We came to part where a lot of small artificial gardens. I like this one. Very miniatature of the representative of Japanese horticultural. Yap... more than 90% of plantation lands are for rice.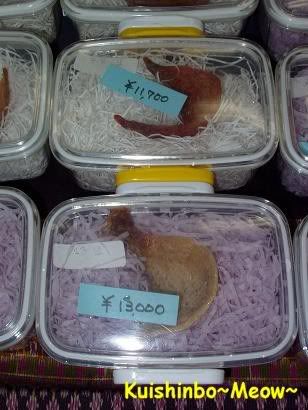 We then went to international garden area. Garden from different countries were exhibited there. We went to Thailand one the longest. Saw birdnests were selling there. OMG! The price for one piece sure can buy a few more pieces in Kuching then. Heee... mum sure will scream when she see this price. :P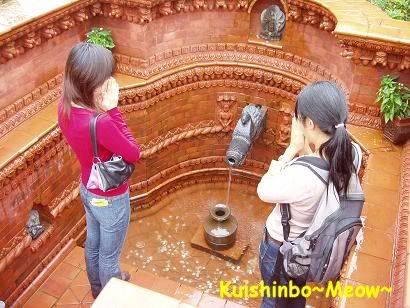 Heee... Yuko wanted to do something funny again in Cambodian garden. Not much flower there, mostly were the statues of Buddha. It is a strange practice in Japan wherever has pond with water, or even little place with water and got some statues, u will see coins being thrown inside. So, Yuko n I pretend to do praying while Naomi was taking picture for us. Heee... left side is Yuko. And the right one... :P.
Tata.