Weekends in Hamamatsu (3 Oct, Pt 3)
Err~ still got 2 more posts to settle before I can jump to my next topic. Better finish them by these 2 days. :P
Ok, today will be indoor part mostly.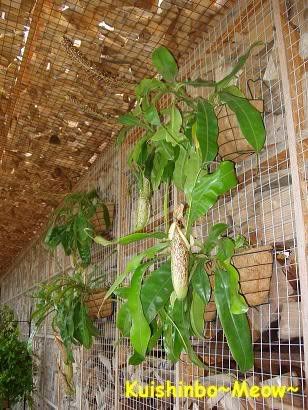 The
tropical pitcher plant
. My favorite carnivorous plant. This one got flower blooming. In fact, the pitcher plant in this expo kind of big. Good maintenance. I hv seen many pitcher plants since young, but never seen them with flowers be4. Cool small flower stacks.
It seems like there are 2 common different genus. The one grow in tropical regions as shown on the pic at top,
Nepenthes
and another genus
Sarracenia
, North American pitcher plants.
Frankly speaking, I am biased. I still think Nepenthes looks nicer to me. :P Wait till I see a real NA pitcher plant then.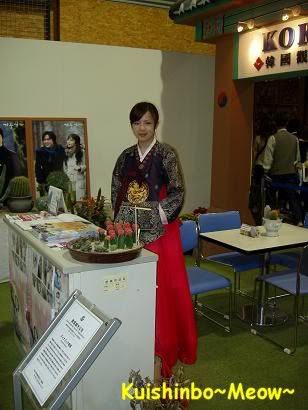 Hee... I like this pic. I think guys will like this one too. Isn't she pretty? Yap, a very lovely Korean gal. She was standing in the Korea Tourism promotion counter. Very sweet smile. She looks a bit like
Che Ji Wu
in
Winter Sonata
, though I hv never seen this drama before yet. (Hehe... I guess my Malaysian frens will laugh fish fish really out of date when they read this. Dun know, I guess I am like tat, when a thing is too heat, I lost my passion on it. I do believe it is a good drama though, since it was a big hit in Malaysia 2 years ago. And last year in Japan. Japan now very heat with Korean Boom.) Here is one site analyzing
Why is Winter Sonata a Big Hit in Asia
?
I like to see Che Ji Wu though... pretty gal. Nice smile. :)
Oh, btw, just a news I saw on TV this morning.
Bae Yong Jun
, main actor in this drama just broke up with his gf. Another pretty Korean gal. Not an actress, seem like a university student. Hee... the news reporter in tat variety show was saying tat many gals might be screaming 'Yah Hoo!' now. Really?
Ok, enough for the flowery news. Back to my flowers talk. :P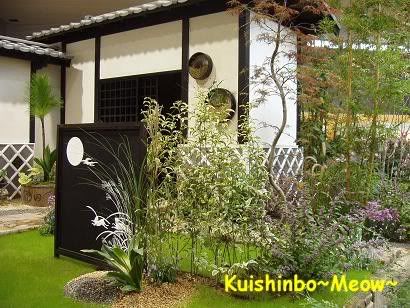 Beside the pretty Korean gal, there was this nice little Japanese garden. I like the white moon n bunny draw with the black background. Nice nice.
Here was another way the expo utilize the cactus. This time are the prickly colourful cactus ball. Hee... made into castle gate style. Cool~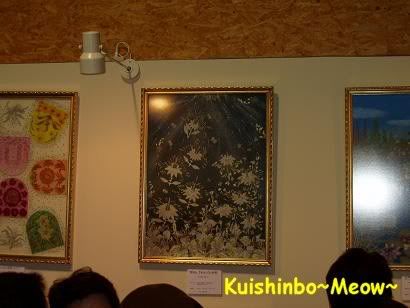 Now, this was my favorite part. They use flowers and leaves too make drawing. Prohibited to take pics. I only saw the sign after took this pic. Ok, not counted wrong rite? :P Heee... this was one of my favorite work among the pics. White little angels all flying up to a shining ray.
Then, we went to another hall to see flower with other themes. Like this one, a dinner place all decorated with flowers, flowers and flowers. Err~~ definitely not a good place for people with pollen allergy.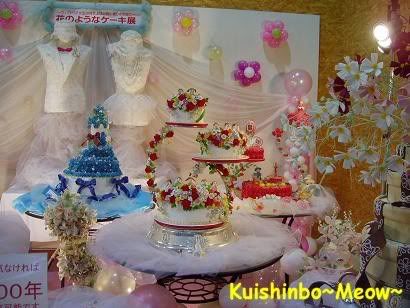 Oso one of my favorite. See the beautiful decorations? All make from sugar icing. It was written there "Can keep for 100 years under dry condition." Hee.. of course... water come, they all go.
Among these icing flowers, I like this one very much. Really look like a real plastic flowers. The colour was very good too. Very fresh colour. And I like the choco ribbons... feel like touching them. But no no.
We went to see ikebana (Japanese flower arrangement). Japanese culture owez emphasis on simple but elegant. I like this one. Nice contrast of flowers with the vases.
We went to the champion Japanese garden for tat expo. Only a very small garden. But nice nice. The 2 elements I like the most for this garden is...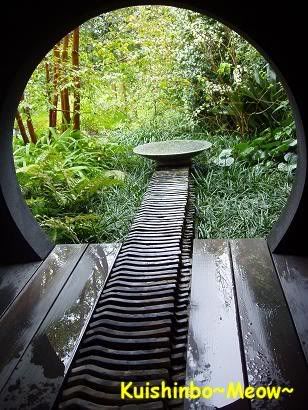 ... This round little space...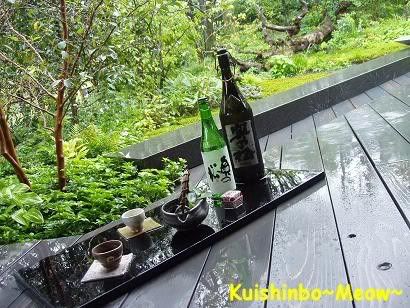 ... and the layout of Japanese wines on the floor...
Think the effect getting better with wetted floor by the rain. :)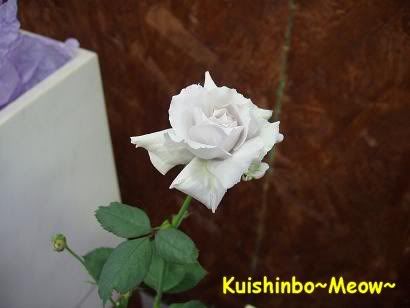 In another indoor hall, I saw blue rose. But very dimly blue. It seems like
Suntory
in Japan finally success to
cultivate blue rose by using recombinant DNA
. The paper was published in Japanese only. Can't find an English one to show ur guys. However, 'Impossible dream' (meaning of blue rose) is goin to become 'Nothing is impossible'. ;) I hope I can see a 'real blue' rose next time.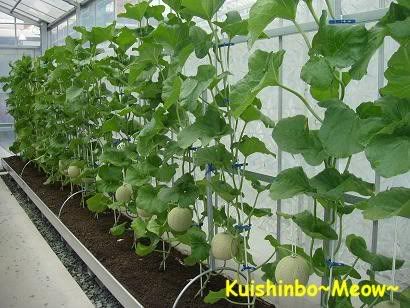 We past thru a small short corridor to the future technology for agriculture. Phew! Saw this very systematically planted honey dew. My my... even the height of each fruit was oriented to be the same. Well, for a high price melon (the way japanese call honeydew), one can cost up to 8,000~10,000 yen. This is how they do it. One whole plant only let one best young fruit to grow into a nice melon. They believe by cutting all the other young fruits, all the nutrients and sweetness will be condensed in this whole fruit. A sad sacrifice for the other siblings though.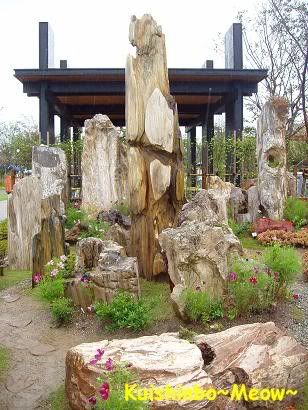 The last thing we saw before we went to mum mum, was tree fossils. Yap... these are the tree fossils. They look like normal dead tree bark... But when u touch it, u know the r something like stone. Wow! Very smooth surface.
Hee... next post will be eat eat in the expo. ;)