Weekends in Hamamatsu (3 Oct, Pt 4)
Yeah! Final post on Hamamatsu. Heee... today will be eat, eat and eat. We went to the international food fair in the expo for yummy stuffs.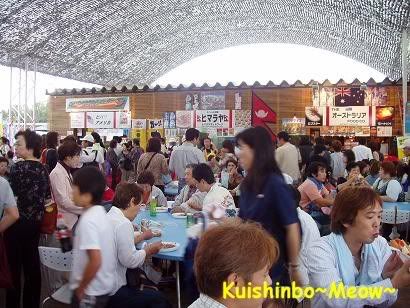 See the crowds? Ok, we looked thru American, Himalayan n Australian. Got nothing wat I really wanted. Same for the other 2 gals.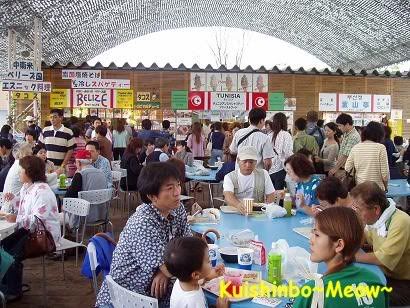 Then we went to peep at Belize, Tunisia and Korea. Hmm... got something interesting actually, but too much meat for me. So we went to the final corner.
:) Saw Turkish stall. One of the world's 3 most delicious cuisine. The other 2 are Chinese and French foods.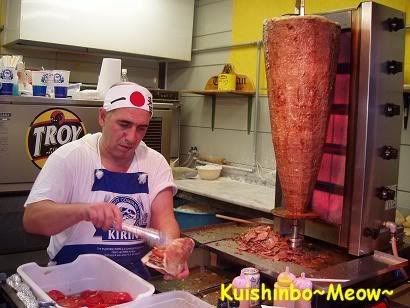 Well, it seems like all the owners in this stall are Turkish. And wat more... all guys. :P Very energetic, keep shouting
"Kebab! Kebab!" "Oishii... Oishii..."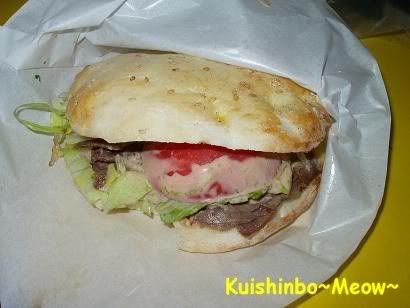 Ok, they managed to attract Naomi too get one. She said the meat and sauce really good. FF tried a bit of the bread. Yap, nice nice.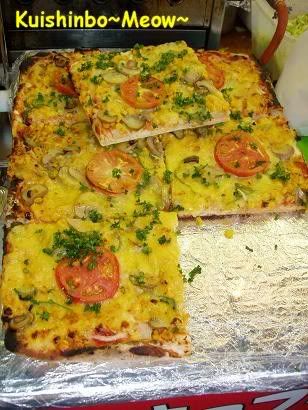 I saw they were selling Mediterranean pizza. Ok, I hv never seen a Meditteranean pizza be4. And I was not sure whether this was really the Med pizza. But wat I care more was whether got meat inside or not. So...
FF:
"Oniku wa haitteru?"
(Got meat inside?) I pointed to the pizza and asked one of the guys.
Guy A:
" Pizza pizza. NICE!!"
He showed his thumb up.
"Oishii oishii.."
(Yummy yummy.) Ok, this guy seem to doesn't understand wat I am asking bout at all.
So, I asked in English. Still he failed to understand.
So, we were like chicken talks to duck. He has to ask another guy that standing outside pulling customers to handle my Q.
FF:
"Oniku wa haitteru?"
(Dun know how many times I repeated this Q oledi.)
Guy B:
"Niku nai. Only yasai." "Hitotsu?"
He wanted to take the pizza oledi for me. Ai yar~ these guys, really know how to do business. No wonder customers keep coming to this stall.
FF::
"Matte. Mou chotto kangaete..."
(Wait. Let me think a little while.) Heee...
Actually fish fish saw the new baked one just out. And the one he wanted to gave me was the last piece of previous tray. No no... So I waited a little while for the new tray came out... and chose the one with the most crispy baked edge. :P Heee... ok, I am very choosy in food sometimes. (Frens said me actually most of the time. Hee... objection.)
Yeah! Got my pizza. And yap, it was real good. Instead of the very cheesy flavour. The taste was milder and the bread part was really good. I like it.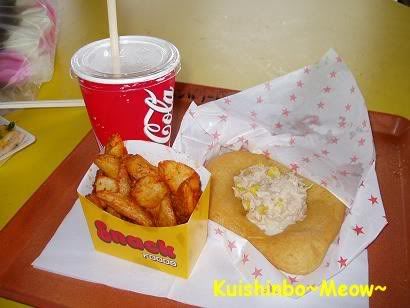 As for Yuko, this gal went to buy a Hungarian food. Me hv no idea how Hungarian original food is. But this one, I like the foccacia-like bread. This was topped with tuna flakes. I tried the bread. Very good. Look a little bit like foccacia, but more munchy. And the potato wedges, looks red? U will think spicy rite? Nope, not spicy at all. I wonder wat was those red colour things on the potato.
During my pizza munching. My eyes actually keep observing the Turkish stall selling Turkish ice cream. I had Turkish ice cream in instant pack one. But never had an original one. Curious to know how it taste.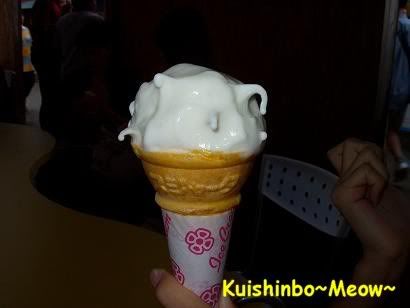 So, after my pizza. And my stomach still got extra space. Heee... there I go for the ice cream. See how the ice cream can stand up? Yap, it is very elongating. The taste was really divine. Not much for a normal sweet taste of ice cream. But more to a unique creaminess and the texture really attracting me. 350 yen (~RM13) per cone. A bit expensive, but worth for my 1st try. Oh, the ice cream is called
Dondurman
(I hope I am right for the name), an ice cream with unique stretchy consistency.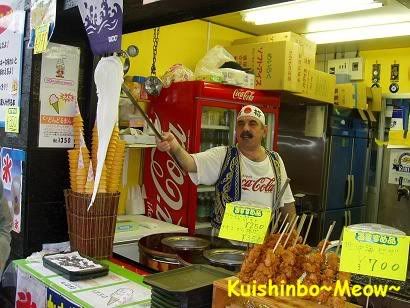 Hee... the guy perform how strong the ice cream elongation power can be. Wooo... sure it amazed me. This bad bad guy, he kept teasing me when I was buying the ice cream. As it was very sticky to the cone, he asked me to hold the cone so he can put the ice cream inside it for me. But then, he suddenly stick away the cone from my hand and make the cone spinning around with his huge ice cream spade.
FF:
"Kya!!"
(fish fish shouted out cause didn't expect this action of his).
People around instantly look at me. Chou malu! (Super embarassing).
Then, he pretended gave me back my cone, then when my hand held the cone, he pulled it off again. This time, my sour angry face came out liao.
So, the third time, he put back to my hand. Sigh! So happy thinking finally can hv the ice cream melting in my mouth now.
Oh no! He did the trick for the 3rd time. And I can't believe I was fooled by him for the 3rd time too. I stamped my leg (I think) and nearly wanted to cry liao... So turned away wanted to go away liao... even though I hv paid the money. (Then he quickly waved me back, giving the ice cream from his hand to my hand. Ok, now I believe, no more trick from him oledi. Sigh! First time in my life hv to fight so hard for an ice cream. Making me look silly like a kid. Evil!! But then, i learnt the lesson. I will only want Turkish ice cream given to me by hand from now on.
Then I noticed, the other customers were played on such trick too... But only 1 time. Why 3 times must for me??? Not fair. *Angry*
Anyway, we had a good meal. :) Can't deny the ice cream was really good.
Before we left the expo, we took some pics for remembrance of this place. As Yuko told me, after the final day of this expo, the whole place goin to be destroyed and only leave a small part as a flower park that will be under city caring. The park will be opened to the public free. *sigh* Kind of sabishii to think of it.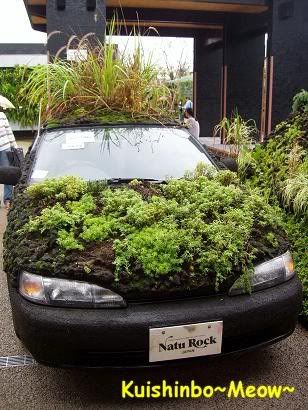 Well, interesting car. But I dun think I hv the gut to drive it. Just imaging if suddenly a centipede crawl on ur hand while u r driving... Or a frog jumping up to ur nose... Yark!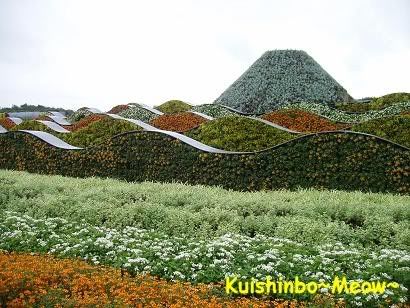 Finally we said bye bye to the expo after we took a good pic in front of this 'flower fujisan'.
:) Yippie! Finish.