Doma Doma (16 Dec)
After the
Luminarie
, the 4 gals decided to go to
Doma Doma (土間土間)
, an Izakaya I heard for the 1st time actually.
Inside, it was very dark. We were led to our seats. And after we placed our order, the dishes were served kind of a quick. But strange, the drinks took much longer time to come. So, we had to wait for the drinks to come first to Kanpai (乾杯)(Cheers) before we can put our chopsticks on all those drooling foods.
Angel, Ka Li and me dun take alcohol, so ordered Fancy Navel with peach, orange and cranberry inside. Each for 490yen (RM18). Whereas Qian Qian had a glass of Cassis Soda, 450yen (RM16). The drinks were good.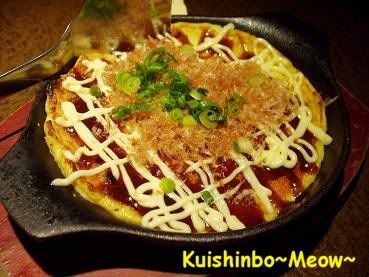 We had one Mochi Chizu no Okonomiyaki (もちチーズのお好み焼き). Japanese style rice cake with cheese pancake. Recommended by Ka Li. This was good, but the gals ate it after it had cold down. Hmmm... should hv eaten it earlier. 490yen.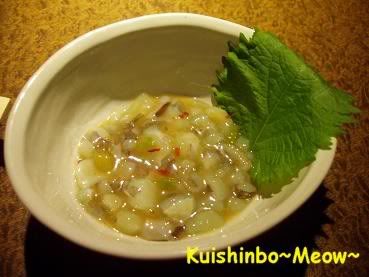 Qian Qian wanted a Takowasa (たこわさ), raw octopus marinated in wasabi. Well, first time I hear this kind of combination actually. I didn't eat. :P Cause raw sea thing. One for 290yen (RM11).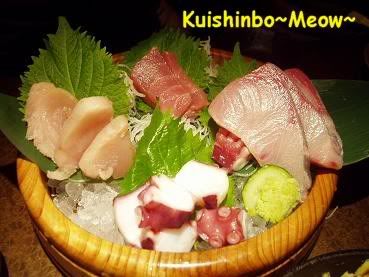 The 3 gals wanted to hv sashimi. So they ordered one set of Osashimi Shishunmori (お刺身四旬盛), Four Types of Seasonal Shashimi. 790yen (RM29). The gals were saying the sashimi was very fresh and yummy. From front, clockwise: Tako (octopus), bintoro (fatty tuna), torosamon (fatty salmon) and hamachi (young yellowtail).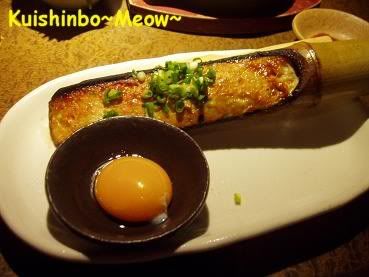 Ka Li oso recommended Takezutsu Nankotsu Tsukune (竹筒軟骨つくね). Meat ball with gristle in a bamboo container. 390yen (RM14). She said this was very delicious. Angel tried be4 too, and same comment. Too bad, fish fish can't take. Anyway, it was interesting to see how this meat ball was presented. The meat ball is supposed to be dipped into the raw egg yolk before you eat.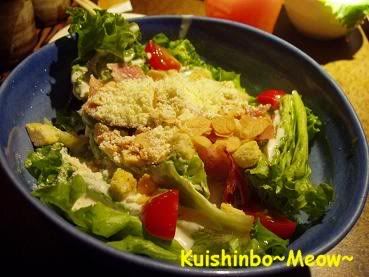 Hehe... this dish was ordered by fish fish. I wanted salad, and after decision from the gals, we decided to take this Caesar Salad (チーズたっぷりシーザーサラダ). One HUGE ball for only 490yen. Got a generous portion of grilled bacon as well inside the salad. The crouton was good. Crunchy and cheesy.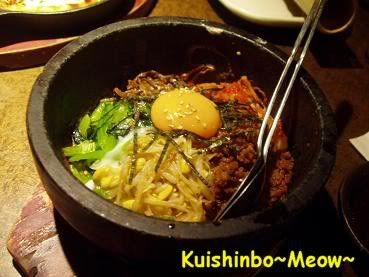 We had 2 types of rice. The first one was Ishiyaki Bibinma Domadoma Fu (石焼ビビンバ土間土間風). 390yen. This Domadoma Style Hot Pebble Korean Mix Rice was one of the gals' top favorite on that nite. The rice, the ingredient and the seasoning... nothing to complain. The combination was great. It was not spicy, but very delicious. Especially the Kogeme (焦げ目, burnt rice at the bottom) can really make one addicted to it. :P Fish Fish was one of them. Kekeke...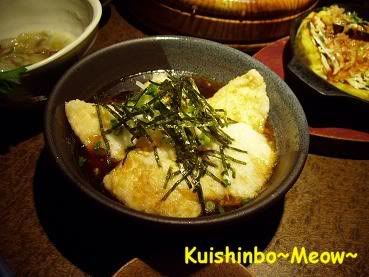 I actually wanted to order a Tofu Steak, too bad out of stock. So, I changed to this Oboro Agedashi Tofu (おぼろ揚げだし豆腐). 390yen. This was actually deep-fried tofu that served with soysauce and topping with grated sticky Japanese yam. Well, fish fish has no problem with sticky stuff, but didn't know the 3 gals can't take sticky stuff (heee... exactly like the old time fish, but now... I can say I love~ sticky food). So, it turned up I was the one who finished omost the whole bowl. Burp!! Yummy, but a bit too big portion.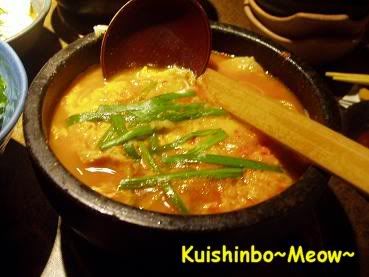 The second rice item we ordered that nite was Kankokufu Kimuchi Zousui (韓国風キムチ雑炊). Korean style kimchi mix rice soup. 390yen. This was another dish I would give 2 thumbs up. Fantastic. I can't help myself to finish the leftover. Chou oishikatta!! (Super delicious).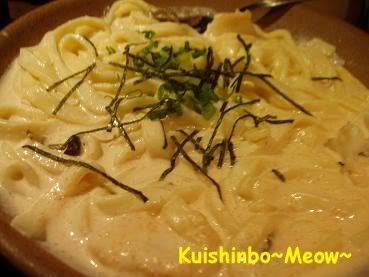 We oso ordered one noodle dish. It was something like udon, but in different shape, called kishimen. The dish name was Kurimu Mentai Kishimen (クリーム明太きしめん). 490yen. A kishimen cooked in creamy spicy fish egg. Yum yum!! It was creamy, and yet u can taste a mild spiciness released by the mentaiko (明太子)(spicy fish egg). The noodle itself was not the normal thin flat type noodle, but the thickness was double the normal kishimen. It was very bouncy. Change my concept actually on kishimen.
Usually, when u go to Izakaya, u will be served Tsukedashi (付け出し)(formal Japanese way of saying appetizer) and wet hot hand tower, and be charged into ur bill. We saw the table next to us was given that, but not ours. So, we asked the waiter. Hmm... seem like they hv forgotten. Luckily Ka Li found out that. Cool gal~ Anyway, no pics for that. Totally forgot that time. Instead of a Tsukedashi, it turned into Oshime (おしめ), ending meal.
For such a good meal, each of us paid only 1500yen++ (RM56). Very worth the price. I would highly recommend this place for good food, fast time and reasonable price. But the service was not reputable. Oh well~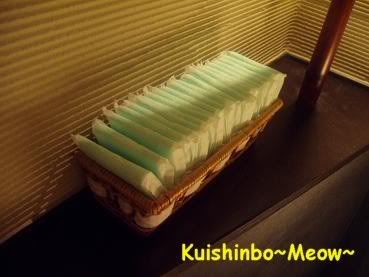 Before we left, fish fish went to the washroom. Really glad I 'visited' it. Kekeke... sorry everyone, I know I'm not supposed to put this pic under a food post, but I think this was really amazing. Free women's napkins are provided inside the washroom in case needed. My my...
I saw a notice in one restaurant's washroom before that u can ask for one from the lady's staff when u need it... But this was actually the 1st time I saw they just put in the washroom for u to use it.
Tell me, have u seen this in other countries' restaurant? If yes, please do tell me. I would love to know. ;)
p/s: fish fish did a stoopid thing... kekeke... I took one as souvenir. :P