The Emperor's Birthday (23 Dec)
It's a public holiday in Japan today. The last public holiday in Japan for every year. Tennou Tanjobi (天皇誕生日). Yap, Christmas is just a normal working day in Japan, even though they put a lot of lighting here and there, with all those drooling Christmas cakes selling everywhere.
Went to the supermarket near our lab for doing year end 'Draw a Raffle' (福引き, Fukubiki) with Mirian. This is an annual event that will be held in most of the supermarkets or departmental stores. The purpose is to encourage customers to buy more, and oso as a form of gratitude from the shops to the customers.
:P Mirian with her turn to Fukubiki.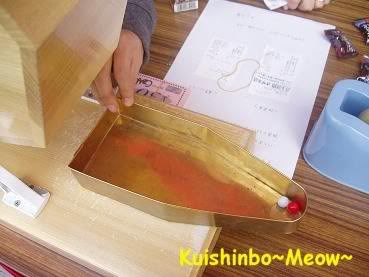 KYAN! She got a white bead. Too bad... Hazureta! (Miss the draw).
Same thing happened to fish fish. Both of us get one small cube of
Meltykiss
choco from
Meiji
, one of the famous sweets brand in Japan. Well~ better than nothing.
See the red bead? That is the special prize bead.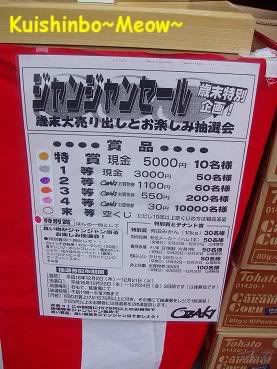 The higest prize usually in golden colour. I've never seen one though. Usually, whenever ones get these good prizes, the staff in the shops will make a strong anouncement by ringing a bell. Ai yar~ make fish fish so envy these lucky hands whenever I hear this sound. I never hv luck in these kinds of lucky draw or wat so ever. The only way I can get money is by earning it. *sigh*
Chateraise
After that, Mirian accompanied me to go to a newly opened shop near my school.
Chateraise (シャトレーゼ)
, a famous sweets and bakeries brand in Japan. A lot of branch. Was so happy to know that near my school got one now.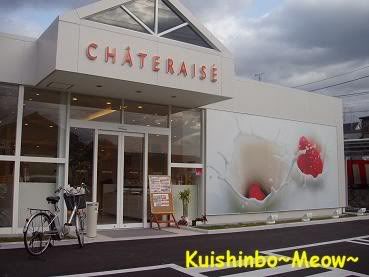 See the pretty wall picture of the shop? Nice ler~ I really love the splasing look of the strawberry.
Inside, after getting permission, I started to take pics here and there. The owner was so nice, even ask me if I would like the cake to be taken out for me to take. I rejected, not good to bother him too much. He allowed me to take pics, I oledi feel very grateful.
Just to show a few here.
Some of the ready-to-buy Christmas cakes. Oso can special order. But the due date for Christmas cake is 15 Dec. Over liao. I like this Santa with Rudolph. Cute cute~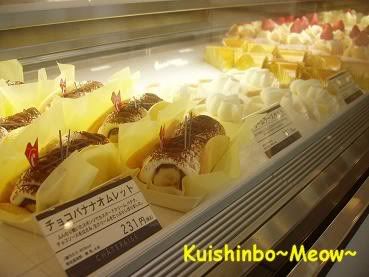 This sweet has a cute name. Choco Banana Omelette. Too bad, I dun eat banana in Japan. All imported one. I'm spoilt by the good taste of banana in Sarawak. Kekeke...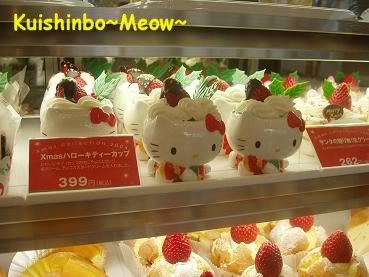 Mirian omost wanted to buy this Kitty Cup cake. But, finally she wasn't defeated by the look.
Instead, she bought a blueberry cheese cake. I would choose this one too if I'm buying it. The cheese cake is still in the freezer as yesterday we didn't hv time to eat. Got seminar and oso year end party.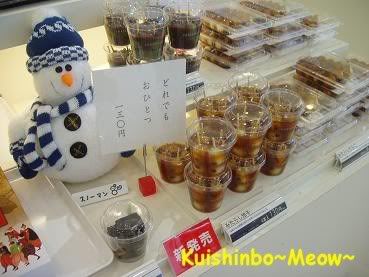 Fish Fish spotted this new product in the shop. The midarashi dango. A little snowman was standing cute besides them.
I was confused between Cream Brulee and Ichigo Daifuku (苺大福). But this Ichigo Daifuku conquered my heart. It looks good, and oso I still haven't had any Ichigo Daifuku yet this winter. Want to know how this Ichigo Kurimu Daifuku (Strawberry Cream Daifuku) taste.
Just had it a while ago. Basically, the taste was not bad. But still cannot compare to the best one I hv had. I would give it a score 5.5/10 though. My best Ichigo Daifuku point was 9/10. Ar~~ must look for the 9/10 again.
However, concerning the varities and price, Chateraise is a good choice if you want to choose a sweet souvenir. ;)