fish fish's iPod
Yatta!! Finally got my iPod on last Saturday (18 Dec). I was still in my sweet dream when I was awaken by a door bell. But my sense was telling me... "It's here!".
Peeped to see who was outside. Kekeke... a guy dressed in delivery uniform.
"Donata desuka?"
(Who is it?) fish fish just want to make a confirmation before opening the door. Have to be cautious when staying alone in Japan.
"Sumimasen... haitatsu de gozaimasu. Appuru shohin no otodoke desu."
The man was answering me in a very polite form that he is sending apple's product to me.
:P Phew!! Open...
Wah!! Finally... A present I bought for myself this year. Yap, every year, I bought one present for myself. Only that this year, it is a bit expensive. Well~ I really need portable music very much after my MD walkman been flawed for omost 1 year.
This will be my birdday-cum-chrissie present. ;)
I actually could get it much earlier, but because I wanted to personalize it, the only way I can hv it tat way is by online shopping thru apple store.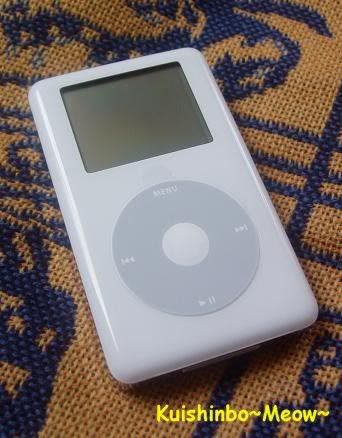 This is how it looks in the front part. No different from the normal iPod. The attractive white.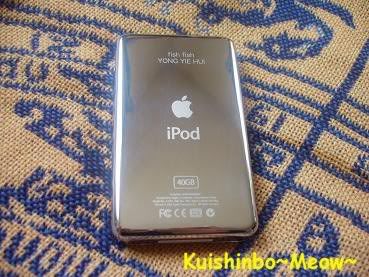 But once u turn to the back. Ah ha! See... My laser name 'fish fish YONG YIE HUI' is neatly displayed on the silver chrome cover.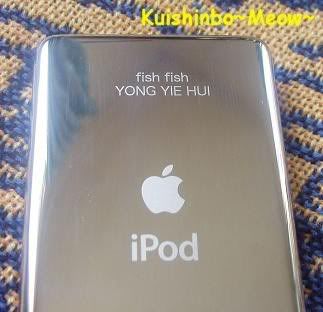 Here is another close up look for my name. :P
The personalization service was free of charge. I paid 44940yen (~US$432) for a
40GB iPod model
, more expensive than US itself (US$399).
Frens were asking me, how to sell later since u hv persolized it? Well, frankly speaking, I've never thought bout this as it is not fish fish style to sell her things after she has used it.
And yes, now I'm listening to music from iPod while writing this post. It is good, though the base was not strong, but the 3-D effect of the music is good. :)
fish fish brand Kio Chap Mee
My mood was so good tat morning after got my iPod. Somehow, I miss Kuching's food at tat time... Hungry! So, decided to make a modified famous Kuching's Tomato Mee.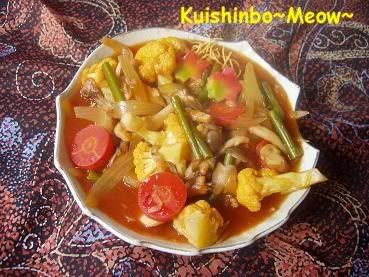 Dang Dang! Heee... any Kuchingian recognized this? Kekeke... Yap, it is a modified version from fish fish. I used onion (玉葱, Tamanegi), Golden Time Carrot (
金時人参
, Kintoki Ninjin), garlic sprout (にんにくの芽, Ninniku no Me), mushroom (
Maitake
, Shimeji and Eringi, these 3 are from
Hokto
), Namafu (生麩、wet wheat gluten) and yellow cauliflower. Oso add in some shallot and garlic chips for fragrance. For seasoning, I used a lot of ketchup and 1 table spoon of Chinese black vinegar. Then, add in some potato starch to make a thick gravy tomato soup. I used instant noodle of Nagasaki Age Saraudon (
長崎揚皿うどん
, not this brand though, just want to show how the saraudon looks on this link) so that I dun hv to fry the noodle by myself.
The taste?? Heee... I can say fish fish's Kio Chap Mi taste a lot better than some of the one offer back in hometown. :P Healthy and yummy!!
Oh my... I'm making myself very hungooriii now~